Userlist handles both marketing leads and customers in one place. In this article, you'll learn how to differentiate between them, and organize them using segments.
Where can I find my leads and customers?
Userlist displays both marketing leads and customers in the same list. They're all Users.
Why not treat them separately? The customer lifecycle journey is complicated. It's not just "leads" and "customers", but also "incomplete signups", "expired trials", "cancelled accounts" and many other transition states, depending on your business model. So we're leaving the ultimate segmentation up to you.
What segments do I need?
Here are some basic examples, depending on your SaaS model:
Free trial model — Leads, Trials, Paying Customers
Freemium model — Leads, Free Users, Paying Users
A few more segment name examples:
Leads: Ready for Sale
Leads: Qualified for Updates (after you're done with the initial sales campaign)
Trials: Expiring
How do I set up these segments?
You can differentiate leads from customers by checking the existence of the identifier property (or any other property that makes more sense for you).
Leads will usually not have an identifier set. You can also use other filters, like "Submitted a form" (coming up soon), for more granular segmentation.
Here's how you will set up a segment with all leads: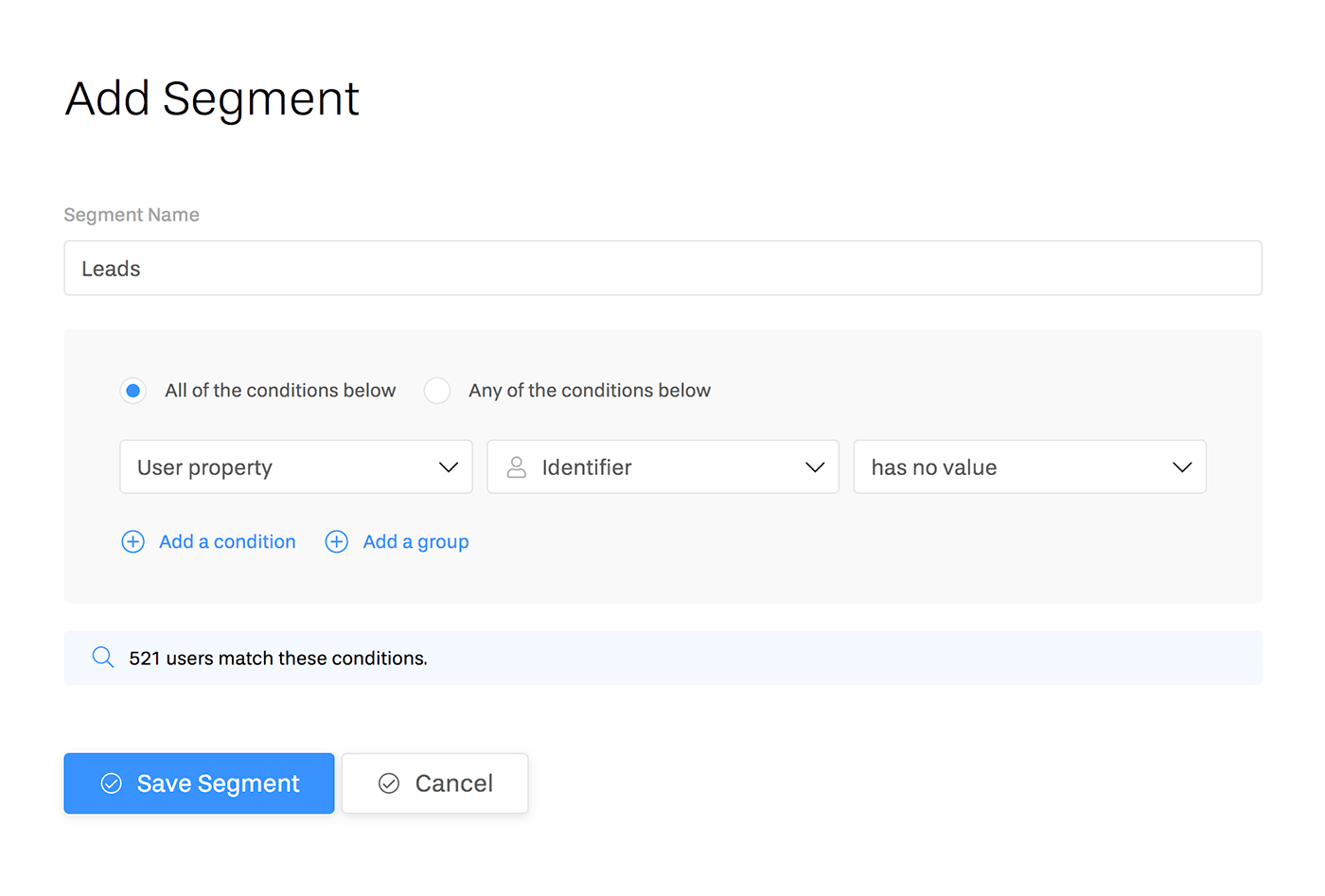 Customers not only will have their identifier in place, but will also have other custom properties available as you send them. You should use these properties to define segments for Trials, Paying Customers, etc. We recommend to use billing_state (trial, free, active, past_due, sponsored, cancelled, etc).
What happens when a lead becomes a customer?
When we hear about a new customer, we'll check our existing lead records. Given they use the same email address, we'll add the identifier to the existing record with that email address. This turns a lead into a customer. Then they will smoothly transition to user onboarding and other lifecycle campaigns.