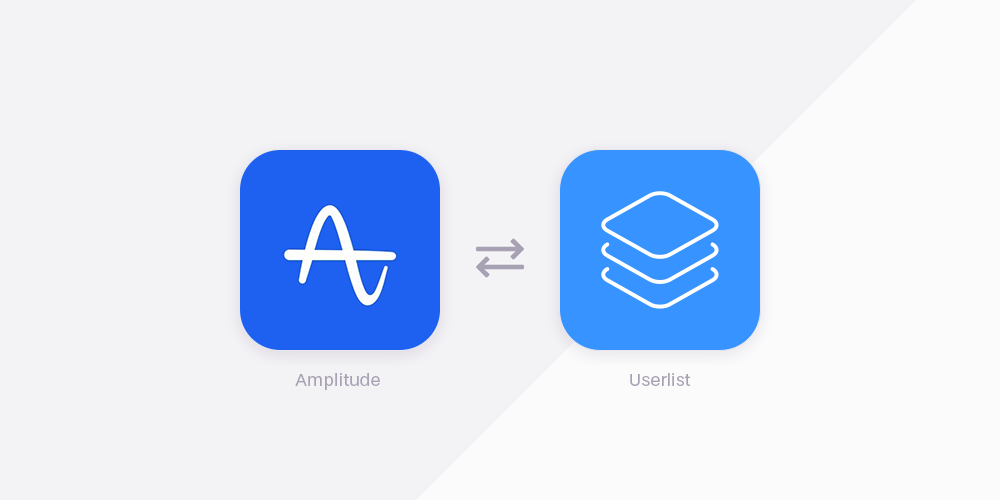 Our Amplitude integration helps you leverage Amplitude data to send communications via Userlist. This integration is implemented via external cohorts which are displayed in Userlist as segments.
Now you can get the best of two worlds: Amplitude stores and processes customer behavior data, and you only connect Userlist for email automation and in-app messages. The data does not need to be duplicated and stored in two different tools.
How do external cohorts work?
With external cohorts, customer behavior data and cohort conditions remain in Amplitude, and Userlist will know when someone joins or leaves such cohort.
You will see your Amplitude cohorts alongside regular segments in Userlist: in the Segments page, user timeline, condition filters, segment filters, and campaign triggers. Such segments will have an "Amplitude" label next to them.
What are the common use cases?
Upgrade free users to paying customers. Identify activated accounts in Amplitude, and send them an upgrade campaign in Userlist to convert them to a paying account. This is particularly important for SaaS companies using a freemium model.
Turn your power users into brand advocates. Identify power users in Amplitude, and send them a customer loyalty campaign in Userlist. You can ask them for testimonials, Capterra reviews, send them swag, etc.
Recover inactive accounts. Identify inactive users in Amplitude, and offer them help with a customer success campaign in Userlist. You can offer promotions, calls, discounts, or anything else that encourages active use.
How to get started
📌 This integration is only available for customers who have paid plans with Amplitude. You must enable this integration in each Amplitude project you want to use it in.
Userlist setup
In Userlist, navigate to Settings > Integrations.
Click "Add integration", then find and add Amplitude.
Copy the Push (API) key to your clipboard.
Amplitude setup
In Amplitude, navigate to Data Destinations, then find Userlist - Cohort.
Click Add another destination.
Enter Name and Userlist API Key.
Save the destination.
How to send a cohort
To sync your first cohort, follow these steps:
In Amplitude, open the cohort you want to sync, then click Sync.
Select Userlist, then click Next.
Choose the account you want to sync to.
Choose the sync cadence.