Getting Started with Workflows
Workflows allow you to build complex automation campaigns using a visual builder. Workflows work similar to campaigns, but allow you to do many great things:
Get a better visual understanding of your automations
Create complex condition splits
Easily duplicate, edit, and move around your messages
Enjoy advanced features like A/B testing and conversion goals (coming soon)
Creating a workflow
First, head over to Workflows in your top navigation. Then click the "Add Workflow" button in the top right corner of the screen.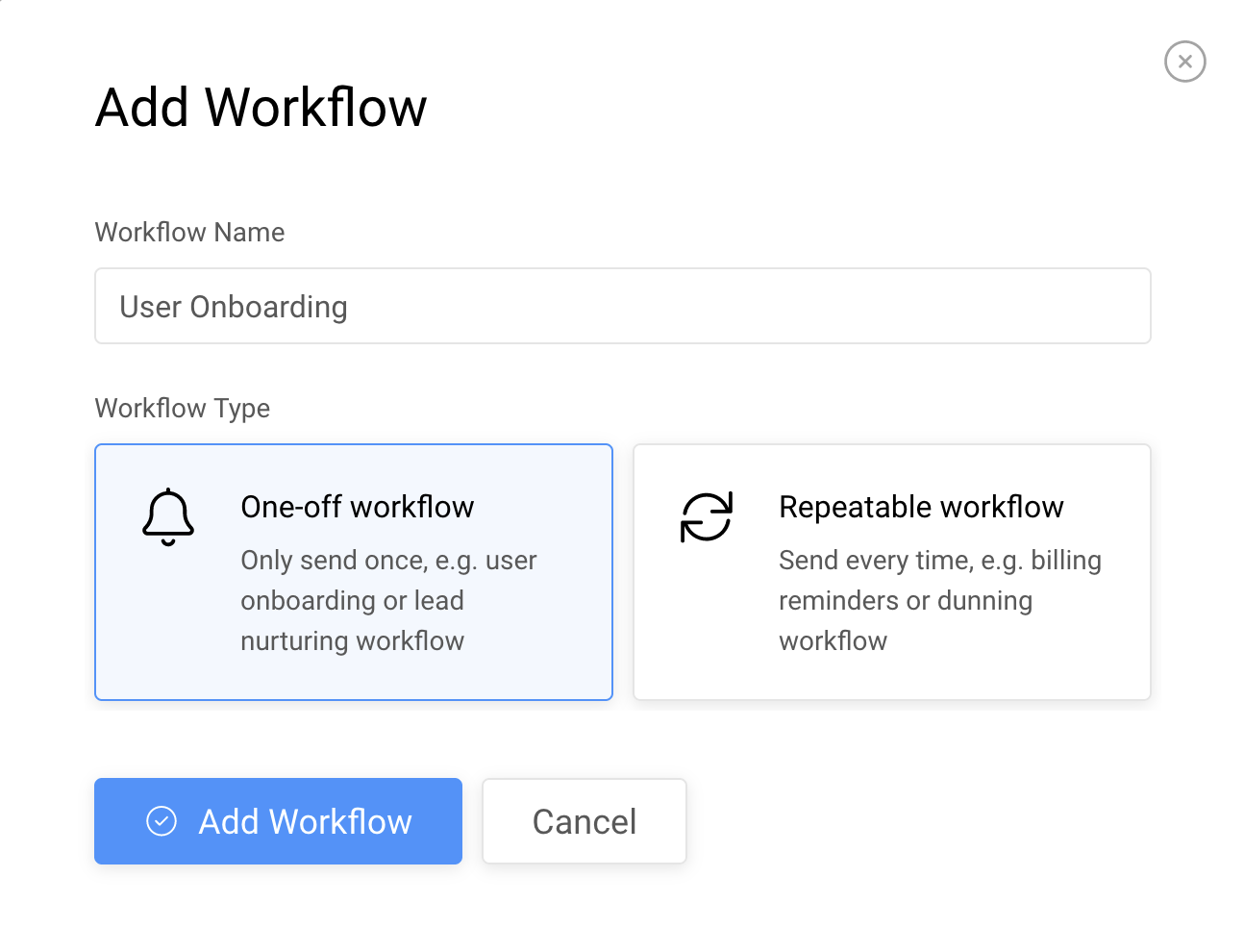 You need to fill out the workflow name and one of the workflow types:
One-off workflows (the most popular type) can only be sent once. The same user can never enter such workflow twice. Most of your workflows like user onboarding or lead nurture will be of this type.
Repeatable workflows can be sent multiple times. We'll start a repeatable campaign every time a trigger happens (unless the user is already in the campaign). For example, you can use repeatable workflows for your billing reminders or failed payment recovery.
Editing a workflow
On the left side of your screen you'll see a menu with various node types, like triggers, actions, and controllers. See this article for the detailed overview of different node types.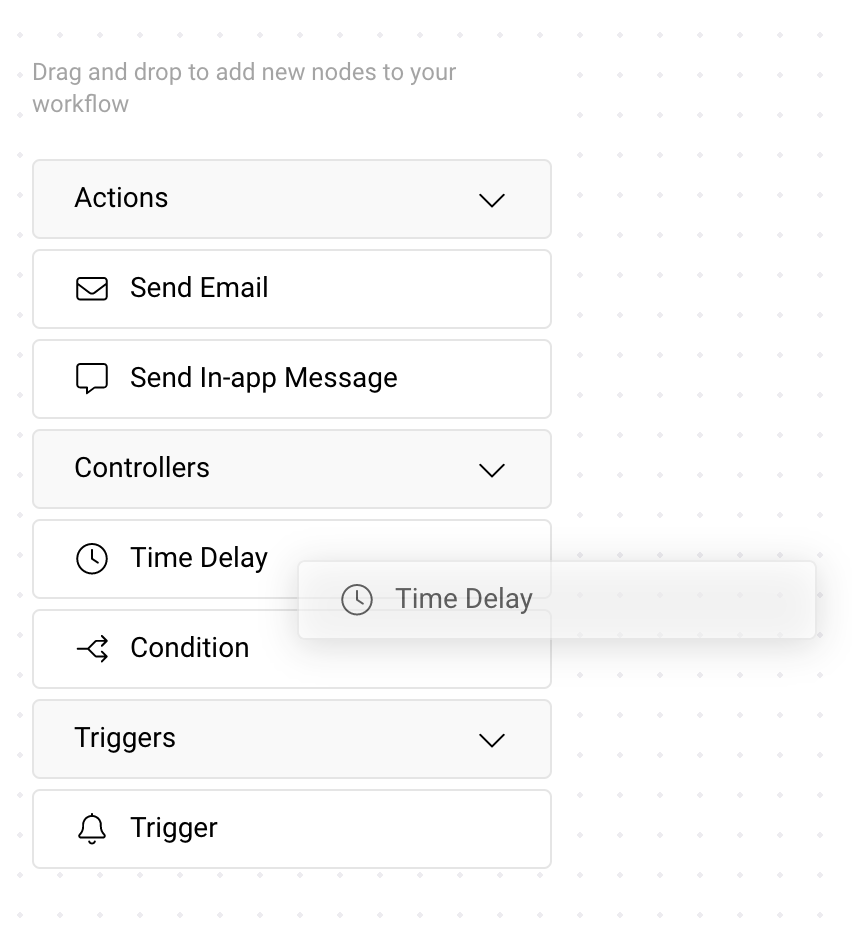 Drag the nodes to the work area to create your workflow.
Once the node is placed, double-click the node to complete the setup. A panel with node options will appear. Here's an example of a Send Email node opened for editing.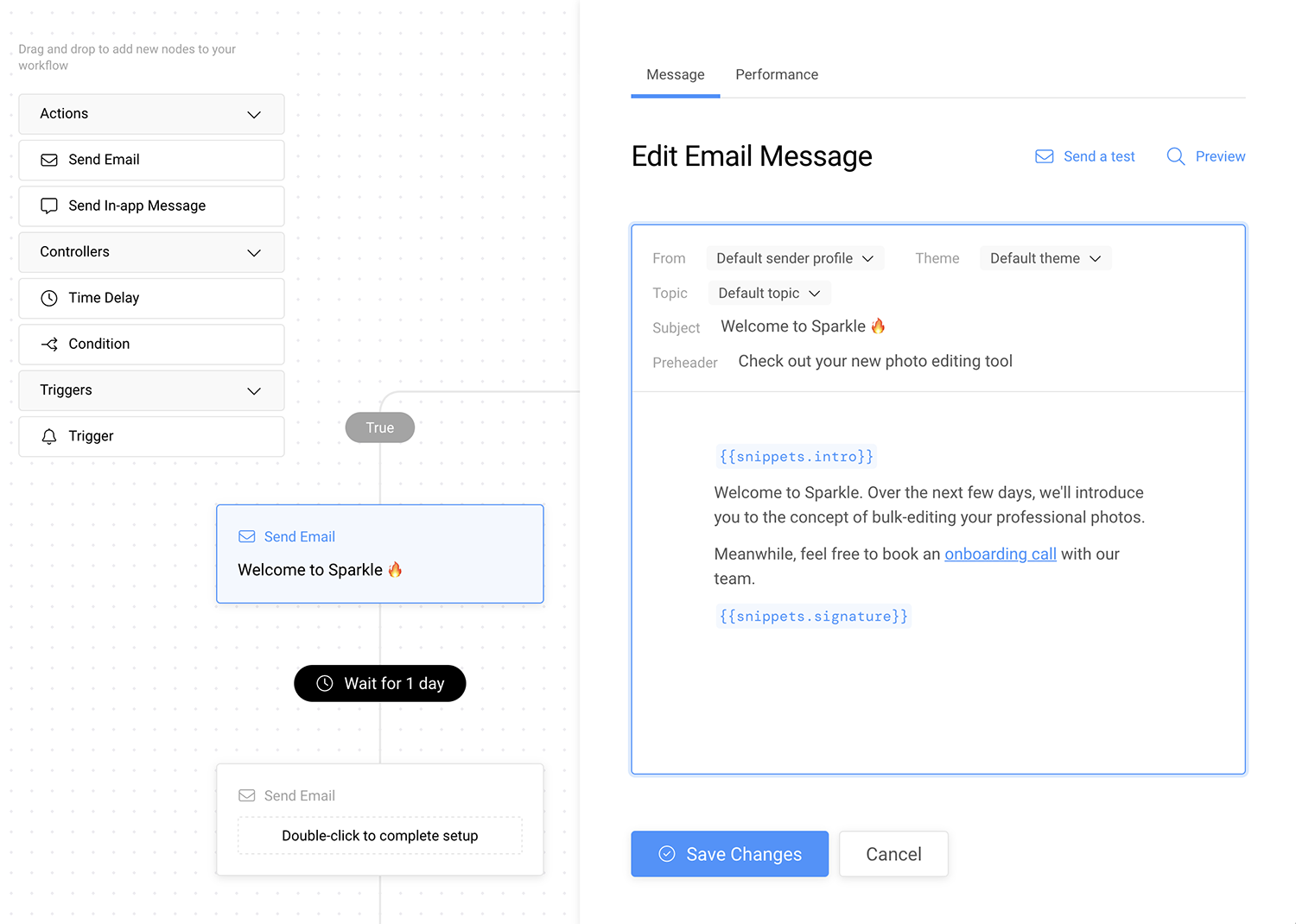 The editing panel can be resized. To do that, hover over the vertical line and drag it to the desired width.
Starting and pausing a workflow
After you're done editing, you can start your workflow by clicking the green Start Workflow button in the top navigation.
While the workflow is live, you can still make small changes to it, e.g. edit message copy or tweak a subject line.
To make substantial changes to your workflow (like adding new messages), you'll need to pause it first. Please don't worry, we will suggest to pause if you try to do a big edit on a live workflow.
How we save your work. Edits to the workflow itself (e.g. workflow structure and the location of the nodes) are autosaved continuously, regardless of whether the workflow is live or paused. Edits to the nodes are saved using the "Save" button in their editing panel.