Thanks to Rob Walling of TinySeed and Brennan Dunn of RightMessage for doing an expert review of this article.
As a marketer at a SaaS company, you can't ignore all the opportunities of email marketing. But why do you find yourself overwhelmed? Why do you keep procrastinating on the implementation?
There are many reasons why it's intimidating.
SaaS email marketing is 3x more complex than email marketing for other businesses. It includes strategies for marketing, lifecycle, and transactional email. Moreover, SaaS email is based on customer data, which requires an advanced technical setup.
It takes data skills, engineering skills, and marketing skills to set it up.
Plus, email marketing advice out there is extremely top-level — nurture your leads, get your trials to the aha moment, etc. It's like "eat less and lose weight" compared to planning and cooking healthy meals every day.
In this article, we'll look into the components of a successful email marketing strategy, and talk about implementing it using different tools and tactics.
You will learn:
As you finish reading, we want you to have clarity about SaaS email.
Let's get started.
Need individual advice? We invite you to book a free strategy call, so that we can unpack your problems and figure out the next steps. No strings attached.
What is a SaaS email marketing strategy?
SaaS email marketing strategy is a way of using email marketing to achieve your SaaS business goals. An email marketing strategy can be used as a general term, target a specific lifecycle stage (e.g. lead nurture or user onboarding) or a business objective (e.g. adoption or retention).
SaaS email marketing strategy includes three main elements: marketing, lifecycle, and transactional email.
Why is SaaS email marketing so hard?
SaaS email marketing is 3x more complex than email marketing for any other business.
You heard that right.
What does email marketing strategy look like for an online store or an info product business?
They run one big email marketing list with leads in it. They nurture these leads, send them sales campaigns (evergreen or manual), so that these leads buy various products from them. That's it. The game stops after the purchase. Admittedly, some marketers do send post-purchase campaigns, but these are simple drip sequences.
For a SaaS business, however, the game just begins after a lead becomes a customer. Now you need to onboard them, help them become successful, and maintain the relationship throughout their entire lifecycle journey. Not to mention transactional email like password resets or notifications.
Most importantly, after a lead becomes a customer, their customer data is unlocked — the backbone of powerful behavior-based email.
Why is customer data so important for SaaS email marketing?
Classic email marketing works with lead data. Lead data is a random collection of attribution tidbits and website behavior — you're lucky if you have any.
Customer data, on the other hand, can only be collected after the user starts their trial. It includes specific information about your customer and their behavior. Customer data is very rich, because now you have a proper business relationship with that person or company. You can track exactly what they do (or don't do) inside your product.
Email automation can accomplish amazing things based on customer data. But it requires advanced technical integration.
You need to:
Figure out what customer data you need.
Implement the data integration, i.e. start sending data from your product back-end to your email tool.
Set up your segments.
And only then set up actual campaigns.
Sure, you can add a JavaScript snippet quickly. But such front-end integration only tells you things like button clicks and pageviews, and doesn't provide actual product data like success metrics. It's also easy to get blocked by ad blockers entirely.
If you want feature usage and other meaningful properties, you'll need a back-end (a.k.a. server side) integration. In this case, data is sent from your product back-end to the tool of your choice.
Nobody is born with these skills.
No wonder it's so intimidating even for seasoned marketers. But without proper behavioral data you'll be barely scratching the surface of SaaS email marketing.
Why should you start with the segments?
We just discussed 4 steps for implementing SaaS email automation: from figuring out customer data, to the integration, to segments and campaigns.
Fun fact: it's impossible to do it in this order.
By the time you start setting up your segments and campaigns, you may discover that you forgot an important property. And that means going back to your engineering team and begging them for more work.
What's the solution to this chicken-and-egg problem?
Before anything, plan your lifecycle segments. They "connect" your customer data and email campaigns. If you get your segments right:
You will know exactly what data you need to set them up. Your tracking plan won't be bloated, but you won't forget an important property either.
You will have no problem setting up your campaigns. Most campaign triggers are as simple as "user joins a segment."
You will have no problem writing your campaigns. Each segment has its own conversion goal, so your campaigns need to focus on that one goal. E.g. trials should start receiving value from the product, and advanced customers should become your loyal advocates.
Each lifecycle segment typically has its own "conversion goal" and a related email campaign that triggers when the user joins that segment. For example, the goal for Trials is to activate them. Usually this means increasing a specific activation metric from 0 to a certain number. When a user joins Trials, you send them a Basic Onboarding campaign which focuses on this goal.
Here's a journey map that includes segments for a free trial model: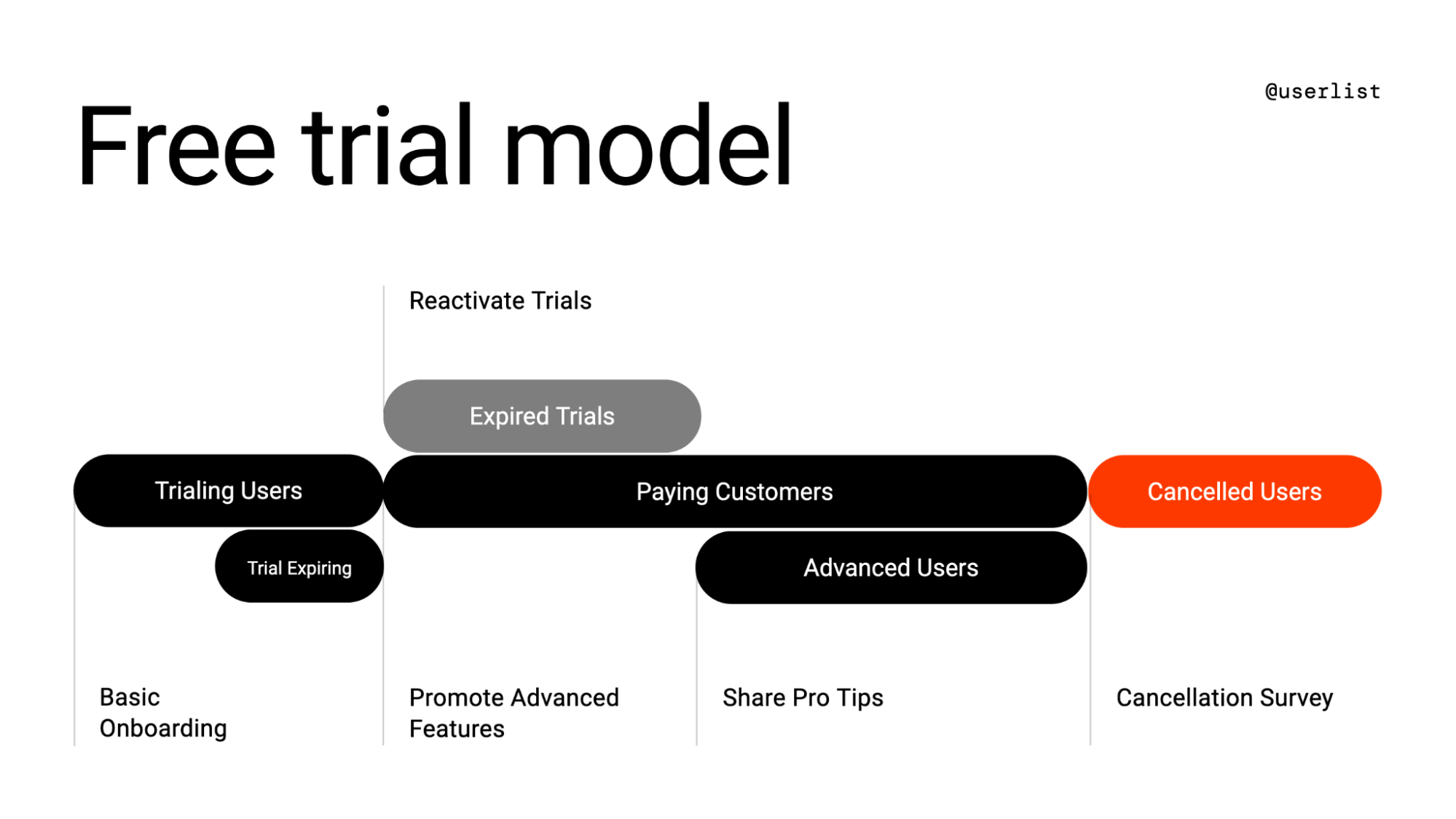 Here's the same map, but for the freemium model: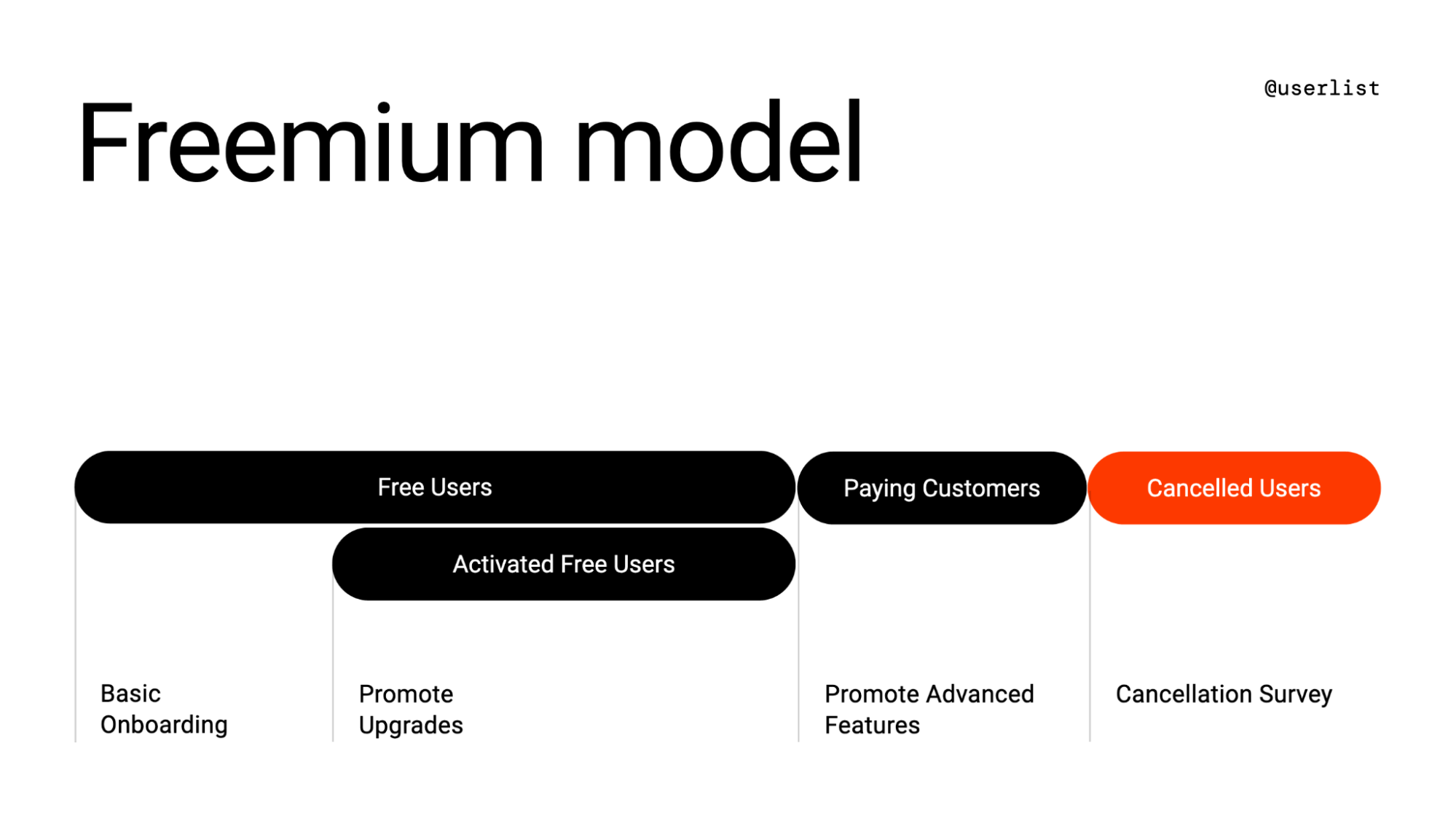 What are the elements of SaaS email marketing strategy?
The biggest mistake is to think of "SaaS email marketing" as one thing. In fact, it's a combination of three email types you'll be sending to your audience, as they move from marketing leads to trials to customers.
Yes, your brand style, voice and tone should be consistent. But the mechanics are different. You need different tools and strategies for each stage.
Every SaaS company needs to send three types of emails:
A. Marketing email — sent to marketing leads. Includes lead magnets, lead nurture campaigns, sales campaigns, and newsletters.
B. Lifecycle email — sent to users after they sign up for your product. Includes user onboarding, upgrade-to-paid, and customer loyalty campaigns.
C. Transactional email — service emails like password recovery, product notifications, or billing invoices.
What about cold outreach email?
Technically, it can also be classified as part of SaaS email marketing. You send cold outreach campaigns to cold leads — without opt-in or consent — using dedicated tools like Outreach.io, Lemlist, Mailshake, etc.
However, we don't talk about cold outreach in this article, as it's a part of your sales process. You may, or may not, choose it for your sales.
Read more about different email types in this guide.
What email tools do you need?
Each type of email requires its own email automation tool, also called an email service provider (ESP).
Most email automation platforms you know — such as Mailchimp, Drip, ActiveCampaign, or CampaignMonitor — are general-purpose ESPs. You can use any of these tools to run your marketing email list (stage A).
However, general-purpose ESPs are not well suited for SaaS lifecycle email (stage B), because they can't handle customer data well. For this, you need a dedicated SaaS email platform like Userlist or Customer.io.
Transactional email (stage C) requires instant delivery. You don't want your users waiting for a password reset email. Marketing ESPs can't deliver emails instantly, because they process complex behavior data and calculate segments. That's why transactional emails are sent through dedicated services — like Postmark, SparkPost, or Sendgrid — via API calls made directly from your product back-end.
If you have a working SaaS product, it means that your engineering team has already picked a transactional email provider and implemented it in the early days.
How to save money on email. Email marketing tools can get expensive for high-volume SaaS businesses, particularly freemium. Explore 10+ ethical money-saving tactics in our guide on high-volume email.
One list or two?
Should you keep your marketing leads separate from your customers, or should you manage them in one list?
You have two choices:
run your marketing and lifecycle email in a single tool;
or have them as separate lists in different platforms.
Usually one list is better. Tools like Userlist or Customer.io are great for running everything in one platform. You can also look at Intercom or Hubspot if you need a classic hard-core enterprise option.
Sometimes it's okay to keep them separate, especially if you have a huge marketing list. This way you can store a massive marketing list in a cheaper email platform like SendGrid.
However, if you have a portfolio of apps, the benefits of one big list become obvious. Your key goal is to cross-promote apps in your portfolio, and for that you need to know what apps they're already using. It's much easier to manage the data in one list, inside a single tool.
A. Marketing email: running your marketing email list
Marketing email is how SaaS companies educate and nurture leads, and tell them about their product. Such email is always permission-based (consent-based).
At its core is your marketing email list — an audience of subscribers who you have permission to email. They could have signed up for a lead magnet or joined your webinar. It's also common to add your product users (trials and paying customers) to your marketing email list, so that they can receive your general marketing content.
Your goal is to grow your list and convert leads into product trials.
Vocabulary: marketing list, email list.
How recipients are called: subscribers, marketing leads.
How the list is built: through opt-in.
Consent required: yes.
Unsubscribe link: yes.
What campaigns should you send to your marketing email list?
Lead magnets
Lead nurture campaigns
Evergreen sales campaigns
One-time broadcasts
Evergreen newsletter
Let's talk about these campaigns in detail.
Lead magnets
Lead magnets are incentives you use to entice visitors to join your email list and convert them into a cold lead. Lead magnets are the most legitimate and evergreen way to build your marketing email list.
Example campaign trigger: user submits a form.
Once someone signs up to receive the lead magnet, it's your job to deliver them a link to grab the resource. Typically, that's done with a signup form + an automated email campaign. You'd set up both in your email platform.
Here is an example of a lead capture form from Wishpond: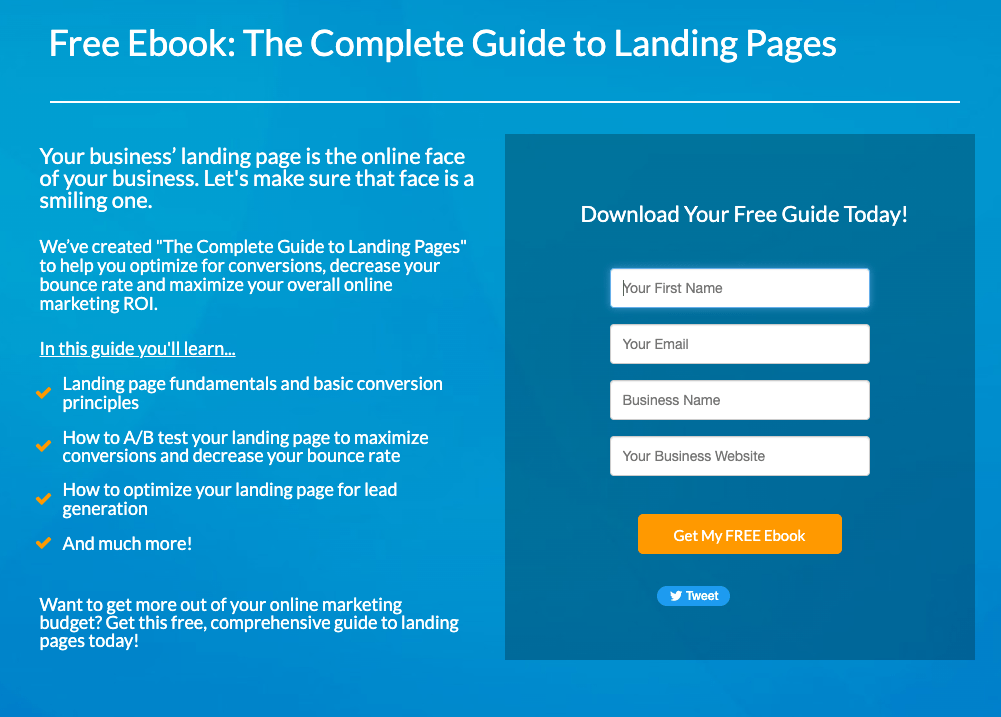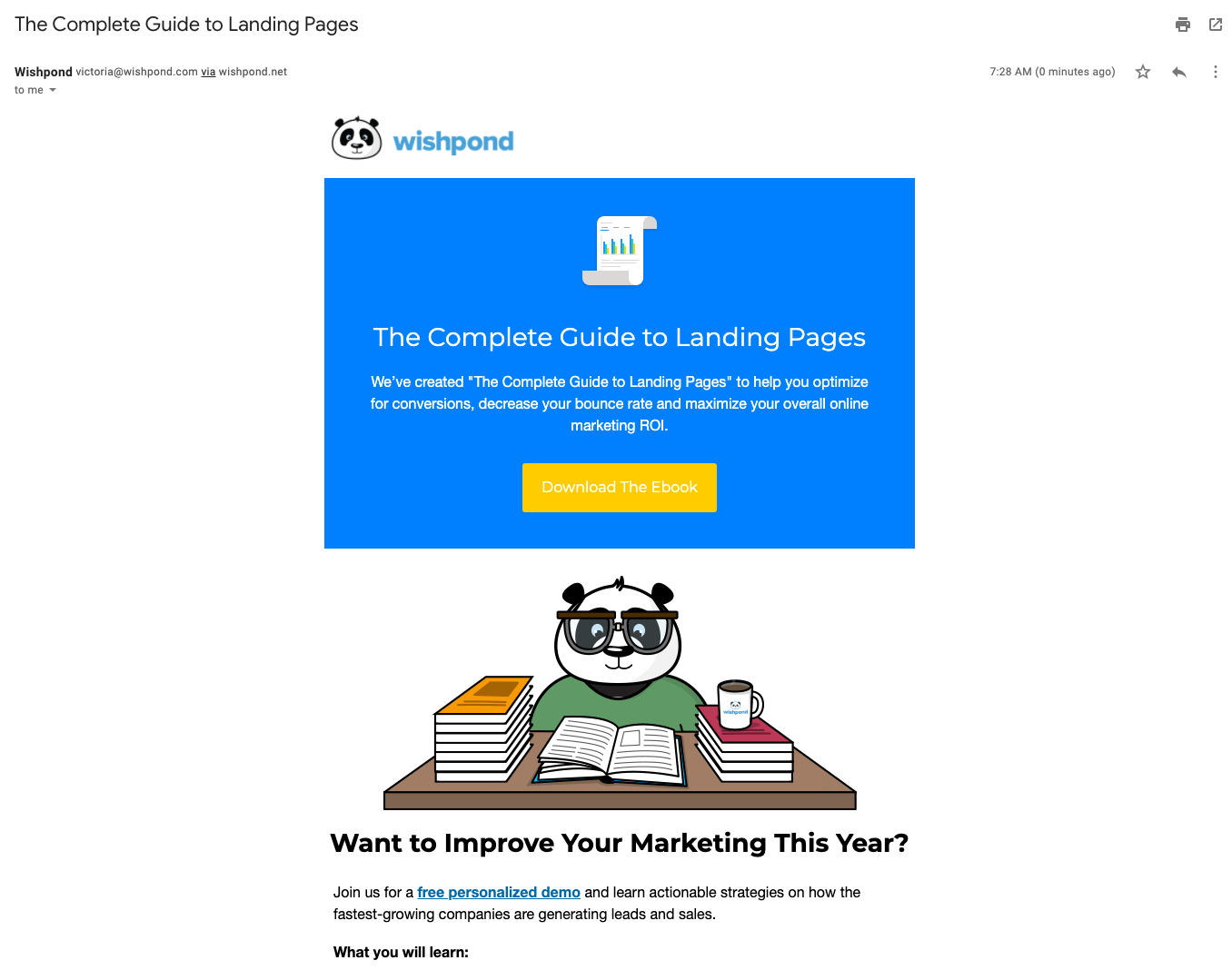 Lead nurture (lead onboarding) campaign
Lead nurture campaign is sent to every new lead to bring them up to speed with your company, culture, and key knowledge. In other words, you're onboarding new leads to your mailing list.
Example campaign trigger: user joins segment Leads.
Should lead nurture campaigns include a hard sell?
There are two opinions.
Option A. Some experts say that you should nurture the lead first before selling to them, so the lead nurture campaign should be focused on providing value.
Chris L. Davis recommends to send your highest-converting emails first:
"A lot of people think they're using that to warm up, but instead it actually allows them to cool off. Over time, it's harder to keep attention. Your attention is at its all-time high the moment someone opts-in. So I want to take advantage of that sweet spot and put the best content in front of them."
Option B. Other experts like Jason Resnick say that aggressively selling to a new lead isn't a good strategy, and recommend to warm people up with educational content first.
The truth is likely between A and B, and depends on your brand's communication style.
Evergreen sales campaign
An evergreen sales campaign is a dedicated sales sequence that's sent to the most qualified leads. It is a drip campaign with several emails. Such a campaign highlights the problem and promotes your product as a solution.
Example campaign trigger: user joins segment Leads: Ready for Sale.
Jason Resnick uses the term "hot leads" to describe who should receive your sales campaigns:
"A hot lead could be somebody that has engaged with your list over the past. Maybe you're sending daily emails and they're clicking and opening everything, and they also checked out a few key pages on your website too. They become a hot lead."
Brennan Dunn has a step-by-step framework for structuring your sales campaigns:
"We're trying not to just prepare them. We're not just sending emails that are meant to sell. We're trying to get them to be receptive, to being ready to buy from us, to be ready to be offered. Your product will get them from the problem of today to the solution of tomorrow."
Some of Brennan's recommendations include:
Create the bridge between your free content and paid product
First sell the destination, then sell the ticket to get there
Show them the long road vs. the short cut
Create a sense of urgency to purchase
Overcome possible objections
Each step means a dedicated email in your sales campaign.
One-time broadcasts, e.g. newsletters
A one-time broadcast is a single (one-off) email you send out to a group of people, be it leads or customers, that is focused on that particular group. It's sent manually or scheduled for a specific time, hence no behavior trigger is required.
Your broadcasts may include:
Newsletters
Product announcements
Seasonal promotions
Featured blog posts
Webinar invitations, etc.
Should you send your broadcast "blasts" to the entire email list?
Not exactly.
You should only send your broadcasts to people who aren't going through other important sequences like lead onboarding, user onboarding, or sales. To facilitate this, we recommend setting up a segment named Qualified for Updates which excludes such subscribers. Every time you send a broadcast, you'd be sending to this segment instead of the entire user base.
Evergreen newsletter
An evergreen newsletter campaign delivers the bulk of your educational content as a time-based drip campaign, so that you don't have to worry about weekly broadcasts.
Example campaign trigger: user joins segment Qualified for Updates.
This sequence is sent to leads who have already gone through lead onboarding (lead nurture). It can include e.g. 20-50 pre-written emails, delivered every 7 days. Every time you publish a new article, you would add it to the end of the sequence.
This way, you'd get off the hamster wheel, and only use broadcasts occasionally for sending actual "news" — like product updates or monthly newsletters.
You can insert news or event announcements into evergreen emails using dynamic snippets. E.g. the user will receive the evergreen content with this week's workshop link in the P.S. section.
B. Lifecycle email: user onboarding and beyond
Lifecycle email is a general term for any messages that are sent to the user after they sign up for your product.
These emails help with user activation, retention, and referral (based on the AARRR model). Lifecycle email automation is your "customer success manager on autopilot," doing manual account check-ins.
Here's what you can do with lifecycle email:
Onboard new users
Convert free trials and freemium users to paying customers
Promote upgrades to annual billing
Promote upsells to higher plans
Reactivate "dormant" users
Initiate customer success conversations with most successful (or underperforming) accounts
Collect feedback, reviews, and case studies
Share referral links, promocodes, and swag
Recover failed payments (can be also classified as transactional, though)
Send cancellation surveys
Unfortunately, most companies focus on user onboarding email, because their MRR growth depends on the activation rate.
As a result, they don't tap into other automation opportunities during the user lifecycle. Meanwhile, all lifecycle emails have great ROI — they are simple to set up, evergreen, and can bring great results at scale with very little effort.
Vocabulary: lifecycle email, customer email, lifecycle journey, customer journey, user onboarding.
How recipients are called: users, customers.
How the list is built: each new user is added automatically because they start a product relationship with you.
Consent required: no.
Unsubscribe link: yes, because these are "educational" emails by nature. However, there's a blurry line and some SaaS companies don't include an unsubscribe link.
Popular tools: Userlist, Intercom, Customer.io.
Let's talk about the most important lifecycle campaigns in detail.
User onboarding campaign
User onboarding campaign helps your new users start receiving value from your product. It's directly related to Activation from AARRR metrics, and the perfect "first campaign" as you get started with lifecycle email.
Poor user onboarding (failing to activate new customers) means flushing marketing & sales money down the drain. On the other hand, virtually any improvement in your user onboarding will result in revenue growth.
Example campaign trigger: user joins segment Trialing Users.
Here's how a classic user onboarding campaign works. It's linear, and we check on the user how they're doing — similar to what a customer success manager would do manually. This campaign is behavior-based, but we use behavior data to skip irrelevant emails, not trigger them.
Has the user started with Feature A? If not, send them a message offering advice or help. If they have, skip on that message and move forward to Feature B.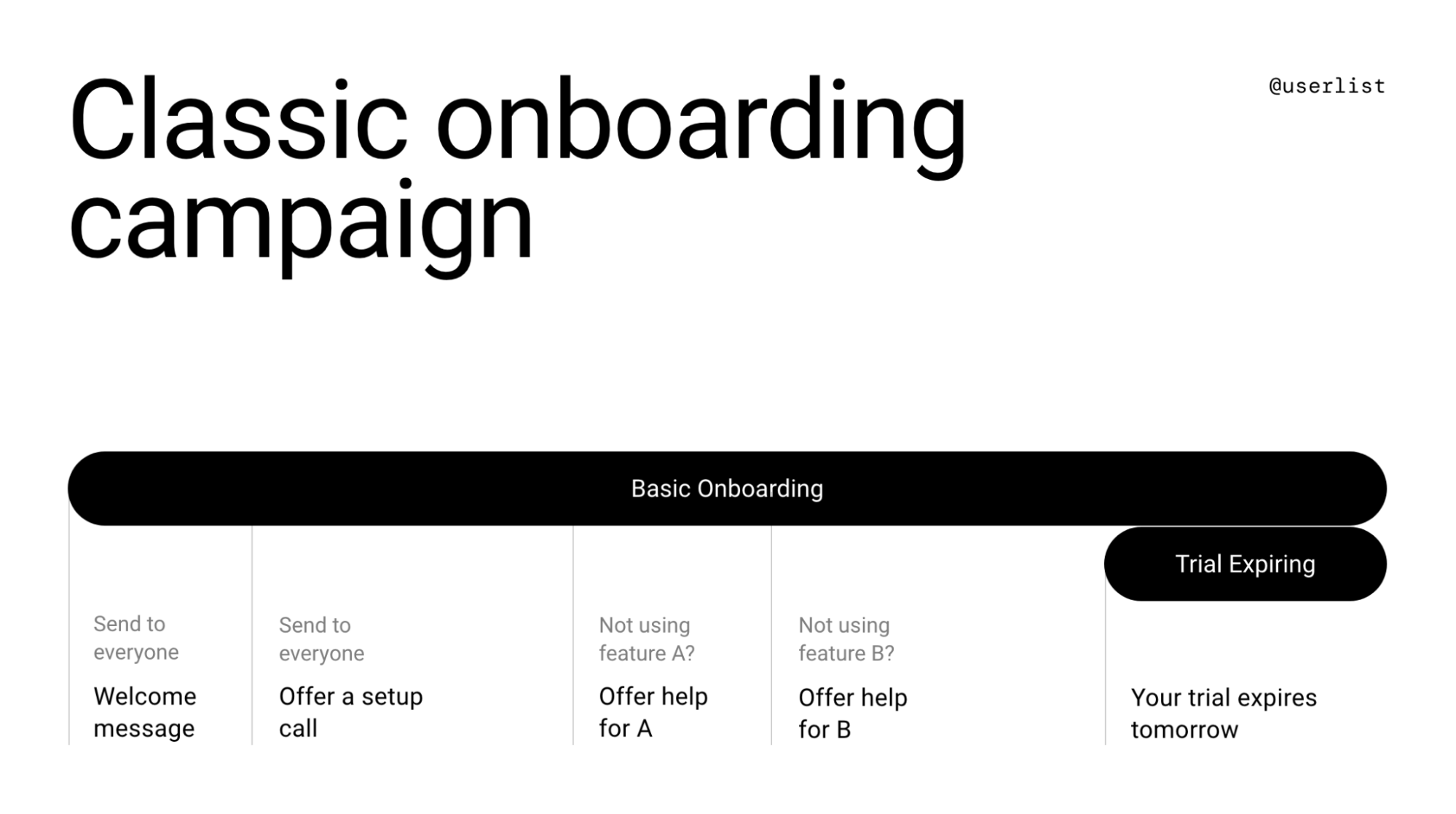 Read this guide for more information on user onboarding.
Trial expiring campaign (for the Free Trial model)
Trial expiring campaign reminds the user that they have a payment coming up.
We recommend to tie your trial expiring campaign to the trial_expires_at property, and keep it separate from the user onboarding campaign. Trial expiration date can shift as the user e.g. extends their trial, so you shouldn't hard-bake it into the user onboarding sequence.
Depending on whether you collect credit card information upfront or not, this campaign will look different:
With CC details provided upfront — send one or two heads-up emails that their card will be charged.
Without CC upfront — explain them that their account will be removed or switched to a free plan, unless they provide payment information.
Please keep in mind the 2020 Visa trial requirements. According to this regulation, you must email customers with a reminder at least 7 days before the trial subscription converts to paid.
Example campaign trigger: user joins segment Trialing Users: Trial Expiring, e.g. trial_expires_at is less than 7 days from now.
Upgrade-to-paid campaign (for the Freemium model)
Upgrade-to-paid campaign is an evergreen sales campaign used to convert free users into paying customers. This campaign is a must-have for any freemium SaaS business. The volume of free users is high, and email automation is the perfect way to convert them to paid.
This is a long sequence of sales nudges, spaced out in time — e.g. 14 days apart.
Mix-and-match 75% soft nudges (like inspiring case studies or testimonials) with 25% hard-sell emails. Hard-sells can include a promo code or another way to stimulate a purchase.
"Jab, Jab, Jab, Right Hook," as Gary V. says in his book.
You should only start this campaign once the user is activated, i.e. started using your product and receiving value. This usually means a success metric — like the number of projects — should go from 0 to 1. Sending an upgrade campaign to entirely inactive users is a big mistake.
The upgrade campaign can be very long: you can have 1-2 years worth of nudges. It's important that you stop the campaign once the user converts to paid — you can use an exit condition for that.
Example campaign trigger: user joins segment Trialing Users: Activated.
Exit condition: user joins segment Paying Customers.
New paying customer campaign
New paying customer campaign is sent to your customers once they convert to paid. Now you don't have to sell them anything, and your goal is to make them more successful with the product.
Here's what you can include there:
Double-check if they started using key features (only send if the corresponding metric = 0)
Educate them on advanced features (again, only send if the corresponding metric = 0)
Inspire them by sharing product tips and case studies
Invite them for a customer success call — some founders swear that such calls are very productive, as the user has already developed their own style of using the product
Example campaign trigger: user joins segment Paying Customers.
Customer loyalty campaign
Customer loyalty campaign is sent to paying customers after they have been using your product for a while (e.g. 3 months and more).
Your paying customers are your most loyal audience, and it's a pity that most SaaS companies don't talk to them much. This campaign can help you unlock these opportunities on autopilot.
There's plenty of things to offer:
Ask them for a testimonial or Capterra review
Switch them to annual billing (if billing_interval = monthly)
Invite them to produce a case study
Invite them for a customer success call or an account review
Offer swag — e.g. invite them to fill out a form with their postal address & size information
Invite them to join a referral or affiliate program
You can space out these emails e.g. 28 days apart, and drip them over time.
Example campaign trigger: user belongs to segment Paying Customers + signed_up_at at least 3 months ago.
C. Transactional email: notifications, invoices, etc
Transactional email is the most basic layer of email notifications, baked into the product itself. These emails are related to individual transactions and account activity, such as:
Password resets
Billing reminders
Failed payment notifications
Product activity updates (new comments, projects, reports, etc.)
Transactional emails must be delivered instantly. You can't achieve this using a traditional email marketing provider like Mailchimp or Drip. Email marketing providers process large amounts of data, so it's common for emails to have delays in minutes or even hours.
That's why transactional email is handled separately, via direct API calls from your product. An engineering team usually makes a choice early on, when they implement e.g. password recovery flows.
Vocabulary: transactional email.
How recipients are called: users, customers.
How the list is built: there's no list, as messages are triggered directly from the product via the API.
Consent required: no.
Unsubscribe link: no.
Transactional emails have the highest open rate because they contain essential information for the user.You can use transactional emails to embed dynamic marketing content like product tips or event announcements. Sadly, marketers rarely tap into this opportunity.
14 SaaS email marketing strategies
#1. Plan lifecycle segments first
As mentioned above, segments are key to successful email automation.
Segments provide clarity on:
What campaigns to send to each segment (targeting its "conversion goal" for this particular stage)
What customer data you need for the integration
How to set up campaigns — "user joins segment X" is the most popular campaign trigger
Use our free worksheets to plan your segments and campaigns.
#2. Don't forget about companies
Most B2B SaaS products serve teams, not individual users. Individual user activity doesn't make sense on its own, unless you aggregate it on the company level.
Here are some tips for company management:
Segment companies, not individual users
Trigger email campaigns based on company lifecycle
Collect information about user roles (ask, not assume)
Have dedicated onboarding campaigns based on user role
Keep onboarding individual users even if the account itself is already beyond the trial phase
Keep track of how many accounts one user belongs to
Minimize user onboarding for their 2+ company
Here's a map of company lifecycle email (sent to all users) vs individual user onboarding: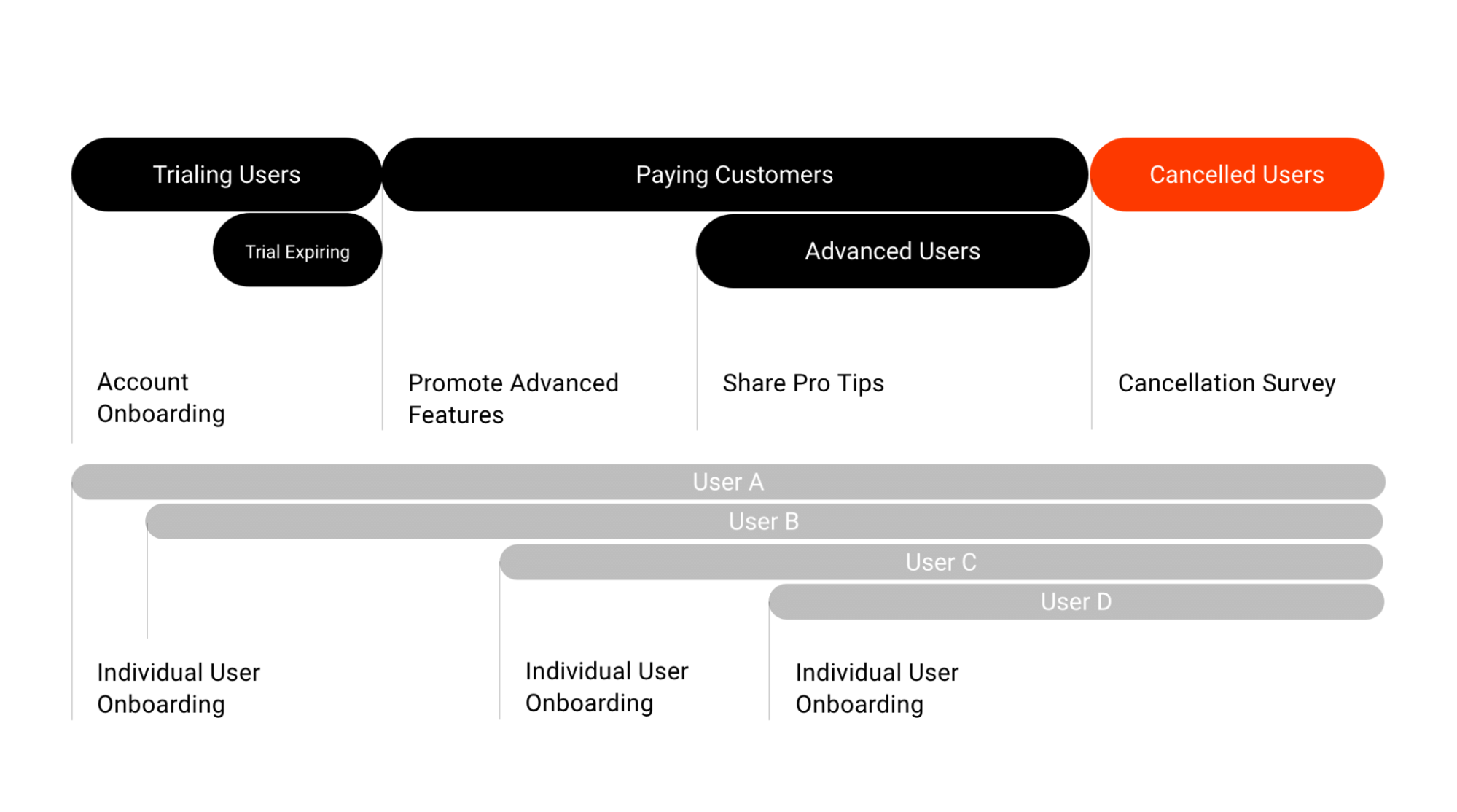 Userlist's company accounts feature helps address that.
For example, you now have proper company profiles with account-level data: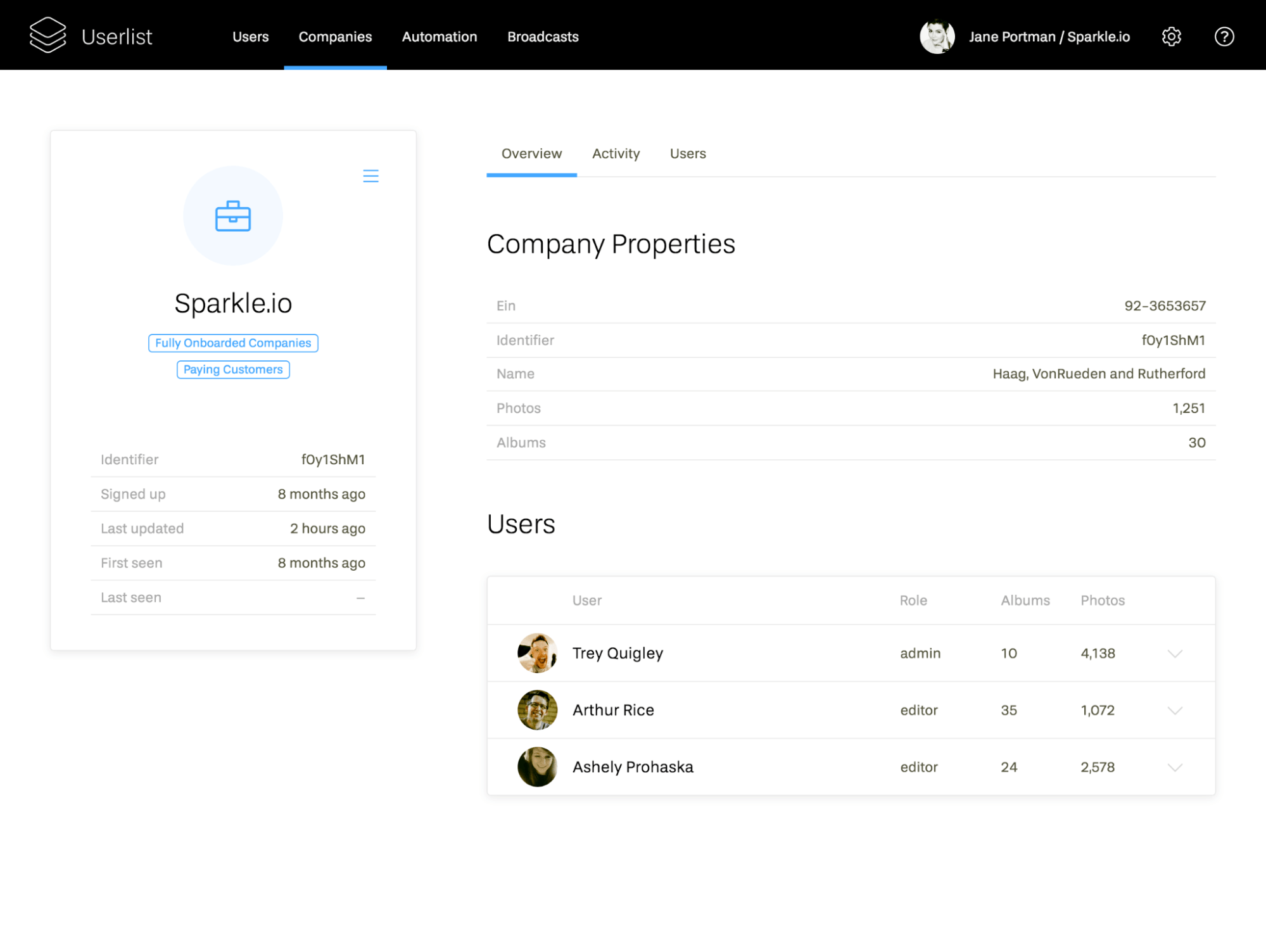 You can also trigger emails based on what's happening in the company level, and then decide what users will receive the campaign: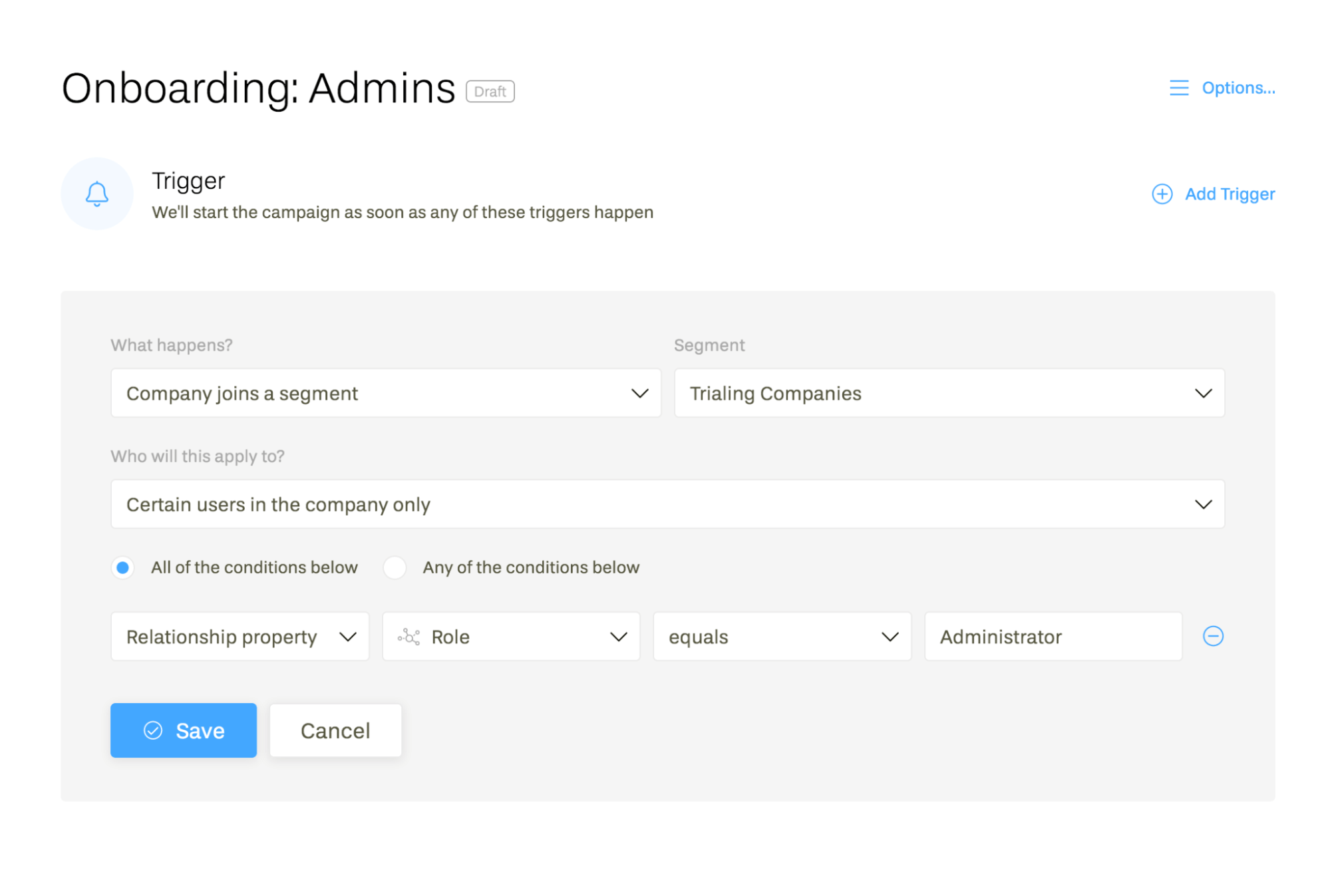 Learn more on the topic in these articles:
#3. Orchestrate your emails using days of the week
Very soon, you'll have more than one email marketing campaign running simultaneously. How do you make sure the user doesn't receive multiple emails in one day?
Not many tools offer email throttling (rate-limiting), so the most reliable way is to orchestrate your emails using days of the week.
E.g. you send out manual broadcasts on Tuesdays, evergreen newsletters on Fridays, and the rest of the emails can go out on the remaining days of the week.
#4. Review email data regularly
Study your email list closely. Note which channels those people are coming from, why they might have signed up for your list or your trial, their characteristics, and so on.
Not only will this help create additional segments, but you will also know what marketing activities to double down on.
#5. Focus on simple campaigns first
There is a danger when using email automation tools for the first time: it's tempting to start building complex automations because they look super cool.
Automation expert Chris L. Davis says that over-automation is one of the biggest mistakes people do.
Instead, start simple. Launch simple campaigns that target the most predictable touch points such as:
Set up a simple onboarding campaign to introduce new users to the product.
Use basic email automation for lead magnets and lead nurturing.
Set up an evergreen newsletter, and so on.
Don't do anything fancy at first. Over time, you'll gain enough confidence to start expanding your automations with additional rules and conditions. But to get things going, keep things simple at first.
#6. Mix promotional and educational emails
There's a particular mistake SaaS companies tend to make: they stick to a single email type, regardless of the campaign.
It's easier to just send educational emails, for example, and leave it up to the user to figure out what to do next. Unfortunately, users rarely do.
Similarly, you may think that sending only promotional messages is going to convince someone to try your product out.
Email campaigns work better when you mix different message types. Send educational content but mix it with a promotional message from time to time. This way, you'll provide value, but also show them a clear path to act.
#7. Engage your list
Engage your subscribers: ask them to reply, ask about their challenges, ask questions.
Then answer them, as Jason Resnick recommends:
"It makes that other person feel like they didn't reply into the void. If you can answer something within 24 or 48 hours, answer it."
#8. Use "smart unsubscribe"
Give your audience a choice about what emails to receive. They might want to keep receiving your newsletter, but skip on sales or product updates — it's much better than losing them altogether.
#9. Personalize your emails to increase open rates
Email personalization is a strategy that uses personal information to create targeted and relevant emails. The simplest example of personalization is using the recipient's name in the subject line.
Email personalization is a tricky topic in email marketing. After all, the practice got a bad name thanks to being abused by spammers.
Luckily, personalization still works, although not in the same way it once was.
But you should go further, and personalize the content of the email. You can still include the recipient's name and also use the information relating to their personal information or characteristics.
Here are some ideas for that:
You can ask them questions based on the person's demographics or business characteristics.
Use their location or time zone to deliver emails at the right time.
Use behavior data and behavior-driven campaigns. They can help you personalize email messages too.
#10. Use power words in subject lines
This is another incredibly powerful email copywriting strategy to increase open rates.
A subject line is the first part of the email copy a person sees. Leaving the sender's info aside, it is the subject line that makes them want to open an email or not.
Power words evoke an emotional response and trigger curiosity. And both of those responses can spur a person into action.
Take the word, free, for example. It's probably the most commonly used power word, and it works. Most of us get at least a little intrigued by emails with it in the subject line.
The same goes for words like "amazing," "superior," "rare," "invitation" or even, "sale."
Now, this isn't a strategy to use in every email. However, test how your subscribers respond to different power words.
#11. Send NPS and other customers satisfaction surveys
Customer satisfaction lies at the heart of successful SaaS products. Once users are happy with your product and understand its value, they're more likely to stick around and tell others about it.
The challenge? You probably can't tell which of your customers are satisfied and which ones have problems with the product.
Here's where email can help too. Use email marketing to send NPS surveys, CSAT, or other customer feedback surveys to gauge your user's satisfaction and loyalty towards your SaaS.
Direct integrations, like this one between Userlist and Refiner, can help you send NPS scores back to your email platform. This way you can segment customers based on their score.
#12. Promote annual billing
More customers on annual billing means that your SaaS not only grows faster, you're also locking in users for an entire year.
Many customers might not realize that you offer annual pricing and stick around to paying you monthly. Simple email notifications could entice many of them to switch. That's what Grammarly did with us, for example.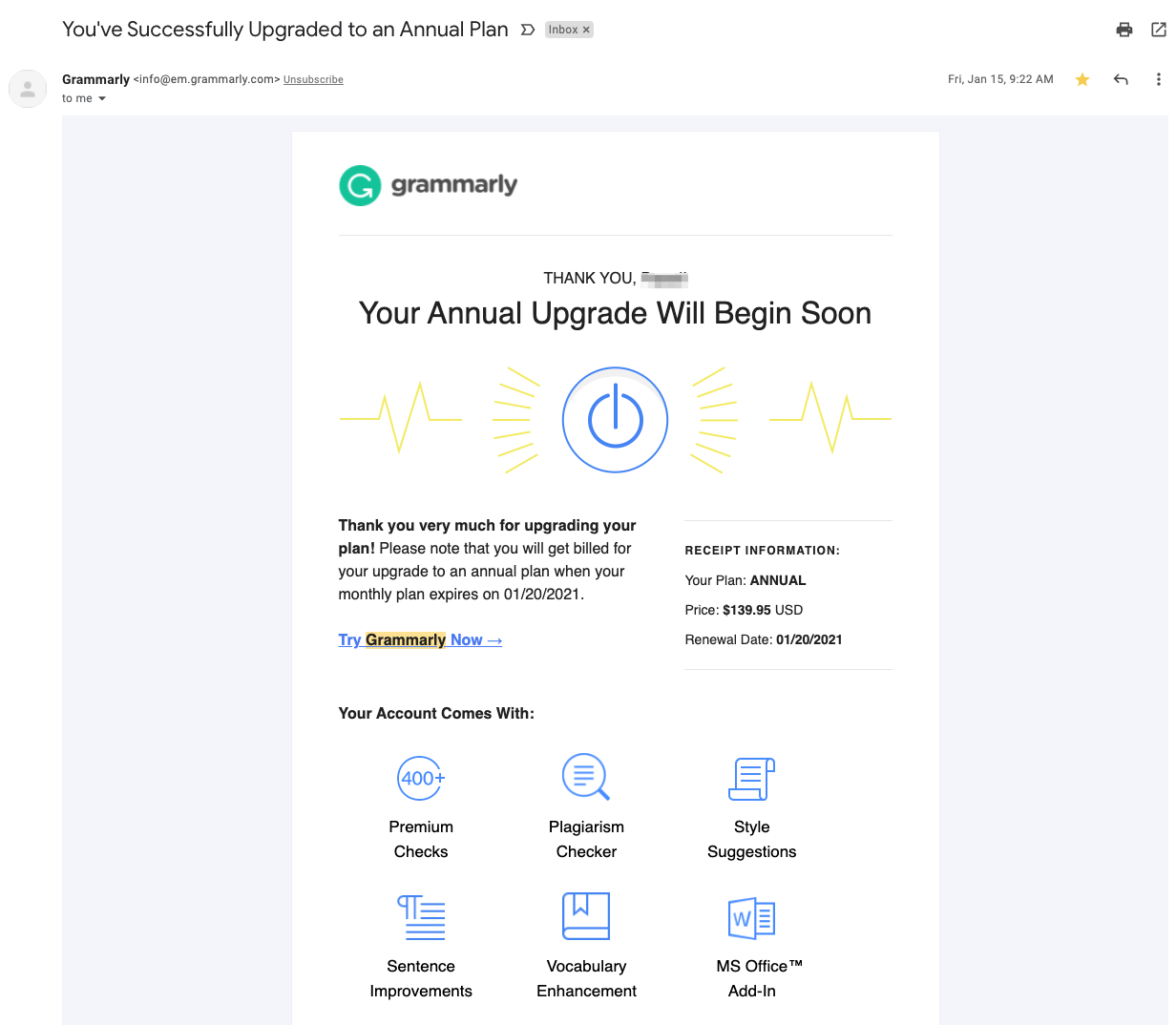 #13. A/B test your emails to identify engagement factors
It's a common situation and quite frustrating too. You send emails to users, but while some seem to engage them, other messages go completely unnoticed. What's worse is that it's almost impossible for you to tell why.
Split-test your emails to discover what factors engage your users the most.
Split testing involves sending two versions of the same message. Each of those messages is different by a single factor like a different subject line. Half of your recipients receive one version while the other half see the other.
You can then compare the performance of each version, and identify which one fared better.
#14. Use micro-conversions to maintain engagement
There are two types of conversions you could target with emails. The first type focuses on getting a recipient to take a big action, like signing up for a trial or upgrading the account.
But you can't expect someone to be doing that all the time. Many of your email recipients will have signed up for the product already. And they might not be ready to upgrade or upsell their account.
To maintain their engagement, it's better to target micro-conversions. These are smaller actions that a person can take to engage with your product or content further.
Some examples of micro-conversions include:
Clicking on a link to visit a particular piece of content or a landing page.
Downloading another lead magnet
Taking part in a survey
Asking for feedback
Asking to share your content on social media to amplify your SaaS content marketing efforts
Watching your latest video, and so on.
Book your strategy call
Still struggling with your email marketing strategy? Need clarity? We invite you to book a free strategy call with us, so that we can unpack your problems and figure out the next steps.
Further reading
Here are other email marketing guides worth exploring: