Are you planning to scale your marketing operations? Wondering which marketing automation tools would work best for your SaaS?
It's a common dilemma in our industry. There is so much to do to market a SaaS product that it really doesn't matter how many people you have; there will always be things that you never do. Sure, you may not have the time for some of them, but some of those tasks would simply take far too much effort to do by hand.
That's when marketing automation comes into play.
In this guide, you'll learn about the best marketing automation tools you should be using in your SaaS.
But let's start with a quick recap, shall we?
What is SaaS marketing automation (and why you absolutely should be using it)?
Let's start with the definition.
When we use the term marketing automation, we refer to using tools and software to automate various marketing activities.
The premise of this strategy is that by automating these activities, you can increase the output of various aspects of your marketing efforts.
Marketing automation tools, most typically, get implemented to support:
Email marketing
Email automation and onboarding
Marketing research
Social media posting
Email outreach and sales
Lead generation
Lead nurturing
Analytics
But does it work? Well, let us answer this with data:
According to this research, for example, marketing automation has been proven to reduce marketing overhead by over 12%. In addition, 74% of respondents admitted that automation's ability to save them time was the biggest benefit of using it.
Another research discovered that companies that implement marketing automation experience a whopping 450% boost in leads.
Finally, 75% of marketers admit to having at least one marketing automation tool in their stack.
Incredible, isn't it?
But what marketing automation is not
Looking at all the data above, it's easy to think that automation is a solution to all marketing-related problems.
Unfortunately, it is not, and we should also discuss the two most common misconceptions about automation in marketing.
Misconception 1. Automation won't overcome slowdowns in sales or marketing.
At first glance, automation often seems like that perfect cure for what ails your marketing. It may even look like it could overcome any marketing-related problems you're facing.
Now, in a way, it is true. For example, automation can assist in fixing certain problems. Or it can deliver data and clarity to help you spot what might be causing a slowdown.
However, it won't be the ultimate solution to the problem.
Misconception 2. Marketing automation also isn't a direct strategy to generate leads.
It may seem so, particularly if you consider the incredible increase in leads companies report after implementing various automation tools.
But you have to remember that those tools only assist in the process, streamline its elements, and improve efficiency. But they don't work in a vacuum.
No lead capture form will generate more inquiries unless you drive traffic to it first. But if it's a great form, coupled with amazing email automation, it will certainly help you convert more of those visitors into customers.
It's that simple.
So, on with the tools, then.
As we promised at the start of this guide, you'll discover the best marketing automation tools to use in your SaaS. To make it easier to understand how each of those tools could help, we grouped them in categories relating to the most common marketing automation use cases.
Without any further ado…
Email marketing and email automation
#1. Intercom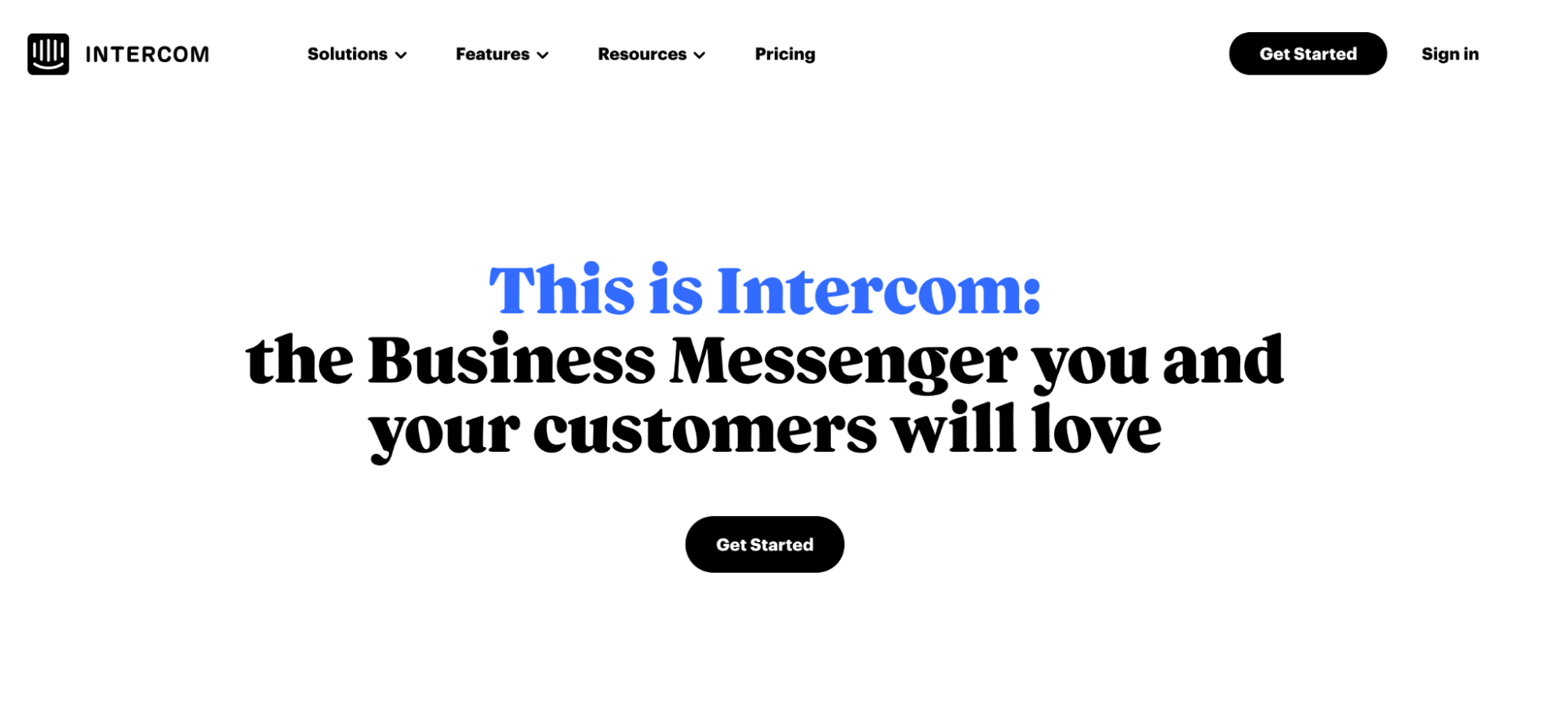 Intercom is a business messaging platform that automates customer communications across multiple channels. With Intercom, you can connect with, educate, and engage customers.
Why it's good for SaaS: Intercom helps reduce the number of tools you use to communicate with customers. Beyond email automation, they offer a support desk, a knowledge base, and much more.
#2. Userlist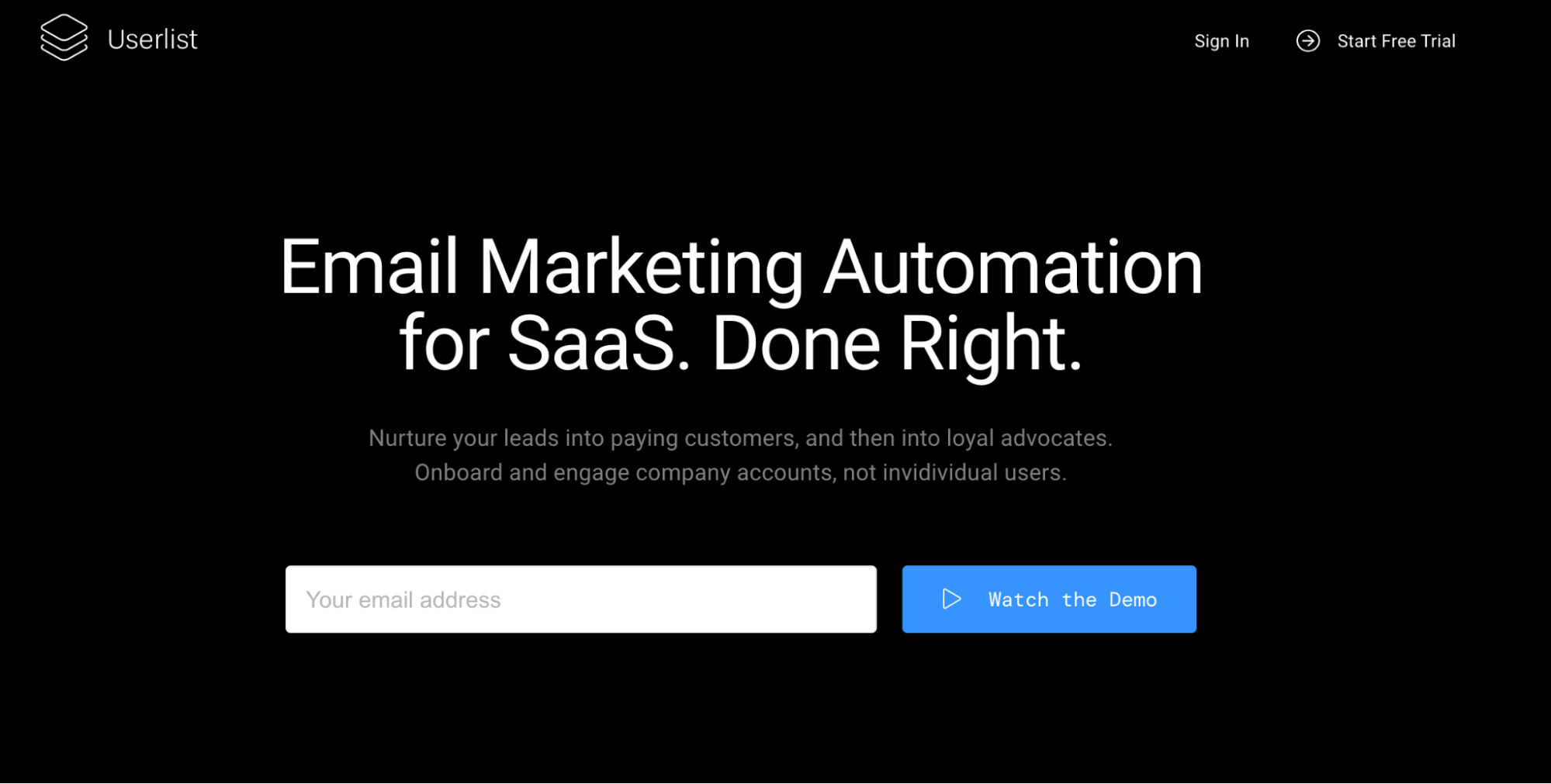 Userlist (disclaimer, this is our product) is a complete email marketing automation solution for SaaS. From nurturing leads, user onboarding, behavior-based email campaigns to one-off broadcasts and in-app messaging, Userlist lets you automate almost every aspect of your email marketing strategy.
Why it's good for SaaS: Userlist has been built specifically for SaaS. It includes everything software companies need to automate their email, but skips all the features that are of no use to you. The best part, you get full support for company accounts, including complex many-to-many relationships between people and companies.
#3. SendGrid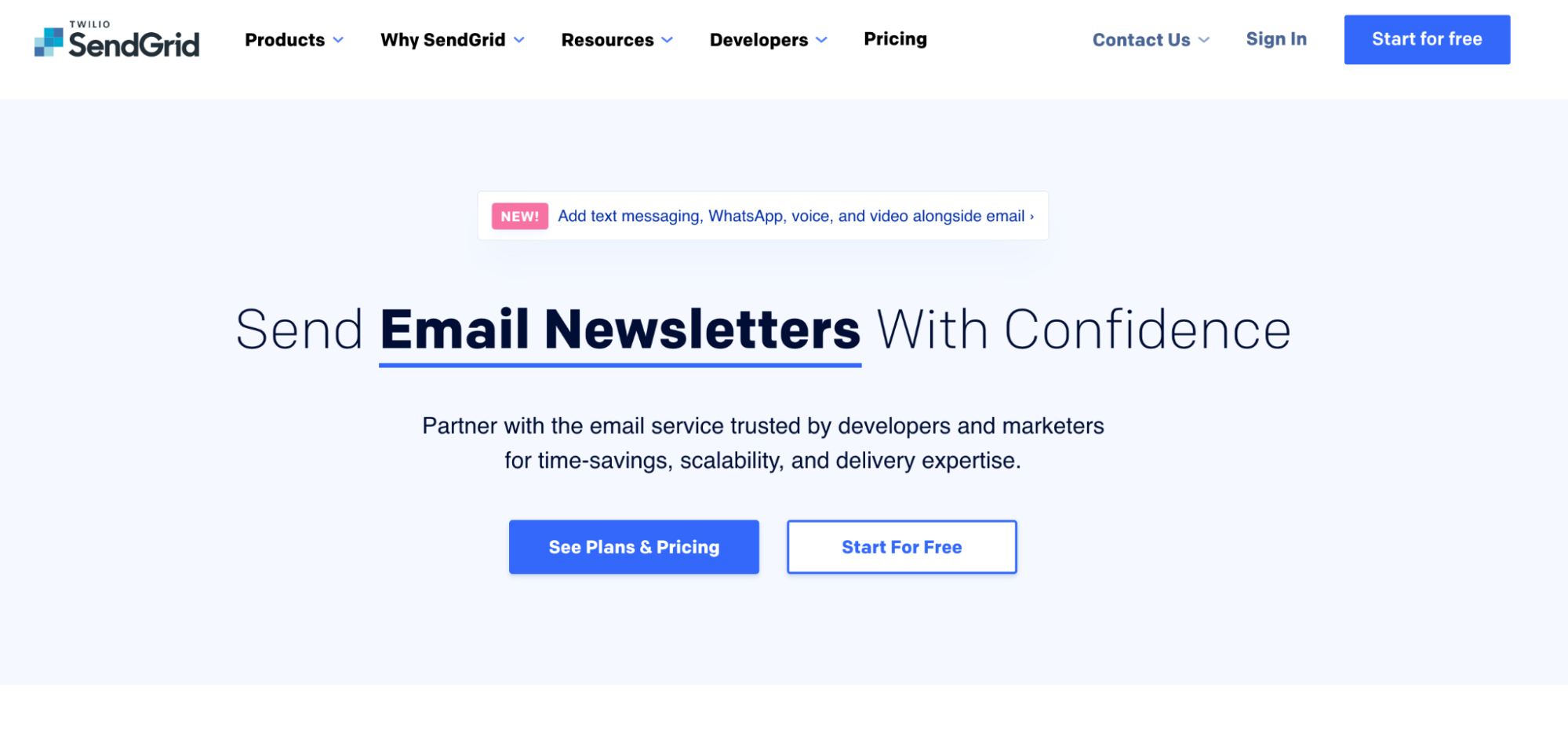 SendGrid is another email service that helps with customer communications, as well as various transactional emails. For that reason, it's not always the first choice for SaaS companies, although the platform does include certain features useful to SaaS.
Why it's good for SaaS: SendGrid includes simple automation features along with additional tools SaaS companies might find useful.
Marketing research
#4. SEMrush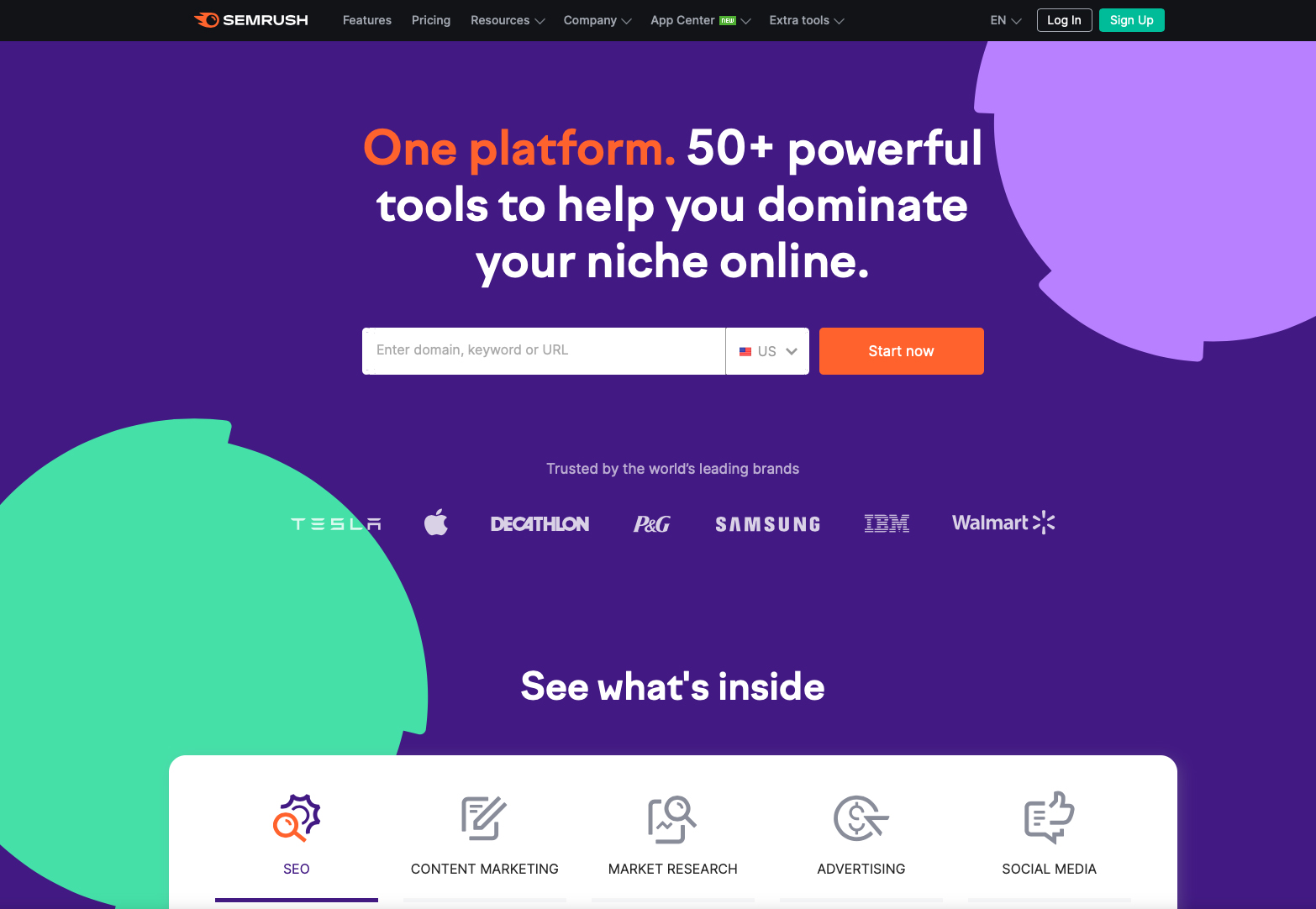 SEMrush is a true powerhouse in marketing research. Not only does it include a whole range of SEO-related tools, but it also includes features that help with researching, evaluating, and analyzing the performance of other aspects of digital marketing — content marketing, PPC ads, competitive research, and more.
Why it's good for SaaS: SEMrush's tools cover almost an entire range of strategies SaaS companies implement in their marketing.
#5. Ahrefs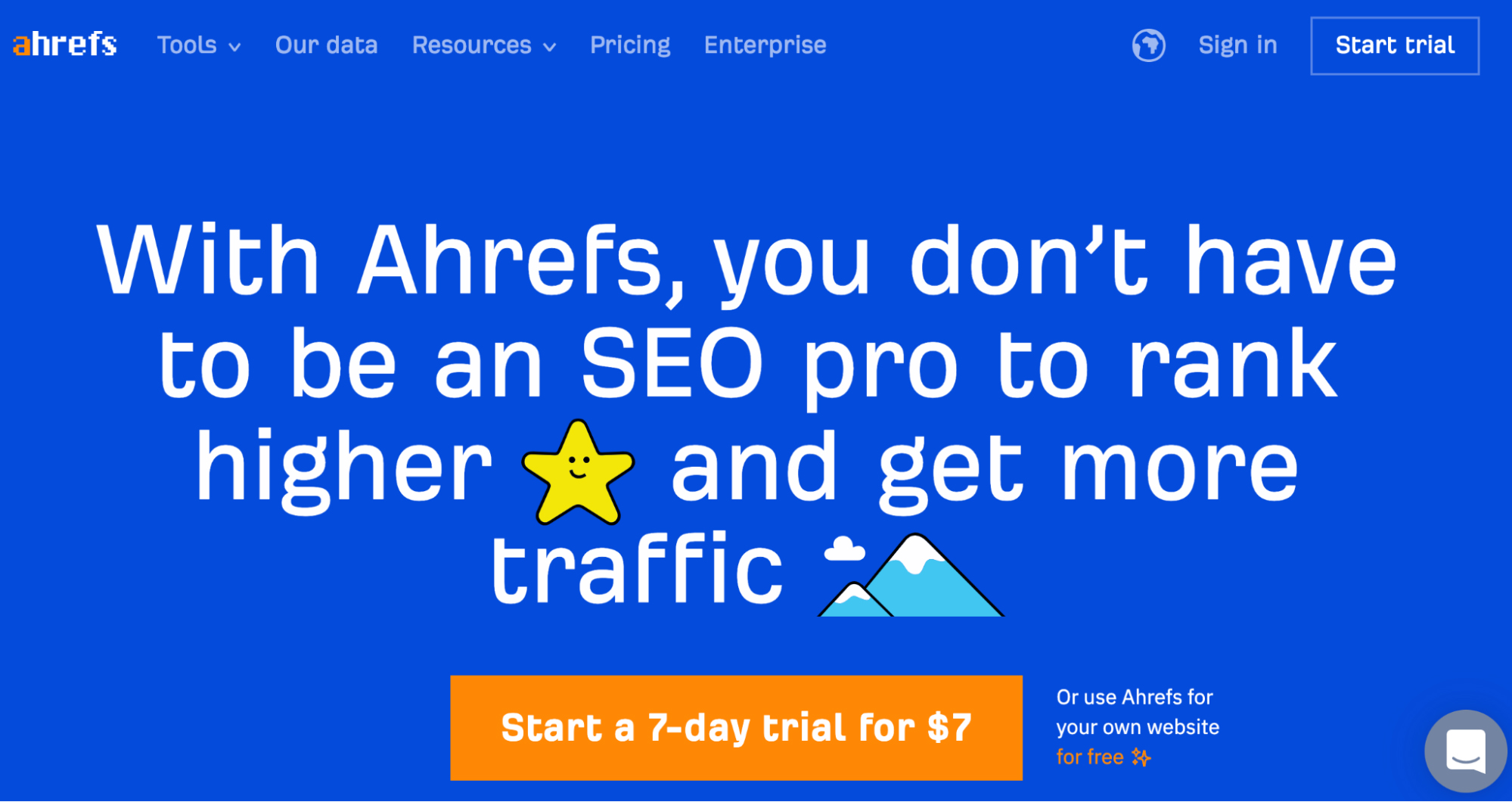 Ahrefs is probably the most comprehensive SEO tool on the market, with functionality ranging from evaluating your website and traffic, analyzing the competition, finding new keywords to rank for, and researching new content ideas.
Why it's good for SaaS: Ahrefs is by far the first choice of SEO-driven SaaS brands.
User research and feedback
#6. Refiner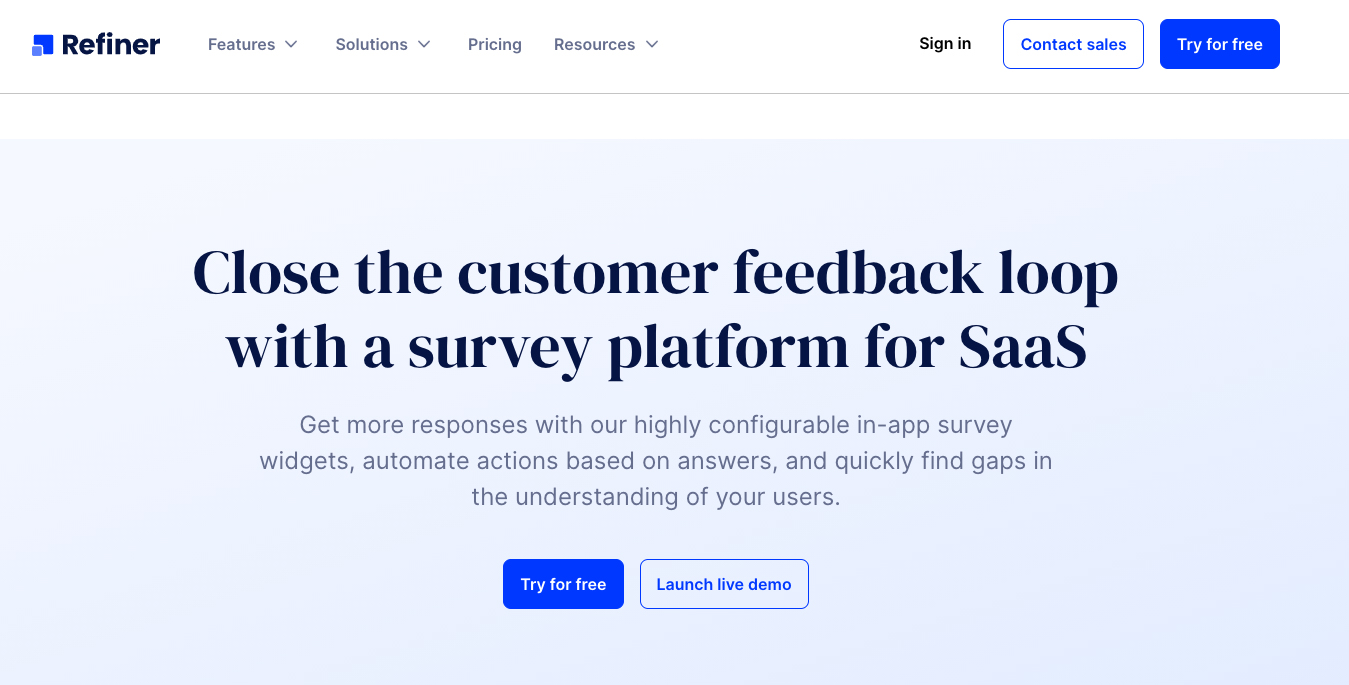 Refiner is a customer feedback and survey tool developed specifically with SaaS companies in mind. This is the tool to run customer satisfaction surveys like NPS or CSAT or conduct user research.
Why it's good for SaaS: Developed for SaaS exclusively, Refiner features everything a software brand would need to evaluate its customer feedback.
#7. Typeform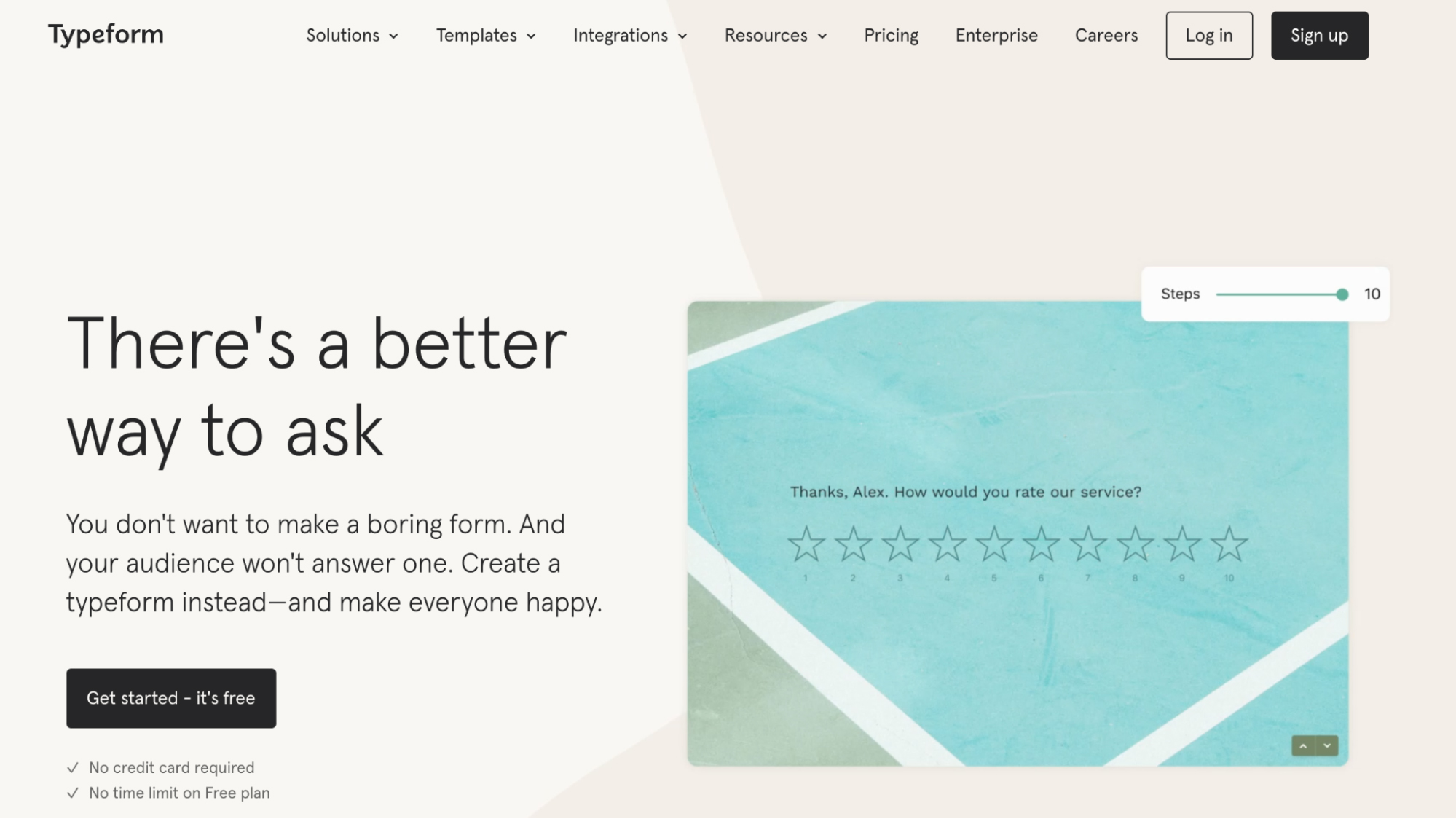 Typeform is another common choice for SaaS brands looking to create and analyze customer surveys. Although not specifically focusing on SaaS, the tool includes all the functionality to conduct user or product research.
Why it's good for SaaS: Typeform features a solid toolset for designing and distributing surveys.
#8. Reform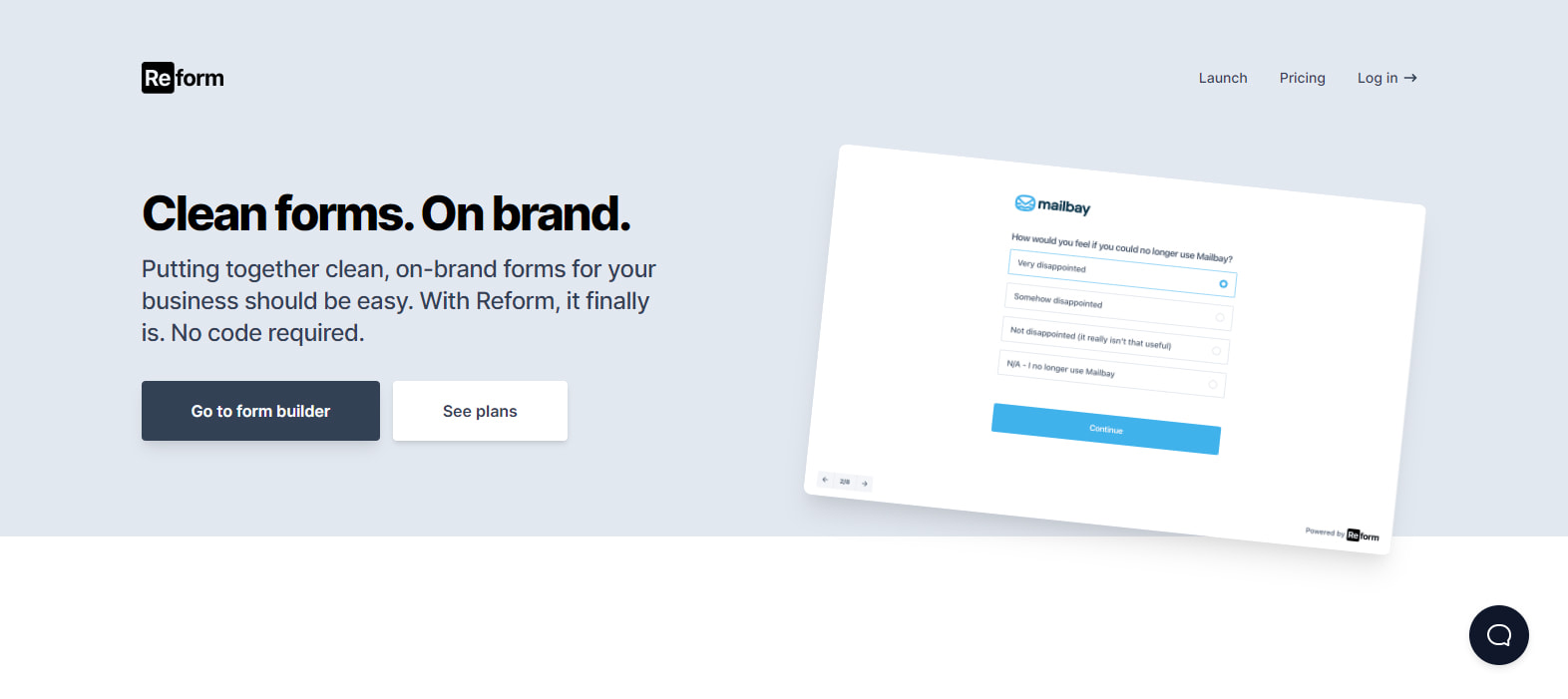 Reform is a great form builder that you can use for customer surveys. It helps you create clean, usable forms. Design-wise, it's fully customizable so that you can stay consistent with your company branding.
Why it's good for SaaS: Reform is a flexible customer survey tool with lots of great functionalities for customization.
#9. Great Question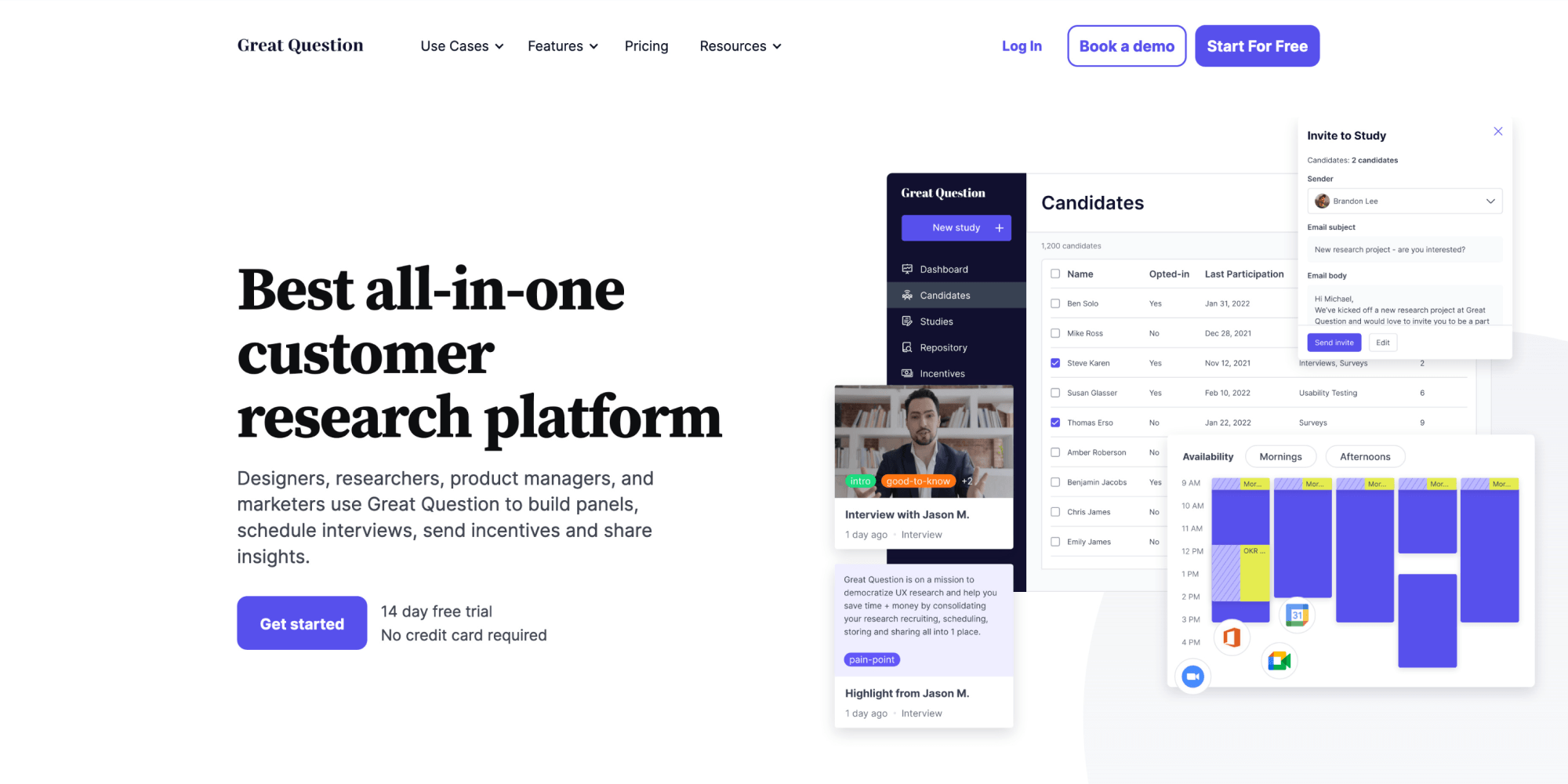 Great Question is an all-in-one customer research platform where you can build a user research panel, schedule interviews and send incentives. It also lets you store and easily access your research insights in their built-in repository.
Why it's good for SaaS: Great Question's features allow you to schedule, conduct, document your customer research activities all in one place.
Social media automation
#10. MeetEdgar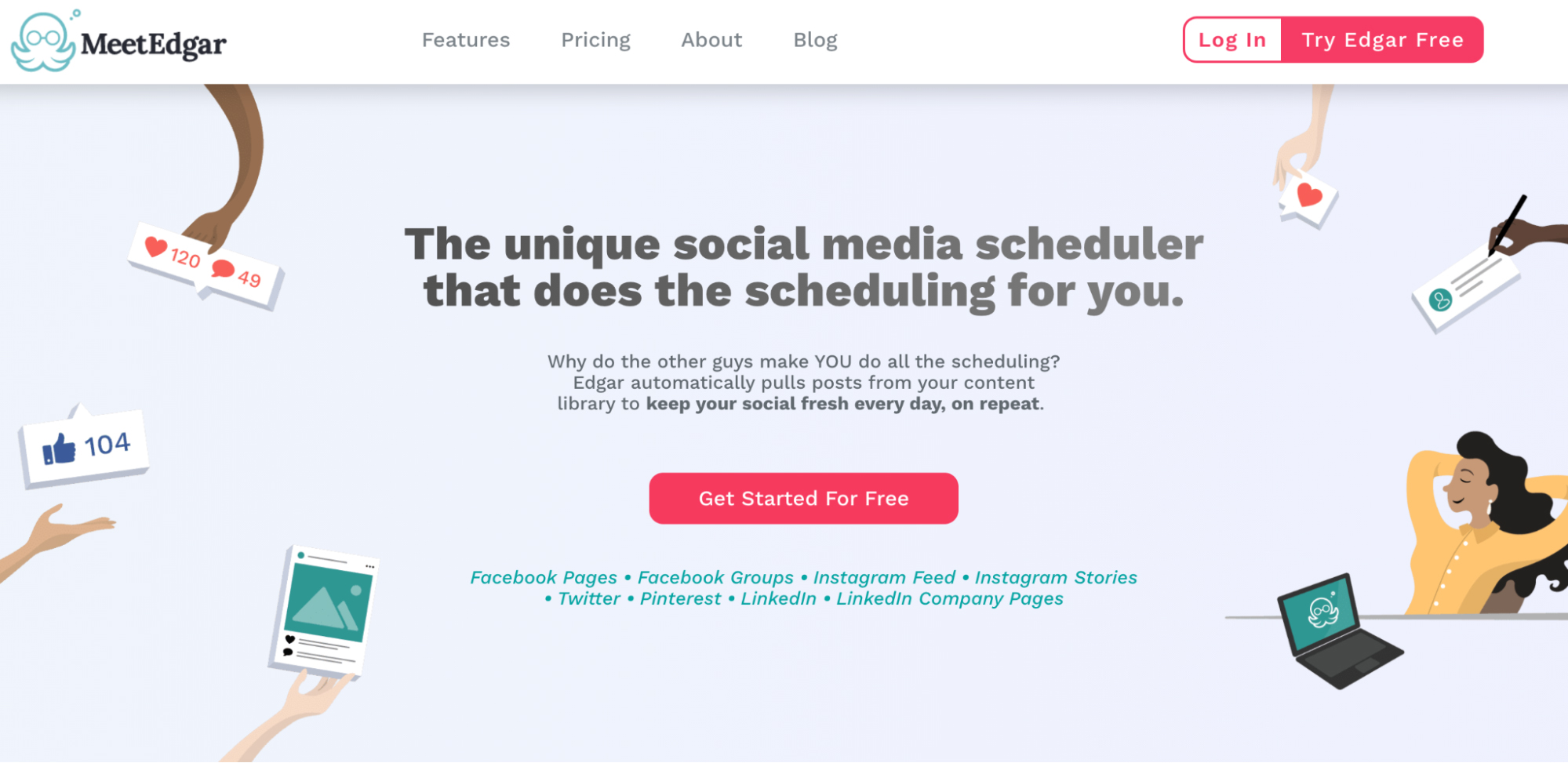 MeetEdgar is a social media scheduler with a twist. Apart from allowing you to schedule new social media updates, Edgar also automatically re-shares your older content to keep your social profiles busy.
Why it's good for SaaS: Edgar is perfect when you want to put promoting older content on autopilot. They're great for maintaining an evergreen content library.
#11. Hypefury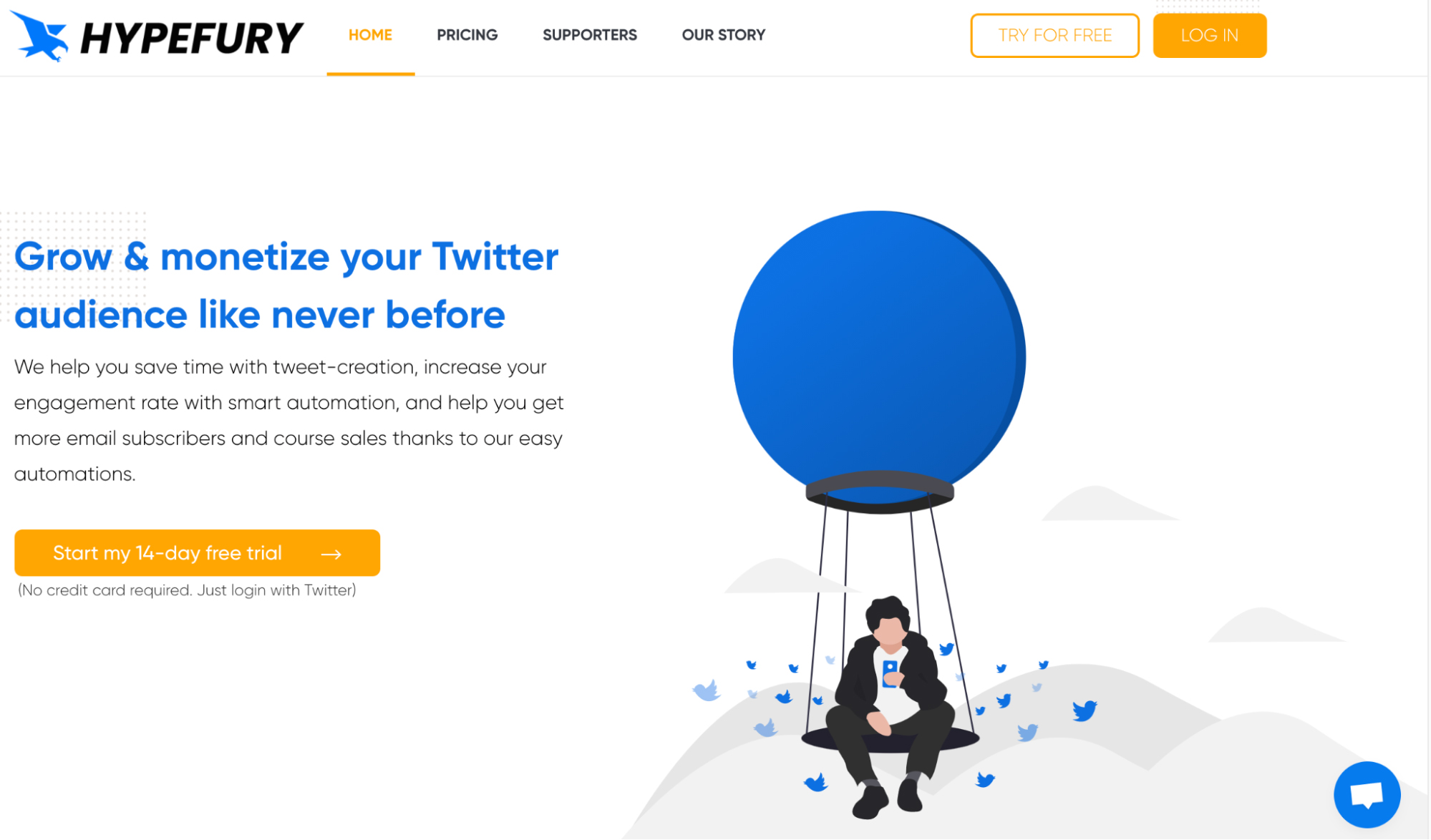 Hypefury is a social media automation tool focusing on Twitter exclusively. Just like other similar tools, it allows you to schedule future updates, retweet older content, but also share your tweets on Instagram and more.
Why it's good for SaaS: Hypefury is perfect for startups focusing on Twitter as their primary social media presence.
#12. SkedSocial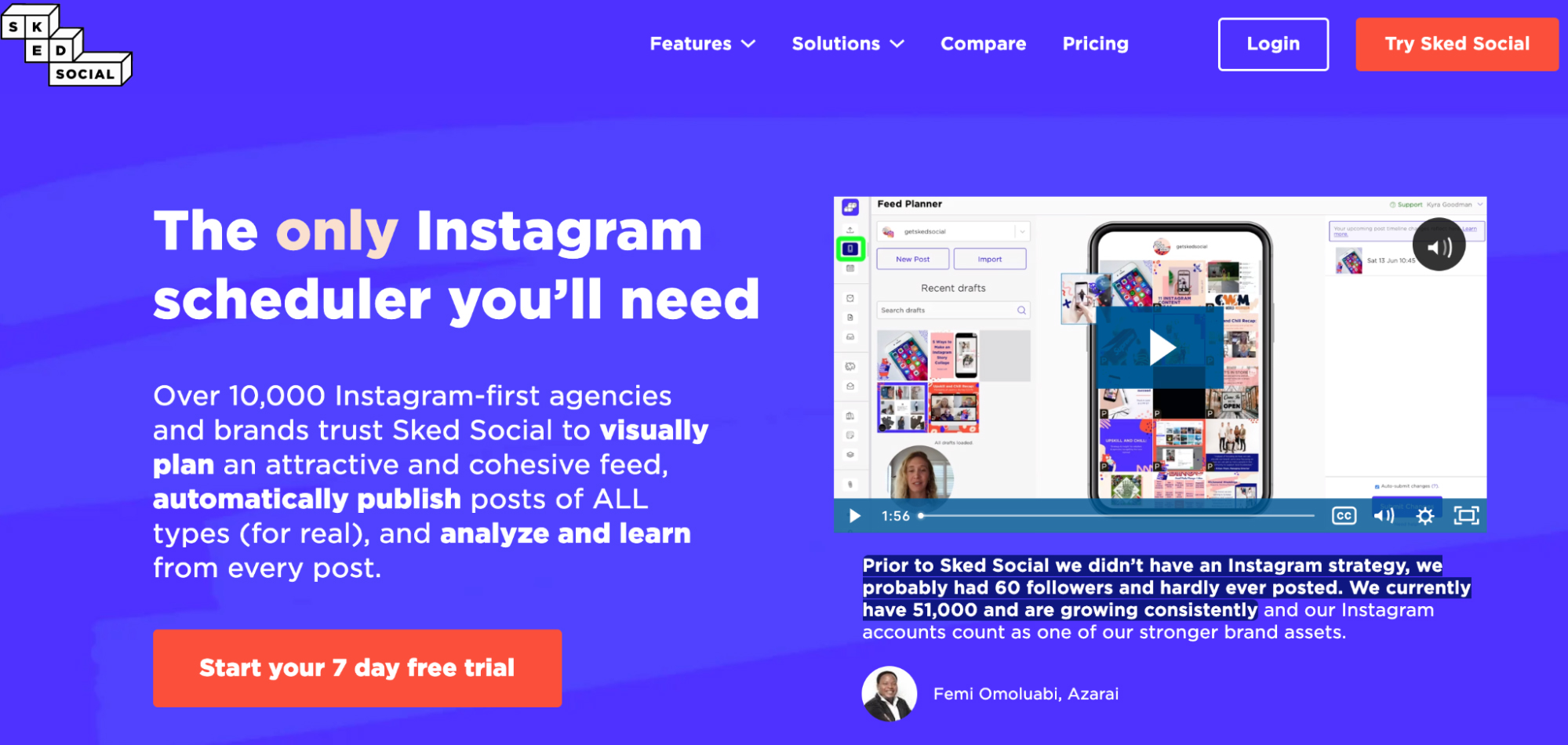 SkedSocial is a dedicated Instagram scheduler featuring a unique visual planner that lets you schedule and organize social media calendars. Plus, its comprehensive analytics give you all the insights to know what's working and what's not in your Instagram strategy.
Why it's good for SaaS: The tool's focus on Instagram and in-depth analytics make the tool the perfect choice for building a thriving audience on the social platform.
#13. Hootsuite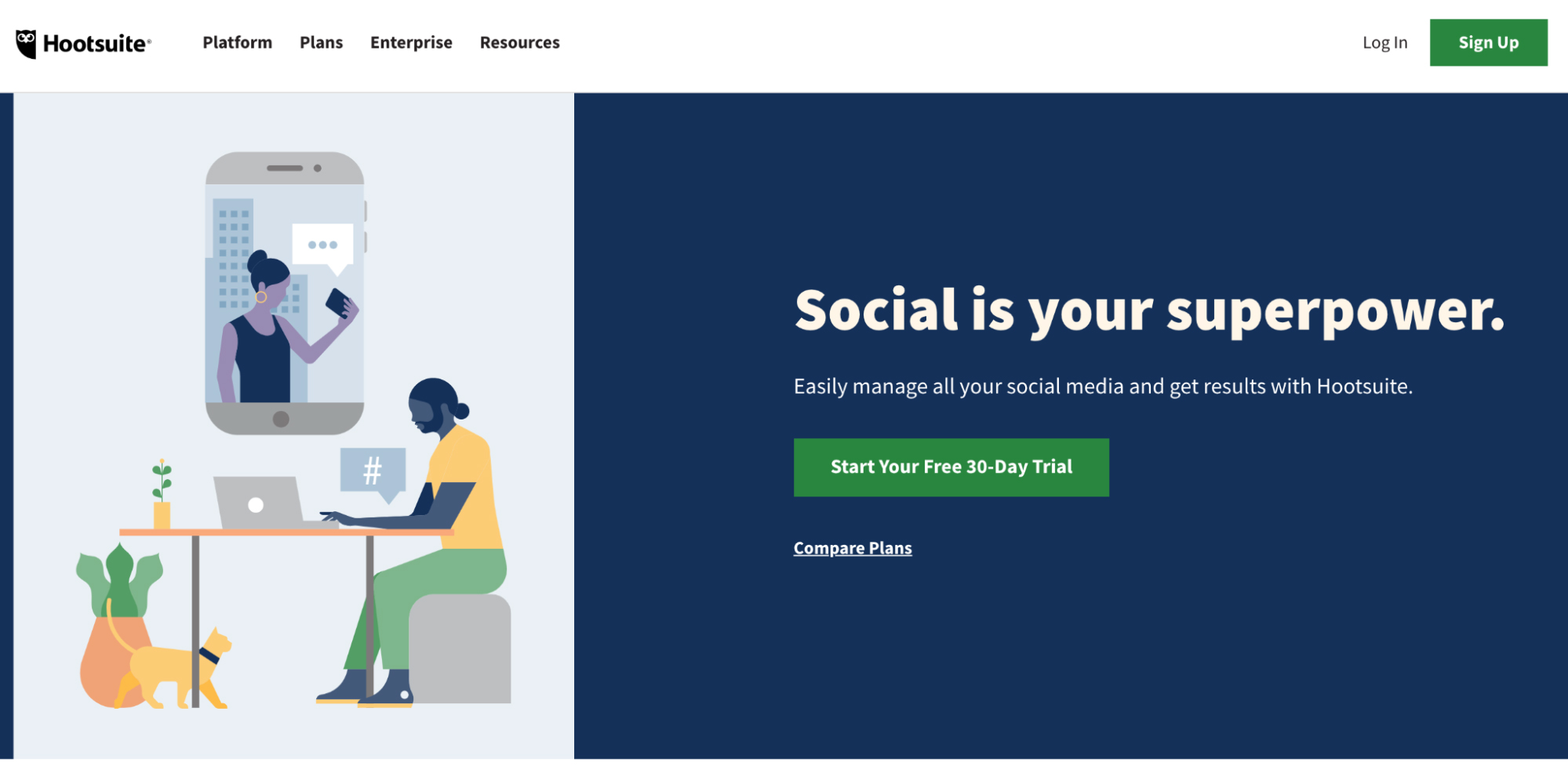 Hootsuite is by far one of the most known social media schedulers. The tool features quite an impressive feature set to publish, share, monitor, and even analyze the performance of your social media advertising campaigns.
Why it's good for SaaS: Hootsuite offers all the functionality to manage social media presence from a single tool.
Email outreach and sales
#14. Outreach.io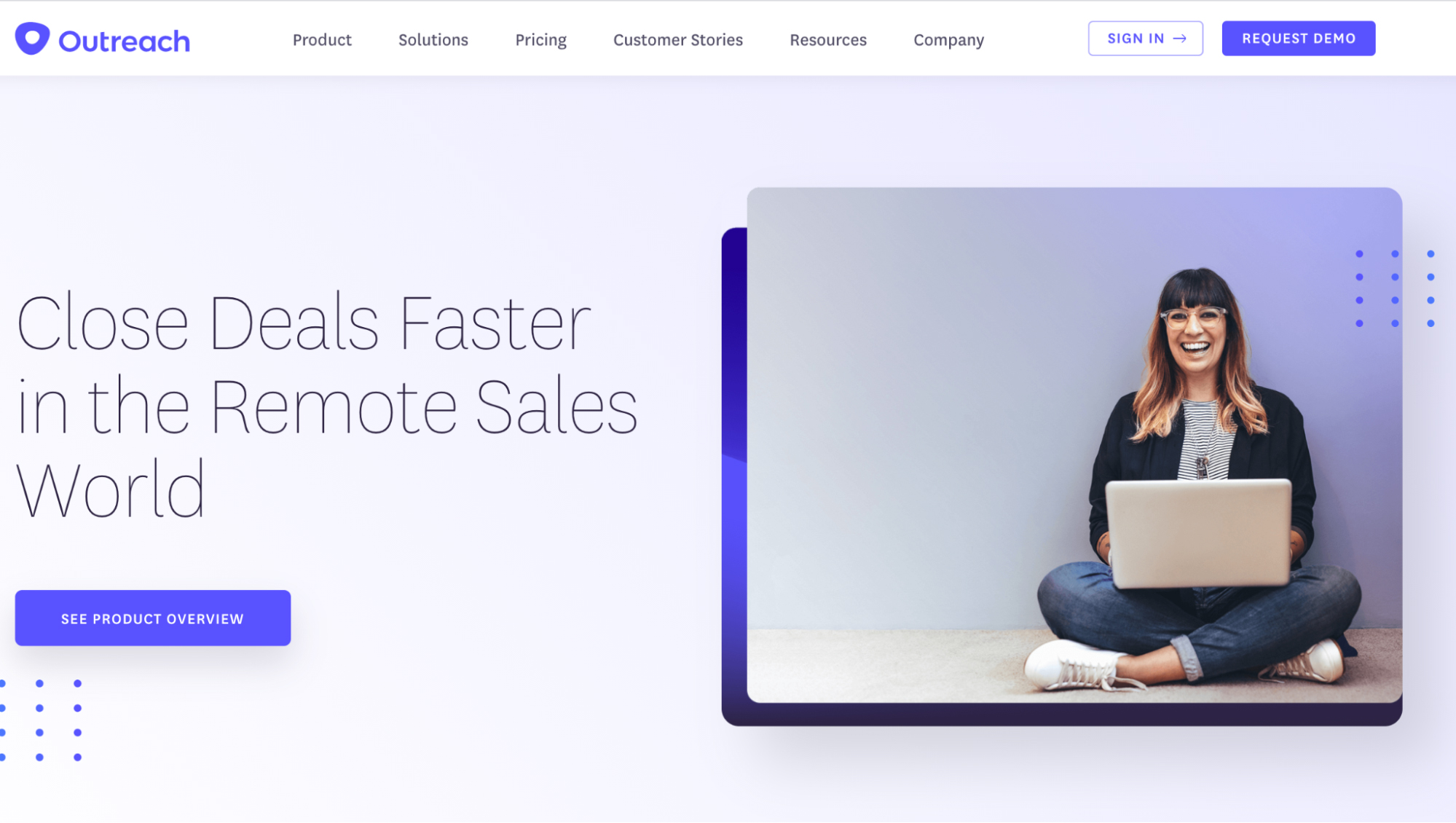 Outreach, as the name suggests, automates outbound activities for sales teams — from account-based sales, outreach campaigns, automatically triggered email outreach to follow-ups and more. And it's a quite comprehensive platform for that. On top of outbound automation, the tool provides various research and analysis tools to help you understand the conversations you have with prospects, analyze their sentiment, and even evaluate your team's performance.
Why it's good for SaaS: Outreach offers a whole stack dedicated to inside sales, something that SaaS companies moving upmarket must be able to do at a scale.
#15. Mailshake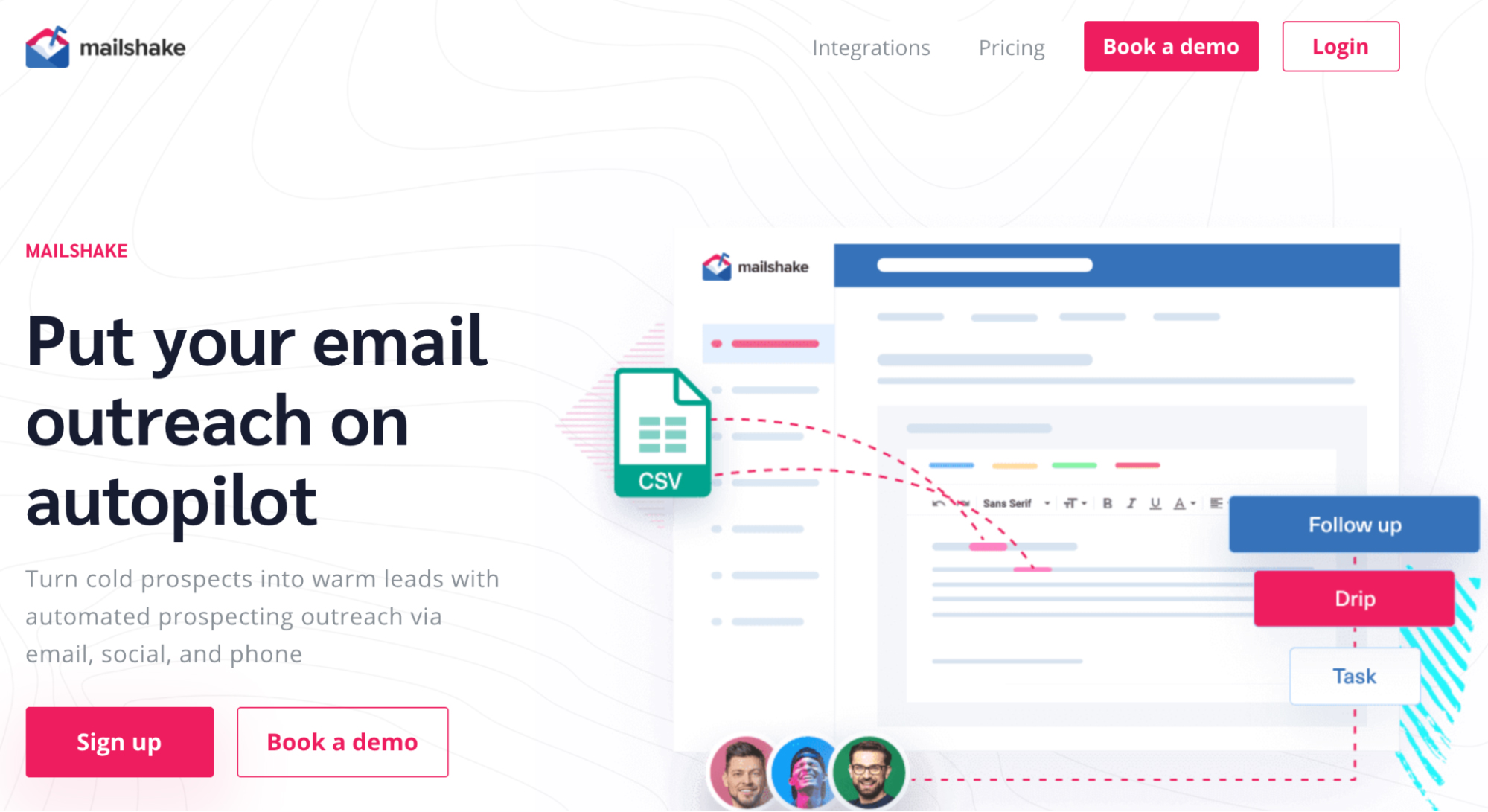 Mailshake doesn't offer all the bells and whistles of Outreach.io, but it does one thing exceptionally well — email outreach. So whether you want to reach new customers or promote a piece of content, Mailshake is a great tool to automate the process.
Why it's good for SaaS: Mailshake is simple to use while allowing startups to automate one of the most common marketing activities.
#16. Woodpecker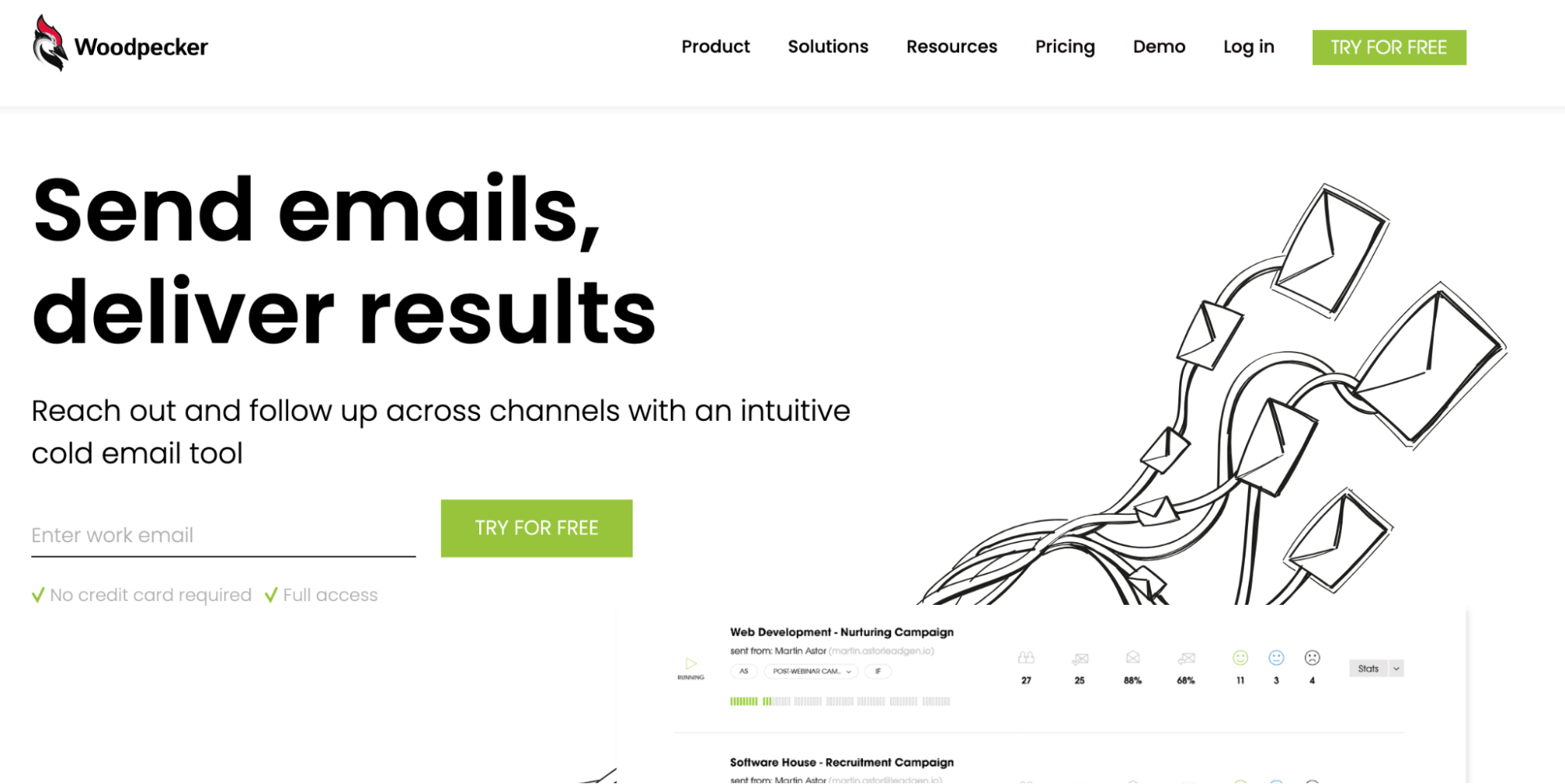 Woodpecker also automates email outreach and offers several unique features that SaaS companies might find useful — email address verification, various email settings to ensure that the outreach looks as natural as possible, A/B testing of emails, and more. But Woodpecker goes beyond email automation. You can also schedule and track sales calls on your phone with the tool.
Why it's good for SaaS: Woodpecker offers quite a feature set to satisfy the needs of even the most demanding startups wishing to grow through inside and outbound sales.
#17. Postaga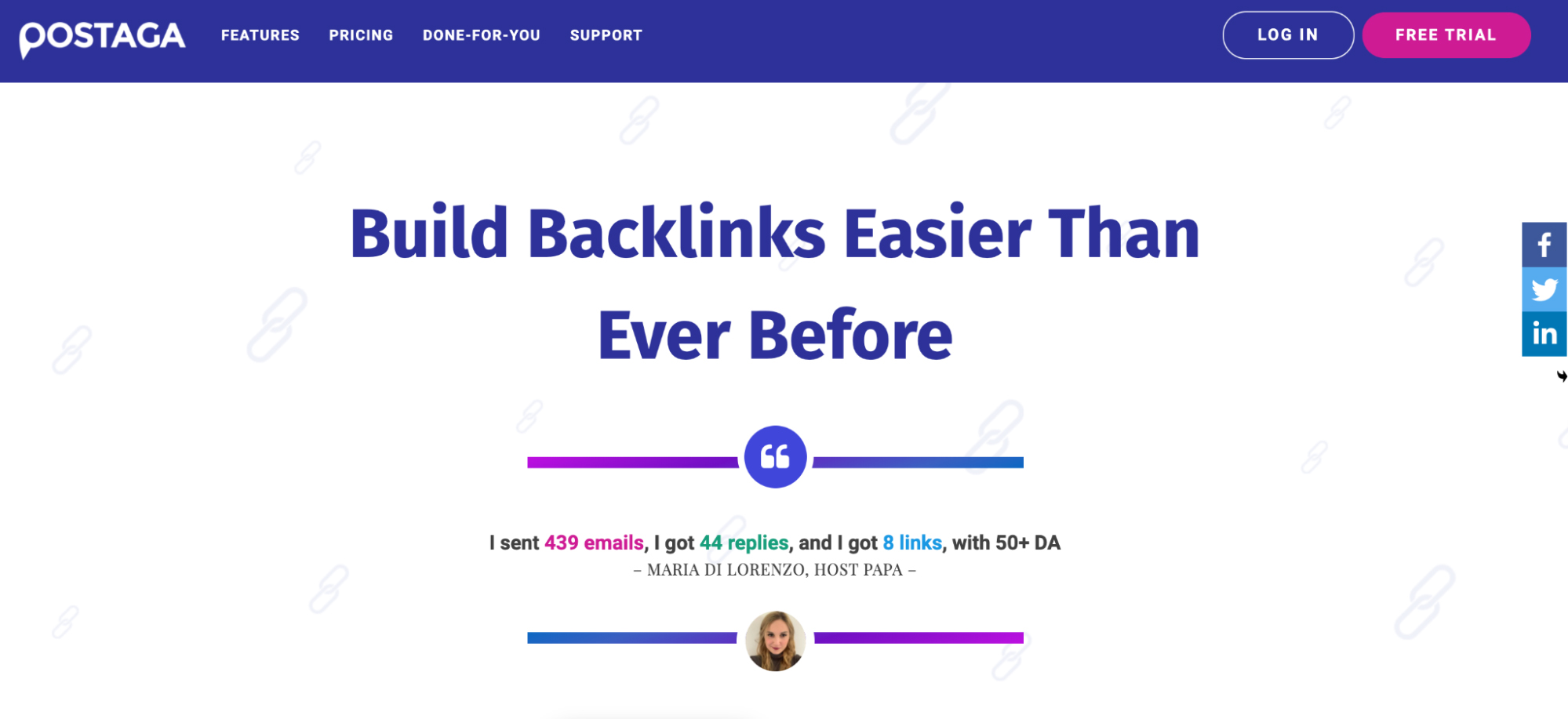 Unlike the other outreach tools, Postaga focuses more on link building and content promotion outreach. Such focus brings unique tools to the platform's feature set, like the content hub and campaign generator — an AI-powered system to find high-converting campaign ideas in your content.
Why it's good for SaaS: Postaga focuses on automating a hugely important part of marketing and SEO for any SaaS startup — getting links to increase rankings, and promoting content to the target audience.
#18. Expandi
With Expandi, you can easily automate your emails, combine them with LinkedIn, and improve your KPIs without having to do any extra work. Expandi also has an easy-to-use UI which makes it quite easy to set up and launch automated email sequences.
Why it's good for SaaS: Expandi is an automated cloud tool that's designed to help you generate leads from LinkedIn. It helps you acquire and retain customers, improve your conversions, and increase revenue.
Lead intelligence
#19. BuiltWith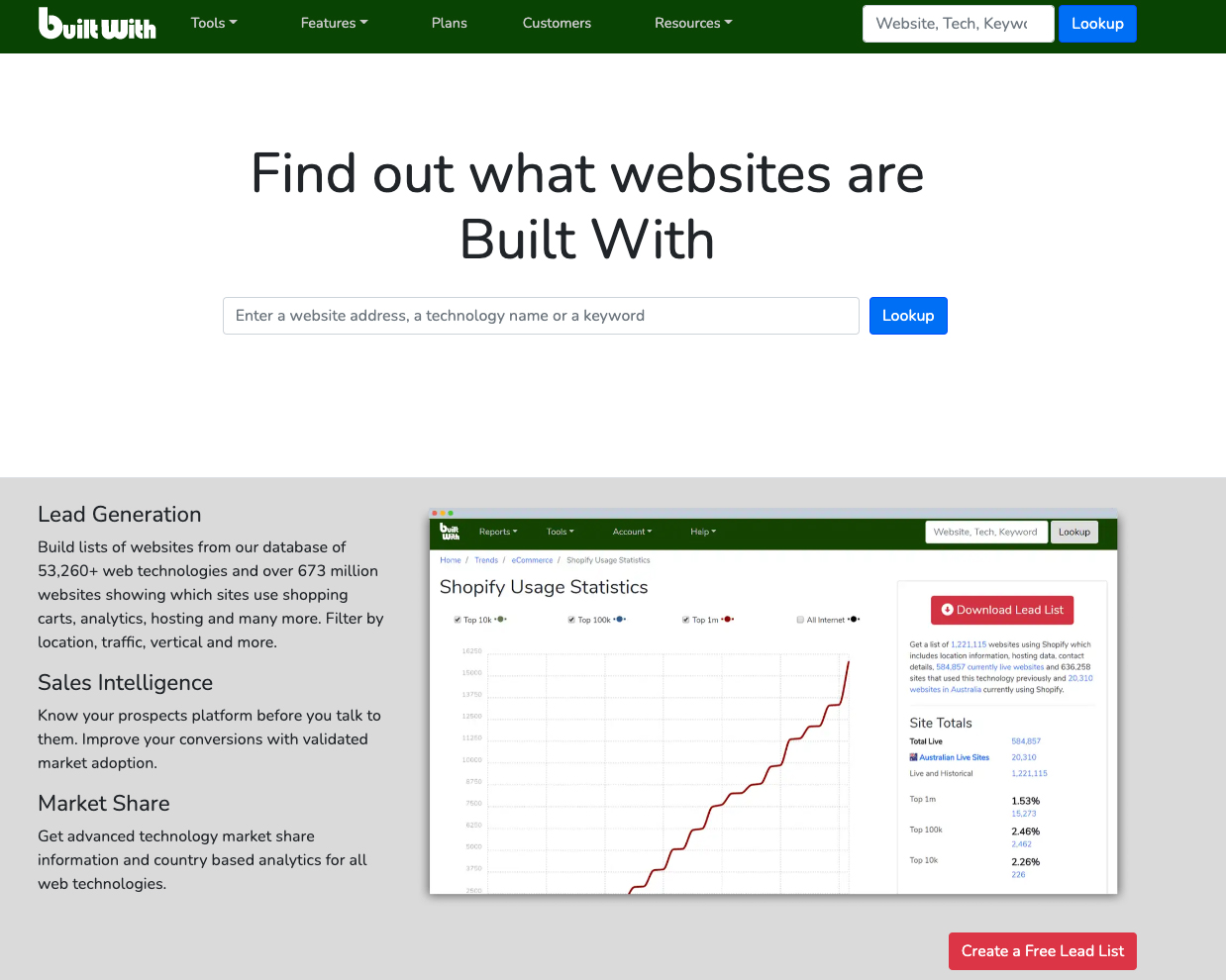 BuiltWith isn't your typical lead intelligence tool. Instead of scouting the web for email addresses or company information, the platform gives you access to a database of millions of websites and information on the web technologies they use.
With BuiltWith, you can quickly identify websites that need your technology but either not using any solution or use one of your competitors' products.
Why it's good for SaaS: Because you sell technology solutions, with BuiltWith, you can quickly identify potential customers to outreach to based on their specific needs for your product.
#20. Hunter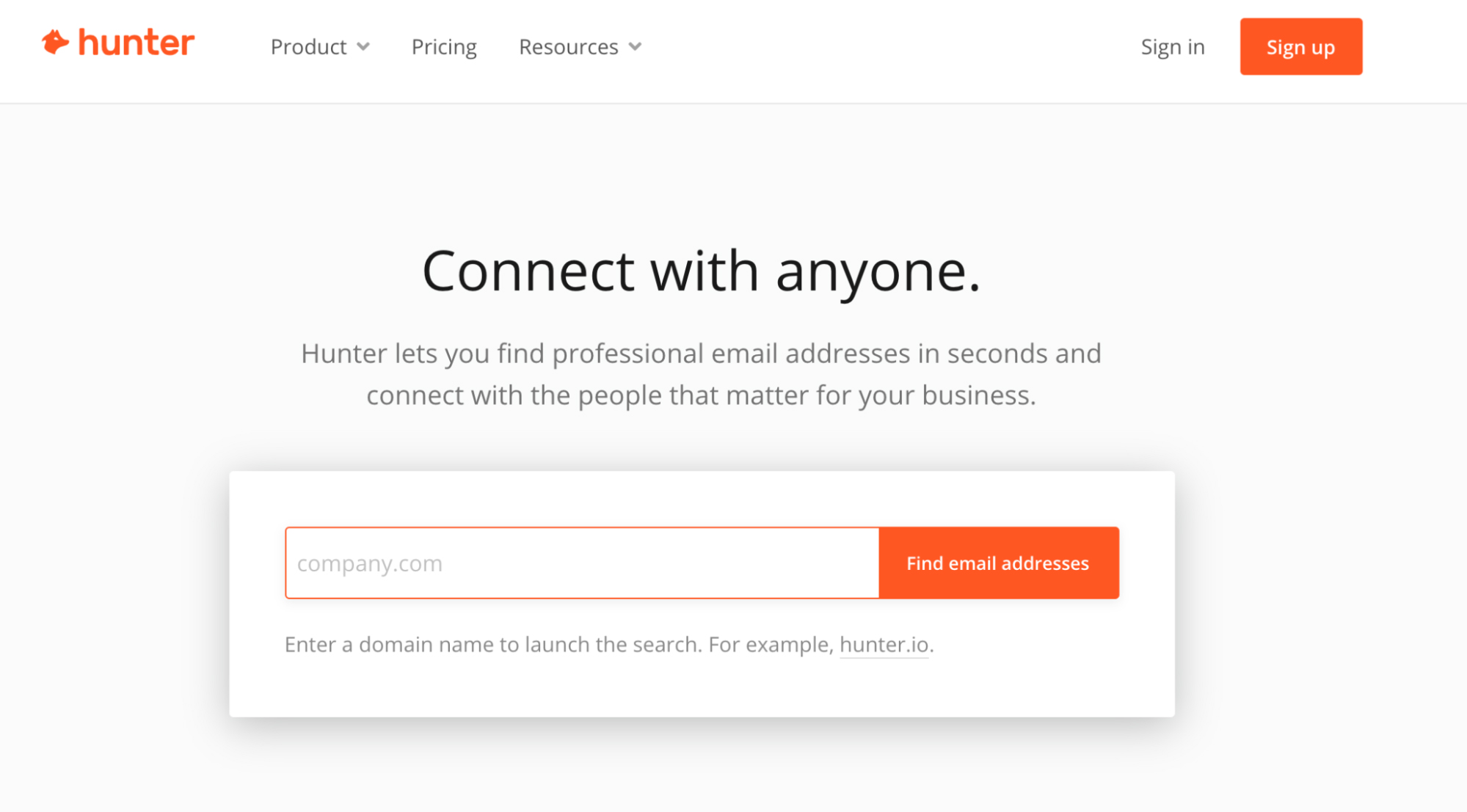 Hunter assists your lead generation and outreach differently. The platform allows you to find the professional email addresses of anyone you want to contact and present your product to. You can search emails by domain or verify emails you think will work for a specific lead to build targeted outreach lists.
Why it's good for SaaS: Hunter helps you ensure that you send emails to the right people and their real email addresses.
#21. HubSpot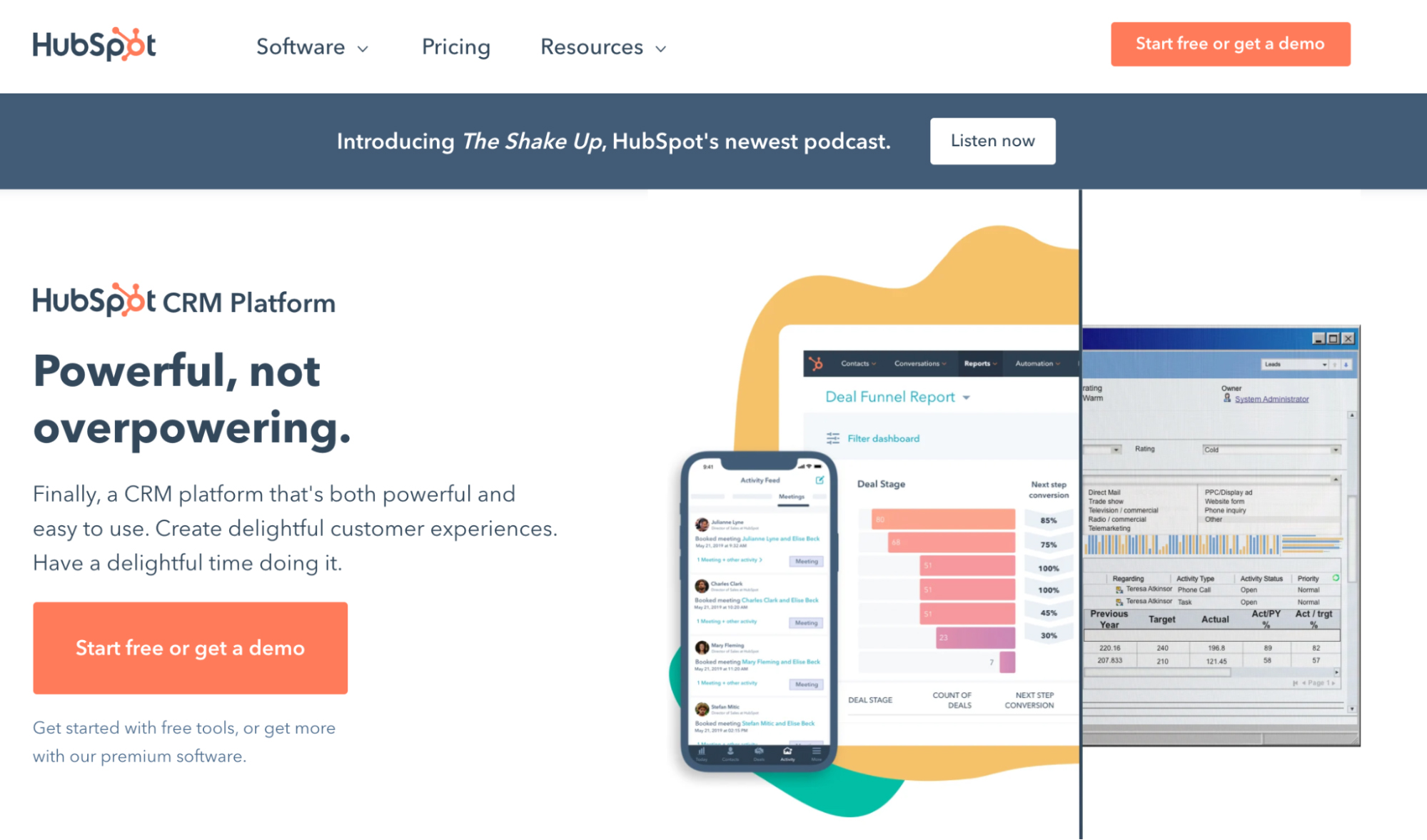 HubSpot started as an automation tool to power inbound marketing strategies. It has grown quite a while since, of course, and today the platform also features sales tools, a CRM, and more. But at its core, it remains a fantastic tool for generating and nurturing leads for businesses, from creating the website, landing pages to managing relationships with potential customers.
Why it's good for SaaS: HubSpot includes all tools needed to run inbound marketing for SaaS under one roof.
#22. Userlist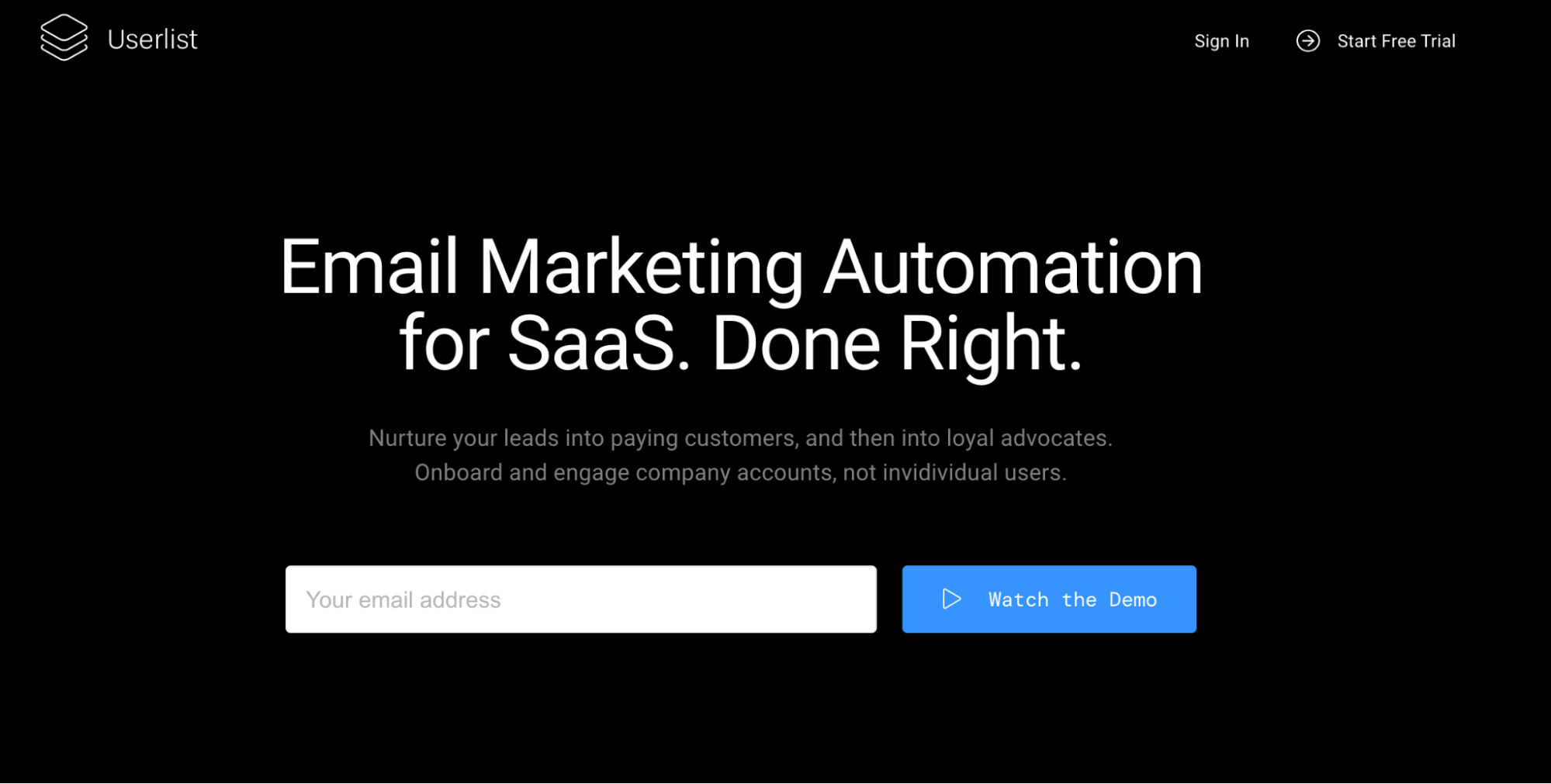 It's a bit awkward to include your tool twice in a list. But the thing is, Userlist is great for lifecycle email, but the same email automation features allow you to nurture leads, whether they just downloaded a resource from your blog or signed up for a free trial.
Why it's good for SaaS: Userlist has been built with SaaS in mind, and because of our strict focus on the software market, it skips the feature bloat of other similar platforms. It's great for handling both customers and leads within the same platform.
Website engagement
#23. Social Intents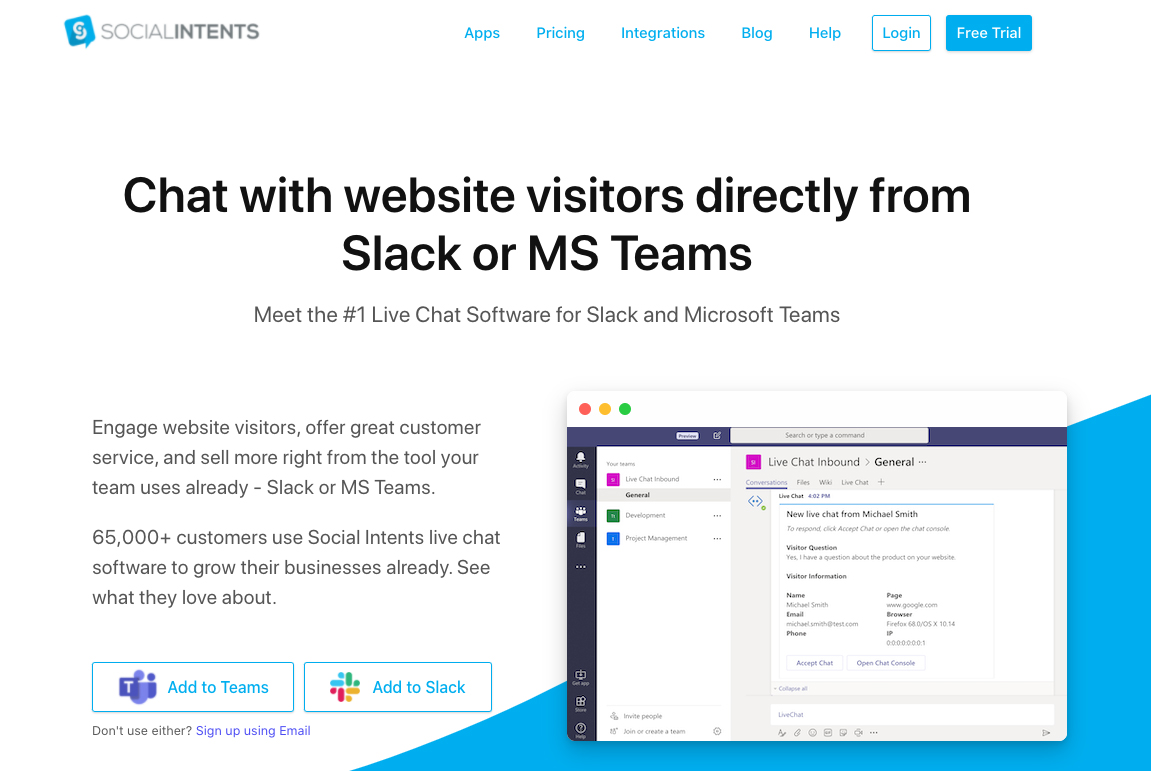 Social Intents is a little different from what you might be used to in live chat software. For one, instead of giving you a separate interface to chat with visitors, this powerful tool connects to your Slack or MS Teams account, allowing you to run live chat without having to leave the communications platform you're using all day every day.
Why it's good for SaaS: Social Intents connects with Slack, allowing your sales and customer support teams to chat with clients with a platform they're super familiar with.
#24. Drift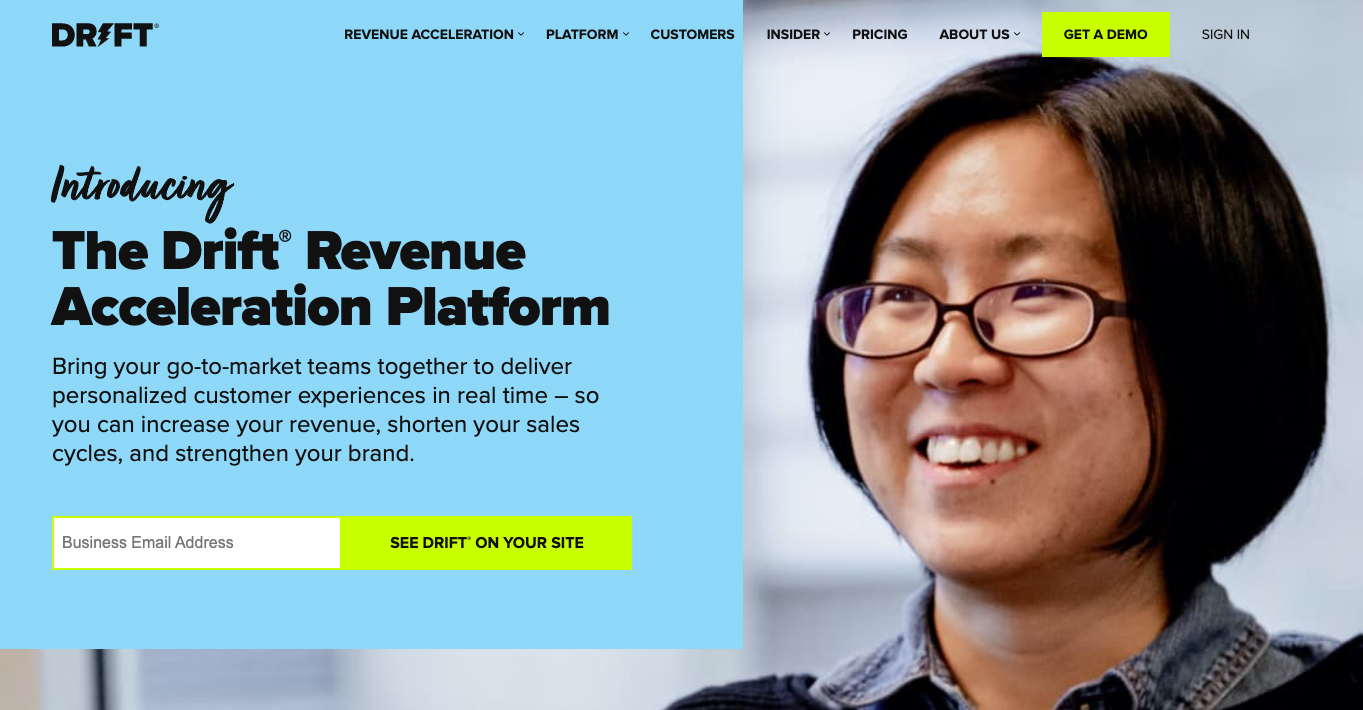 Drift is so much more than just live chat. It can power your entire conversational marketing strategy, from visitor intelligence, chat to ABM, and more, to fuel your sales funnel with qualified leads.
Why it's good for SaaS: Companies with huge marketing and sales operations will find Drift's automation and chat features useful to power their strategies.
#25. Hotjar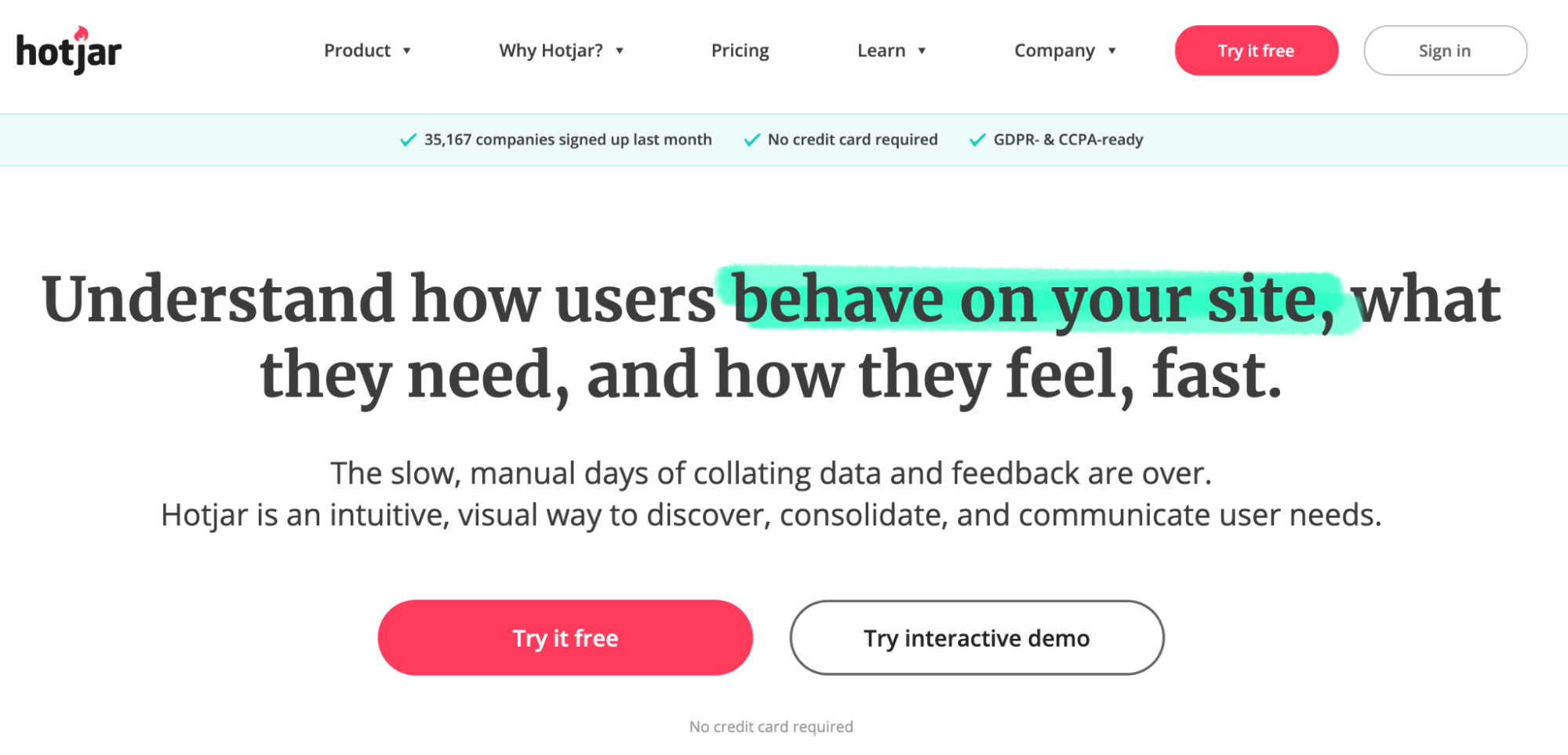 Hotjar is different from the two other tools above, as it focuses on measuring visitor behavior while they're on your site. Hotjar gives you several behavior analytics tools like heatmaps, funnel analytics, and more to understand what engages your visitors in the first place. Coupled with this knowledge, you can focus on improving and doubling down on what works while simultaneously testing new ideas.
Why it's good for SaaS: SaaS companies, particularly self-serve, rely on engagement to generate signups and leads, and Hotjar offers the best toolkit to gain valuable insights to drive further engagement.
#26. EngageBay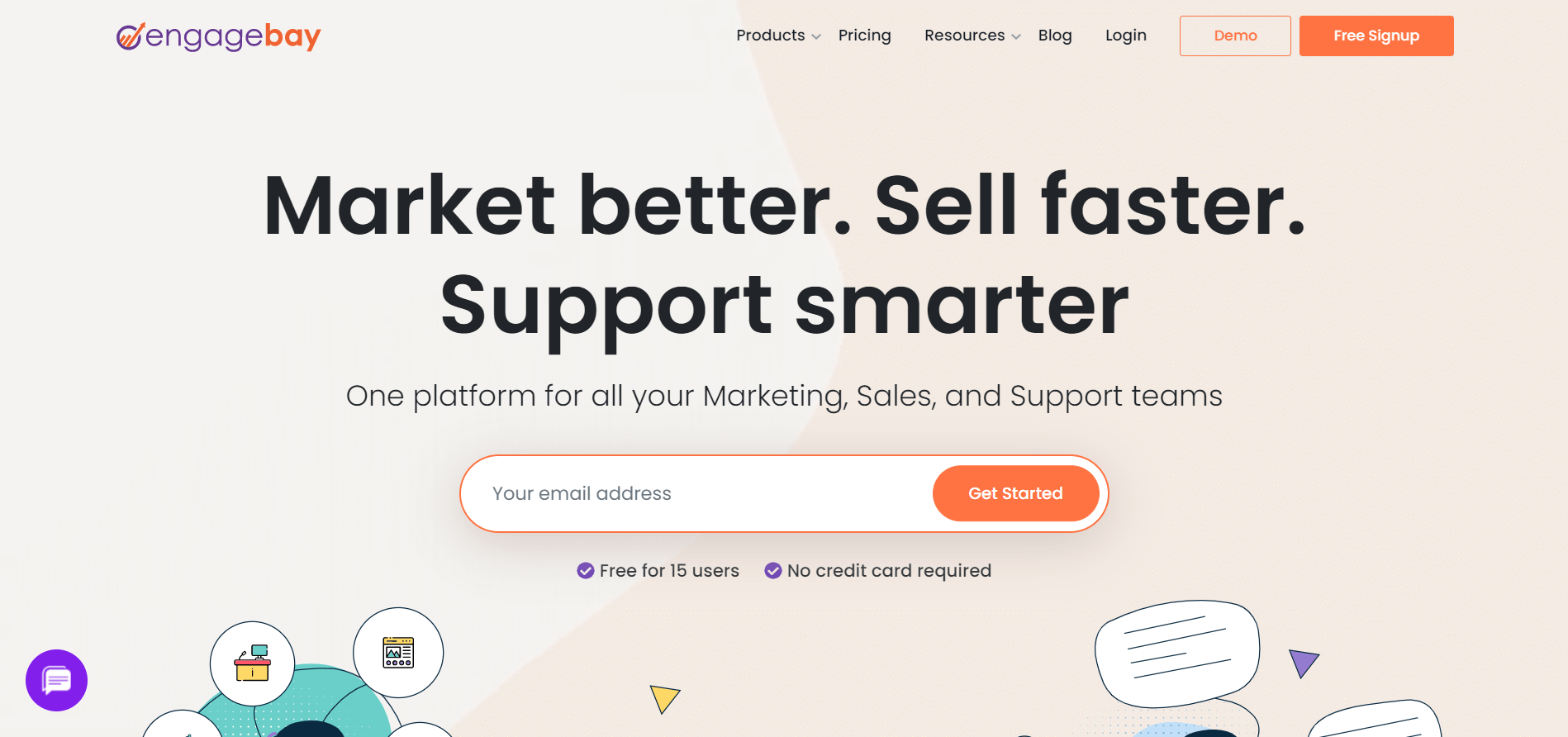 EngageBay is popular as a CRM but has all the features of a marketing automation tool. This free automation tool streamlines marketing, sales, and support tasks through a single CRM system.
It offers the widest range of features for email marketing, social media scheduling and management, lead nurturing, email outreach, and form creation. Their free plan gives users access to features like integrations, reporting dashboard, email broadcasters, and free email templates.
Why it's good for SaaS: EngageBay has lots of great features to automate your marketing and sales workflow.
Automation and data
#27. Zapier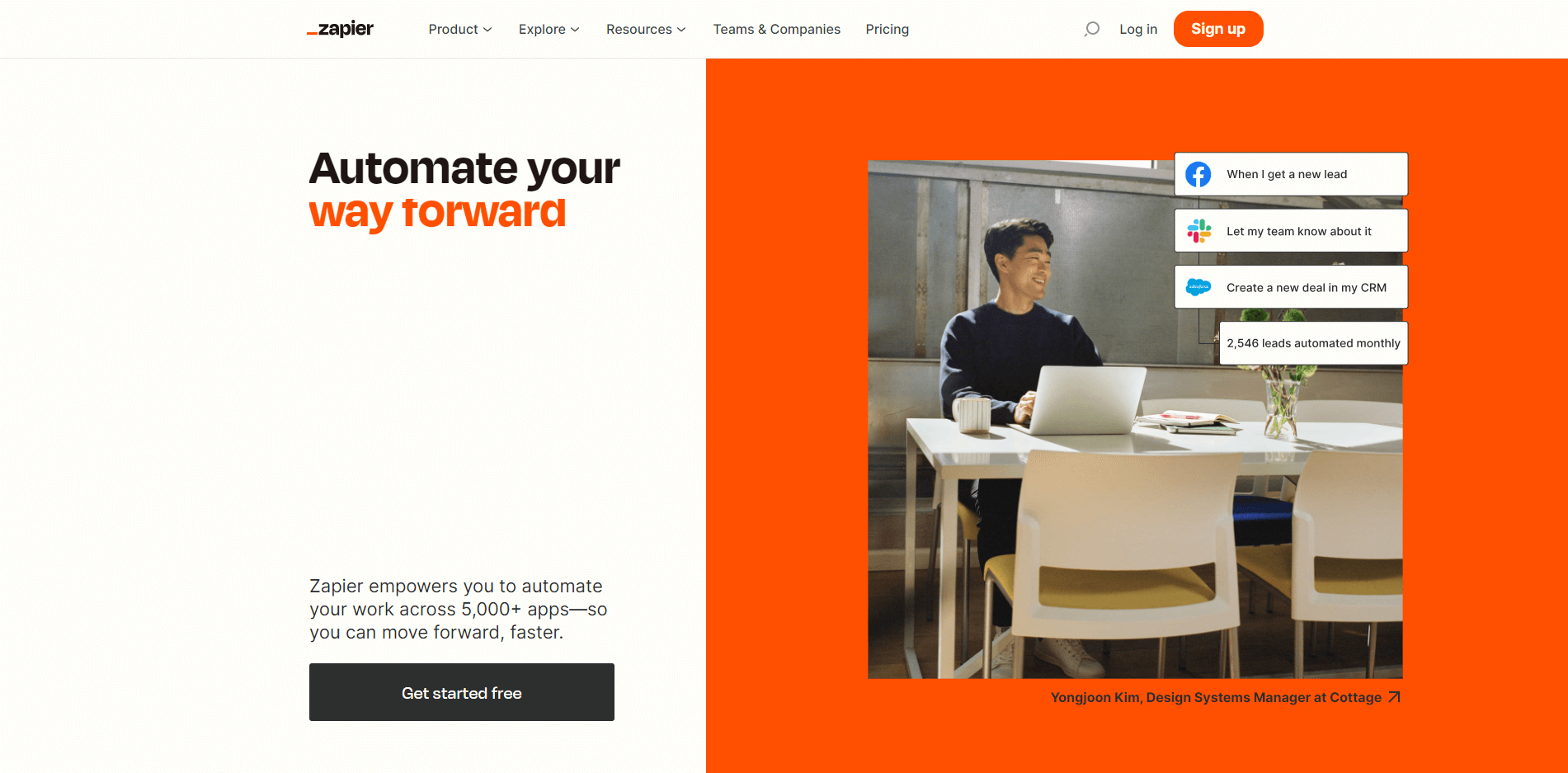 Zapier is a tool that allows you to set up, create your own integrations, and automate your workflows. This integration tool involves little to no coding.
Why it's good for SaaS: Zapier is simple to use and has integrations to serve over 5,000+ tools.
#28. SegMetrics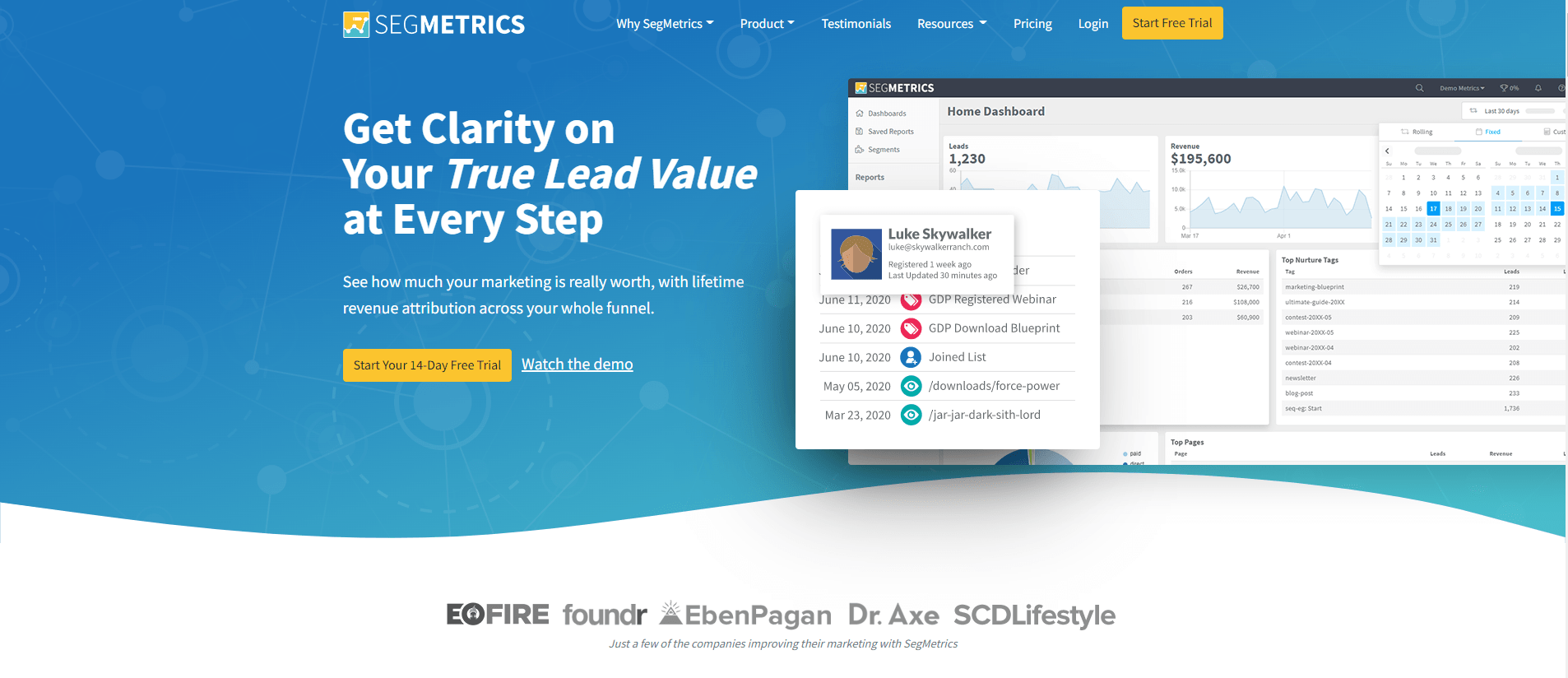 SegMetrics is an attribution and business intelligence platform that helps you track where your leads come from, which lead segments have greater value, and more.
Why it's good for SaaS: Segmetrics allows you to prioritize leads based on the lead value.
#29. Outfunnel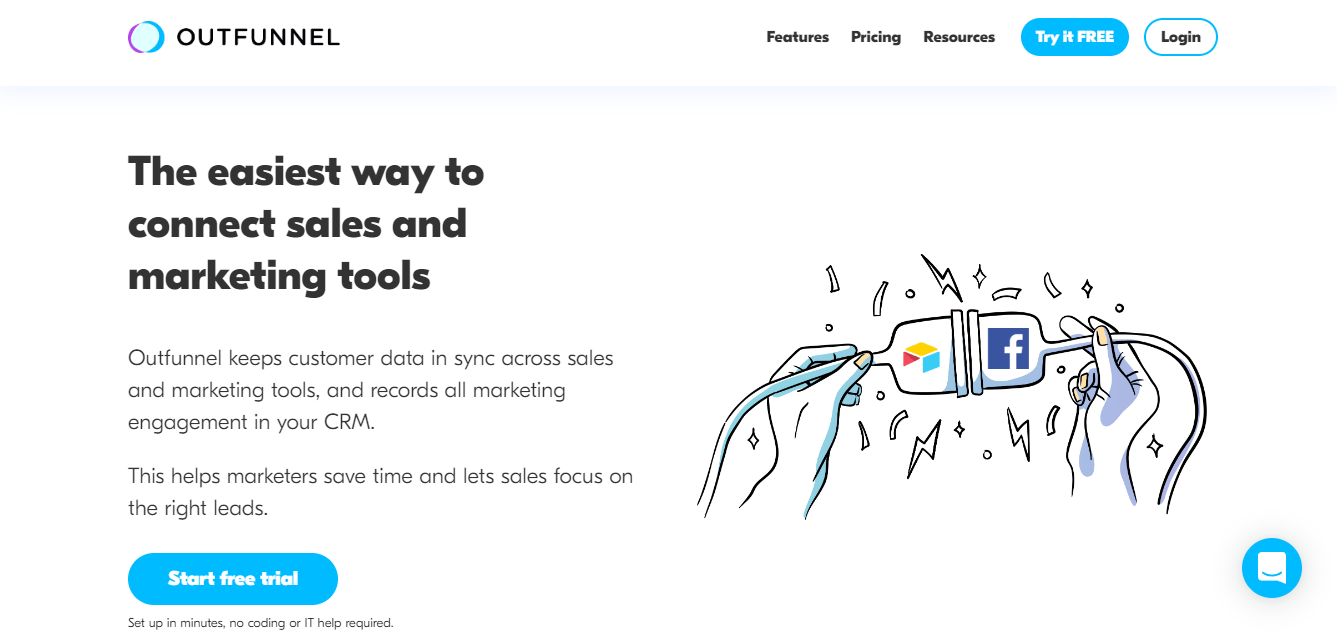 Outfunnel is a tool for keeping customer data in sync across all your marketing and sales tools. It also offers powerful integrations so that you can connect all your CRM and marketing tools such as HubSpot CRM, Airtable, and Salesforce, to name a few.
Why it's good for SaaS: Outfunnel offers simple marketing automation features. Beyond marketing automation, they offer web tracking and lead scoring features.
Webinars
#30. Livestorm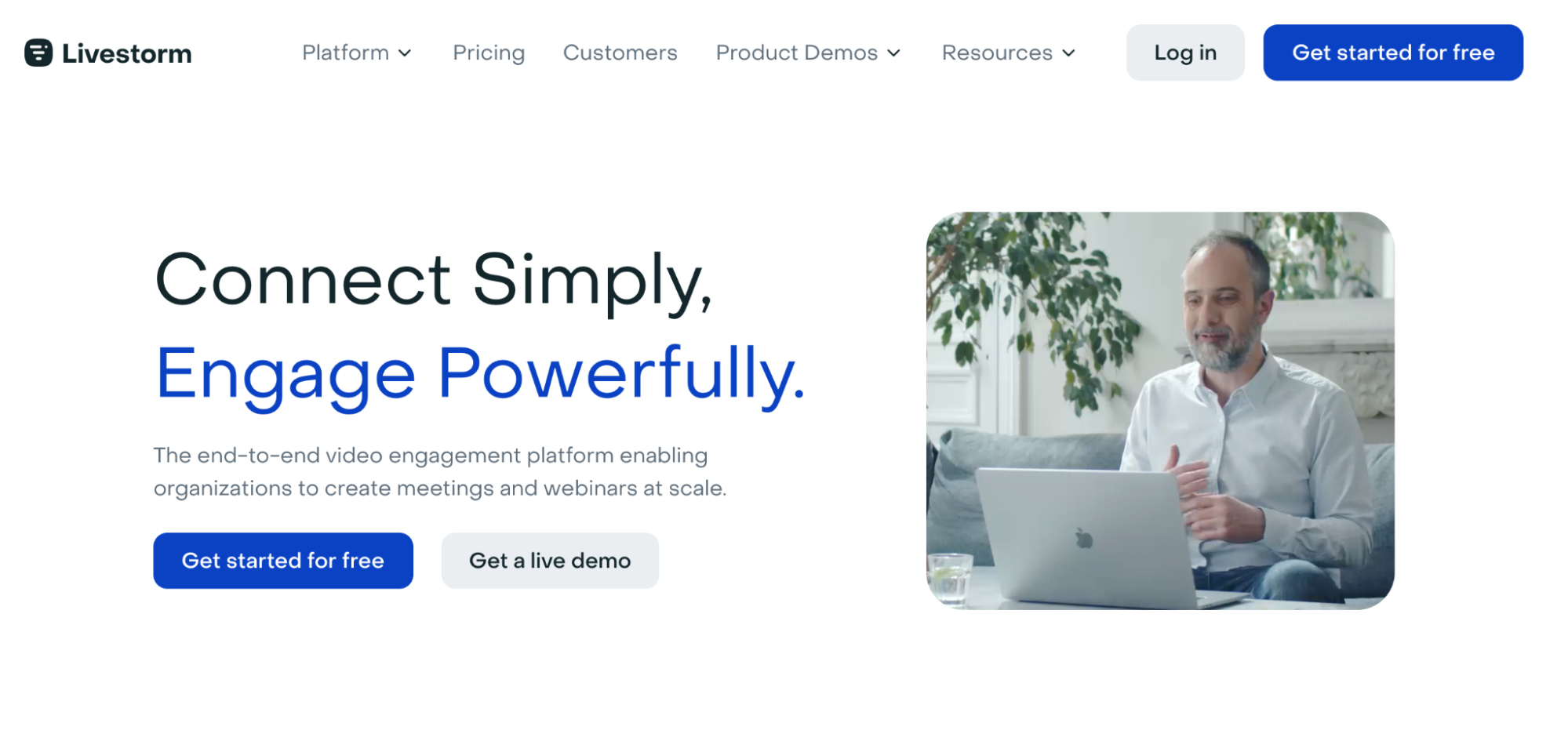 With Livestorm, you can host online meetings, events, and webinars to collaborate, educate customers or even generate new users. Livestorm works great whether you meet with just one person or want to deliver a business presentation to a whole bunch of people.
Why it's good for SaaS: Impeccably designed, Livestorm is a powerful webinar platform that automates the entire webinar experience, from one-off webinars to pre-recorded demos and beyond.
#31. Crowdcast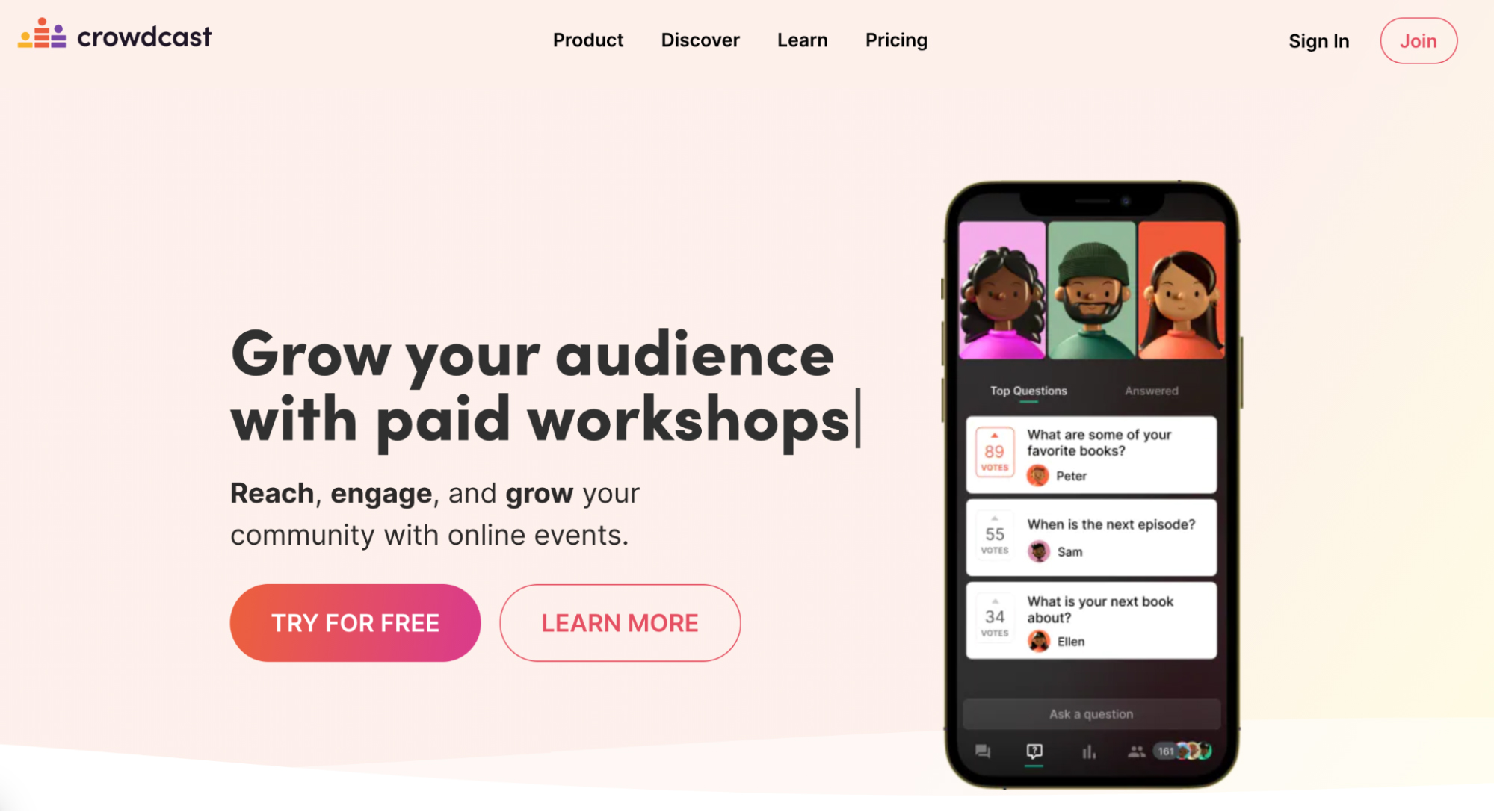 Crowdcast focuses on making it easy for you to run online events. With the platform, you can set up the event's landing page, distribute tickets, run the event, and record it to use for marketing later. Furthermore, Crowdcast allows you to broadcast to platforms like Facebook Live or YouTube Live directly from the platform.
Why it's good for SaaS: Most software companies consider webinars and events as part of their marketing strategy, and Crowdcast helps automate and deliver such content at a scale.
And there you have it…
30 marketing automation tools that can help streamline crucial marketing activities for your SaaS.
What's left now is to check them all out, and select which ones to start using to promote your product.
Good luck!