Do you have an activation funnel? Need help creating one?
It feels so great when trial users turn into customers, doesn't it? It's like a dream coming true with every single conversion.
Unfortunately, it doesn't happen that often. Certainly not often enough.
You might be attracting leads but getting them to try your product, see its value, and continue using it is what matters. That's why it's important to have a killer activation funnel. In this guide, you'll learn all about how to create one.
What is an activation funnel?
User activation is the moment a user gets to experience the value of your product.
Activation is key for SaaS because it's the starting point towards conversion. It's the first time a user shows tangible interest in your product.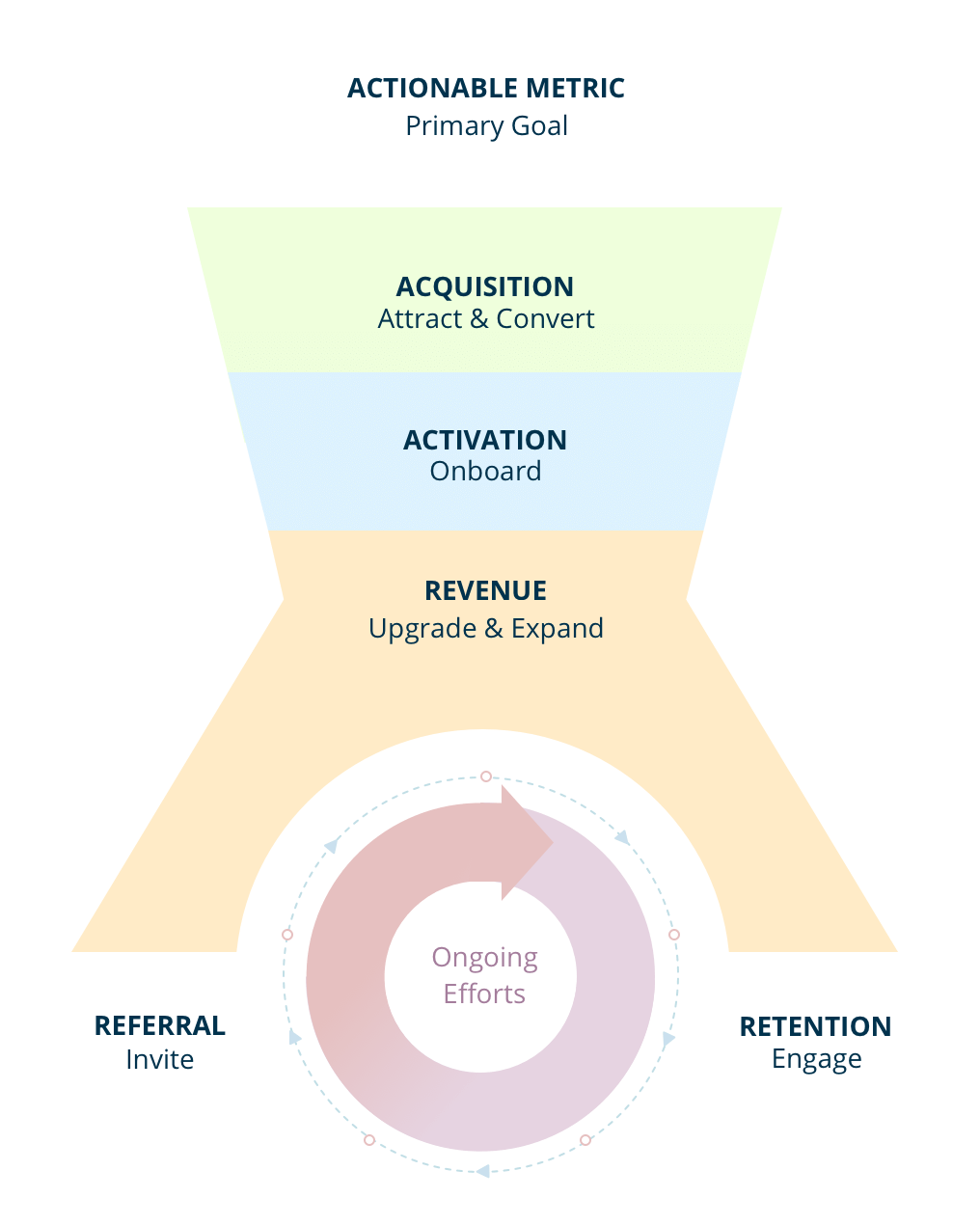 Every business has different points of reference for activation. Here are some examples of activation events:
Registering to trial periods and trying out the product
Signing up for your product and using it for the first time
Subscribing to a newsletter and opening to read it
Visiting a promotional landing page and clicking on additional pages
Watching a product video of more than a few seconds
Not all of them have the same value for your business.
It's up to you to define which key events count as an activation point for your SaaS business. You can't leave these to luck.
That's where the activation funnel comes in.
An activation funnel allows you to visualize a journey and a series of events that will move your customers to the desired outcome.
People won't magically try your product if you don't map out the steps that will bring them closer to your business.
The activation funnel will help you create the right content for the right audience based on where they are and what they need to do next.
You might be wondering, what's the difference between an activation funnel and a sales funnel?
How is an activation funnel different from a sales funnel?
In theory, an activation funnel is similar to a sales funnel. They are both moving customers through a series of actions.
However, SaaS activation is not always a linear process. Not all users follow a set number of steps to convert into paid customers.
For many SaaS businesses, an activation funnel is easy at the start – you can set your first success metrics and track your progress. The rest of the funnel can be messy, especially when it becomes complicated.
The best way to solve this problem is to simplify the process as much as possible and focus on the minimum path to awesome.
Define what success looks like in each step and focus on measuring your performance on every stage of the funnel with your analytics or behavior tracking.
Userlist can help you gather user behavior data and take action based on this data.
Every stage of your activation funnel should have a dedicated segment. and campaign with customized emails that will focus on driving your users towards action.
Let's look at what Userlist's own activation funnel looks like.
Learning from our own activation funnel
In Userlist's funnel, the most important metrics are:
The number of tracked users
The number of segments
The number of active campaigns
Our users are very important to us, so we're focusing a lot on educational content and team support.
The first step in the activation funnel can simply focus on completing the technical integration within our product. The resulting metric is tracked users.
This is the step where we'll provide technical guidance. If a user is unable to complete integration, we are offering additional assistance through a call with our engineering team.
The next step is focusing on segments. We are helping our users map their lifecycle segments by sharing best practices and useful content. We're still offering additional support to ensure we're making the process as easy as possible.
The last stage is setting up campaigns where we're trying to provide educational materials, templates, and strategy calls.
Simplification helps both your business and your users. You can add as many micro-steps as you want in your activation funnel based on your tactics and the set key metrics.
Ready to set up your own activation funnel?
7 tips to create a successful activation funnel for your SaaS
How can you create a successful activation funnel? Here are some tips to help you through the process.
#1. Identify all stages of the funnel
Start by mapping out all stages of the funnel. How will you move your users from one stage to the other?
Segment each stage and deliver the right content at the right time.
Envision the ideal flow in your user journey and work on the touchpoints that will favor activation.
Focus on the key activities that will help your users move through the funnel.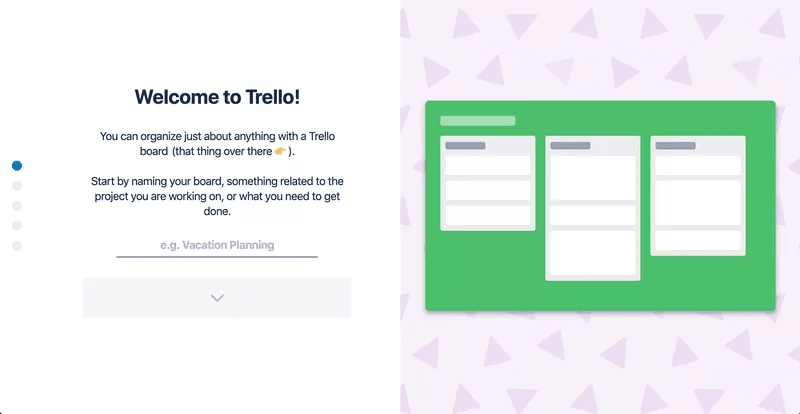 There is no stage that is more important than the others. Pay equal attention to every single stage and keep your ultimate goal in mind: to get users to understand the value of your product.
#2. Define what success looks like
Every business has a different definition of success. This also applies to activation.
Identify your success metrics early in the process of setting up your activation funnel.
Use analytics and behavior tracking to understand the impact of your activation events and benchmark your activation rate. Remember, the "aha" moment may not necessarily be the same with activation. Set up your success metrics based on your business needs.
Start your sequences with your sales promise and guide your users towards delivering full value.
According to Claudiu Murariu of InnerTrends, the ultimate goal for a SaaS business is to help users experience that promise. This is a simple way to understand the context of pirate metrics:
"The first time you hit the promise, it's onboarding. The second time or the fifth time, it's an activation goal. And then when you do it on a regular basis, it's a habit (retention)."
#3. Remember that you are onboarding teams
Your tactics in the activation funnel should reflect your audience.
When drafting segments, remember that you're onboarding teams, not individual users.
How is a growing number of users affecting your content? What makes the user onboarding different in that case?
The "promise" may be relevant in different ways for each team member. The pain points may vary.Customize your content based on each team member's role in the company and track activity for the entire company account.
#4. Send personalized campaigns during each stage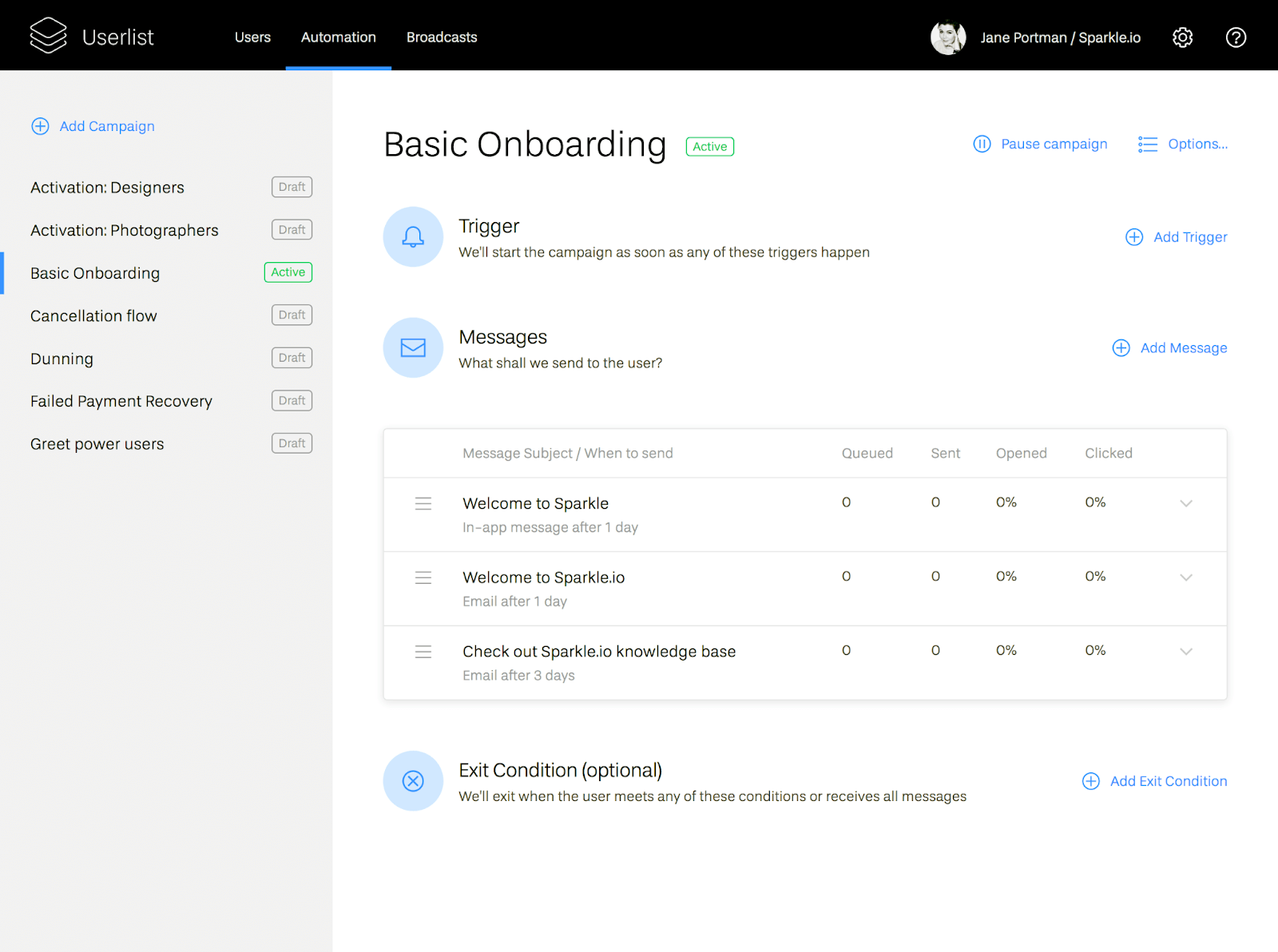 Personalized campaigns are crucial during each stage of your funnel.
It's the best way to add value based on what your users want to see. You don't want to rely simply on instructions to deliver the initial "promise".
Be proactive with your support and always review the success of each campaign.
Send behavior-based campaigns based on your users' activities and interests. Focus on one call-to-action on every email to keep it simple.
Skip on irrelevant content when possible.
Keep it simple throughout the campaign.
#5. Reduce friction
Users may not reach an activation event if there are too many things on the way.
Simplify everything. Remove all the unnecessary steps. Improve the user experience.
Review your assets and language and send the right content without overwhelming your users.
Make it easy and effortless for everyone to understand what they need to do next.
Reduce friction and get your users to focus on the product. Offer calls, link them to consultants, send helpful guides – find what they want from you to increase activations.
How about using in-app messages to get users to find support without the distractions they'd get from a pop-up chat?
#6. Understand that correlation doesn't mean causation
It's tempting to jump to quick conclusions and assume you know when users activated your product. Remember, a certain action is merely a sign that users are committed – it's not necessarily the reason they activate.
For example, if all successful users view the Settings page, it doesn't mean you should drive them there to promote adoption.
#7. Create content that gets people moving through the funnel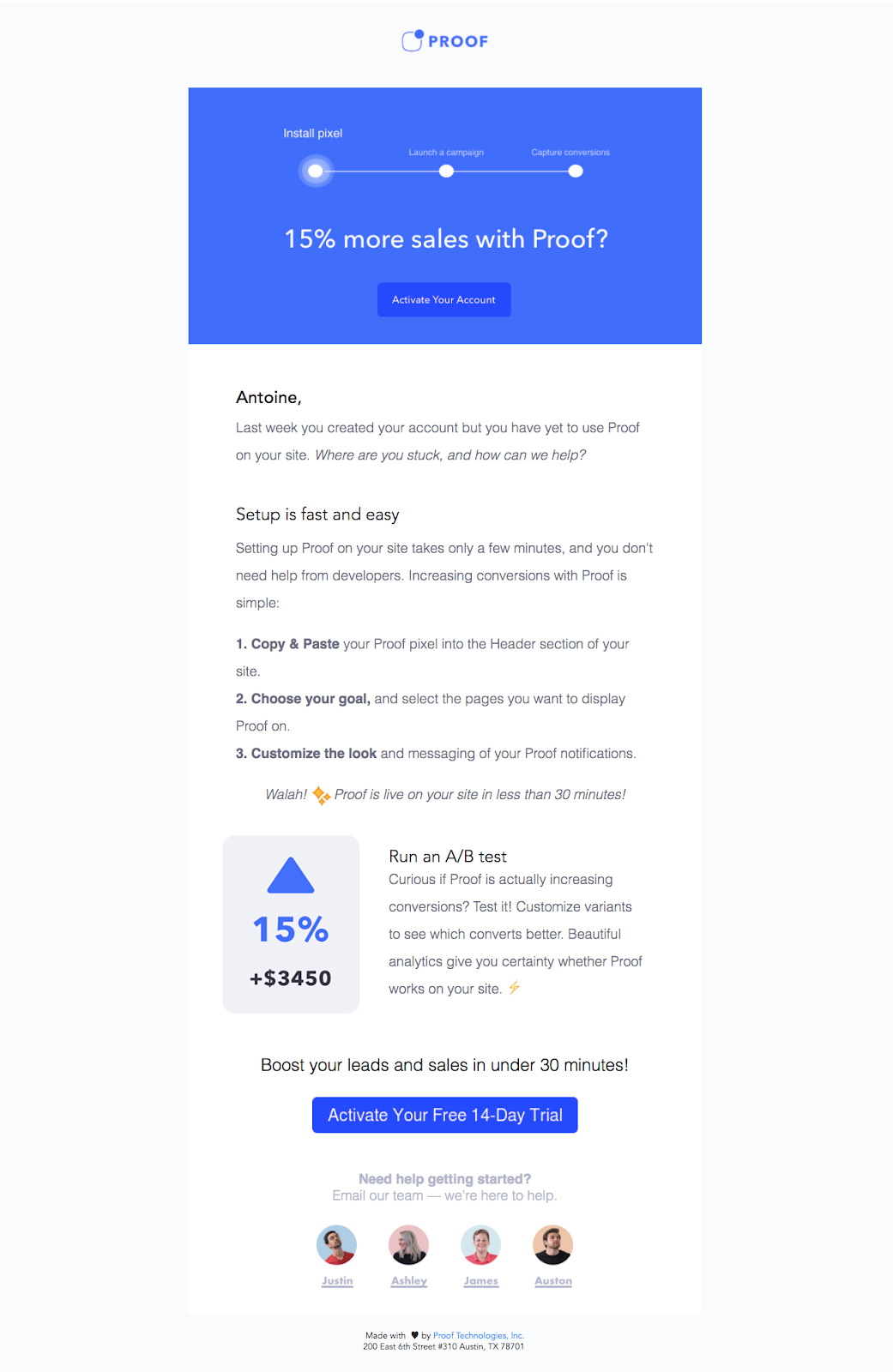 As with every funnel, the goal is to get users moving from one stage to the next.
Diversify your content for each stage of the funnel. How can the first email be different from the third one? Or what's the best way to add value without being repetitive?
Share a useful blog post, case studies, reviews, testimonials for social proof or get your team to support them by arranging a call.
Think of your audience. How can they move from the 'aha' moment to activation?
Look at your analytics and behavior data to plan your key touchpoints.
Conclusion
An activation funnel can make it easier to move your users closer to a conversion. It can also help you stay organized when planning email sequences and campaigns that add value to your product.
Every SaaS company may have different needs but all users want one thing from them — simplicity. Don't overcomplicate your funnel and your tactics. Make it as easy as possible for someone to experience your product's value.
Good luck!Looking to build an activation funnel for your SaaS? Check out how Userlist powers activation funnels for startups like yours.