Planning to launch a lead nurturing strategy for your SaaS business? Looking for advice to help make it a success?
Lead nurturing is critical for growth, but we see a lot of SaaS companies struggling with it.
In this guide, we'll show you everything you need to know about lead nurturing for SaaS and how to master it for your business.
Let's begin.
What is lead nurturing?
The term lead nurturing refers to a process of developing and strengthening relationships with leads (aka potential customers) until they are ready to buy.
And it's one of the most critical processes in your marketing strategy.
Here's why: most people are not ready to buy right away because many of them may not even know that they need your solution. However, they might be interested in the information you share about their problem and want to learn more. That's when lead nurturing begins.
Here's how it works: a visitor finds your website, interested in discovering more about a particular problem they're facing. They read your content, love your advice, and want more.
That's when they come across additional material on the topic you offer — an ebook, whitepaper, or another lead magnet. They sign up to receive it and end up on your lead nurturing list — also referred to as marketing email list.
Once you deliver the first piece of content, you welcome them, describe where they are, why they arrived, and what to expect. Chances are, they appreciate your warm welcome so they have more chances to share more about themselves, fill out a survey, or proceed to another step.
Just like that, leads are working their way across your SaaS marketing funnel.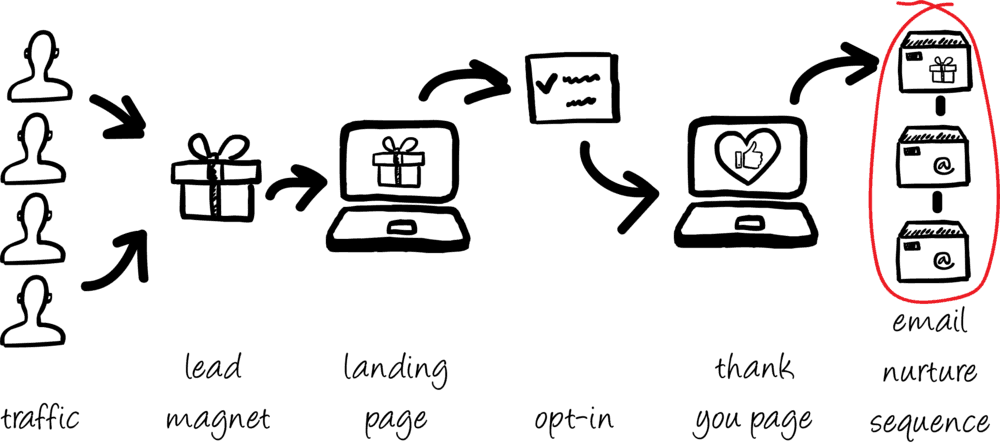 Why is lead nurturing so important for your SaaS?
Unfortunately, many SaaS businesses don't run proper marketing email lists.
Oftentimes, companies would collect email addresses from free trials in one list, but they don't necessarily do anything proactive with them. This is where lead nurturing can help your business gain new clients.
In the B2B SaaS marketing funnel, lead nurturing stands between lead generation and conversion. It's the stage where leads (subscribers) consider your product by engagingwith relevant content.

What does lead nurturing help you achieve?
#1. Warm up your new leads
First impressions matter. That's why the best time to warm up your new leads is when you're welcoming them with the first touchpoints.
Whether it's a lead magnet or a newsletter, make the most out of it with your lead nurturing strategy.
#2. Strengthen your funnel
Every lead is at a different stage in your SaaS marketing funnel. Not everyone is ready to move to the next stage, but this doesn't mean that you shouldn't nurture the relationship with them.
Create different buyer personas as part of your segmentation process to ensure your lead nurturing strategy is successful for everyone. The more you're learning about your new leads and their preferences, the easier it becomes to move them through your funnel with the right content at the right time.
#3. Learn more about your potential customers
One of the most important reasons to invest in lead nurturing is to understand your potential customers.
It's a big advantage for all your marketing and sales activities to learn more about your leads as early as possible. Their interactions with different types of content can help you optimize your conversion tactics to ultimately turn them into engaged customers.
#4. Educate customers before you sell
Not everyone is ready to buy your product. Chances are, they may not even know much about your business during the first interactions.
You don't need to overwhelm your new leads with too many details about your offerings. The goal is to add value with useful content that is helping them understand their problems.
Insightful content can help your leads trust your expertise and eventually become paid customers. All you need is the strategy to launch the right lead nurture campaigns at the right time.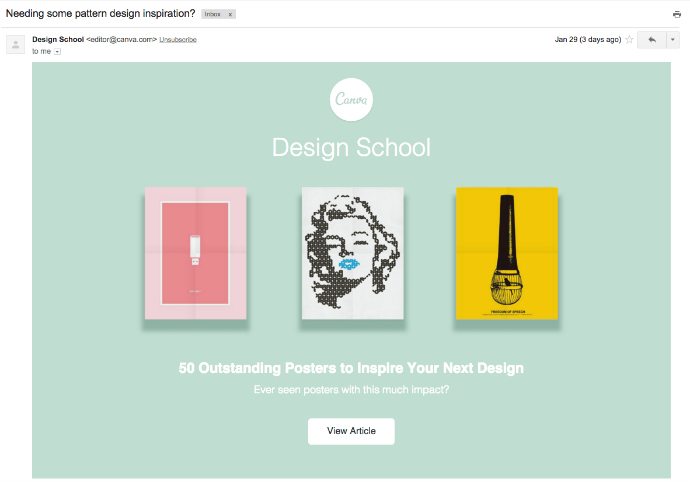 #5. Build relationships
You can build personal relationships with your email subscribers through asking them engaging questions.
This is particularly true for the first "welcome" email, when you ask who they are and what they came to do. However, you can add engaging questions (or even tasks) to each email in your lead nurture sequence.
These conversations can help you build relationships and rapport with potential customers.
The most common lead nurturing campaigns for SaaS
There are many different lead nurture campaigns you can use to build a relationship with your new leads. Not all of them work for SaaS brands. Here are the four that do:
Lead magnets
This is the initial campaign that you are launching after someone requests your lead magnet. It can be an email course, a free trial, a free book, or a sign-up to your newsletter. It's the first opportunity to explain who you are, why they're here, and what's coming up next.
Lead onboarding
Right after the lead magnet campaign, you can set up a lead onboarding campaign.
This is the first nurture campaign that educates your leads about the problems you can solve with your product or service. During that stage, your content is all about value and building trust with your new prospects.
Evergreen sales campaign
Once you send the initial campaigns, it's time to identify your most qualified leads — also called "hot leads" — and include them in a sales campaign.
An evergreen sales campaign is ideal for qualified leads who have engaged with previous campaigns and feel at the right stage to find out more about your business.
Evergreen newsletter
This is a common lead nurturing campaign. Many SaaS businesses send new content to their audience, but their best old content often remains forgotten. "Evergreen newsletters" can help you get off the hamster wheel of producing new content, while surfacing good old content first.
In this case, you want to create a long-term educational campaign for your new leads that drips your best content to a set frequency. It's not a "blast to all" broadcast, but a strategic sequence for nurturing your leads.
Remember, you don't want to overwhelm your leads with too many emails. So make sure you only enable this campaign for "dormant" leads who aren't currently going through a welcome sequence, or a sales campaign.
Two different approaches to lead nurturing for SaaS
You might be wondering: what's the best timing to involve a sales pitch in a lead nurture campaign to maximize your sales opportunities? There are two different approaches when it comes to introducing your sales pitch to a lead nurture campaign.
#1. Selling at the start
The idea is to sell to people while you have their full attention and they are still warm.
When someone opts in, they are at their peak of engagement and they are more inclined to be open to a pitch.
For this reason, Chris L. Davis advises sending the highest-converting emails at the start:
"Your attention is at its all-time high the moment someone opts in. So I want to take advantage of that sweet spot and put the best content in front of them."
How about sharing your best case studies? Or explaining how you understand their pain points?
If they don't convert, you can still move them to an evergreen campaign to deliver more value until they are ready to convert.
#2. Educate before you sell
Another approach is to skip the initial sales campaign, and move your leads straight to the nurture.
The focus is on sharing more of your content first. Only when they are demonstrating interest in your materials do you transition them to a sales campaign.
According to Jason Resnick, it's better to let someone join your sequence uninterrupted when they join with no regular broadcasts beyond the sequence.
There is no right or wrong way to do it.
A combination of both approaches can lead to stronger results. Start with a strong pitch, continue with engaging content, and end your sequence with another strong sales pitch.
Let's now look at some tactics to boost your lead nurturing for SaaS.
9 tips to make the most of lead nurturing for SaaS
Ready to work on your lead nurturing strategy? Here are some tips to consider.
#1. Understand the psychology behind lead nurturing
Nurturing can take time, so make sure you deliver value before you ask customers for anything in return.
In fact, think like your audience. Your leads are probably not ready to buy your product, but they are still experiencing the pain points your product will help them solve.
For example, create lead nurture campaigns that enable mini yes-es. Whether it's a direct question or a small action, use your content to engage your leads until they are ready to opt in for a bigger yes.
#2. Keep them focused on one conversion goal per campaign
Don't confuse your new leads with too many requests.
Focus on one conversion goal per campaign and work your way to moving them to the next stage. Look at the next stage for every segment and how they can get there rather than the whole funnel.
Keep an eye on your conversion rate at each stage to optimize your content based on what works.
#3. Avoid sending other emails during the "lead onboarding" stage
Too much email is an easy way to make your leads lose interest in your business (and immediately unsubscribe).
There is no need to add them in several sequences, especially when they are still new to your content.
During the lead onboarding stage, exclude your leads from other campaigns, whether it's about sales or brand updates. (The same applies to user onboarding, which should be another "quiet period" in your campaign orchestration.)
You can even use a dedicated segment to exclude anyone who's in those critical campaigns.
#4. Make the most of your email list
Not all SaaS businesses run proper email marketing lists. This is a missed opportunity to nurture your leads and prepare them for the next stages of your funnel.
Be more proactive with those who join your marketing email list.
Segment your subscribers based on their intent, signup source, etc. This helps you deliver the most relevant content based on their "previous step."
The earlier you structure your prospects, the easier it becomes to plan your campaigns.
#5. Show up in multiple channels
Everyone has different preferences when it comes to their preferred method of communication. You don't want to lose your leads simply because they are not engaging enough with your emails.
Map out your content marketing strategy and the channels you want to involve in the lead nurturing process. Go beyond email and include your website and social media in the mix. If we talk about free trials, you can also engage them with behavior-based in-app messages.
All channels should help your prospects learn more about the different ways you can be useful to them. Warm up your leads through multiple touchpoints until they are ready to find out more about you.
#6. Segmentation is important
Segmentation is key in your lead nurturing strategy.
Create different lead lists to organize your prospects in different categories based on their interests, needs, or the lead magnet they've clicked on.
For example, someone who downloaded a free book may have different needs from someone who requested a free trial. Or if someone spent 10 minutes looking at your website before clicking on a lead magnet, then they may be ready for a sales pitch earlier than others who barely know anything about your business.
Use behavior data to personalize your content, and use the learnings in future interactions with your leads.
#7. Set up automated email campaigns
Automated email campaigns are your vehicle for delivering relevant content. They can be simple drip campaigns, or advanced behavior-based sequences.
Your first email in a drip campaign shapes the first impressions, but this doesn't mean that all other emails are not important. As you progress through the sequence, think of the different ways you can mention your business to ultimately aim for conversions.
#8. Look at your analytics
The best way to tell whether your campaigns are successful is to look at your analytics.
Perform frequent reviews of your campaign performance to ensure you're optimizing them based on your audience's needs.
Open rates and click-through rates can help you understand your emails' relevance for your prospective customers. If your open rates are higher than usual but the click-through rates are low, then you may want to review your sequences to make your emails more engaging.
Your buying cycle length is also important. You need to know how long it takes for a lead to turn into a customer. Bring together the marketing team to review your analytics, and involve the sales teams accordingly when needed to stay focused on your business objectives.
#9. Use the right lead nurturing tools
You can use any email marketing tool for lead nurturing.
If you want to simplify your customer success, use the same tool both for leads and customers. Once your leads turn into customers, you're able to map out their journey and make the most of the data you're gathering.
Userlist can help you manage your leads and customers in one place to make your contact management and campaign planning easier.
Conclusion
You should be able to know everything about lead nurturing for SaaS now, and how to make it work for your business.
If you're still new to it, start mapping out the first lead nurturing sequences and how you can link them to your objectives.
If you're already familiar with nurturing tactics, look at your current campaigns and optimize them based on what's working best for your audience.
Good luck!
Looking for the best tool to run lead nurturing for your SaaS? Check out how Userlist powers typical SaaS nurturing campaigns.