Not all users become active or remain active indefinitely. Over time, user accounts can become dormant, leading to bloated databases, potential security risks, and wasted resources.
To address this challenge, SaaS companies — especially ones on the bigger side — continuously purge inactive accounts. But what is the right way to inform users about this? In this article, we will explore the art of crafting such emails, backed by real-life examples from leading SaaS brands.
Why SaaS companies need to remove inactive accounts
Inactive accounts are non-paying user accounts that have not been used, or signed into, for an extended period of time. The product is no longer bringing value to these users, and you are not generating any revenue, nor do they have any potential to generate revenue in the future. These accounts can be owned by guest users, former employees, or free users.
Why should you take up the additional task of "cleaning up" these inactive accounts?
Here are some reasons:
Cost and resource optimization. Maintaining inactive user accounts can be an unnecessary expense. These accounts consume server resources, storage space, and may even require customer support resources. Not to mention, they would take up credits in your marketing and email automation platforms. All this while not generating any revenue.
Compliance and regulation. Many locations have data protection regulations and privacy that require companies to manage user data and systems responsibly. Companies would need to remove inactive accounts to prevent the exposure of personal data and remain compliant to current and future laws.
User experience. Inactive accounts in your database can lead to slower system performance, which would affect the user experience and service efficiency of your active customers.
Re-engagement opportunity. By identifying and reaching out to inactive users, you can get a chance to re-engage them and re-instill interest before deactivation.
What can go wrong?
Deleting an inactive account always comes with a risk. The chances are miniscule, but keep in mind the following:
The account may look inactive, but the user is still receiving value from the software, or is planning to do so in the future.
With the account, you're also removing user data which may be valuable for them.
The account can become inactive for sensitive reasons, like their company going out of business, or the owner going through personal hardships.
You can hurt your SaaS brand by being insensitive or using the wrong language.
It helps to keep these factors in mind when writing your notification emails.
How to automate account deactivation with an email campaign
Given the risks above, one notification email is not enough to communicate deactivation to inactive users. We recommend using an email campaign with 2-4 emails that escalates from a friendly reminder to a final notice.
Here's an example on how you can set up the campaign using behavior-based triggers. Learn more about campaign triggers in this guide.
Trigger. User joins segment Users: Pending Cancellation. This segment has behavior conditions of the account staying inactive for a certain period of time. E.g. user has performed event project_created exactly 0 times during the last 180 days.
Exit condition. User exits segment.
What exactly to write in your emails to prevent customer frustration
Based on the examples we collected from different SaaS companies, here's how you can structure that email you're sending to inactive users:
1. Subject line. Generate urgency with the subject line. This is perhaps an acceptable situation where you can use all uppercase letters to grab the user's attention.
2. A personalized salutation. Begin the email by addressing the user by their name. You can also add their first name to the subject line to catch their attention.
3. Friendly introduction and service reminder. Begin with a warm and friendly introduction, reminding them of your service and how it has benefited them in the past.
4. Explain inactivity. Clearly and shortly explain the inactivity criteria and the reasons behind why the company has decided to deactivate or delete their account. Use language that emphasizes the necessity of this action without being too harsh. Mention critical details like loss of data and if they can be recovered if deleted.
5. Provide a grace period. Specify a grace period during which users can take action to prevent their accounts from being deleted. Mention a clear deadline to create a sense of urgency instead of a vague timeline like "soon" or "in a month".
6. Explain how users can prevent deactivation. Mention how users can keep their accounts. Include direct links or instructions for logging in, updating their account, or confirming their intent to continue using your service.
7. Offer support. Provide your contact information and links to the customer support portal or the terms and conditions of maintaining the account.
These are the basic things that you should include in your email to inactive users.
Here are some optional details you can include if you want to make the email more comprehensive:
Remind users of the value. Mention the benefits of using your platform and highlight any new features, updates, or content that might interest the user. Emphasize the value they can gain by staying active.
Include FAQs. You can add additional details that customers might want to know.
Include discount offers. To encourage users to come back, you can offer them a limited-period discount just for them.
15+ Email examples SaaS brands send to inactive users
#1. Mailmodo
Subject line: Your Mailmodo account will be deactivated if you don't sign in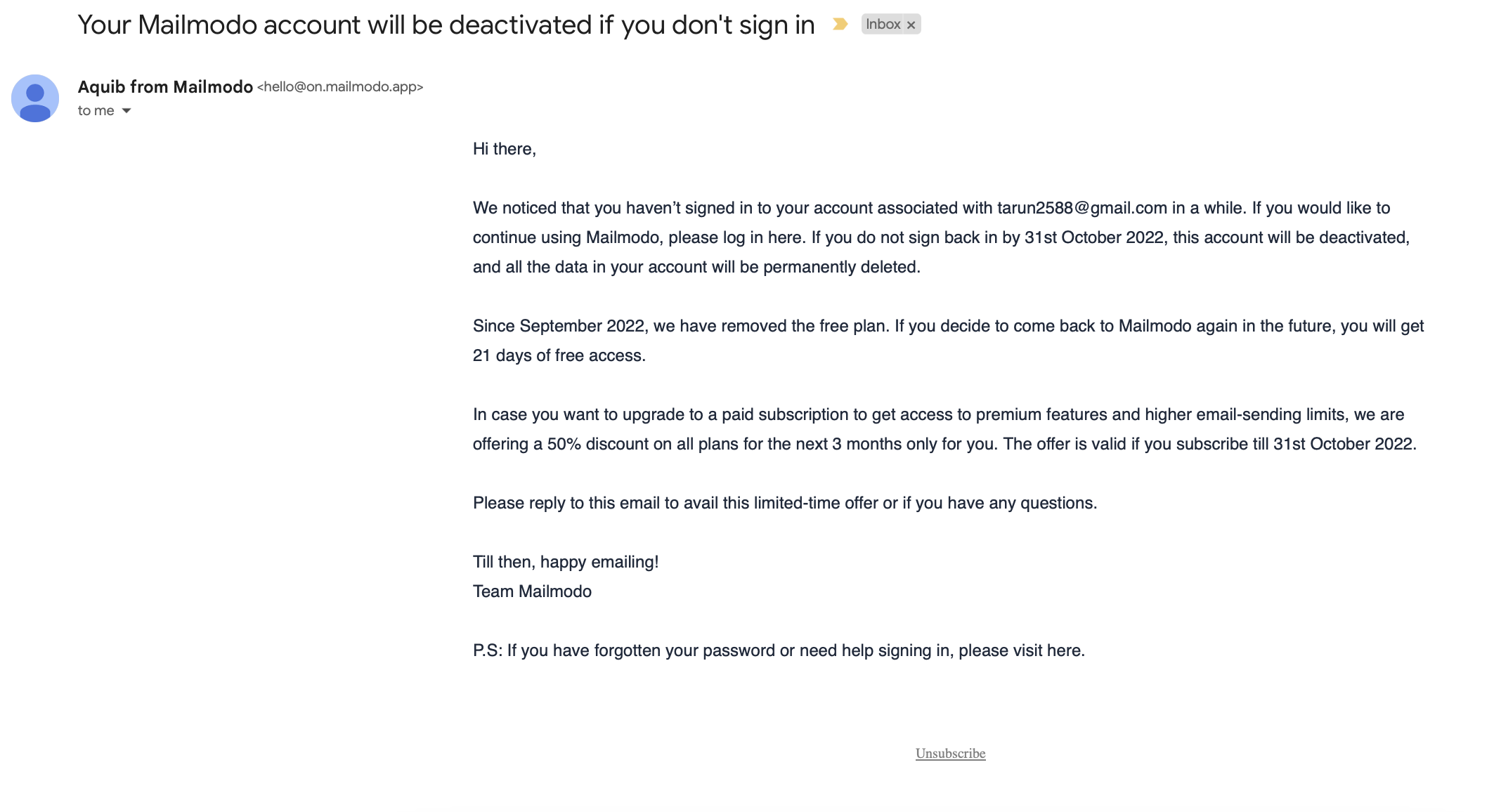 Mailmodo is an email marketing platform for sending interactive and creative emails.
This email begins by explaining why they are deactivating the account and how this will affect their data. They mention a specific date when the deactivation will happen if they don't sign in. The email also offers users a special discount if users want to upgrade to a premium plan.
The email ends by offering help to users.
#2. HubSpot
Subject line: Your HubSpot account will be deactivated in 30 days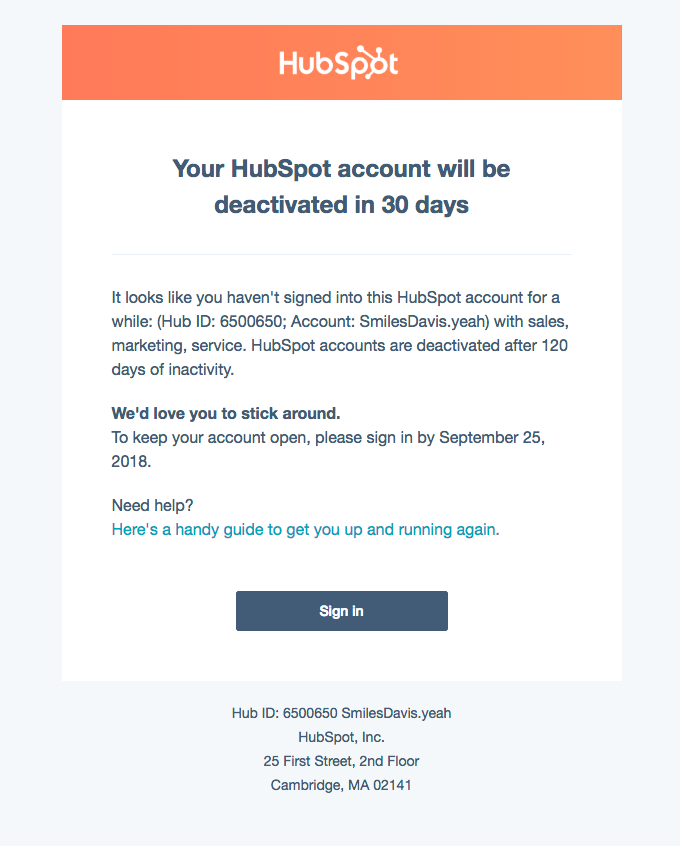 HubSpot is a CRM and marketing automation platform.
This is a straightforward email sent to inactive users 30 days before the deactivation of their accounts. It states a clear deadline and reminds users to sign in before that date to keep their account. They also link to a guide to help them restart activities and also link to the signup page in the CTA.
And here's the final one Hubspot sends out to inactive users.
Subject line: Your HubSpot profile will be deleted in 7 days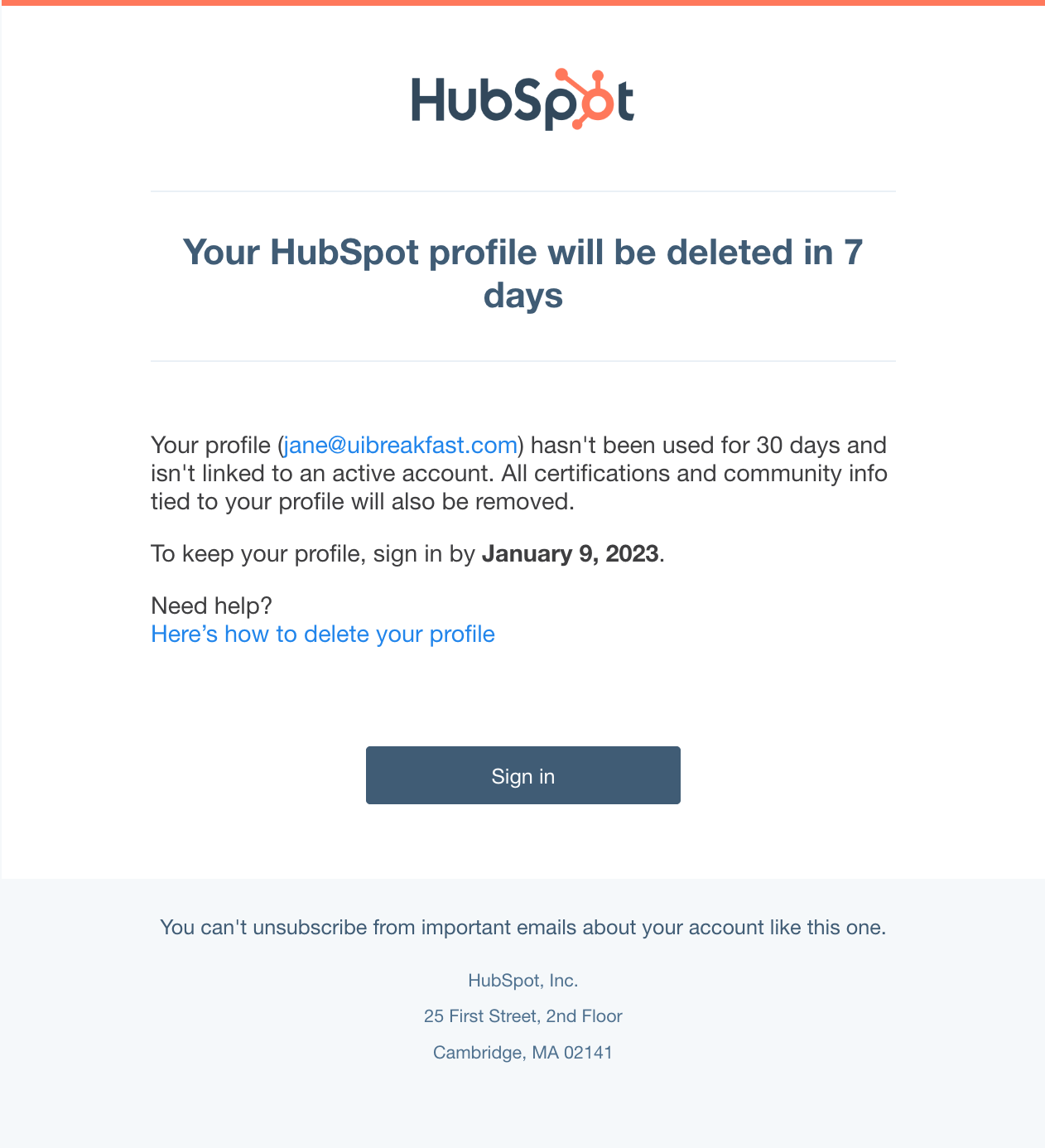 The final reminder email lets the user know that their data will also be lost after deactivation and also links to an article on how to delete their profile, along with the signup CTA.
#3. Mailchimp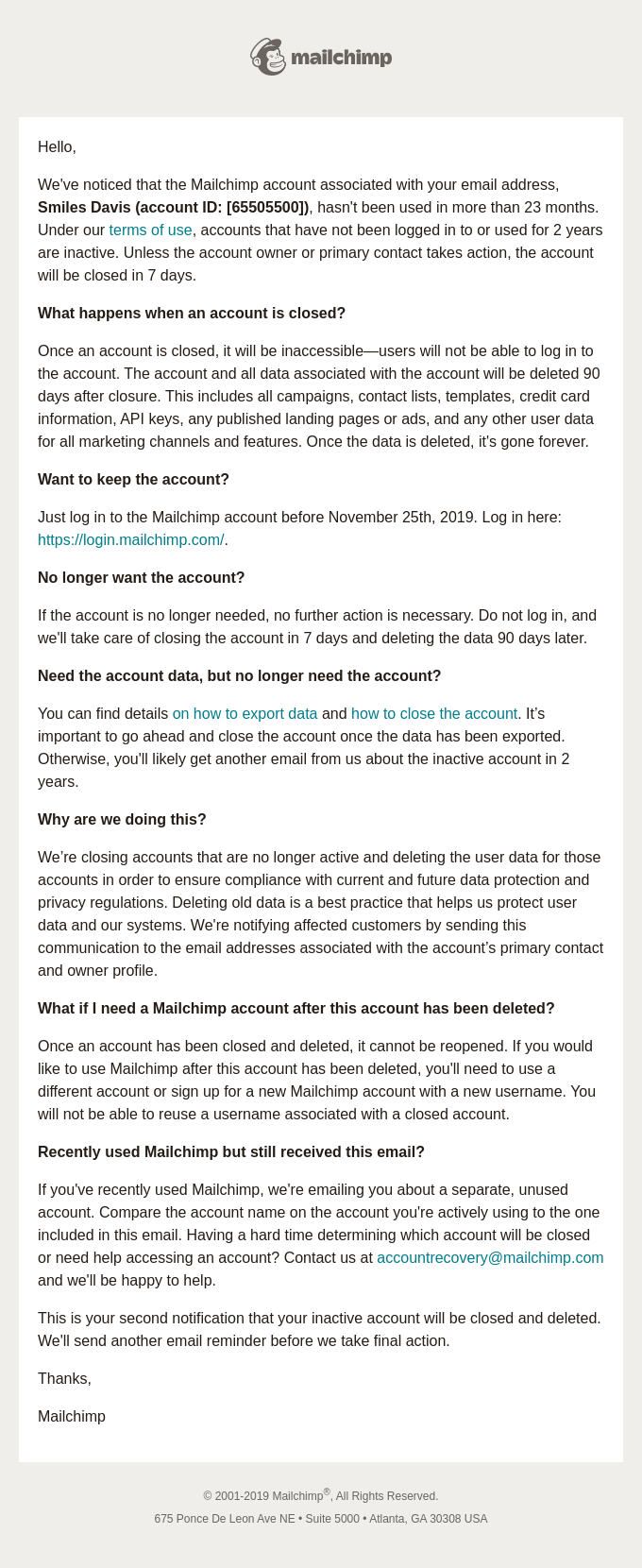 Mailchimp is a popular email automation platform.
Mailchimp sends a warning email seven days prior to account deletion. This is a detailed email with frequently asked questions that help customers get a clear idea of why their accounts are being deactivated. These include details on what happens after deletion, how to keep the account, how to export data, and the reason for this action. The email also links to various resources for more details.
The email concludes by letting the readers know that they will receive one more email before deactivation.
#4. Mega
Subject line: Warning: Your MEGA account is inactive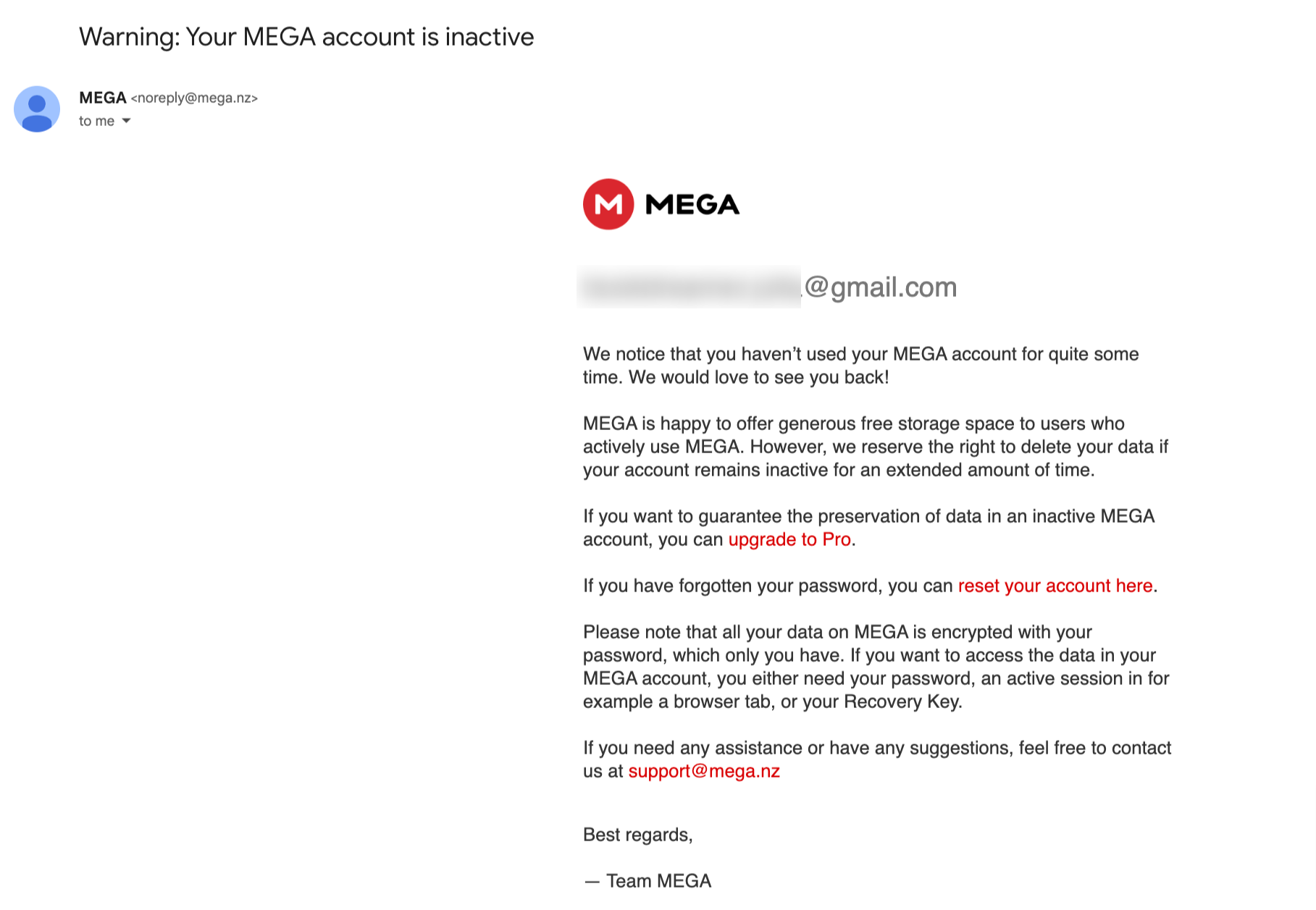 MEGA is a cloud storage and file hosting platform for securely storing data online.
This email warns customers that their accounts will be deleted because of inactivity and asks them to login soon. They provide a link to a support article and also encourage readers to subscribe to the pro plan for upgraded features.
What could be improved?
It does not mention a specific date for when the account will be deleted. Adding this could have instilled more urgency.
Here's the final warning email from MEGA.
Subject line: MEGA Final Warning: Your data will be deleted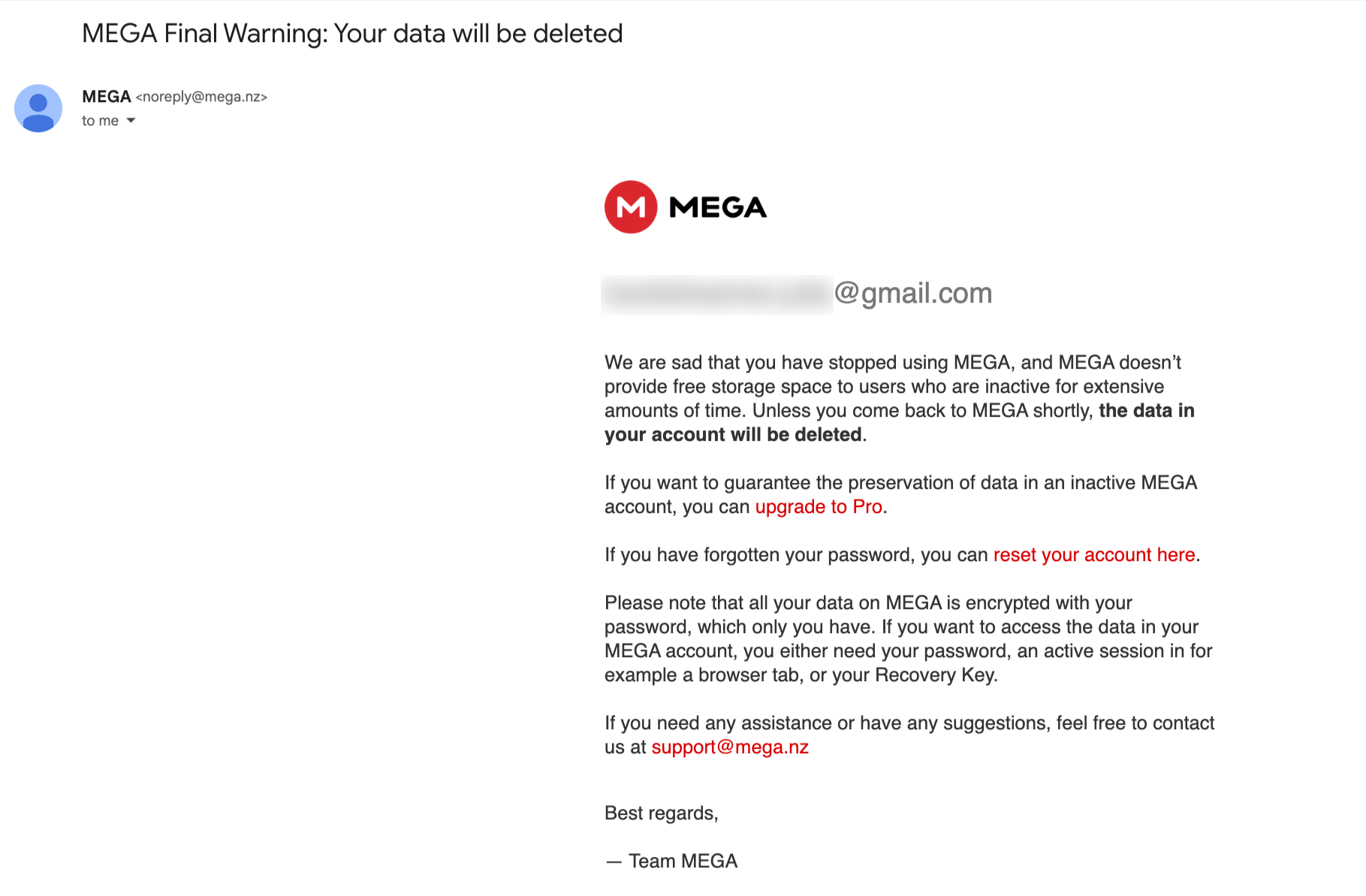 Pretty much similar to the first email, this one emphasizes that their data will be lost if they don't sign in shortly. They provide a link to password reset and also ask to upgrade their plan. Unfortunately, there's no specific deadline.
#5. Format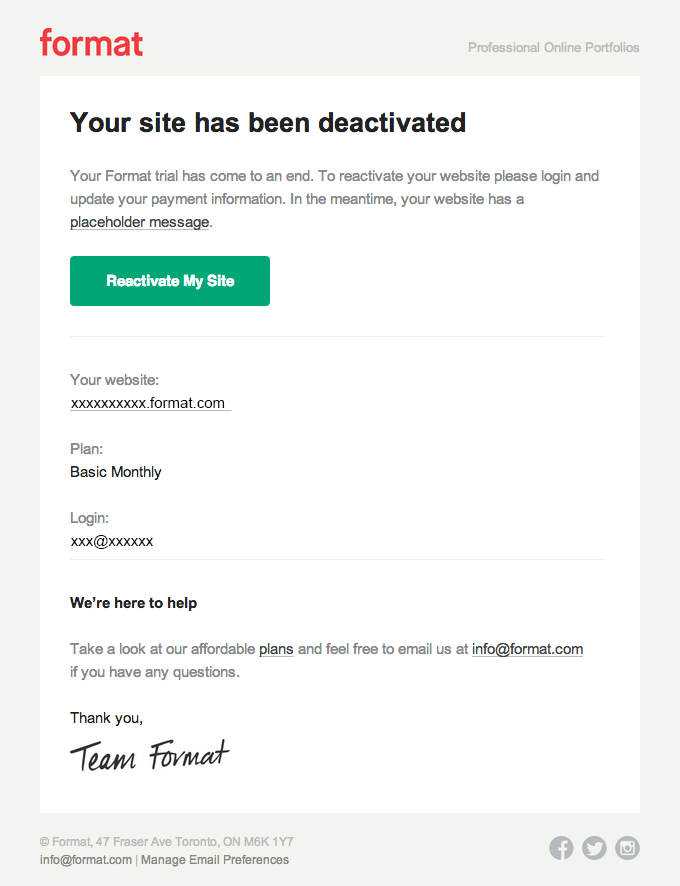 Format is a website builder for creative professionals.
This short email informs the reader that their free trial is expiring and their account has been deactivated. They are asked to log in and update their payment details to reactivate the site. The email also asks them to contact the support team if they have any questions.
#6. Toggl Track
Subject line: Final reminder: Your inactive Toggl Track account will be deleted in 24 hours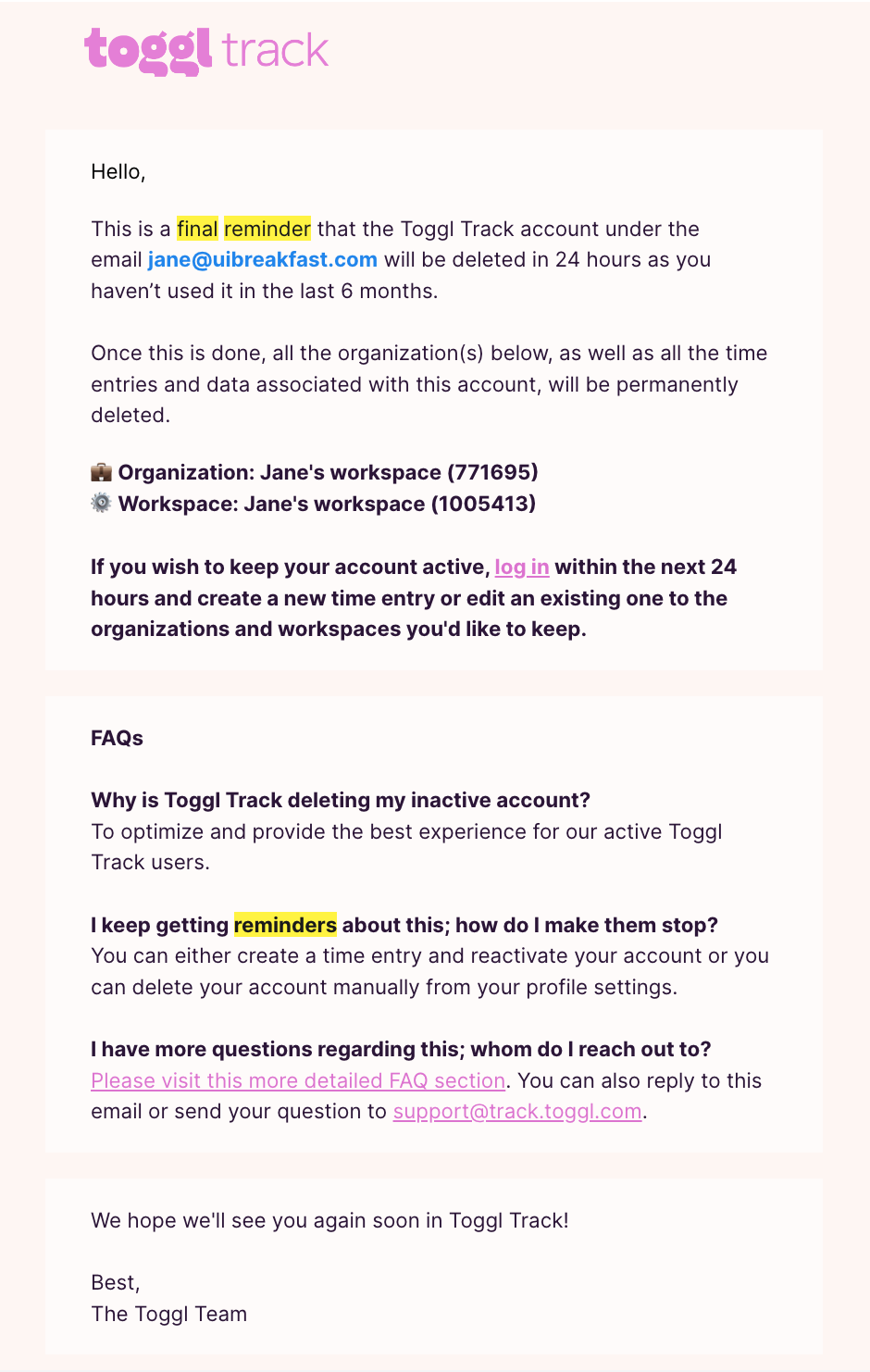 Toggl is a time-tracking and project-planning platform.
This email is the final reminder sent to inactive users 24 hours before deactivation informing them what they will lose after deactivation. The users are also given clear instructions on how they can keep their accounts active.
We like how the authors have included a short FAQ section after the main body of the email.
#7. Payoneer
Subject line: Avoid escheatment by signing in today, [first name]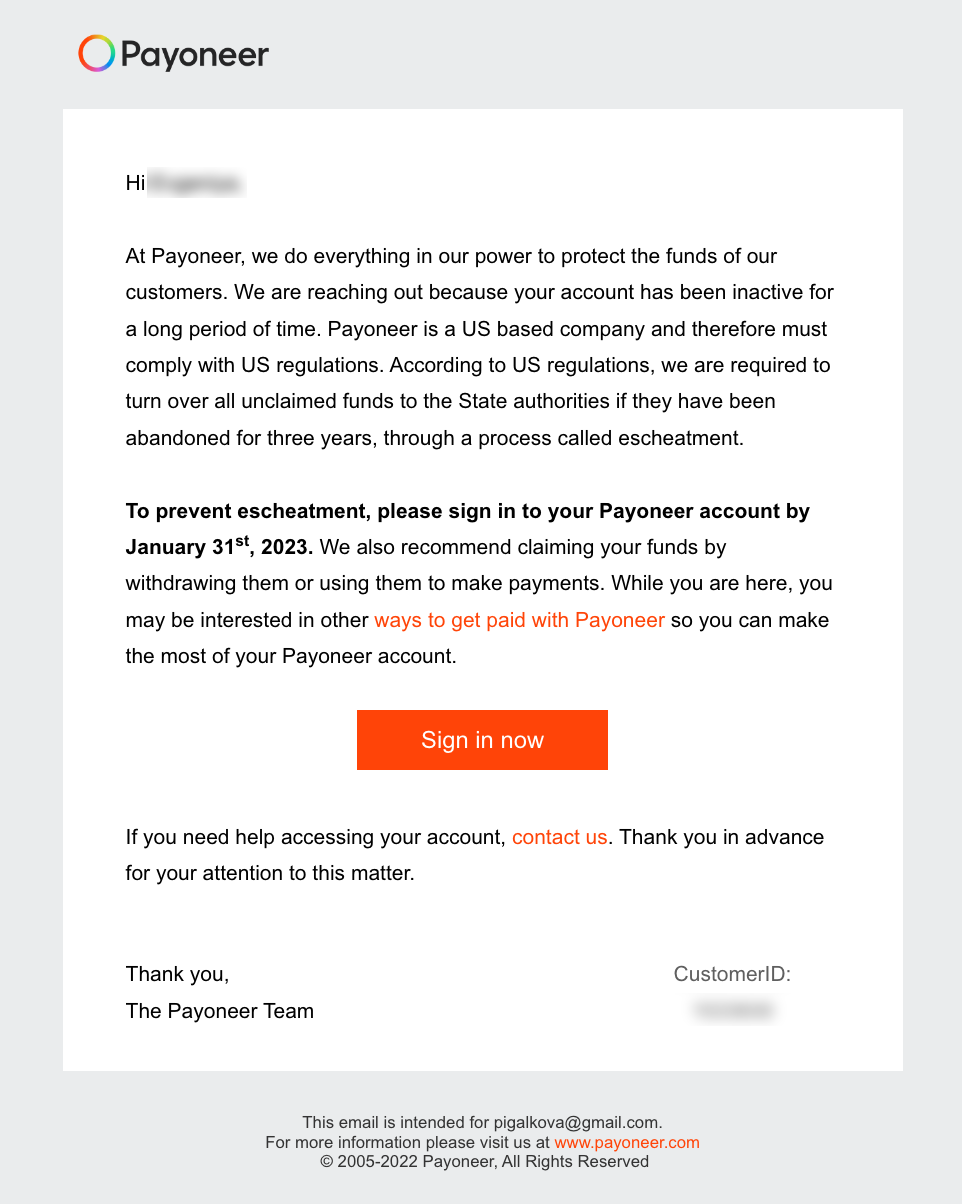 Payoneer is a digital payment processing platform for businesses.
The email politely informs the user that they have been inactive for a while and that unused funds will be lost. They briefly and clearly state the reason for compliance and how they are committed to keeping user data safe. The email gives a specific date and reminds users to sign in before said date. They also place a CTA to the sign-in page.
#8. Google Ads
Thanks to Dennis Moons of Store Growers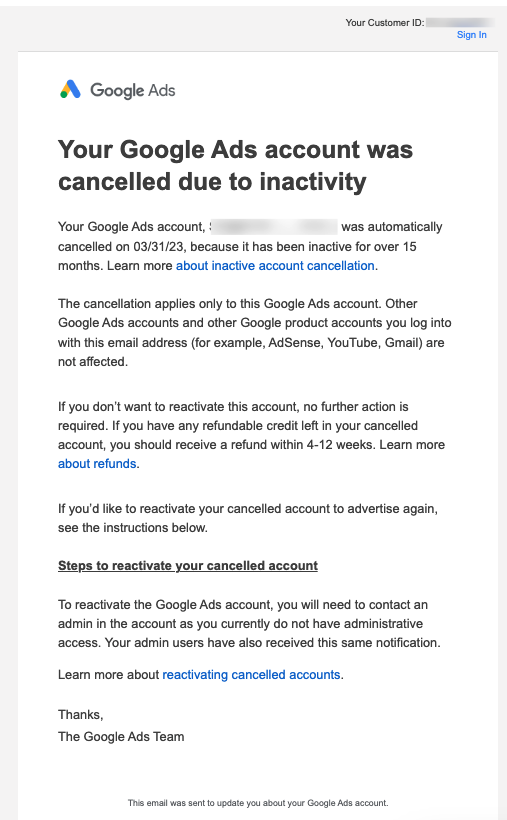 This email lets the user know that their account has been canceled due to a certain period of inactivity. It gives more details regarding the cancellation and the refund process. The email also provides clear steps to reactivate the account and links to detailed resources.
#9. Basecamp
Thanks to Shreelekha Singh of Floik for contributing this example.
Subject line: Your inactive Basecamp 4 account has been canceled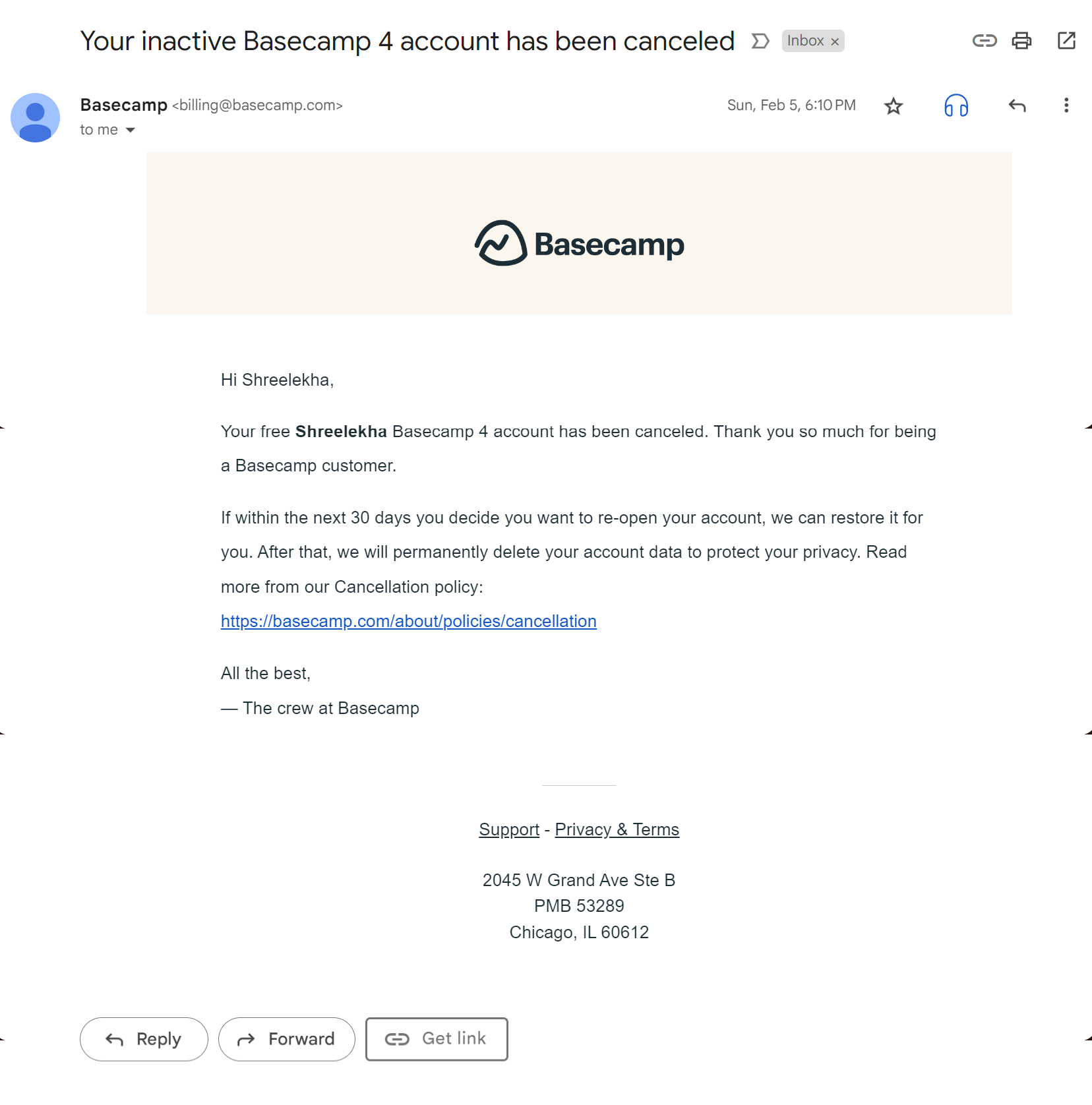 Basecamp is a project management and collaboration software.
This email is sent after the user's account has been temporarily deactivated. It informs the reader that they can restore it within 30 days before it gets permanently deleted. They've linked to the cancellation policy page at the end.
What could be improved?
Briefly explaining how the user can prevent the deactivation could have been added
Indicate a specific date for when the account will be suspended
#10. Miro
Subject line: Important: Inactive team(s) on Miro will be deleted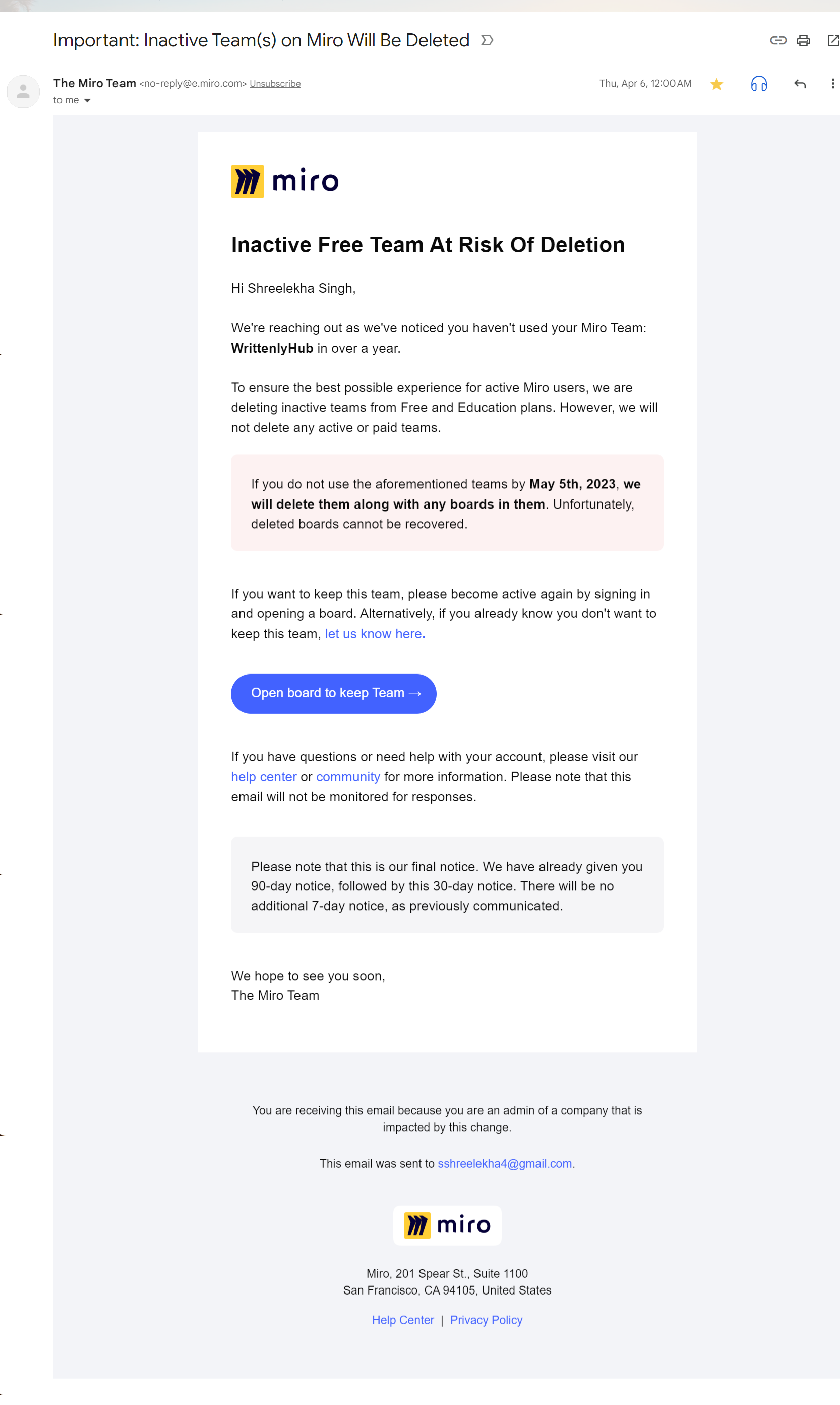 Miro is a virtual workspace for design and marketing teams.
Miro sends this email 30 days before the cancellation of the account, which was preceded by an email sent 90 days before. The email begins with a clear heading that catches the reader's attention and quickly conveys a sense of urgency. It states the reason why their account is facing the risk of deletion and provides a specific deadline when the user should login if they want to keep the account.
The email also explains the steps the user has to take to keep their account active. It ends by mentioning that this will be their final warning email before account deletion.
#11. Atlassian
Thanks to Al-Karim Lalani of Rollout for contributing this example.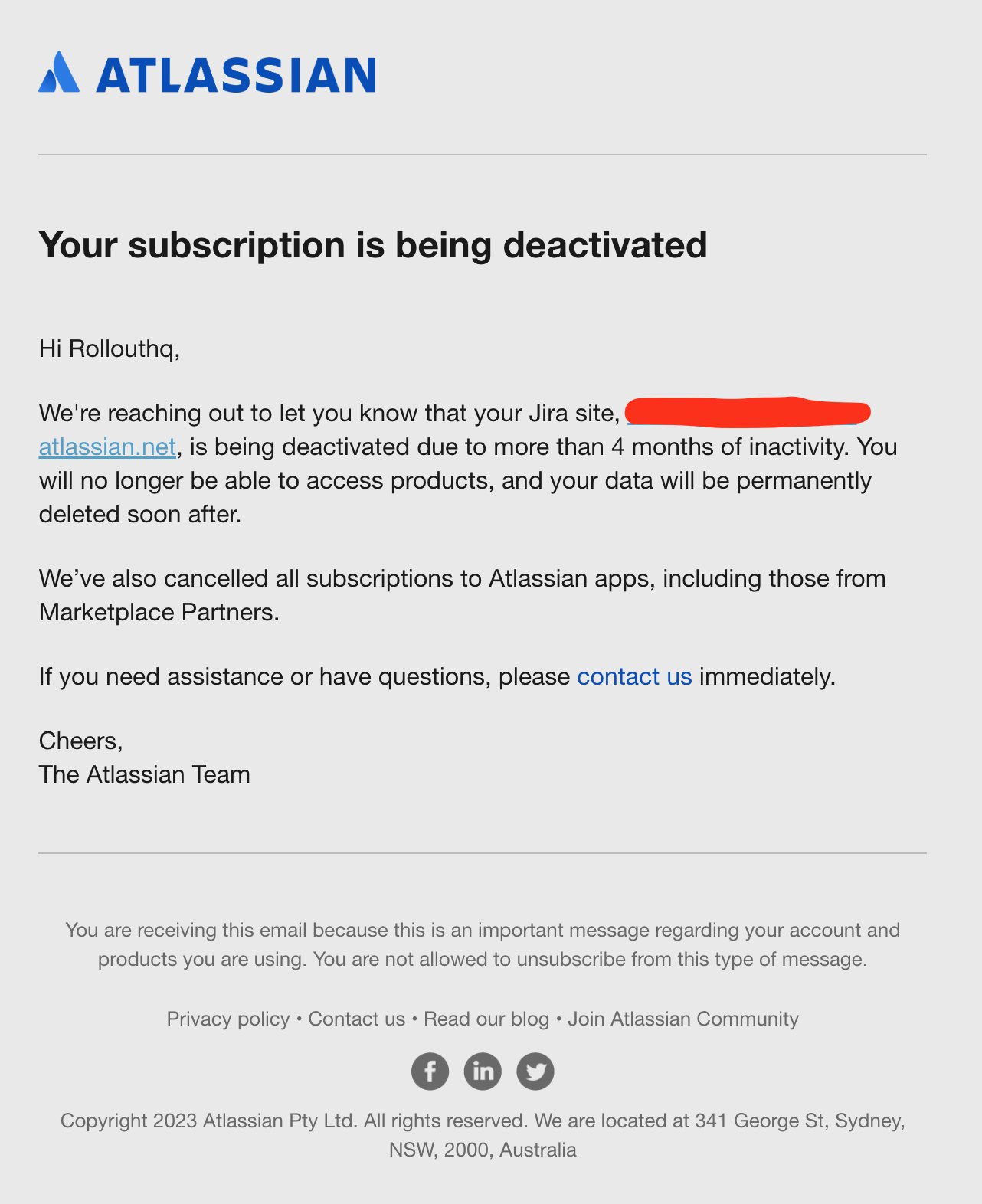 Atlassian is a suite of team collaboration and productivity software.
Like the Miro email, this one starts with a prominent headline. It goes on to mention why the account is being deactivated and what data the user will lose. The email concludes by asking the user to contact the support if they need any assistance.
#12. Photobucket
Thanks to Jakob Skjerning of Mentalized for contributing this example.
Subject line: URGENT: Do you want to keep your photos?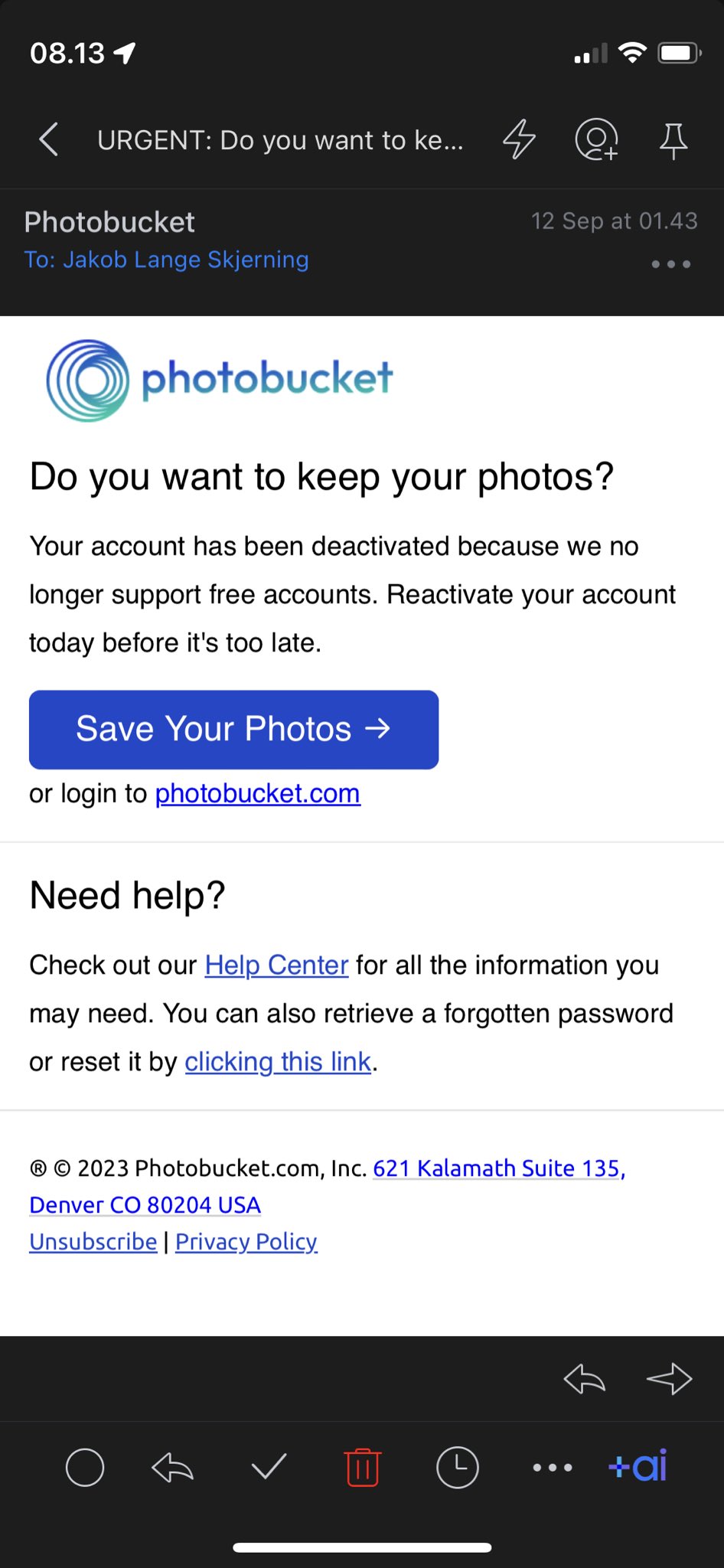 Photobucket is a cloud-based photo storage tool.
This email is sent to free users informing them that Photobucket no longer supports free accounts and has been temporarily deactivated. They also link to the Support Centre and password reset link.
What could be improved?
The email doesn't mention a deadline by which users can reactivate their accounts. A specific timeline would have been better.
It isn't clear what steps the user should take to reactivate their account — should they subscribe to a pro plan or login to their account?
#13. Zoho Books
Thanks to Prad Yumna of BalanceDay for contributing this example.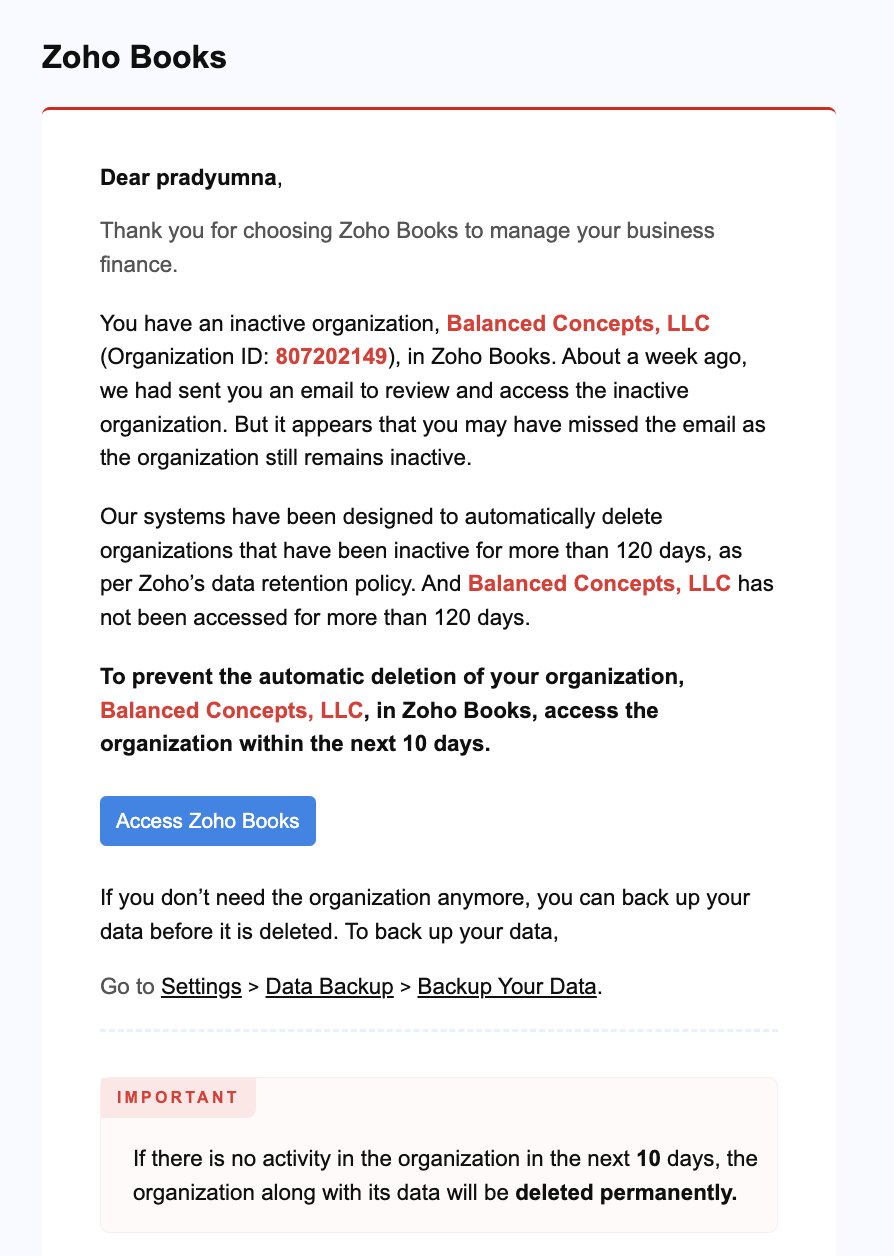 This is an example of a standard email sent to inactive users. It follows all the best practices — sends multiple reminders, mentions the reason for deactivation, quotes their privacy policy, mentions the criteria for deactivation, provides steps for reactivation, and gives a specific timeline. We specifically like how they begin the email by thanking the reader.
#14. Zoho Creator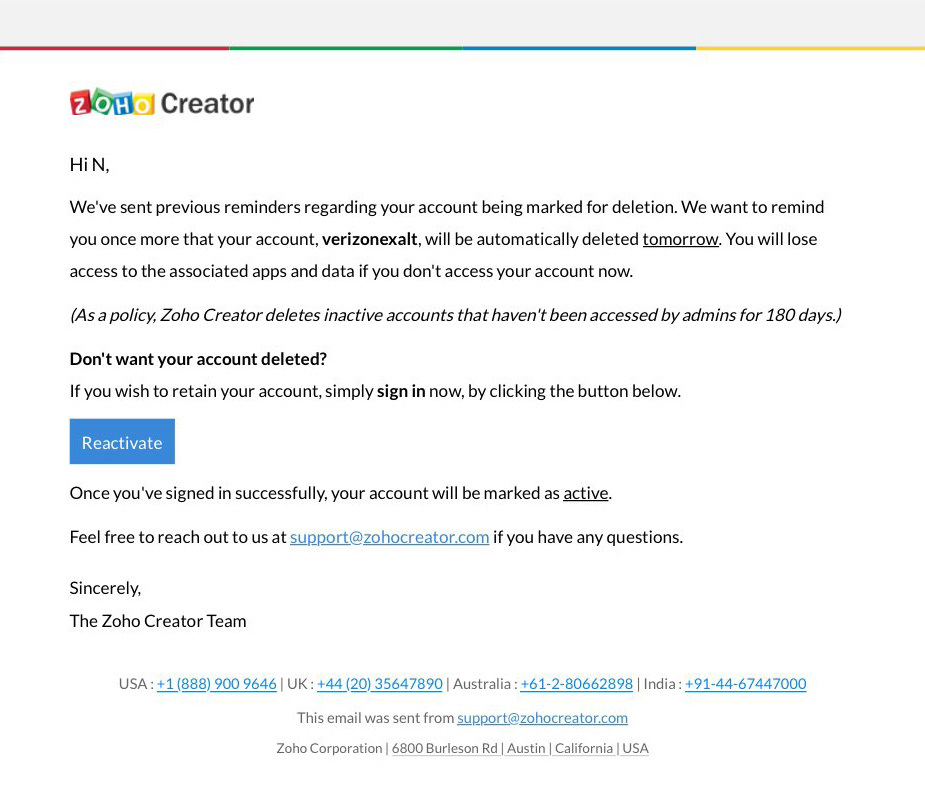 Zoho Creator is a low-code app development platform that allows users to create custom applications that meet their needs.
This final email is short, straightforward, and includes all the necessary details — why the account is up for deletion, a specific deadline, and how the user can retain the account.
#15. Podia
Thanks to Jimmy Daly of Superpath for contributing this example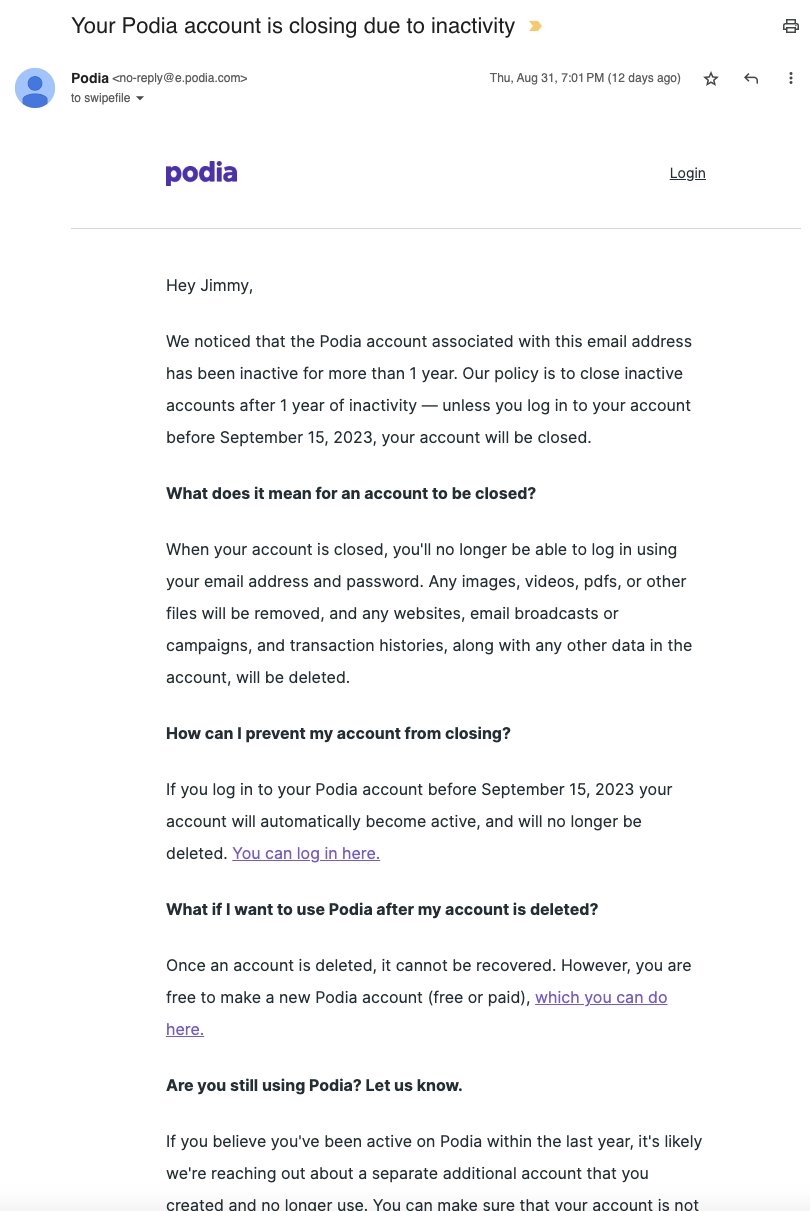 Podia is an online platform that lets users create and sell online courses, memberships, and digital products.
Similar to the Mailchimp email, this long email by Podia includes a few FAQs so that users know more about the deactivation. It starts by mentioning the criteria for inactivity and the exact date when the account will be deactivated.
#16. Marco Polo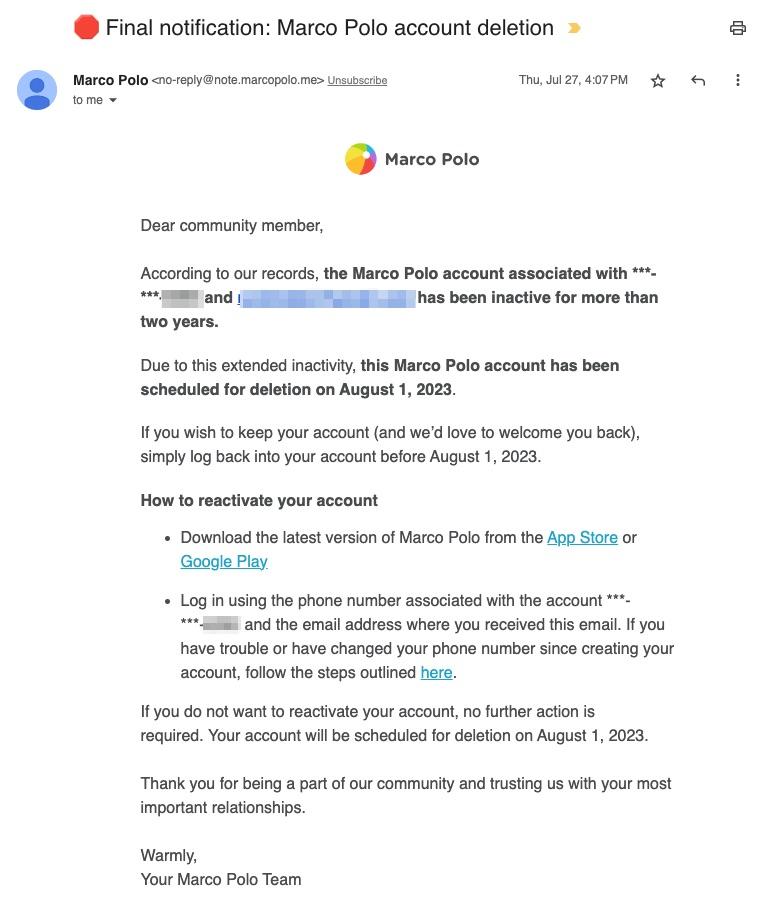 Marco Polo is a video messaging app available for iOS and Android.
This email is well-structured with all the necessary details. The email mentions why their account is being deactivated and highlights the final date when users can access their account to prevent the deletion. It then provides clear steps the user can take to keep their account active and links to a page for more details.
The email ends by thanking the user for being a part of their community.
#17. Planoly
Thanks to Patrick Herbert of Singularity for contributing this example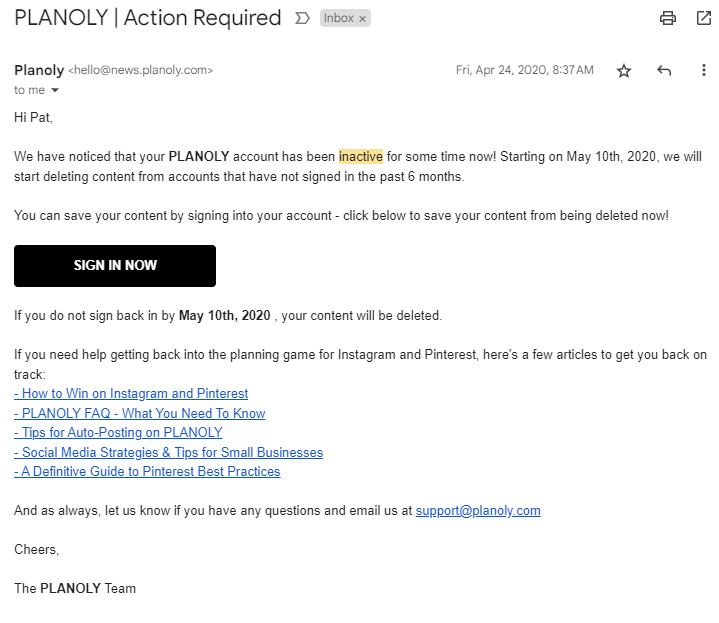 Planoly is a social media planner tool.
This email informs readers that their account has been inactive and faces the risk of deactivation. It mentions a specific deadline when the user should login to keep their account and also links to support articles to help them continue where they left off.
#18. OneDrive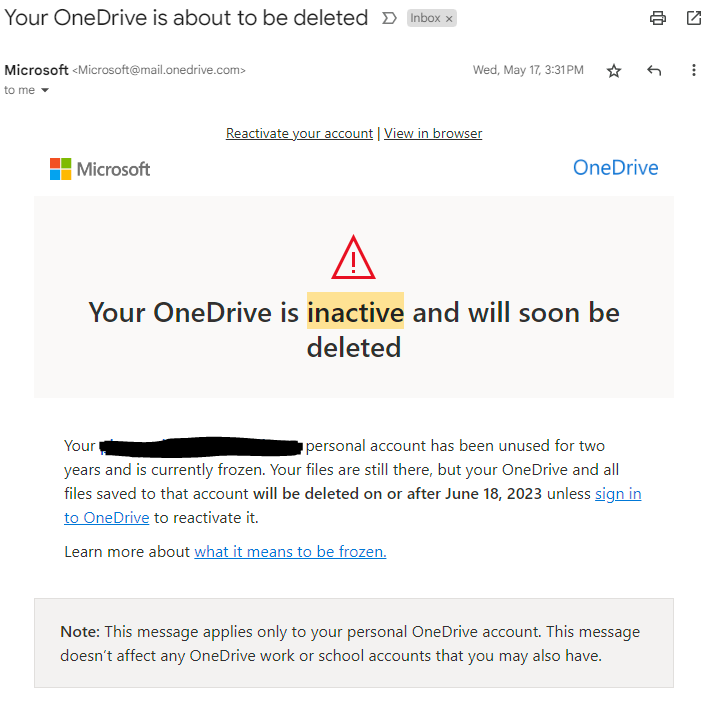 OneDrive is a free cloud storage platform offered by Microsoft.
This short email warns the user of inactivity and that their account will be deactivated. It provides the reason and a specific deadline. The email also links to a page where they can learn more about the deactivation.
#18. SendLayer
Thanks to Syed Balki of WPBeginner for contributing this example.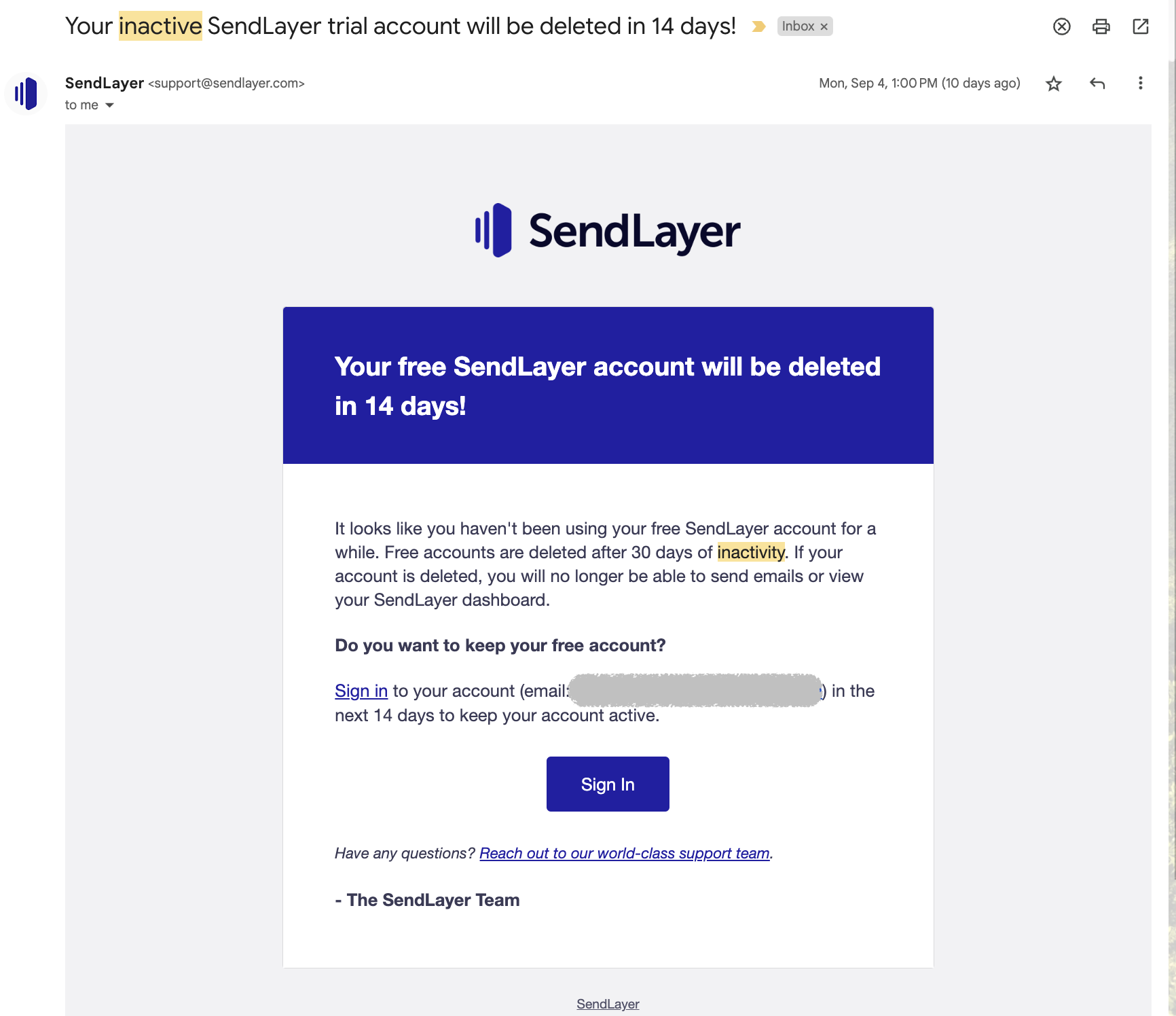 SendLayer is an email deliverability platform.
This email is sent to free users who have been inactive for a specific period. It informs them that their account will be deleted and asks them to sign in within 14 days to keep their account.
An email template to send to your inactive users
Here's a basic email template you can send out to inactive users as part of your notification sequence:
Dear [name],
Thank you for choosing [Company name] to [xyz].
We noticed that your account [account name] has been inactive for a while. According to our data privacy policy, accounts that have been inactive for more than [XX] days will be deactivated.
To prevent the automatic deletion of your account, please login to your account before [date].
If you don't need the account anymore, you don't have to login.
CTA — login to your account
If you need any help, feel free to write to [email address].
We hope to see you soon!
Warm regards,
Name
Designation.
Send out effective emails to re-engage inactive users
The process of deleting inactive user accounts is a crucial step in maintaining the efficiency and security of any platform or service. By regularly purging inactive accounts, organizations can streamline their user databases, enhance their data protection measures, and ensure a more satisfying user experience for their active members.
We hope these examples provide you with a clear understanding of how to send out proper emails to inactive users. Thank you for reading!