Gated ebooks, webinars, podcasts, and more — SaaS marketing teams are thinking outside of the CTA box to acquire new email subscribers. Why? An invite to the inbox is a foot in the door and a chance to better sell your product.
Yet, so many SaaS brands are missing the mark when it comes to nurturing new leads and successfully converting them to users.
Cue lead nurturing campaigns — your evergreen, automated sales flows for converting those interested in your product to paying for your product.
A scary number: 80% of new leads never convert into customers. Yet lead nurturing generates 50% more sales, compared to doing nothing. See where we're going with this? An effective email lead nurturing campaign can help you grab an otherwise missed opportunity.
Before we get into our examples, let's clear something up.
What is SaaS lead nurturing?
SaaS lead nurturing campaigns are emails sent before a user signs up to use a SaaS product. This type of email is designed to convert a passive buyer, also known as a lead or marketing qualified lead (MQL) into an active buyer — also known as a hot lead or a sales qualified lead (SQL).
At the end of a lead nurture campaign, your prospect should be ready to use and even pay for your product.
Lead nurture email is often confused with customer email: which is everything that happens after someone signs up and starts using a SaaS product.
Jason Resnick, email marketing and automation consultant, explains why the two sectors of email are often confused:
"Customers also need nurturing. You still need to market to them, especially in the SaaS world. You want to re-engage your customers, in the month-to-month gain you have to prove value to them time and time again."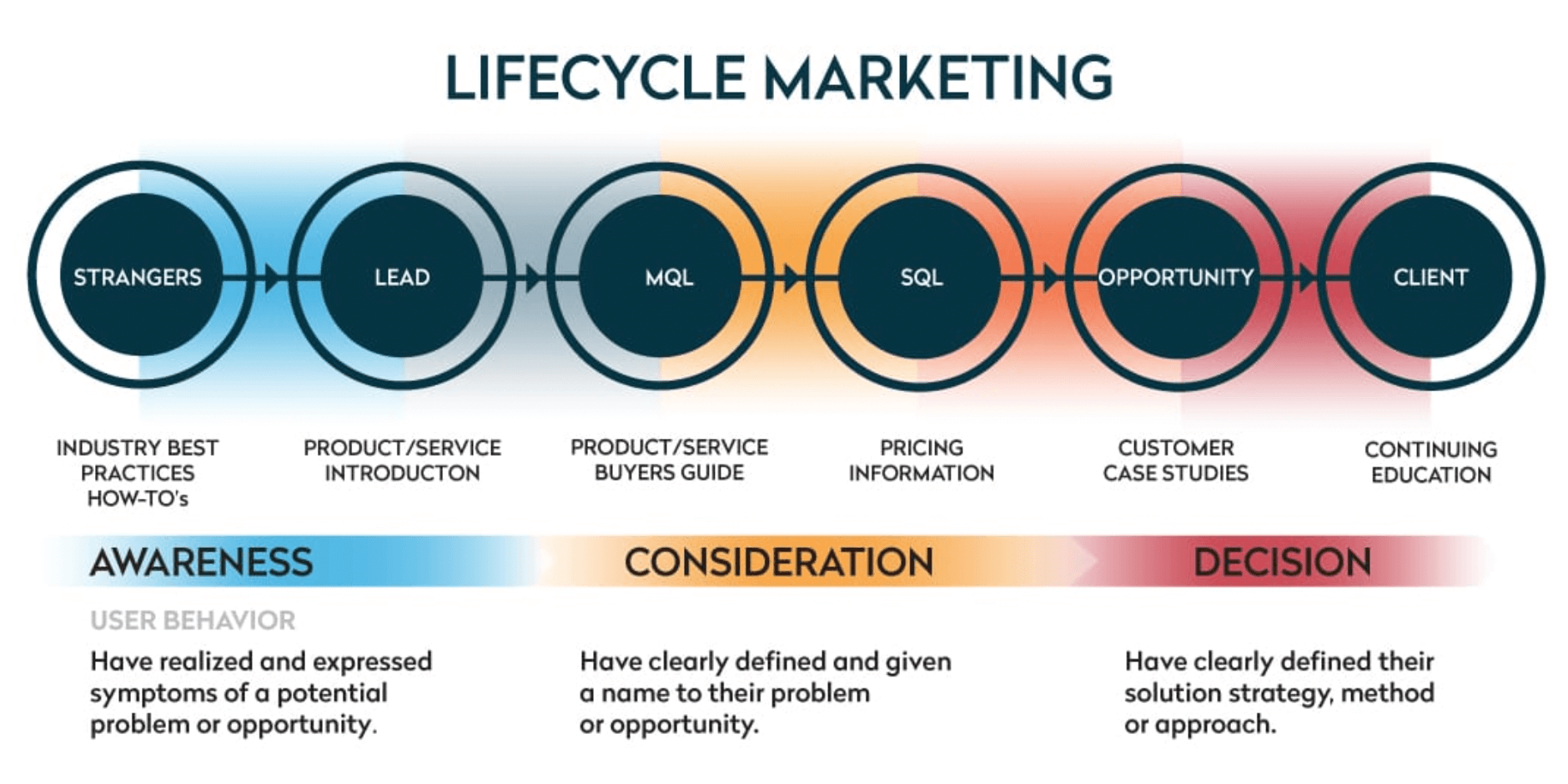 Despite SaaS brands needing to continuously nurture leads, customers, and even churned users, in this article we're focusing on that initial nurture and conversion goal: from brand awareness to product signup.
6 lead nurture campaign examples to turn curious leads into happy customers
#1. Trove
Trove is a social microblogging platform, fresh out of BETA. They're in a position that many SaaS products are familiar with, transferring an email list of innovators — on a waiting list for product launch — to active users.
The team over at Trove kindly shared their email nurturing flow and the strategy behind it with us. Let's take a look.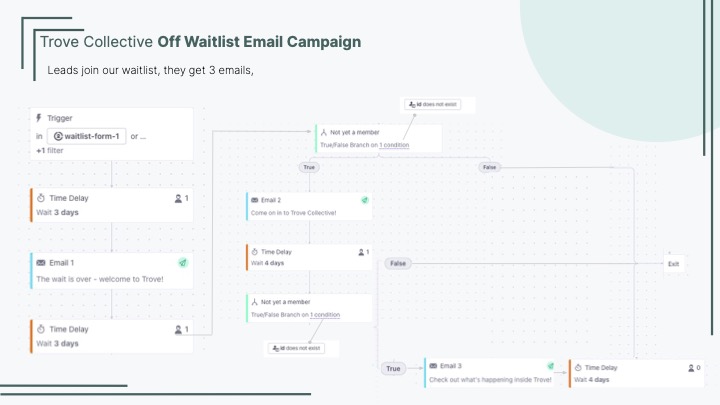 As you can see from their email nurture overview, the entire flow spans over ten days. Each email strives to provide value, and is packed with CTAs to get the receiver off the product waiting list and into the Trove app.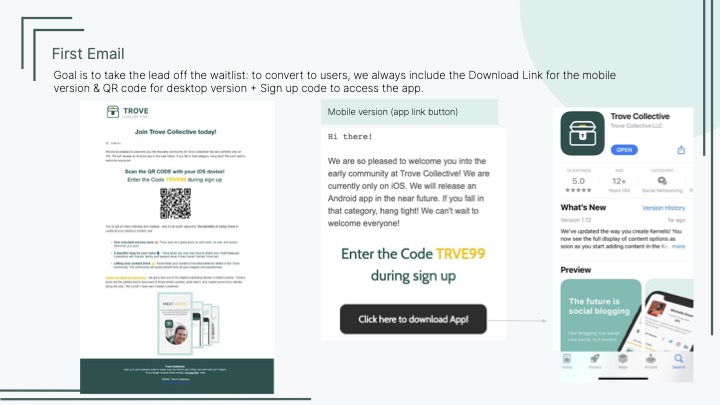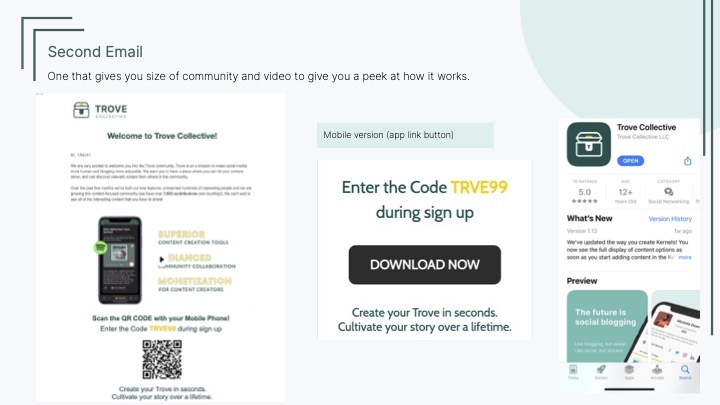 We're big fans of the clear CTAs, on-brand color palettes, and UI screenshots so users feel comfortable and know what to expect when they move into the app.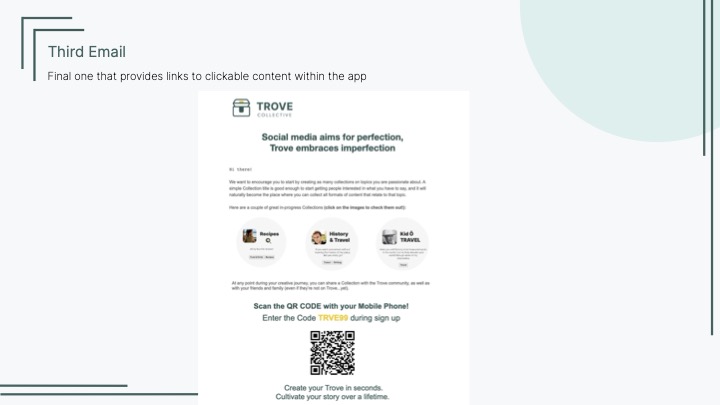 What's really interesting is that, after their third email, they don't give up but change the frequency of their nurture flow to monthly. They'll eventually win a signup or an unsubscribe from everyone on the waiting list — and will benefit from both!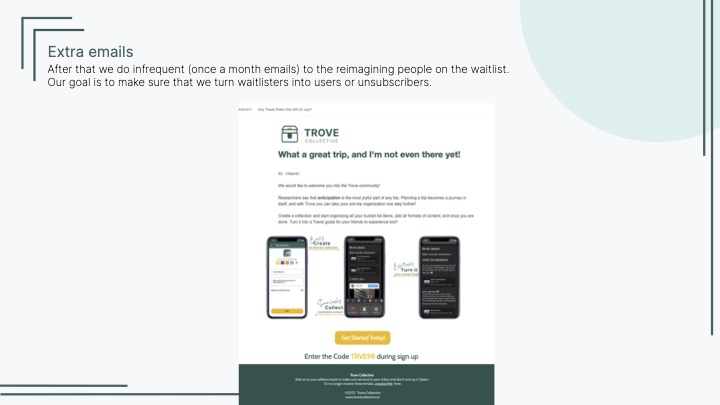 Marc Morego, Head of Marketing for Service Club, reminds us that product-led brands need to keepreminding MQLs of not only the product benefits, but also product features. Marc says:
"Make your funnel clear and pleasant, this way you'll avoid bringing in confused prospects that don't really know what your product or service is and your conversion rate will improve."
Trove teaches us to map out our nurture flows depending on user actions, or lack of them. They also teach us to never give up on someone. Maybe they're not ready to jump into your product now, but they could be in the future.
#2. GrowthMentor
GrowthMentor is a space for business professionals to find mentors in their field. The platform aims to connect you with trusted people that can consult or coach your personal and professional development journey.
Their nurture flow is short and sweet, consisting of only two emails. Let's take a look.

Their first email is lengthy,to say the least. However, Foti Panagiotakopoulos, the founder at GrowthMentor, has thought this through. There are a few things worth noting:
Foti has chosen to use plain text emails. Plain text emails seem more personal, they don't buckle under cumbersome internet load speeds, and they're relevant to GrowthMentor's audience — people who are typically accustomed to the bells and whistles of marketing design.
The first email in their flow is double the length of the second email. Why? It's when you've got the most attention. Make the most of this opportunity and deliver the most information when your signup is at their most curious.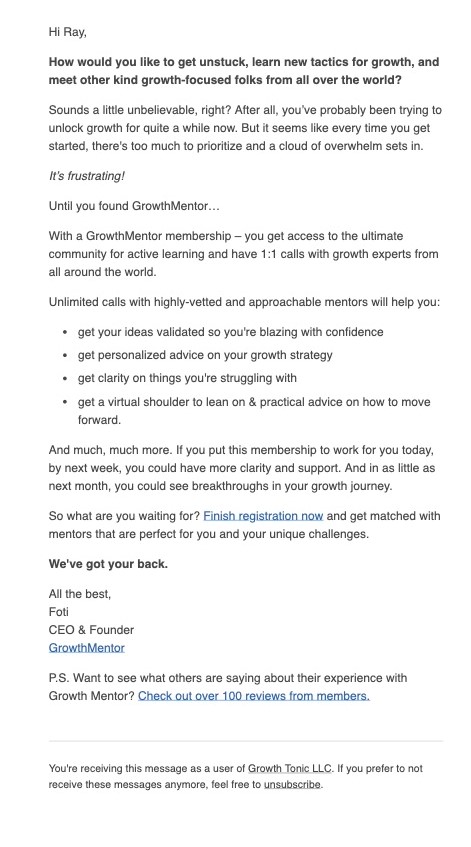 GrowthMentor teaches us the importance of the first email in your nurture flow, as well as amending visual content going on your ICP.
#3. LANDR
LANDR is a collection of creative tools for musicians. It helps musicians create, collaborate, distribute and promote their work. Their nurturing flow comes in hot with four consecutive emails across four days. Let's take a look:
LANDR starts their nurturing flow off by trying to get to know the email recipient a little better. Their first email offers a heap of LANDR solutions for musicians in the hope the receiver will engage with one and tell the SaaS more about their needs — informing the product sale strategy.

From there, LANDR tries to affirm their social proof by showcasing their awards and customer reviews. If you know your psychology, you'll know social proof is one of Cialdini's principles of persuasion that so many rely on in marketing messaging today.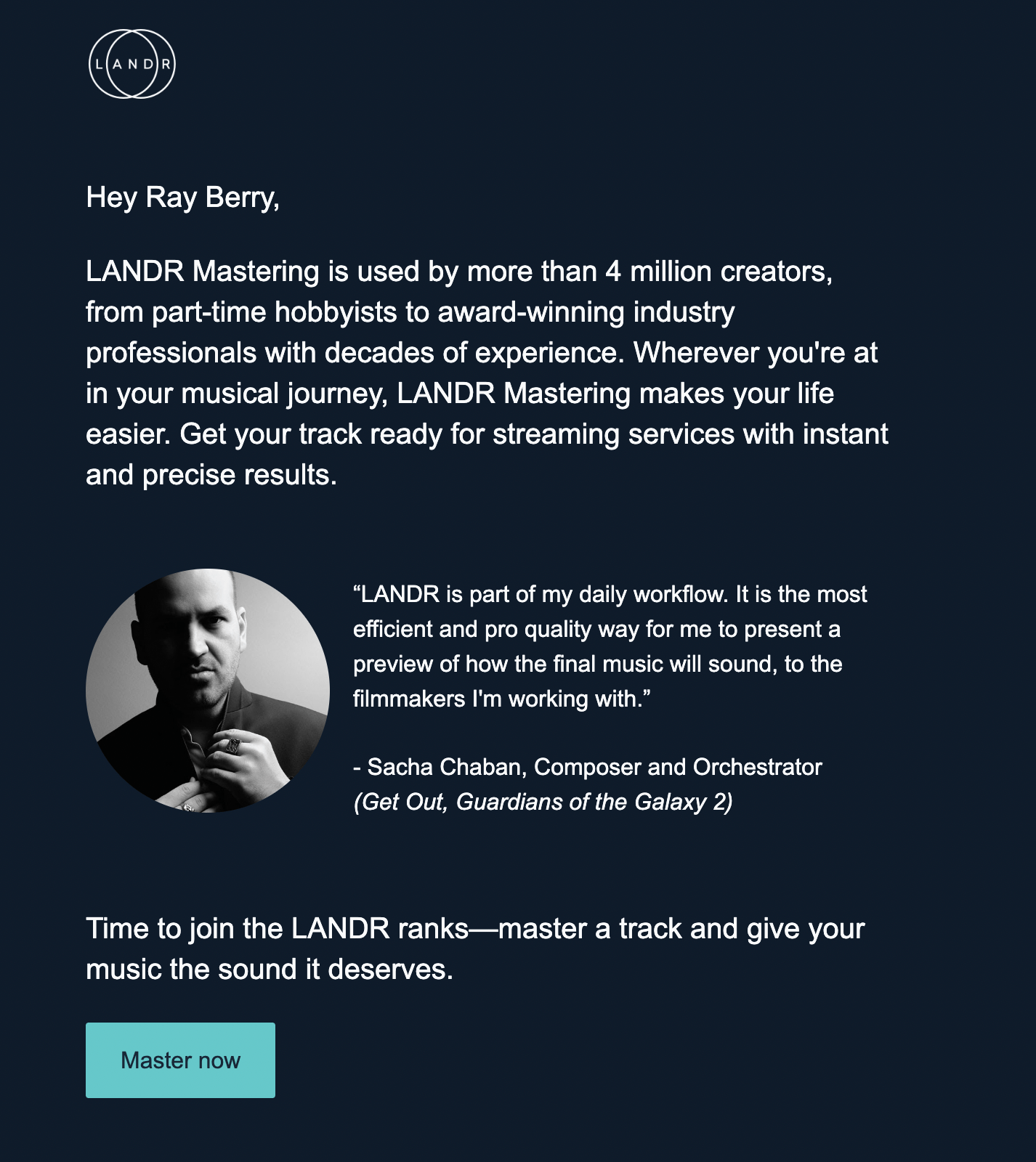 LANDR closes their flow by utilizing their engagement data (or in this case, lack of it). 50% of companies say they increase customer engagement through email personalization, and email personalization doesn't just mean first name.
In the example below, LANDR uses a lack of engagement as a personalization tactic and offers an enticing offer to get the receiver into their product.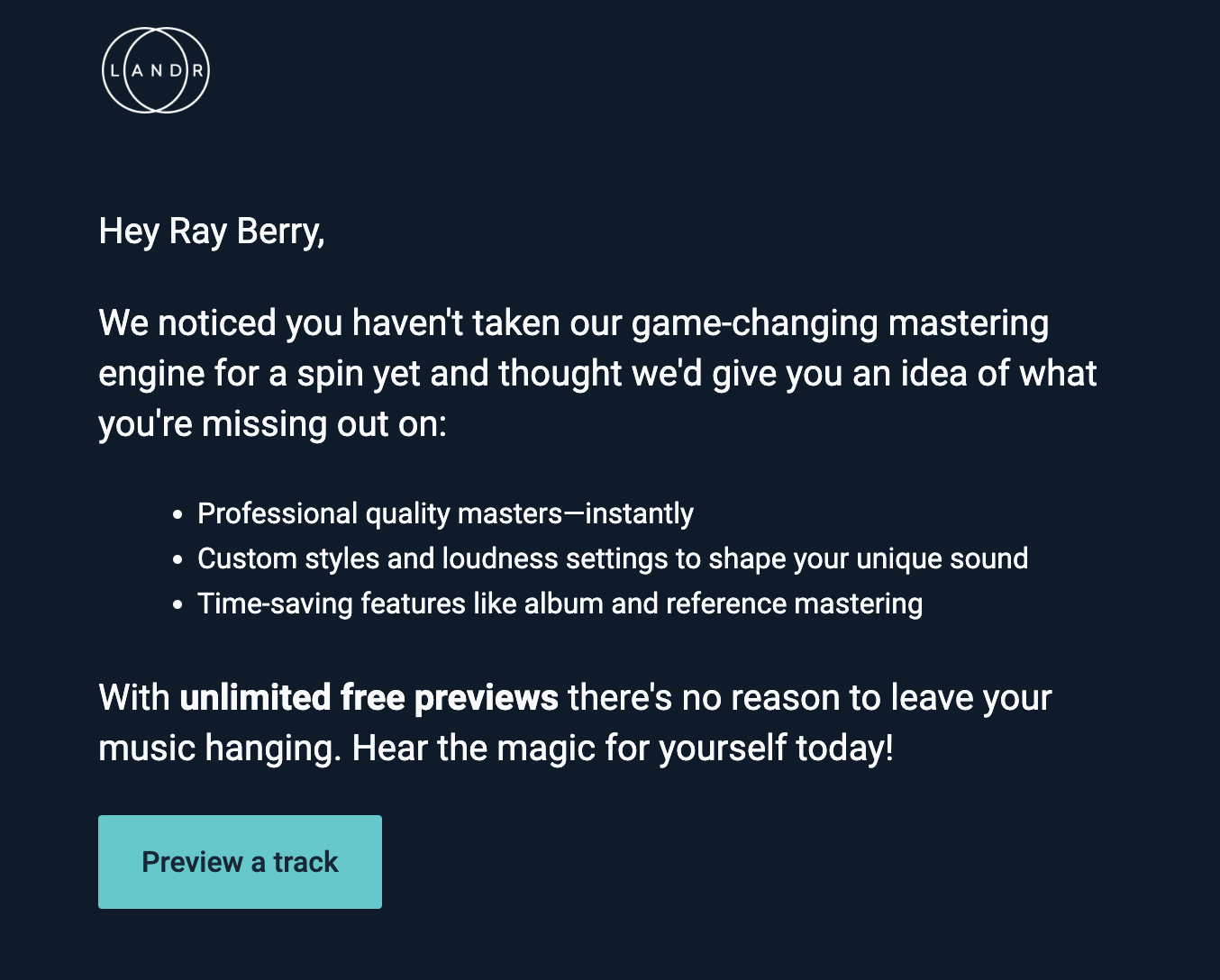 #4. Bonsai
Bonsai is an all-in-one product suite to help freelancers manage their businesses. It hosts an aggressive nurture flow that really plays on the scarcity of one of their products. Let's take a look.

Powerful subject lines at play from Anne. Remember, a personalized subject line increases the chances of your email being opened by 22%.
Bonsai is doing a few things right with their nurture campaign:
Including the sender name. Jason Resnick stressed the importance of sending your nurture flows from someone, your only emails that are "no reply" are transactional emails.
Emojis in subject lines have proven to increase CTR by 28%. Coupling this tactic with a countdown gives Bonsai the best chance possible of winning an open.
Let's take a look at the content of their flow.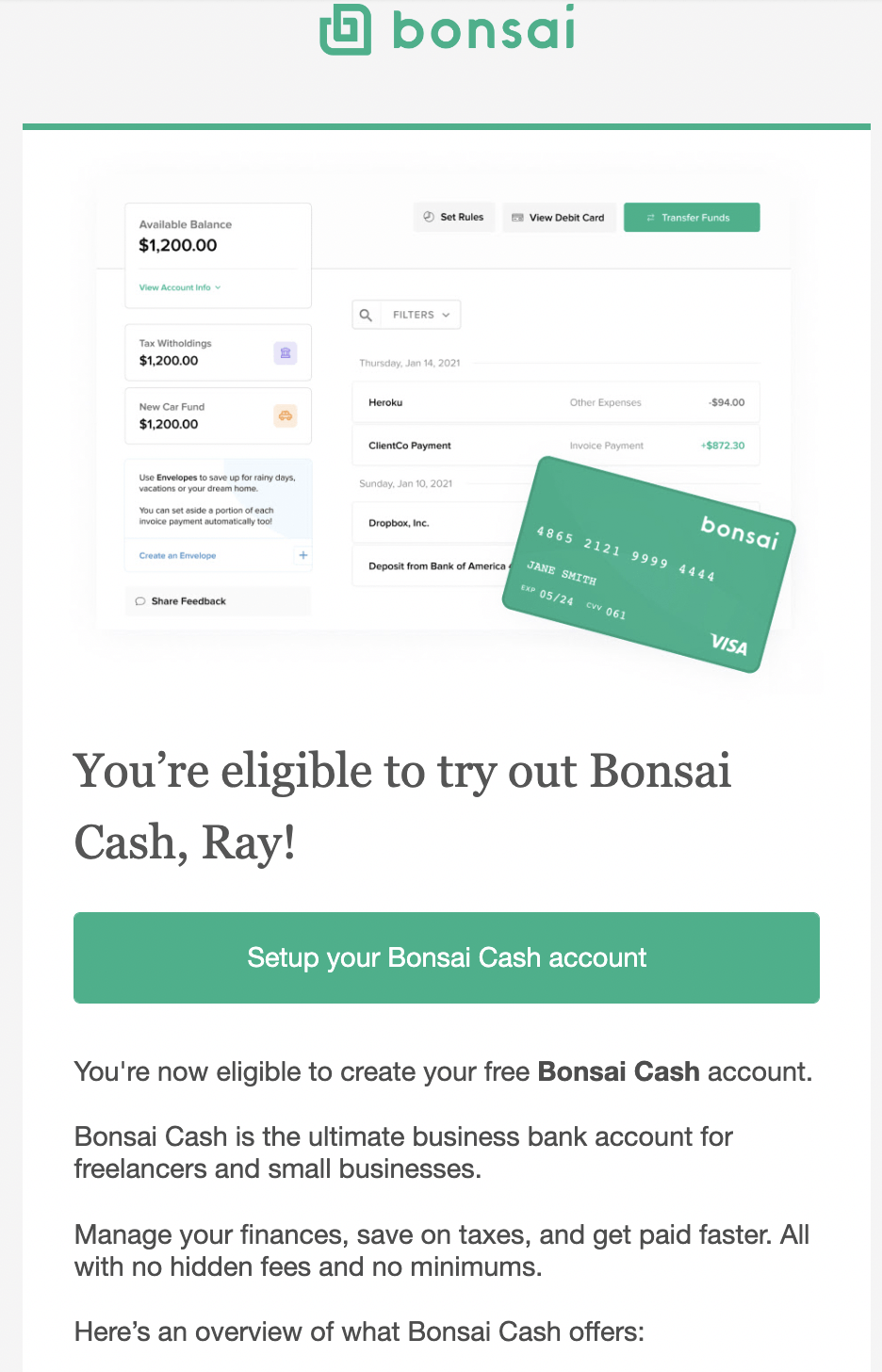 Bonsai does a fantastic job of displaying the friendly UI, while showcasing the product's features and how they solve freelancer pain points.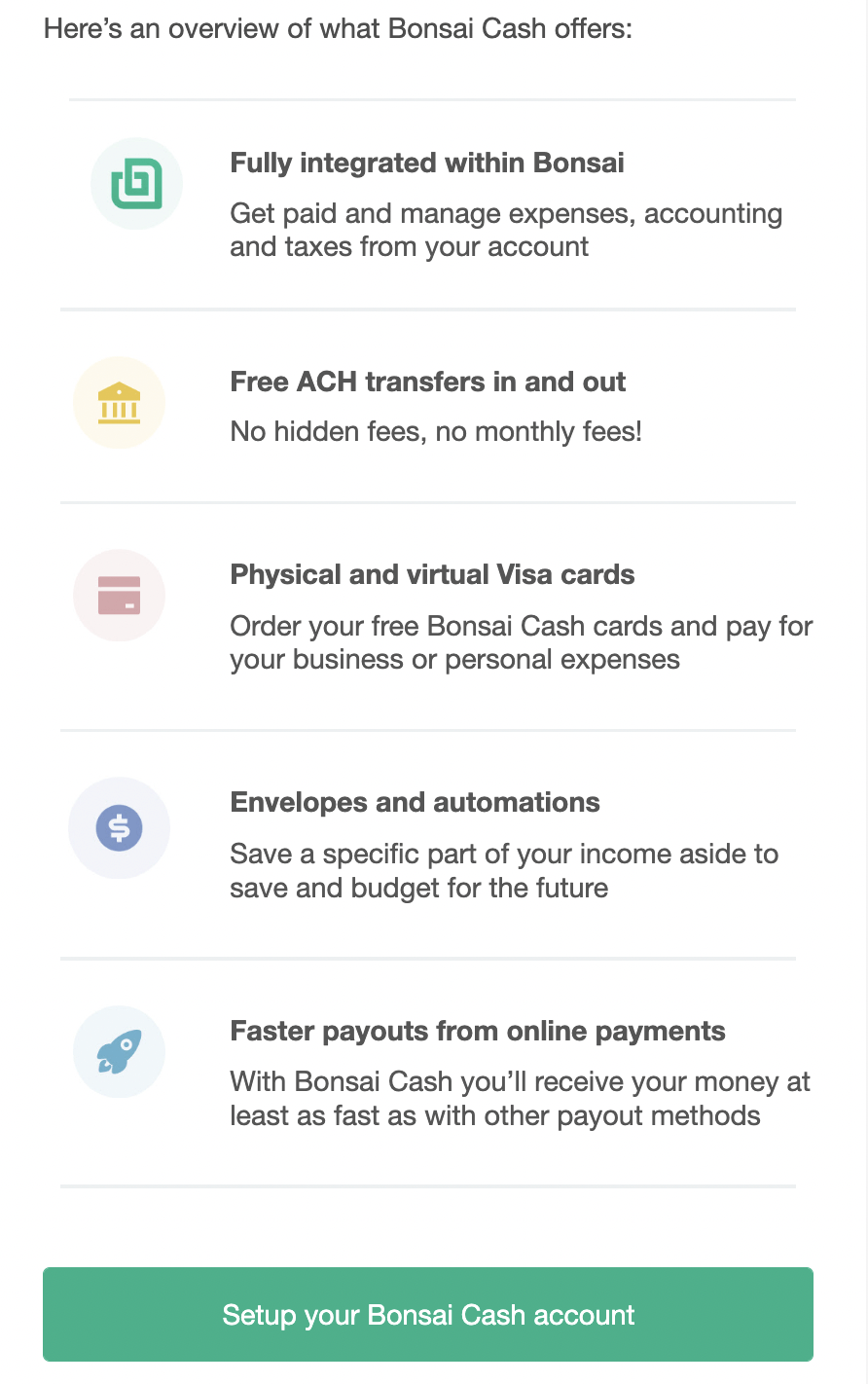 The CTAs jump off the page, and the email banners put a time stamp on the nurture campaign that makes it hard to refuse.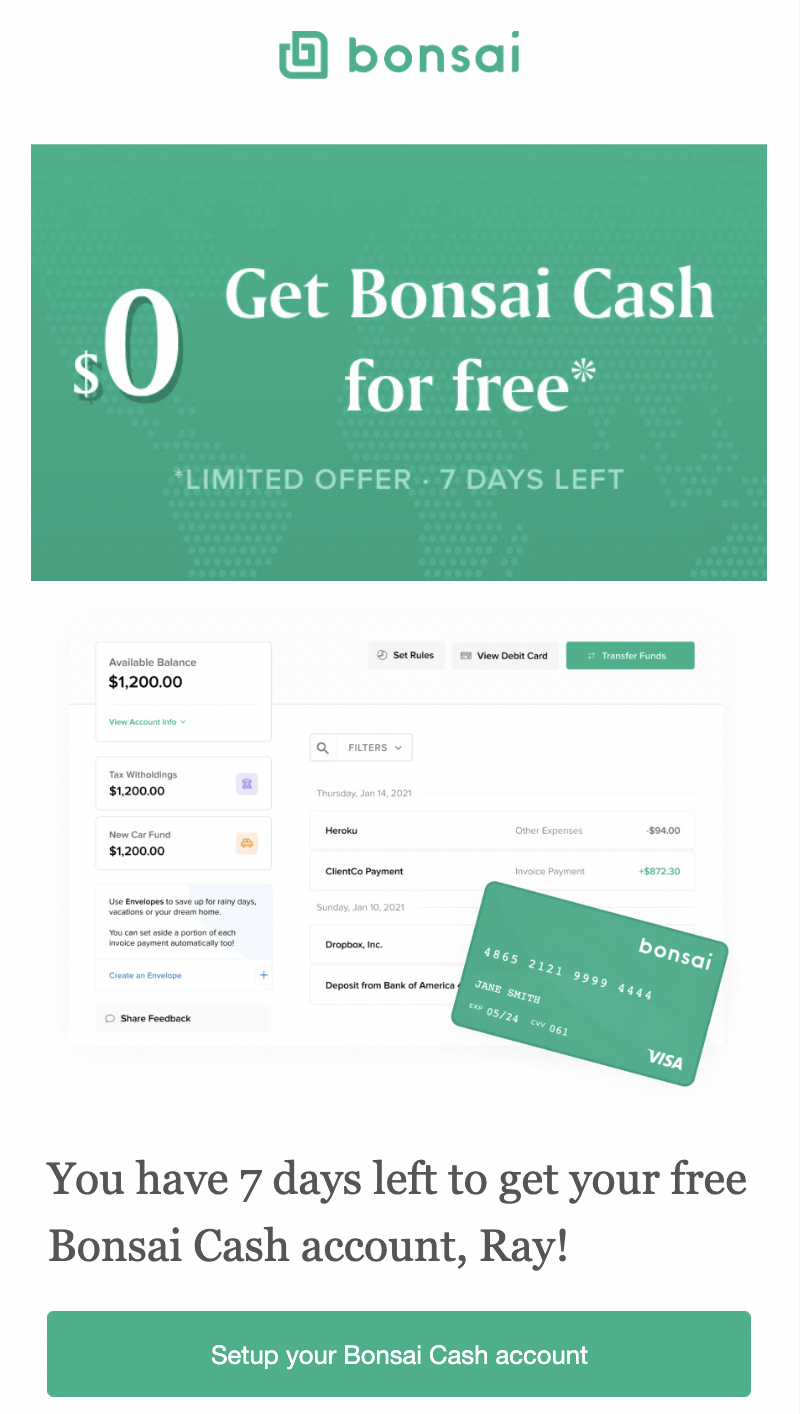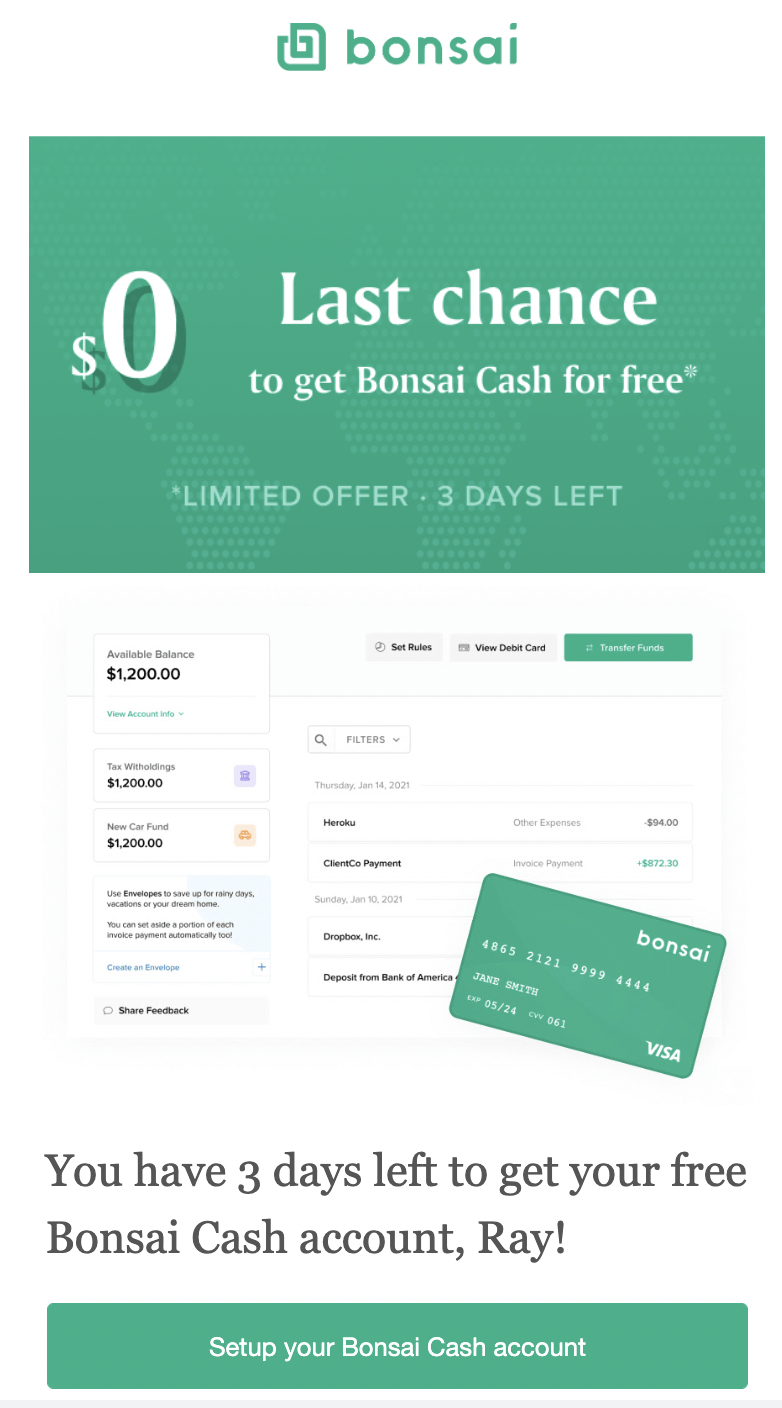 Lastly, the use of the receiver's first name throughout the email flow is a home run touch of email personalization that ensures the brand resonates with the receiver.
Of course, it's clear that Bonsai is segmenting their marketing list to deliver the right product to the right people. Especially as a product like this will only legally function in certain countries or with particular currencies.
Segmentation based on function and legibility is not the only type of segmentation you should consider for your nurture flows. Will Yang, Head of Growth at Instrumentl, tells us more:
"You need to make sure that your lead nurture emails are adjusted based on the data you have. One way to do this is to segment your audience based on where they are in their journey and what they need at that point."
In fact, a survey from Mailchimp found segmented campaigns had open rates 14.31% higher than non-segmented campaigns. Bonsai is a firm reminder that segmentation is key to nurture success.
#5. Alexia Clark
Let's mix things up and take a look at a B2C example to see how things are done differently for those direct-to-consumer brands and how B2B SaaS can learn from them.
The team at Alexia Clark — a fitness app for women — were kind enough to share their nurture flow with us, and (more importantly) their goals behind it.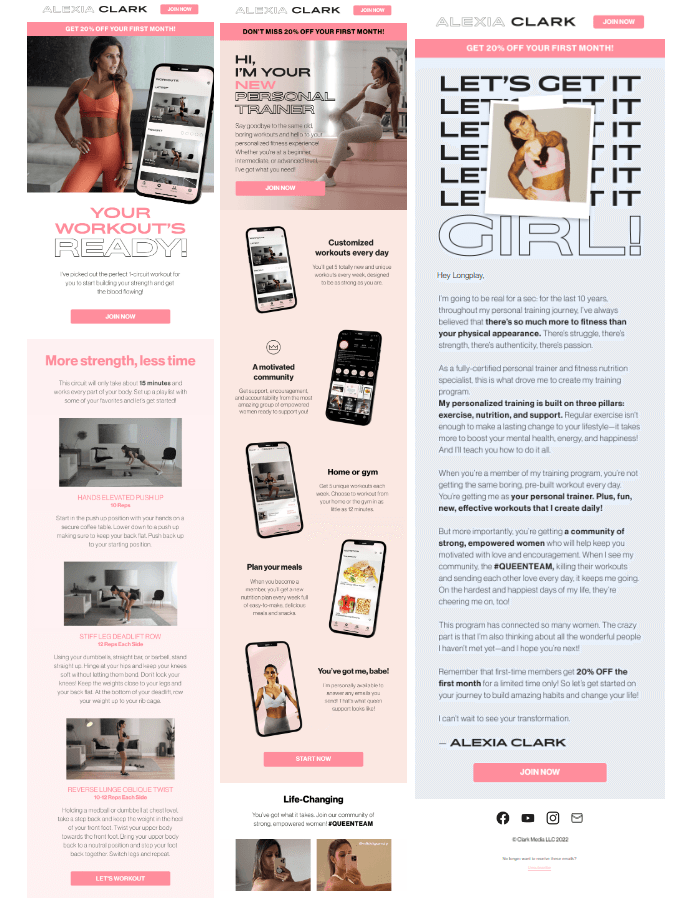 The marketing team uses a mix of social proof, product UI, product value, and customer-oriented language to grab the attention of their subscribers and convince them to sign up.
Project Manager, Brittney Wurdeman, sat down with us and shared the strategy behind their nurture flow.
"The purpose of our nurture flow is to get non-purchasers to make their first purchase within the shortest time possible by introducing customers to the brand & product."
What does success look like for this particular campaign? Success for Alexia Clark comes in a few forms:
Increasing the non-purchaser conversion rate (ie. % of customers who join the list as non-purchasers to become purchasers)
Reducing the time to first conversion (ie. the amount of time it takes someone to go from being aware of the brand to becoming a customer)
Increasing the $/lead (this can be from increasing the % of customers who convert or increasing the AOV per customer)
Increasing usage of the app
Let's take a look at the email strategy they're using to reach those goals:
"These are customers who have just been introduced to the brand — likely by seeing a Facebook or Instagram ad online. They then landed on the website or landing page and entered their email. They are curious enough about the brand to opt-in and browse, but have not yet been convinced to buy.

We consider whether the email capture they entered through affects their mindset & journey, so there is consistency in their customer experience. For example, if they entered through a quiz, the Nurture Flow should feature their quiz results. If they entered through a website pop-up with an offer, the Nurture Flow should remind them of the offer."
What do they consider necessary in order to get a new subscriber to convert to a user?
Alexia Clark has a few micro-goals with their nurture flow that are designed to get them to the ultimate goal of converting an email subscriber.
These micro-goals are:
Address the reasons subscribers may be hesitant to buy (ie. price, don't understand the product, worried it won't work)
Educating customers the brand mission & story
Educating customers on the outcomes they can achieve
Educating customers on the features & benefits of the app
Addressing key customer pain points (to have them feel we understand them)
Addressing common objections & answering FAQs
Sharing social proof
Providing value through relevant content to build a brand relationship
Removing purchase friction (eg. satisfaction guarantees)
#6. PandaDoc
PandaDoc is a SaaS tool for creating, sharing, and tracking documents. It helps improve deal workflows, insights, and business operational speed. It also offers a digital signature solution that helps securely add signatures to online documents.
PandaDoc often finds themselves in a position in which they're acquiring one-time users as people need to sign a digital document sent by someone else via PandaDoc.
This task makes this person a temporary user, but not an active one — this is PandaDoc's flow to try and change that.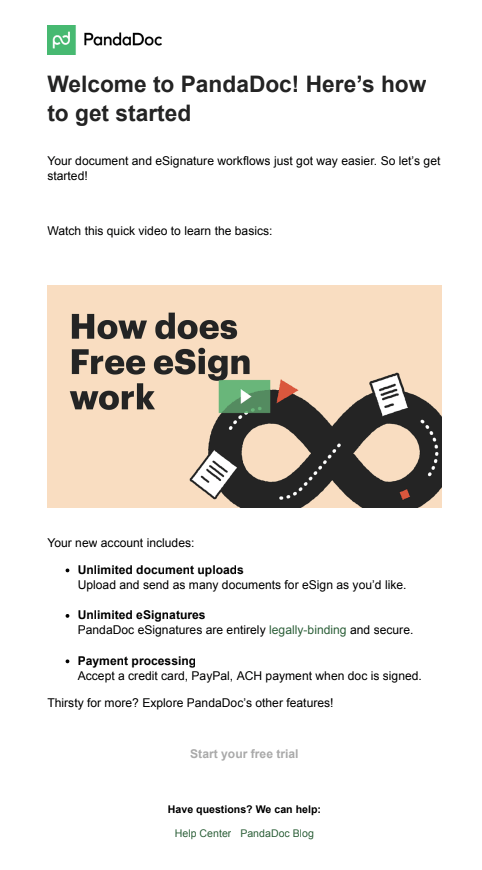 In order to use PandaDoc — even for a one-off signing, someone has to build an email-deep account — no other info other than their email.
PandaDoc seizes this opportunity by adding this email to a nurture flow that onboards users as if they were fully intending to implement PandaDoc in their daily business operations. Cheers to positive manifesting!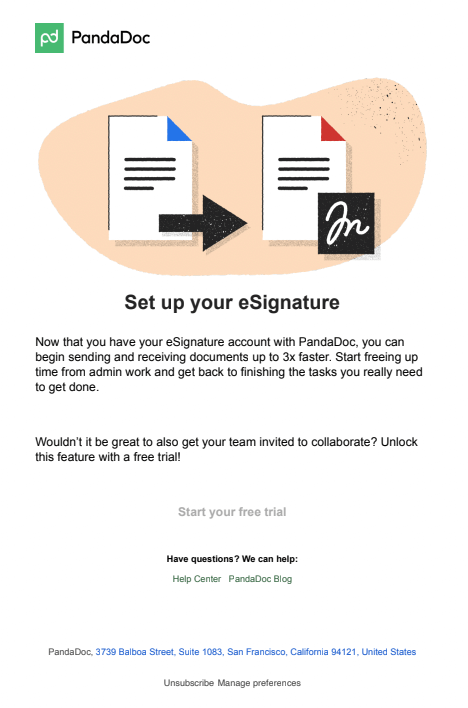 The copy resembles an onboarding flow, however, PandaDoc still has quite a bit of convincing to do. This nurture flow onboards while talking to people's pain points, and showcasing how the product can help soothe them.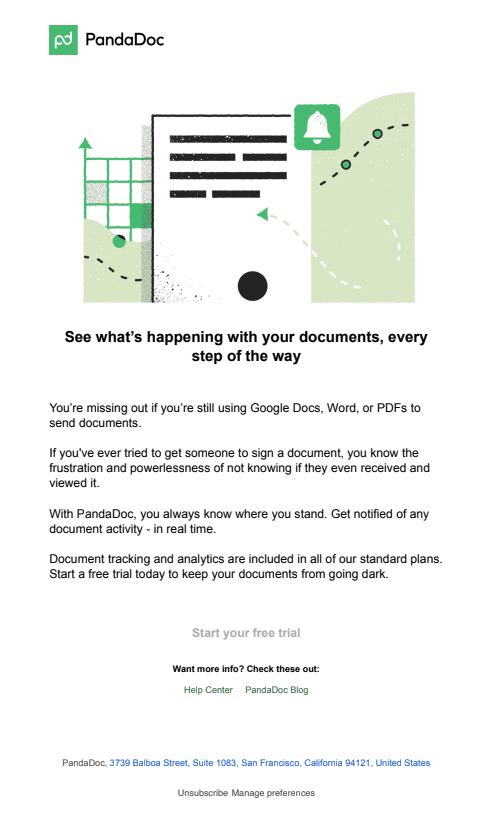 Every CTA encourages the one-off user to enjoy a free trial of the tool. We're particular fans of the last email, where they showcase how seamlessly the tool will integrate into an everyday tech stack.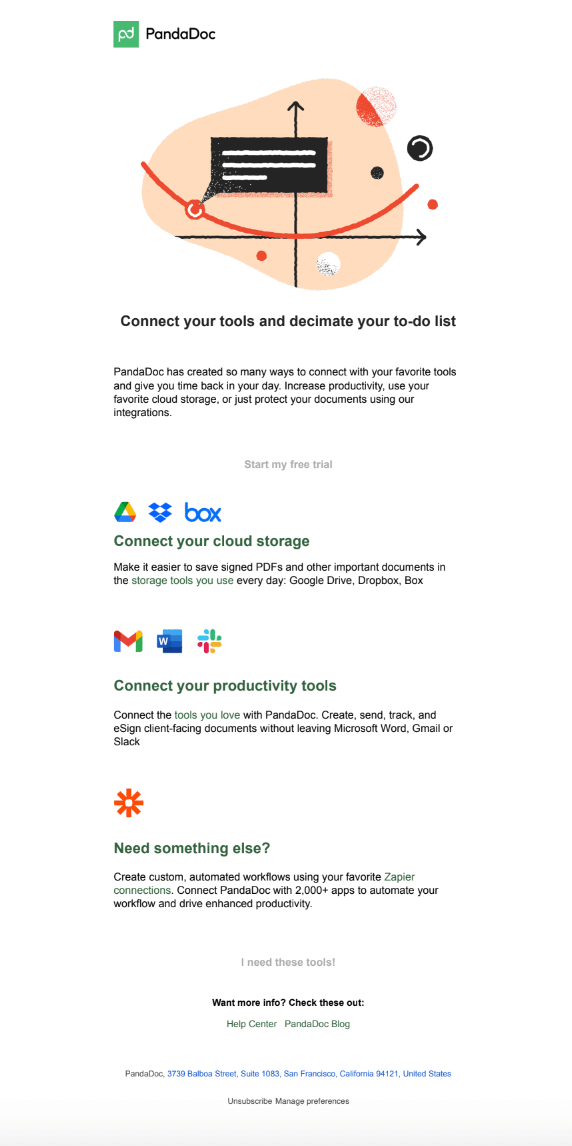 Kudos to PandaDoc for reminding us that a nurture journey doesn't have to start from a traditional "signup for more info"-orientated CTA. If you think outside the box, there are multiple MQL capture opportunities within your product, and your TOFO content.
What are the goals for a lead nurture email campaign?
In the grand scheme of your SaaS email marketing strategy, your lead nurture email flow should have three main goals.
1. Build long-lasting relationships
96% of your website visitors aren't ready to buy, which is why it's so important to nurture leaders with your email marketing. If they aren't ready to buy, the very least you should be doing is building a positive brand affinity.
Victoria Tokarz, head of community at Scribe, builds on this:
"Any time you enter someone's inbox, it's like entering a garden — you have to make sure you're not planting weeds. If I'm being honest, most of what ends up in my email inbox – especially from SaaS products – are weeds. That's why your emails should be timely, relevant, and valuable."
Tokarz goes on to explain what each of these key elements mean:
Timely: make sure people receive your campaign at the right time in their journey. Use in-app triggers, and on-site engagement metrics to ensure your campaign goes out when it makes the most sense for your user.
Relevant: every piece of communication should be as personalized as possible. Segment your mailing lists as much as you can and customize the content of each email campaign so that it's read like it was written for the exact person receiving it.
Valuable: confront your own marketer bias and read your email from the perspective of the user. Is this information actually worth interrupting their day at 9:15AM on a Wednesday? If it's not, don't send it until it is.
2. Segment, score, and understand your future customers
Your lead nurture flow is your opportunity to understand the content subscribers need and when — throughout theirentire customer lifecycle. This means understanding their jobs-to-be-done, their pain points, current way of doing things, and preferred methods of communication.
To have a successful SaaS email nurturing campaign, you also need to understand where your lead is in their journey with you, and what they need at that time. They may be in the awareness stage, consideration stage, or even ready-to-purchase. You won't know unless you ask them, or score their interactions with your brand.
Use your content to gain trust while better understanding what's serving each individual. From there, you should be able to automate your nurture flow to better speak to people's needs and encourage them to make a purchase from you — or start a free trial.
As a result, you'll be able to leverage this information down the road in their user onboarding.
3. Convert subscribers to users (paid or unpaid)
Your ultimate goal is to convert subscribers into users — paid or unpaid. Be sure to lean on the tactics and methods we've shared above to be able to pull through on this goal.
Want to learn more about nurturing campaigns? Then check our ultimate guide to SaaS lead nurturing.
The do's and don'ts of email nurturing
When creating your lead nurturing campaign you want to make sure you're including all the necessary elements, without falling into some common SaaS traps. Here are the learnings we've seen from the eight real-life examples:
Do use segmentation and personalization to provide relevant content — you can get data through your campaign emails too
Don't share unnecessary information about your product — go straight to the point and the main CTA
Do use email marketing automation tools — they'll make your life easier and your users happier!
Don't include the audience of your nurturing emails into your other email campaigns — it's overwhelming!
Do get feedback from your sales team and adapt your campaign accordingly — don't be shy and get feedback from your users too
Do quantitatively measure how your campaign is doing — as often as you can, and pivot your strategy accordingly
Do A/B test your subject lines, and preview text to see which ones garner a larger clickthrough rate
Do include clear CTAs — A/B test different styles and copy to make sure to use the most clickable ones
Do include a clear unsubscribe link — and send a 'verify your email' email too
Do align your content marketing efforts with your email campaign — high-quality content is what will prove to your users you're an expert
Don't think timing is just about the length of time after the action. It's also about day of the week, and time of the day — anything that helps you get higher opening rates.
Do show your brand's voice when writing your email copy — and be consistent with it throughout all of your communications
Don't overwhelm the reader with too many images, colors, text, or CTAs — leave white space
Do think about readability on mobile devices and loading time of your emails — readers don't have time to waste looking at a loading screen
Email nurturing metrics worth tracking
Once you've created your lead nurturing campaign, you'll need to constantly measure it. This way you make sure it's working as expected and can tweak it accordingly.
Here are eight metrics worth tracking:
Unsubscribe rate: if it's high, it means you're not delivering what subscribers were expecting. Immediate change needs to be made either up-front or within your content.
Response rates: whether it's open, click, or conversion rates, these are one of the best metrics to understand your success or lack of it – make sure you know whether those are positive or negative responses.
Average engagement points per lead: as the main aim of a nurture campaign is to turn cold leads into hot ones, the more engagement the better. This is a metric that measures the engagement score your leads are garnering to highlight when they're ready to buy – it should skyrocket if you're on the right track.
Percentage of leads who perform a specific action: a good way to measure success is by comparing the percentage of 1-on-1 meeting requests, trial sign ups, or page visits counted in groups of nurtured and un-nurtured leads
Percentage of MQL/SQL/opportunities/sales: it's a good idea to compare the increase in MQLs and SQLs. If MQLs increase significantly faster than SQLs, this could mean there are mistakes in your lead scoring system
Sales cycle time: the sales cycle time should definitely shorten when a nurture campaign is achieving what it's set out to do. However, you don't want to have it so short that you end up having uneducated users in your product.
Average contract value (ACV): since your nurturing campaign educates leads about your brand, services, and products; there should be an increase in cross sales for other products or more features
Return on investment (ROI): your cost per customer should decrease as you're selling more through the same pipeline, resulting in an increase in ROI. Cost per acquisition (CPA) will also help you with this.
Daniel Barret, CEO of Social Vantage, points out:
"It's also important to consistently utilize customer feedback. The best way to improve your SaaS nurture email campaigns is by listening to what your customers have to say about them!

Use in-product surveys, customer reviews on social media, or even just asking them directly for their feedback on how they feel about their customer experience with your company. This will help you create more personalized emails that will resonate better with users and improve their overall experience."
Start sending those nurture campaigns with confidence
Crafting a successful lead nurturing campaign means providing value while helping a user envision the product in their everyday lives.
It won't matter how good your product is if your nurture campaign is falling short on selling it. Many SaaS brands are missing out on a huge market share by relying too heavily on freemium models or free trials. Your TOFU SEO content isn't designed for those ready to jump into your product, it's designed to find those people with a problem your product can solve.
This means TOFO visitors need more on the table than a free pass into your product. Offer them a nurture flow and move them through the funnel via email. This way, you'll be onboarding users that truly understand and are ready for your product, rather than those simply looking to learn more. In doing so, you'll drastically decrease user churn and increase your customer retention rates.
Lastly, continuously measure your campaign's success, segment well, and optimize each aspect of your email to give your campaign its best opportunity possible at converting. Happy mailing!