Writing a good feedback request email is hard. Your message must convince customers to stop doing other work and share their opinion about your product, now.
How do you achieve that? Is it all about personalization, or maybe not? Is an incentive necessary, or will it ruin their intrinsic motivation?
In this article, you'll find a list of feedback emails sent out by SaaS brands and the best practices we learned from them. Some of these examples are creative, and others are straightforward. You'll also find a free template you can use in your next email.
How to write a good email asking for feedback
Based on the examples we collected, here's how a well-written email can convince your customers to provide their feedback.
Add some personality and humor
Feedback request emails don't have to be boring. Why not try adding some liveliness to it with illustrations and humor? In the examples below, you'll see that some emails below are written in a very comic manner or include illustrations.
Add a twist, spice it up with colors, a meme, and lively language.
A simple technique to make the email feel more personal and not automated is adding your own name. In the beginning of the email, mention who you are and what you do in the company.
Be clear about why you want their feedback
Provide enough context to help the recipient understand what you're looking for. Why do you want to collect their feedback? Why is it important to them? Answer these as briefly as you can.
Setting clear goals before rolling out the feedback request will help. You also need to give them an idea of how much time it will take to provide feedback. In the examples below, most emails mention the number of questions and the estimated amount of time needed to complete the feedback process.
Simple design and clear CTA
Keeping feedback emails simple and focused is key to getting more of that valuable feedback you want. Most "important" emails usually look short and personal.
Remove extra elements if it's too distracting. It's best not to mention other things in your feedback request email because it might affect your conversion rate. The CTA should be clear and the customer should understand how the feedback process works.
Things to avoid
Here are some things to avoid when crafting a feedback request email:
Don't forget to mention how much you value their feedback.
Make sure the timing is right. Don't ask for feedback too soon when they barely started using your product.
Don't make it difficult to provide feedback. Be sure to include clear instructions on how to provide feedback and make it as convenient as possible for the recipient to do so. This could include a link to a survey, a feedback form, or a simple reply to the email.
Types of feedback email
Who can you ask for feedback, and when?
Soft-launching a new feature: pick a segment of the most appropriate users based on their profile or behavior, and ask them if they want to join a beta
New customers, after they've been onboarded
Existing customers, after they've spent a while in your product (a few months or more) — to include in customer loyalty campaign
Churned customers: Send an exit survey asking what went wrong
Running a customer panel: Recruit a handful of the most active customers who are willing to give feedback often
Email list subscribers: asking them how they like the content sent to them
Different formats of customer feedback you can collect
The majority of the emails below ask for feedback through surveys. However, you can take a more creative approach and generate high-touch opportunities. Here are some ideas, ranging from low-touch to high-touch options:
Do a quick NPS survey
Fill out a questionnaire or a survey
Hit reply and share any thoughts
Record a quick video (e.g. via Loom) — keep in mind that some people love this format, and some absolutely hate it
Schedule an interview with your customer success team
Examples of feedback emails to take inspiration from
#1. Voxpopme: a simple and direct feedback email
Subject line: Can you help me improve Voxpopme?
Voxpopme is a video feedback solutions platform to collect and manage customer video feedback.
This email follows all the best practices. It has specific sender names instead of simply mentioning "xyz team" like most emails. The authors also introduced themselves before getting into the request. Brownie points for the personalized greeting!
We like how the email specifically mentions "it will take roughly 67 seconds" and has only two questions. This would convince the reader to take the survey.
#2. Slack: a classic feedback request email
Subject line: Help us improve Slack by taking this short survey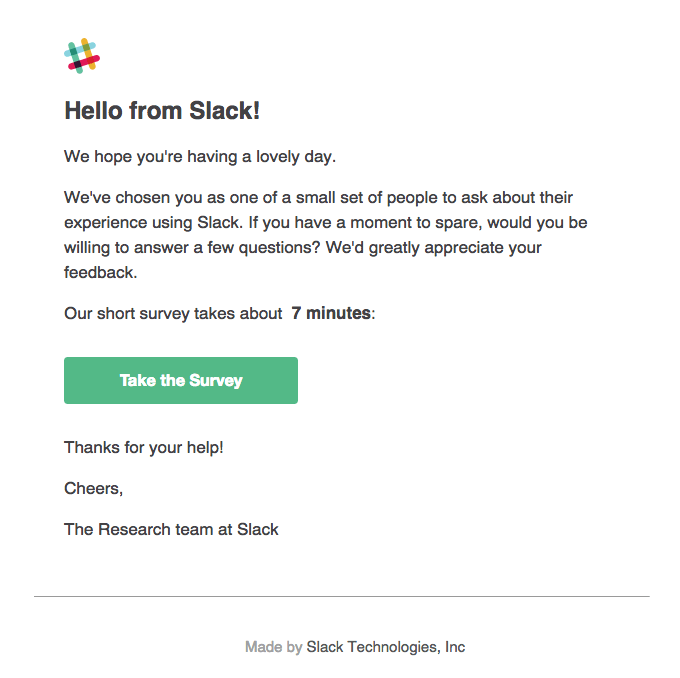 Slack is a popular employee communication platform.
A short feedback request email with just the right amount of content needed. It starts with a greeting, the copy is in simple language, and there's a clear CTA that leads to the survey. We like how they specifically mentioned that the email will take only 7 minutes.
#3. Tolgee: adding humor and memes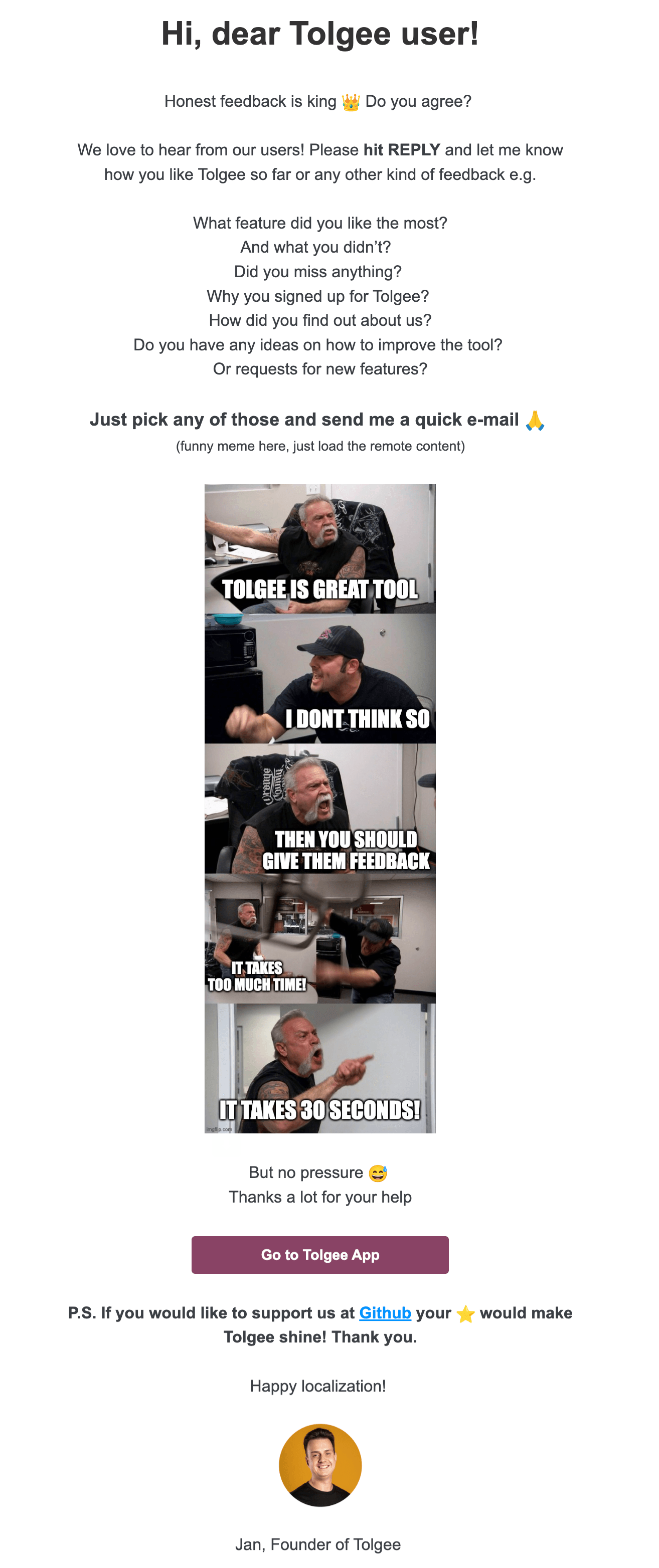 Tolgee is a translation management software that easily translates your software into multiple languages.
This is a great example of how you can add humor to feedback request emails. They used a meme to explain why giving them feedback is important and that it only takes 30 seconds — a fraction of their time. They've also added a sentence "But no pressure" at the end to keep it light.
The team behind this email told us that they get lovely reactions from users to this email. Well that makes sense since humor is a great way to connect with people both in — business and real life!
#4. Scalenut: plain text email

Scalenut is an AI-powered content marketing platform.
In this plain text email, the author asks beta users of the Scalenut Chrome extension to provide feedback. The copy clearly states how many questions the survey has and what the users can expect.
#5. Atlassian: feedback survey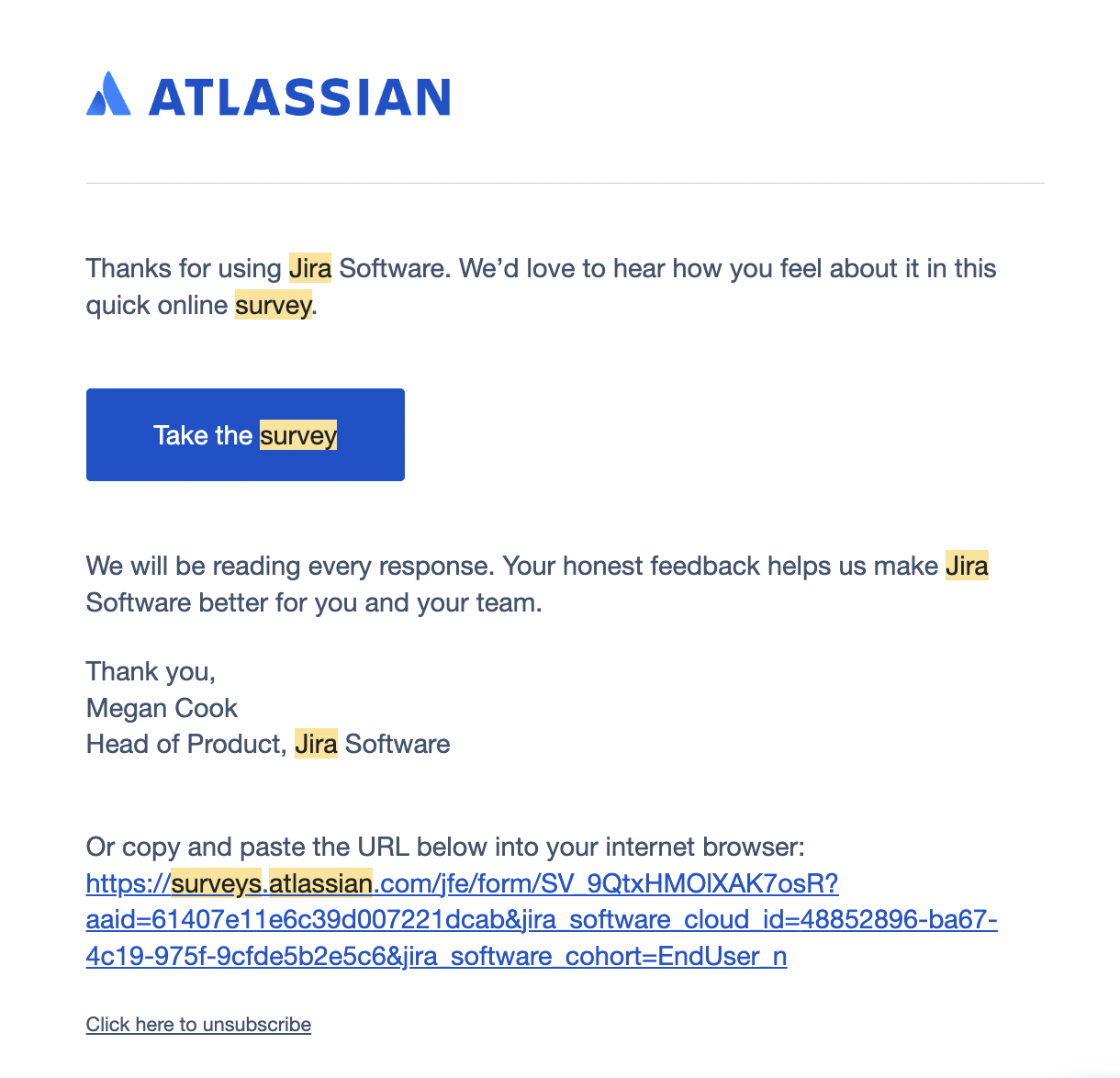 Atlassian is a team collaboration software providing amazing tools like Jira, Confluence, and Trello for better project management.
The Atlassian team asks for feedback in a few sentences. They thank the reader for using Jira software and assure them that their response won't go unread. Like the Voxpopme email, this email also signs off with a sender's name rather than mentioning just the team.
#6. Trello: feedback request within a newsletter
Subject line: Trello automation: Cool and useful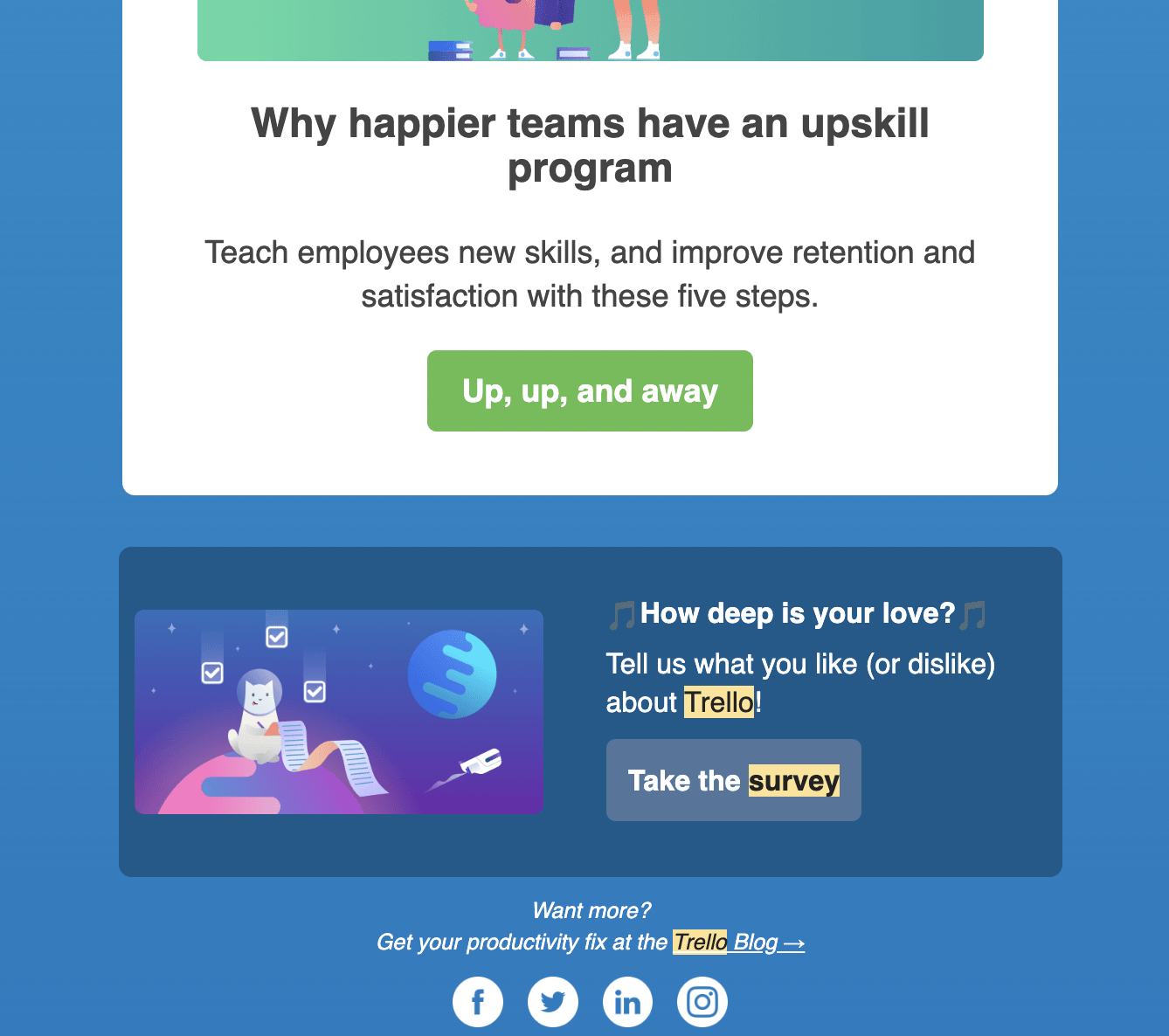 Trello is a project management software to help teams centralize processes and increase productivity.
One of Trello's weekly newsletters features a call to action to participate in a survey. In just two lines, they ask readers to tell them what they like about the platform. Note how the text, image, colors, and CTA button are made to stand out from the rest of the newsletter.
We think the subject line could have mentioned the feedback request as well.
#7. Instamojo: product feedback
Subject line: Hey [name], what did you think about Smart Links?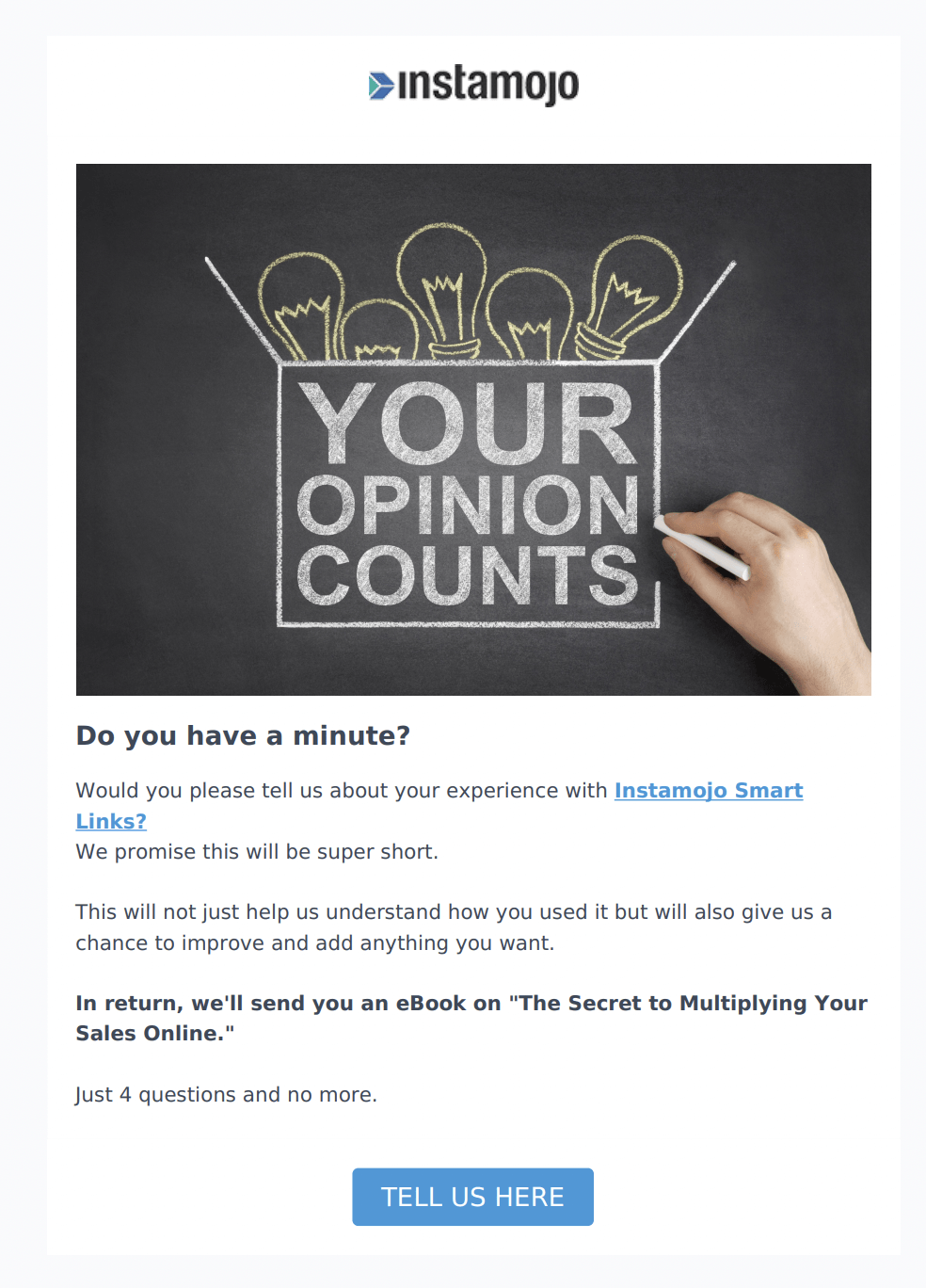 Instamojo is an ecommerce and payments software based in India.
In this email, they ask customers to provide feedback on one of their products: smart links. They used the conversational tone in their copywriting.
What we like the most here is the incentive offered: a free ebook valuable to business owners, and their target audience. A resource based on a topic relevant to the audience is a great incentive to convince readers to provide their feedback.
Additionally, the copy makes sure that they convey the value of the feedback survey so that the incentive would not be the only reason for people to take the survey.
The cover image in this email is the icing on the cake — although it's a stock image, it adds a bit of color to what would otherwise be a plain email.
#8. Rev: a memorable feedback request email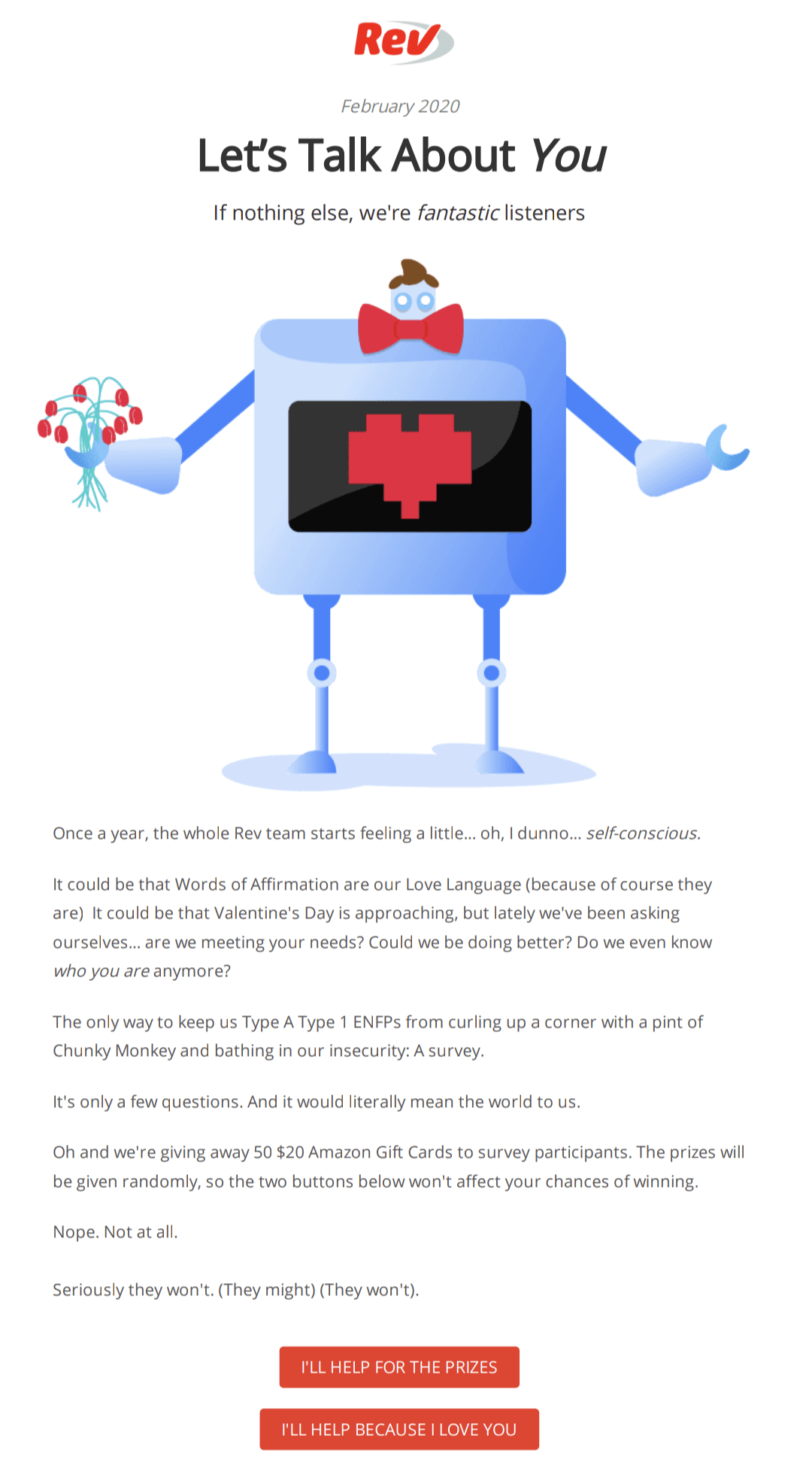 Thanks to Nick of Gorattle for contributing to this example.
Rev is a transcription SaaS that converts speech into captions and subtitles.
We find this email is the most creative one on the list! Centered around the Valentine's day theme, the email tries to encourage customers to give feedback. The copy does a great job of conveying how important this survey is for the team and what it's about. The team also created a visual that goes well with the theme, which makes the email even more memorable. The survey respondents also stand a chance to win a gift card.
This email was remarkably successful. The team ended up receiving just over 3,000 form fills on a limited send to about 200,000 people.
#9. Squarespace: NPS survey
Subject line: How are we doing?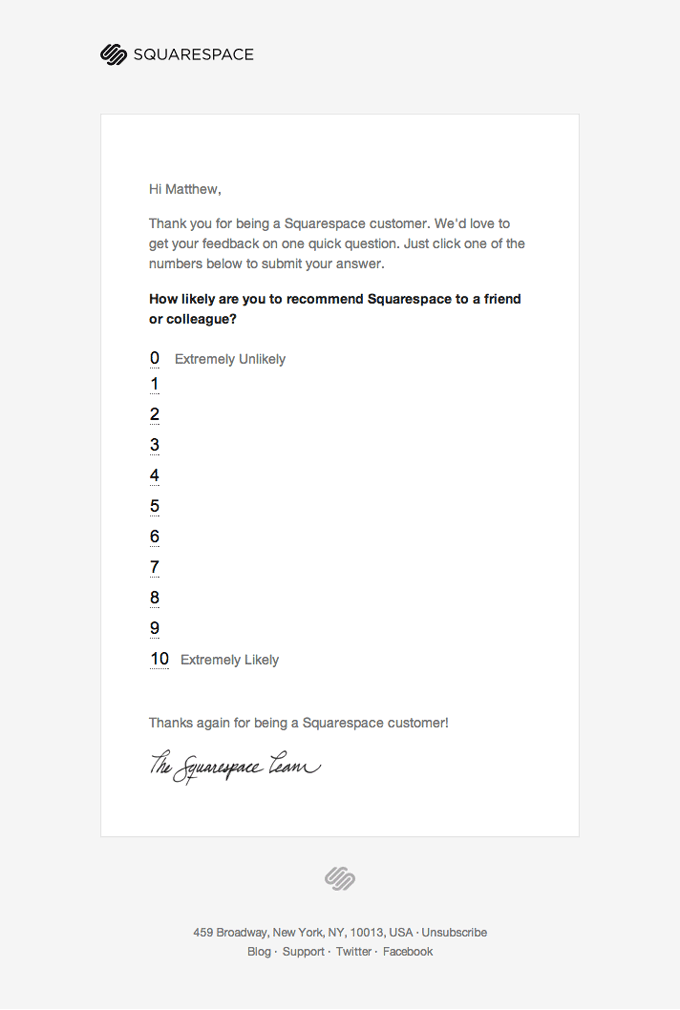 Squarespace is an easy-to-use website builder for businesses.
Squarespace sends out an NPS survey with one question. Net Promoter Score (NPS) survey is used to measure customer satisfaction and loyalty. In this email, customers can complete the survey within the email itself without going to an external link.
#10. Squarespace: feedback on customer service
Subject line: Customer Support Survey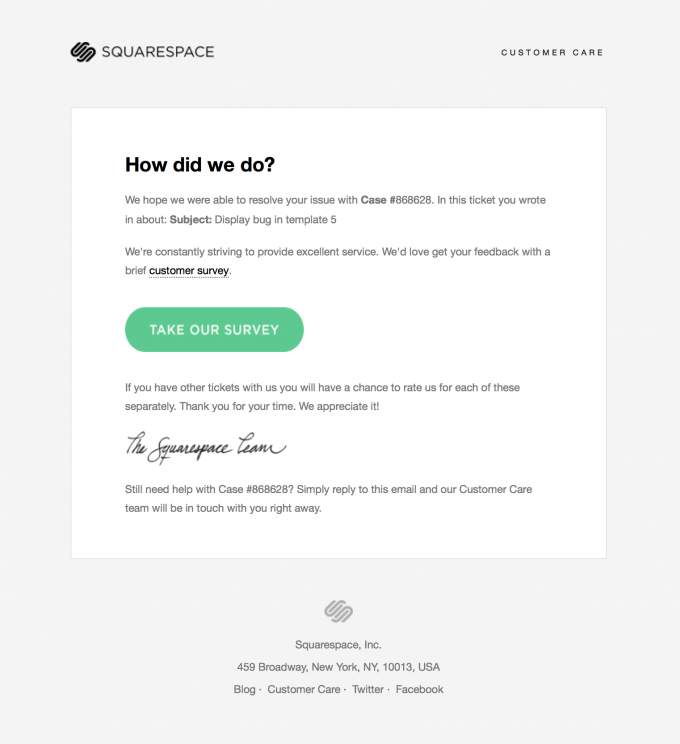 Squarespace sends a survey request email to customers who raised support tickets after the issue is solved.
A majority of customers are more likely to remain loyal to a company that offers excellent customer service. Squarespace goes the extra mile to ensure that their service passes from good to excellent by collecting feedback on the customer support experience.
Not many brands prioritize gathering feedback for support team activities. We think this is a great strategy to follow so that you can improve your customer service system.
#11. Peppertype: requesting feedback on review platforms
Subject line: Hi there, Pepper Content would love to hear from you!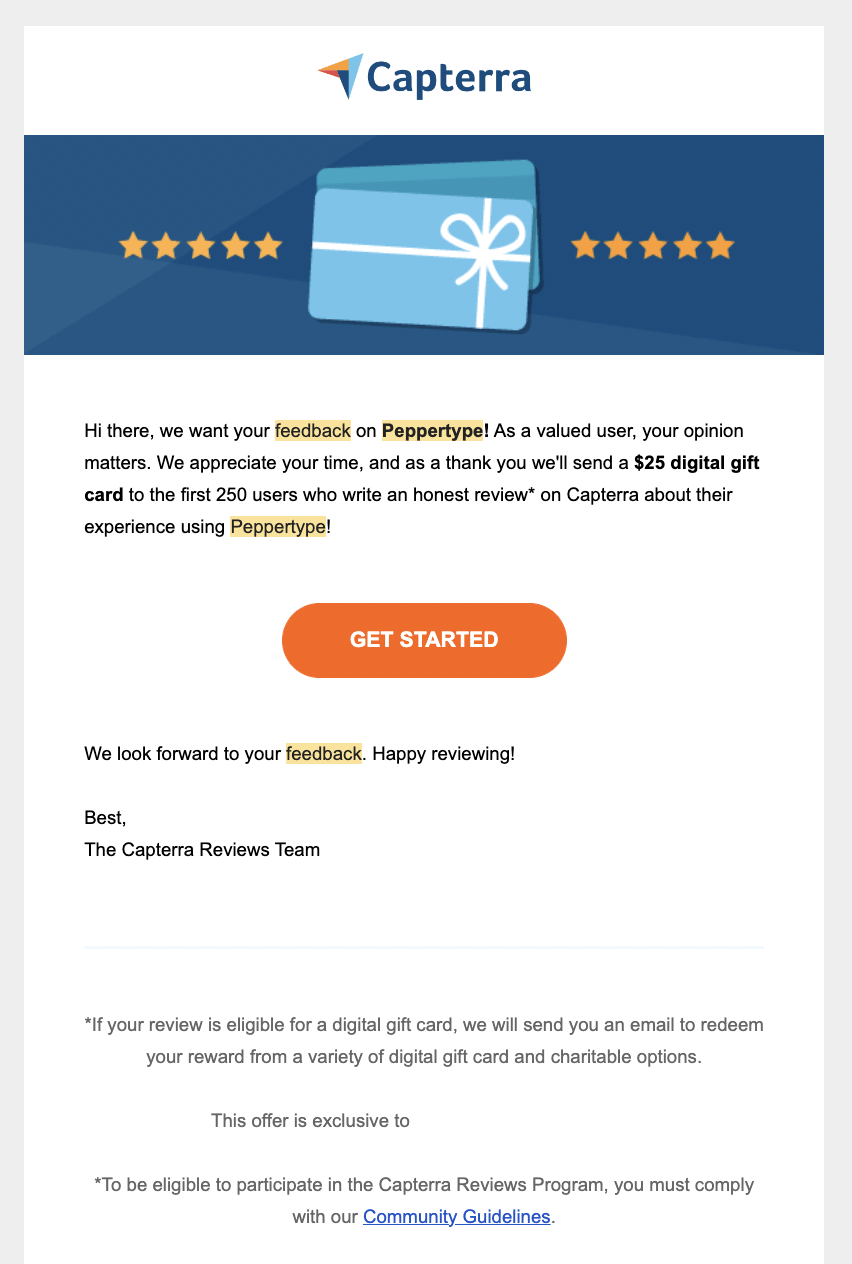 Peppertype is an AI writing tool to help writers create content faster.
The email asks customers to write genuine feedback on Capterra, a reviews platform. As an incentive, the first 250 users who write an honest review receive a $25 gift card.
The CTA leads to a Capterra page where the customer can easily write and submit their review.
#12. Shopify: offering an incentive
Subject line: 🗣️ Feedback time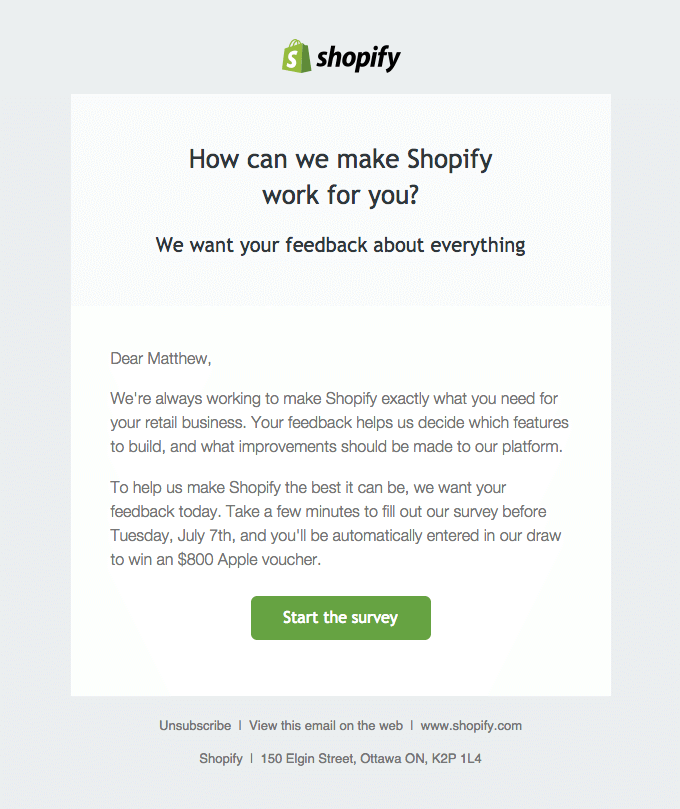 Shopify is an ecommerce software that brands can use to build online stores.
This is another standard feedback request email. It also offers respondents a chance to win a gift voucher by being entered into a contest. We like how the email is summarized in two lines before getting into the letter-like request. This allows readers to get the gist of the email without reading the entire copy.
Free feedback email template
Subject line: Got a minute? Please give us feedback
Hi there!
My name is [name] and I'm a [designation] here at [company].
I wanted to reach out and see how your experience has been with [product/feature]. We value your opinion and would love to hear your feedback to help us improve the products and ensure that we're meeting your needs.
If you have a few minutes, could you please [fill out this quick survey/hit reply and share any thoughts/record a video] to let us know what you think?
[CTA - Give us feedback]
Thank you so much for your continued support, and we look forward to hearing from you soon!
Best,
[Your Name] and the [Company Name] team
Time to implement your own feedback campaign
Here are the key takeaways from the examples:
Clearly explain why you want their feedback and why it's important.
Set clear goals.
Provide an estimated time frame.
Keep the email design simple and have a clear call to action.
Use incentives only when absolutely necessary, and ensure the survey provides value.
Add some personality and humor to the email to make it engaging.
You can use a simple format to ask for feedback or go over the top and create a memorable email — it all depends on what you need.
We hope the above examples can provide inspiration and guidance for the next feedback request email you send out.
Thanks for reading!