Are you planning to launch an email marketing strategy for your SaaS? Wondering which email software to use — Mailchimp or an alternative tool?
Email plays a critical role in a SaaS marketing strategy. It's the channel you use to connect with potential customers, welcome new users, and continue engaging with the user base.
(The channel is so powerful that 4 of 5 marketers openly say they'd rather stop using social media than email.)
When it comes to email software, Mailchimp comes to mind first. But is it really the best option for SaaS? Or is there a better alternative?
That's exactly what we'll discuss in this guide. Specifically, we'll look at the best Mailchimp alternatives that are a great choice for SaaS companies.
But let's get something out of the way first…
Why Mailchimp isn't for everyone
Don't get us wrong, Mailchimp is an amazing tool. It remains one of the top email marketing services, powering email strategies for brands big and small.
Bloggers use it. Small businesses send their newsletters and drip campaigns with it. And you'll find Mailchimp behind many online stores' campaigns too.
(In fact, many of the tool's recent updates suggest that the company begins to focus closely on ecommerce.)
And it makes sense.
Mailchimp has also been one of the first email marketing tools to create a user-friendly, drag-and-drop email composer. The tool offered ready-made templates to get customers started with email marketing quickly. Its pre-built automation workflows, albeit basic, also allowed businesses to launch campaigns faster.
And then, there was the free plan, their brilliant growth hacking gamble that paid off… BIG.
As a result, innovative functionality (at the time) and the appeal to all kinds of businesses, serving different niches, have become Mailchimp's draw.
However, this also meant that the tool remains generic in its feature set. The result? Mailchimp often fails to deliver niche functionality required for specific business types, such as SaaS.
Couple that with the recent changes in market positioning and pricing, and it's no wonder that more and more marketers have begun searching for alternative solutions.First of all, Mailchimp now positions itself as a full-service marketing platform. It now boasts the tagline "all-in-one marketing platform for small businesses."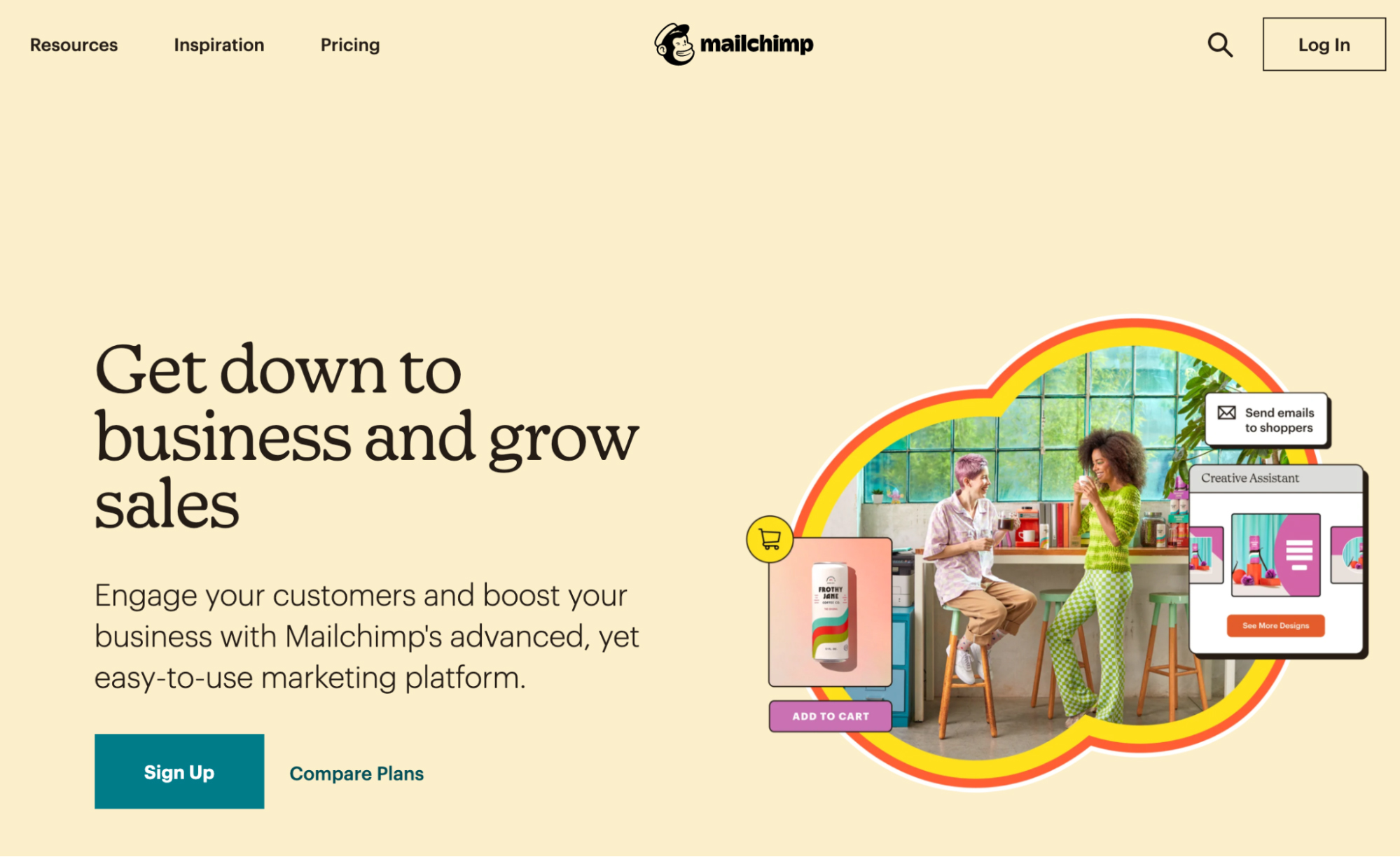 The company has also changed the way it calculates monthly fees. Needless to say, the move sparked a wave of negativity from long-time users.
To summarize, Mailchimp has never aimed itself as the best email automation software for SaaS. Moreover, the company's focus today is even further misaligned with the needs of a typical software business.
Luckily, many Mailchimp competitors deliver what your SaaS needs.
Here are some of the best options.
#1. Userlist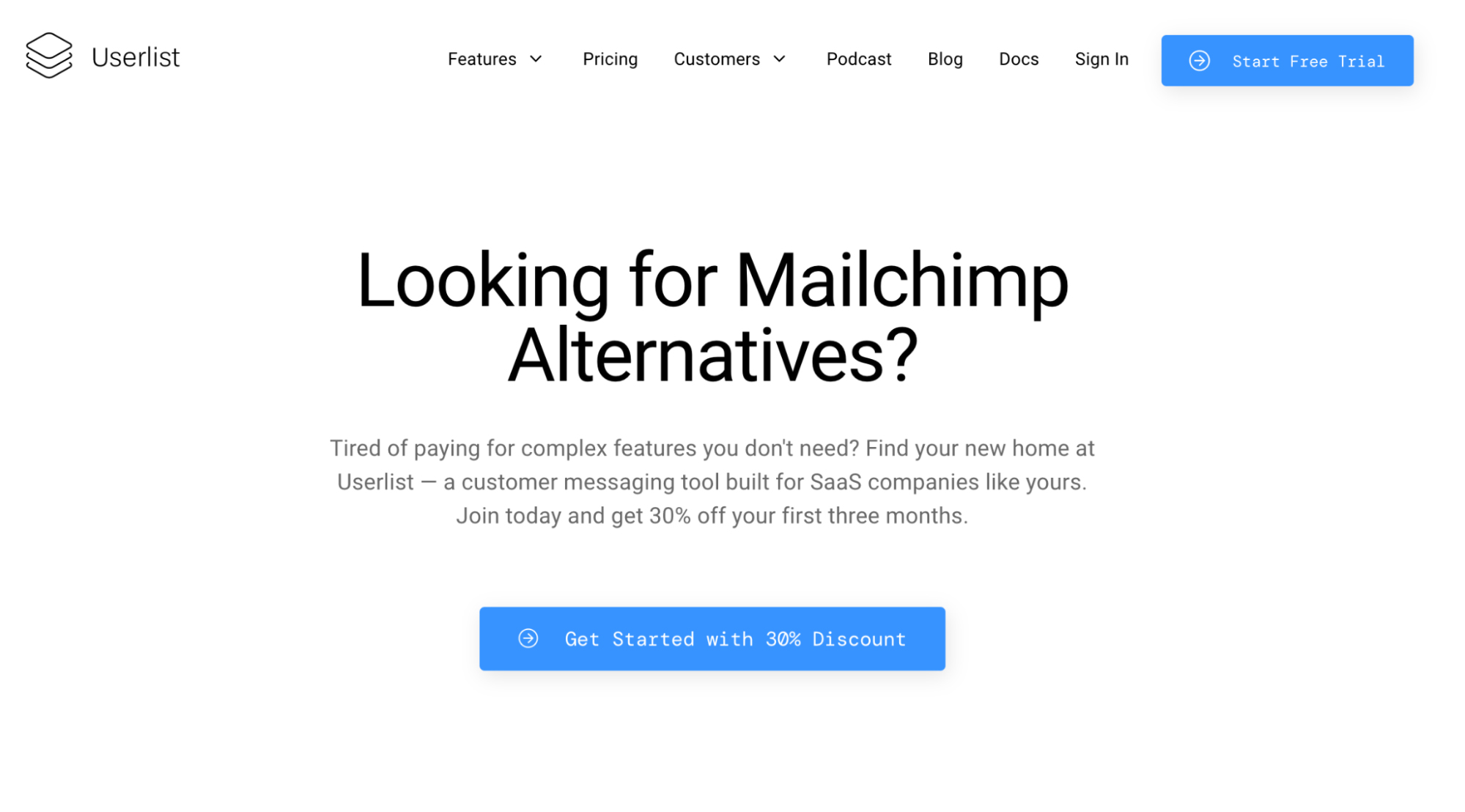 (A quick disclaimer - Userlist is our product.)
Userlist is a complete email marketing solution built specifically for SaaS.
Because of that, Userlist offers all the functionality your SaaS company needs to communicate with users and leads, and nothing else irrelevant to SaaS.
You won't find complex features that you don't need in the app. Nor will you have to pay for functionality that you'd never use.
Instead, with Userlist, you can deliver all kinds of SaaS-specific behavior-based email campaigns:
User onboarding emails
Lifecycle emails
Lead nurture sequences
And other marketing emails like newsletters and one-off broadcasts
Plus, Userlist includes features that help you manage customer relationships — in-app messages, advanced segmentation, complete user management, and more. Its special sauce is full support for company accounts, including complex many-to-many relationships between companies and users.
Finally, compared to Mailchimp, Userlist offers simple pricing with all features available on all plans, with prices varying only by the number of subscribers you have.
Userlist's basic plan starts at $99 per month which includes up to 5,000 users. Want to learn more? See what else makes Userlist the best Mailchimp alternative, or start a free trial here.
#2. Intercom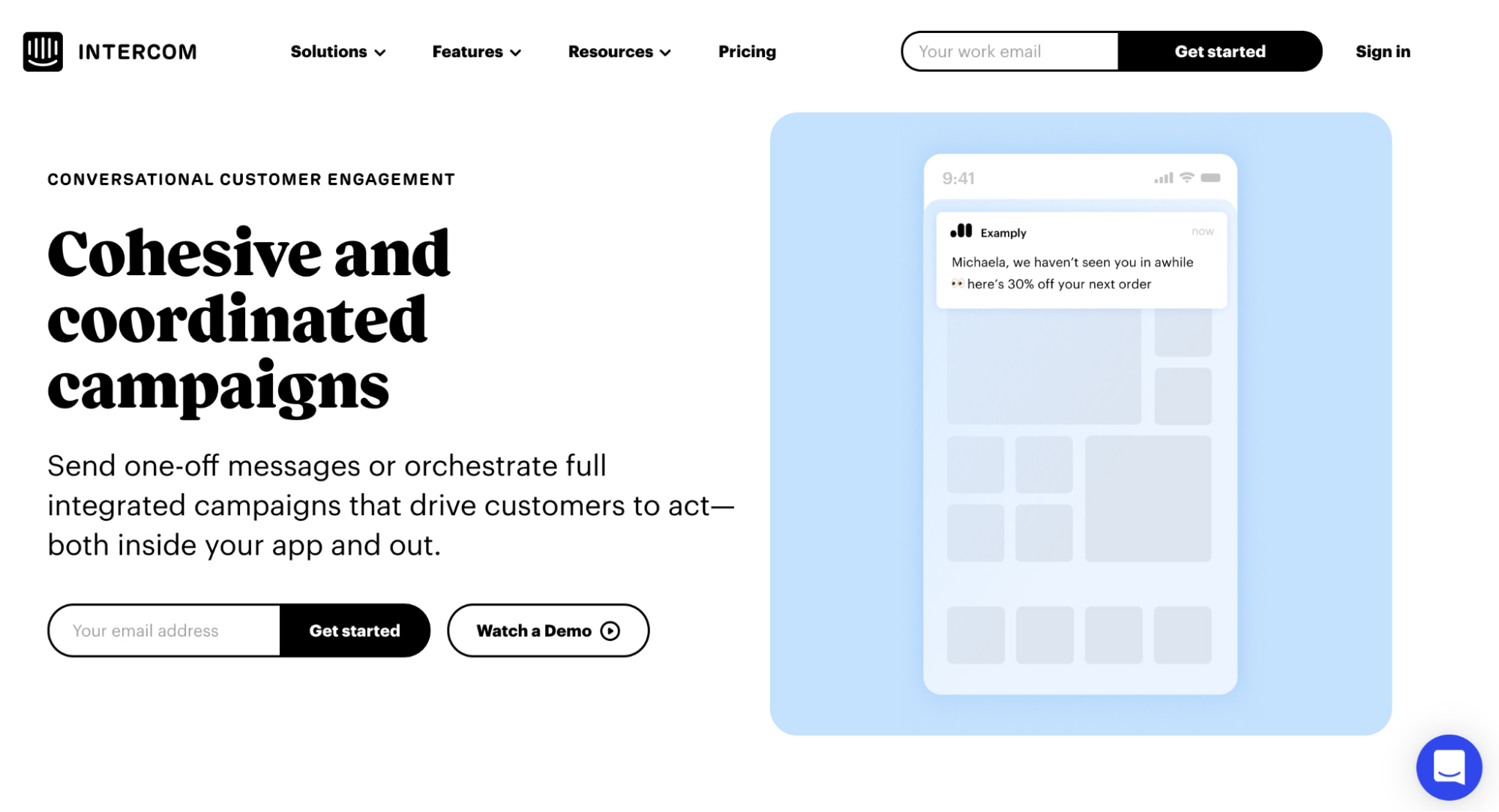 Intercom is a customer messaging powerhouse. The tool automates customer communications across multiple channels, including email.
Intercom offers a full range of services, including live chat, knowledge base, marketing email, onboarding tours, and much more.
Worth keeping in mind — email isn't Intercom's main focus. Because of that, you might occasionally miss out on a feature your campaign would require.
Intercom's pricing is complex and impossible to quote here. The tool calculates the price based on the solution you need, the number of seats, and the number of unique people you have reached in the past month. For that reason, your monthly fee for using the platform can vary from month to month.
#3. HubSpot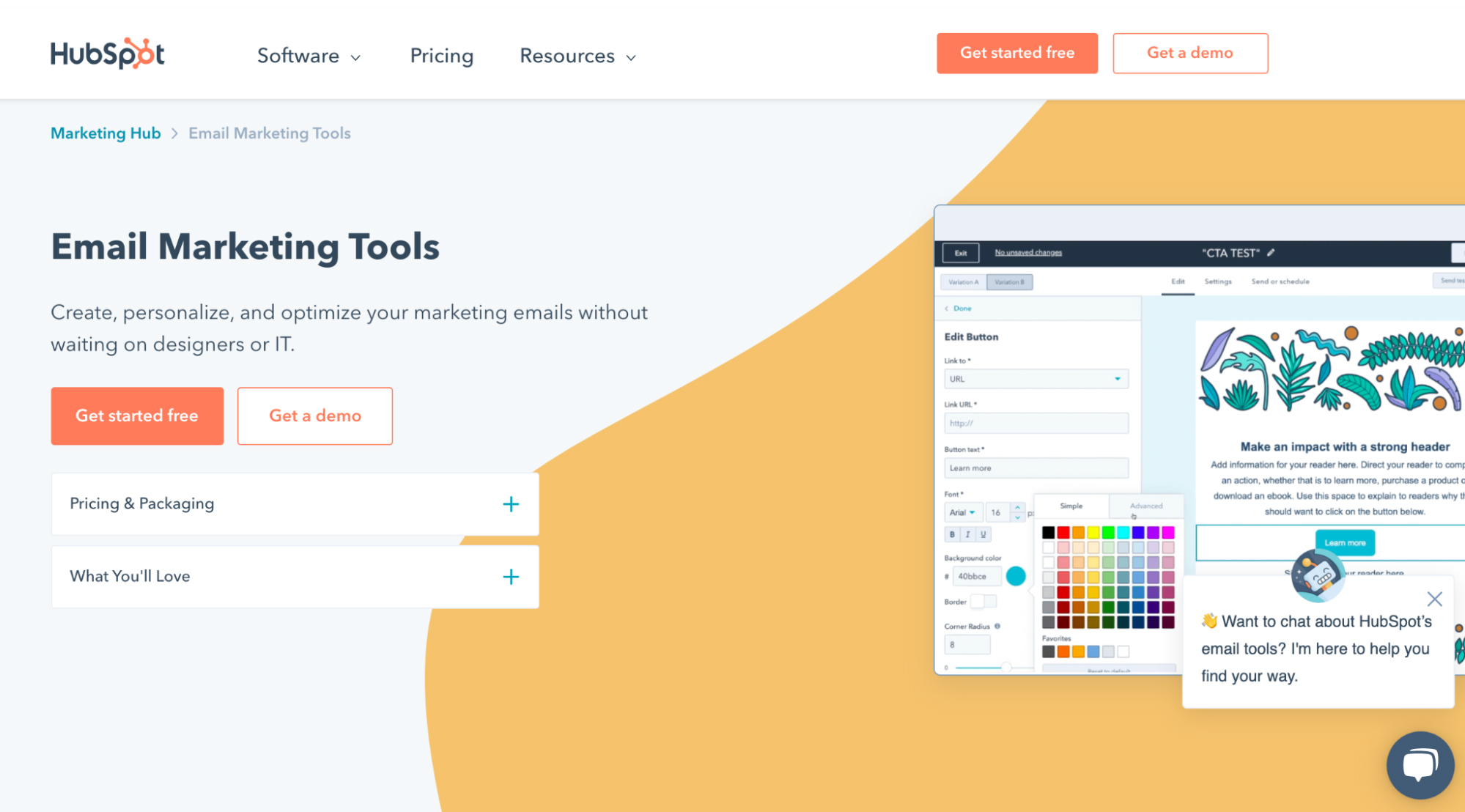 Just like Mailchimp and Intercom, HubSpot offers more than just email marketing. The platform allows you to manage almost all aspects of your inbound marketing, as well as sales, and customer service.
The platform's email capabilities allow you to create, personalize, and deliver emails to customers with simple and intuitive tools. HubSpot's premium features give you access to automation workflows and integrate data from its CRM tool to further enhance your campaigns.
In general, HubSpot's pricing is based on the number of marketing contacts and desired functionality. That said, HubSpot's basic email marketing functionality (such as newsletters) is free to use.
#4. Ortto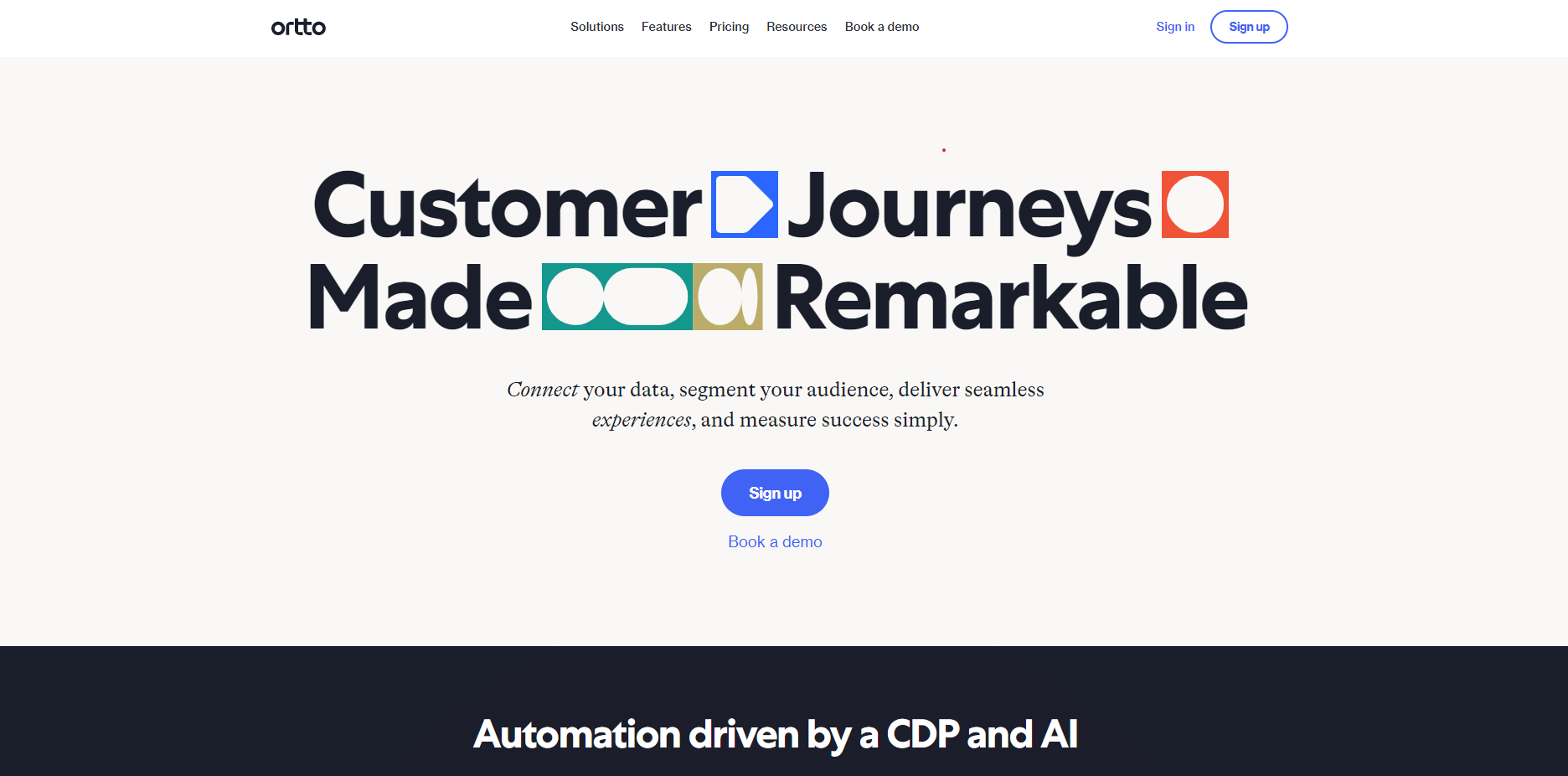 Ortto focuses on delivering tools to help businesses grow faster with emails.
The tool offers functionality to convert website visitors into subscribers, organize and segment customer data, set up and deliver email campaigns, and track performance, including sales.
Because of its focus, some of Ortto's features are more suitable for ecommerce businesses. However, the platform will help you welcome new users, send them one-off broadcasts, and schedule entire email campaigns.
Ortto's plans are based on the number of contacts, monthly email quota, and functionality. The company offers a free plan, and its basic package starts at $29 per month.
#5. SendGrid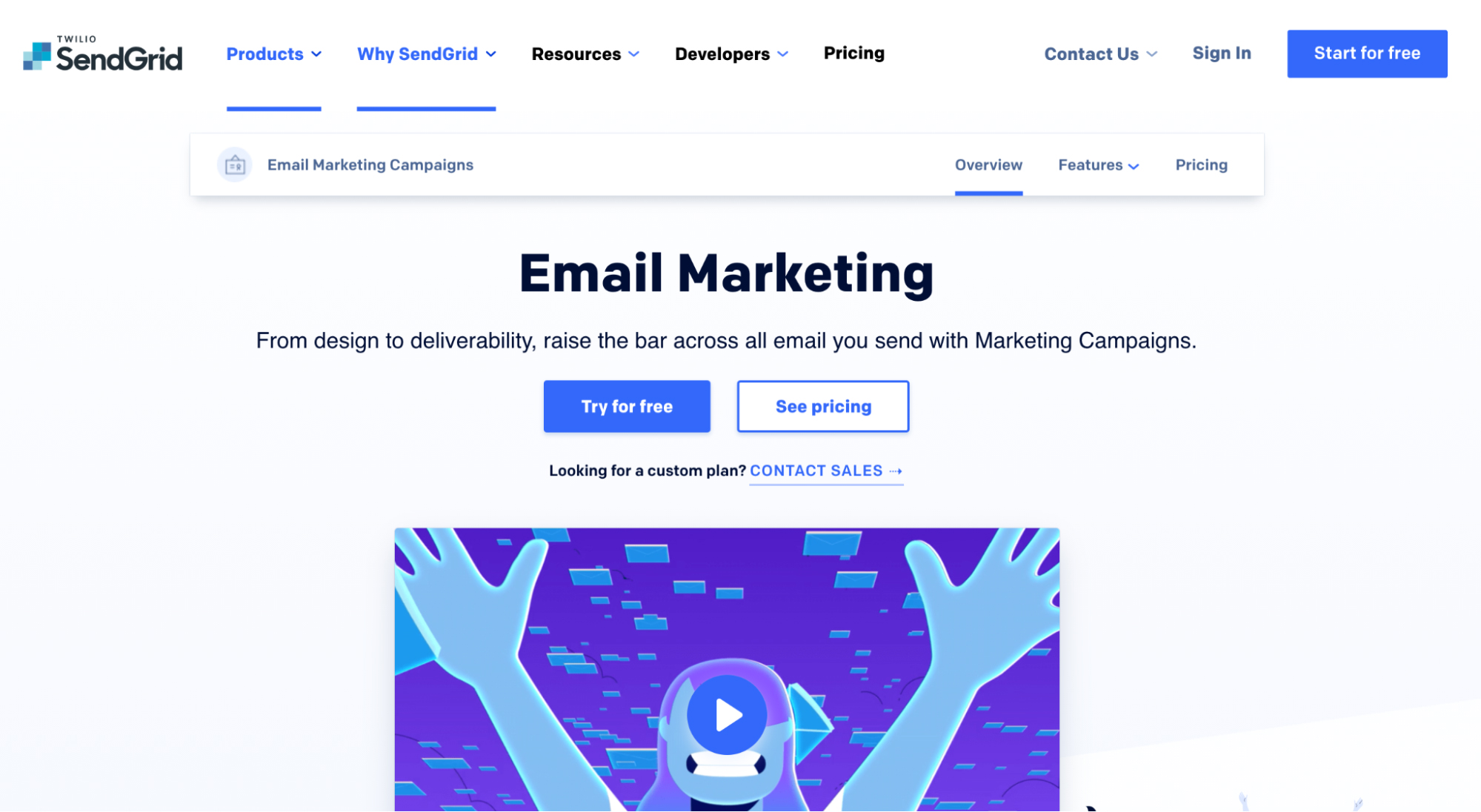 SendGrid offers a complete email service to companies, including email API to integrate email into your website or app and marketing campaigns. You can use it to send promotional emails, newsletters, password reset emails, and other customer communications.
SendGrid started out as an email delivery service, and later added email marketing features on top of that. These days, they offer a full range of email marketing services for all types of businesses.
SendGrid's pricing is based on the number of contacts, email quota, and functionality. The company offers a free forever plan, with the basic premium package starting at $15 per month.
#6. Customer.io
Customer.io offers a whole range of channels to communicate with customers. Aside from email, you can also use it to send push notifications, and SMS messages to:
Collect user feedback,
Welcome and onboard new customers,
Re-engage inactive accounts,
Upsell, cross-sell and renew users, and more.
What's more, Customer.io offers advanced automated or API-triggered workflows and various advanced functionalities like time delay or time windows to ensure that you reach customers at the best time for them to take action.
Having started as a tool for SaaS, they expanded their reach and now are serving different types of businesses including ecommerce.
Customer.io charges per user profile you store in the account and functionality, with the minimum package covering up to 12,000 profiles for $150 per month.
#7. ActiveCampaign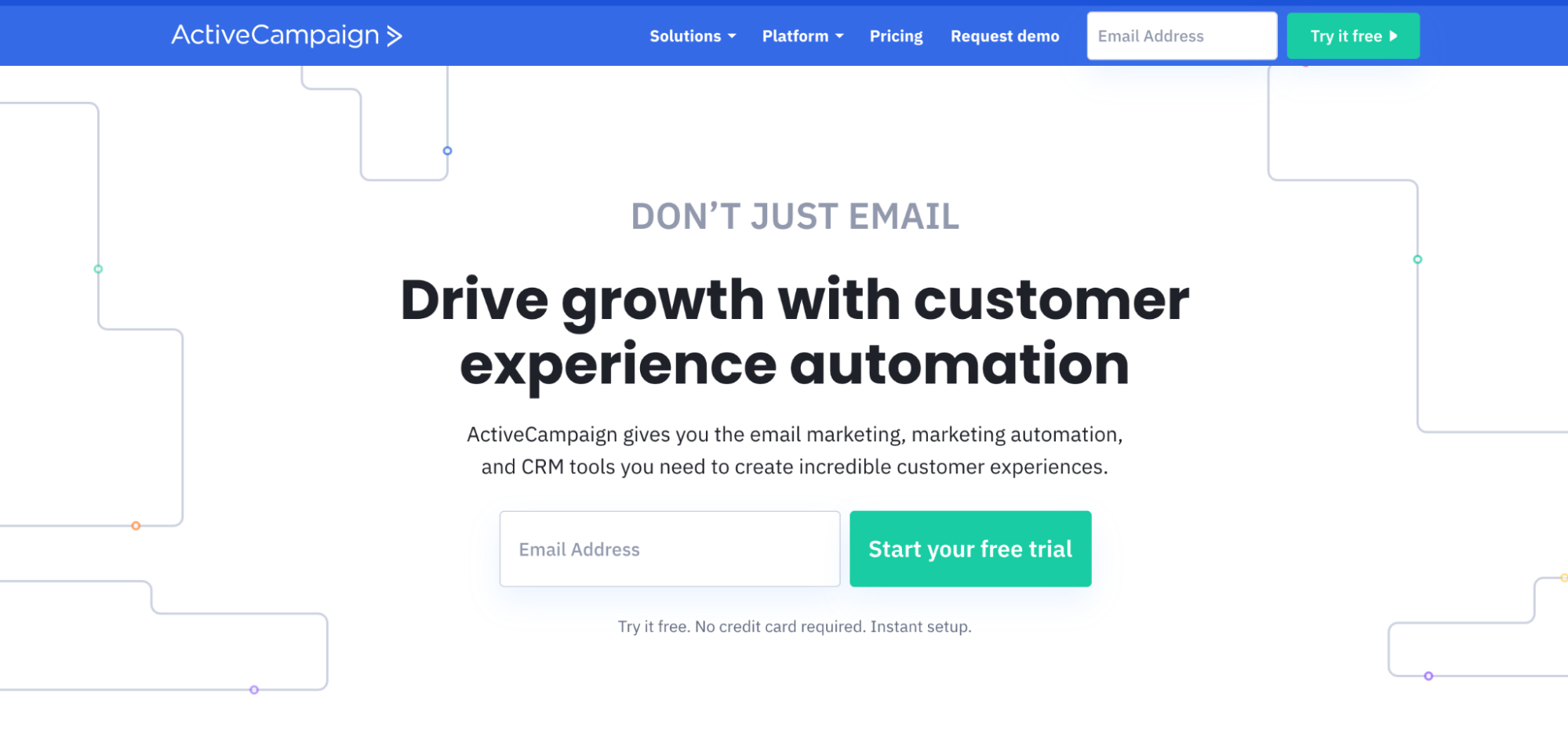 ActiveCampaign is another platform that focuses on more than just email marketing. In fact, ActiveCampaign combines email marketing with a range of other tools including powerful automations and CRM functionality so you could reach, connect, nurture, and convert new leads into customers.
To make it clear, ActiveCampaign hasn't been created for SaaS specifically. As a result, among its features, you'll find functionality that does not support typical SaaS use cases, such as company accounts.
All in all, however, ActiveCampaign is a powerful customer communications platform with a strong focus on sales. If that's what you're looking for, then, it certainly is one of the best Mailchimp alternatives to consider.
Like with many similar products, ActiveCampaign's plans rely on a combination of features and contacts. The basic plan is $15 per month and allows you to communicate with 500 customers or leads.
#8. AWeber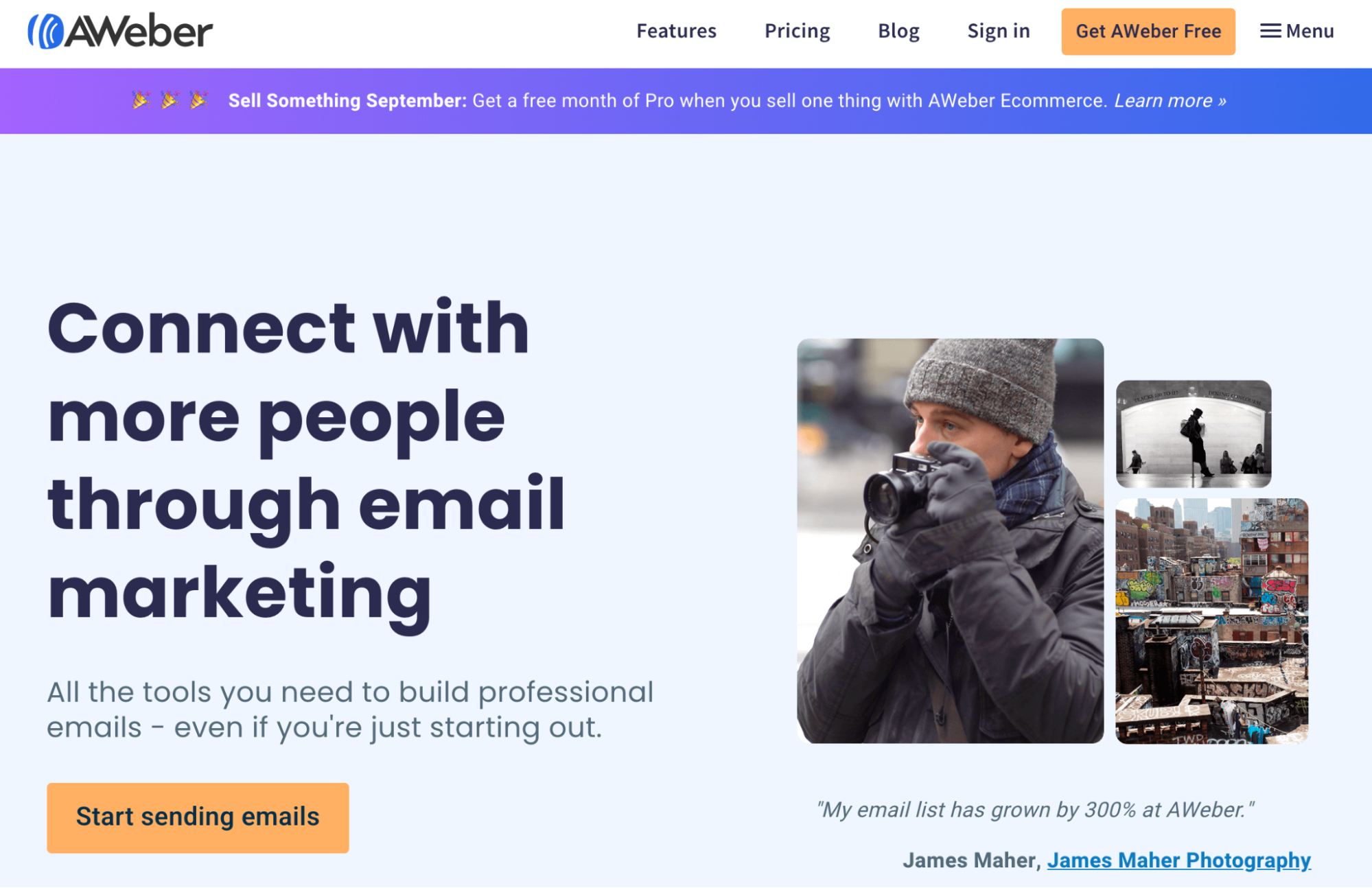 AWeber is a classic email marketing tool that helps you convert and nurture customers more efficiently.
With AWeber, you can do everything you'd expect from email software — create beautiful-looking emails, schedule messages for later or send them right away, set up automations, segment customers, and more.
But AWeber can also help you drive traffic and convert visitors into your mailing list with professional-looking landing pages, and communicate with website visitors with web push notifications.
AWeber has straightforward pricing plans based on the subscriber count, starting at $16 per month. They also offer a free plan, allowing you to communicate with up to 500 subscribers.
#9. Drip
Having started as a general email automation tool, these days Drip focuses on ecommerce businesses.
However, many SaaS brands still turn to the platform to avail of Drip's multi-channel campaigns, and drip email automations.
Drip was one of the first platforms to democratize the idea of email marketing, and started offering automations and playbooks to nurture leads, convert them into customers, and even manage post-purchase relationships with them.
Drip's pricing is based only on the number of contacts. The basic plan allows you to communicate with up to 500 people for $19 per month.
#10. Vero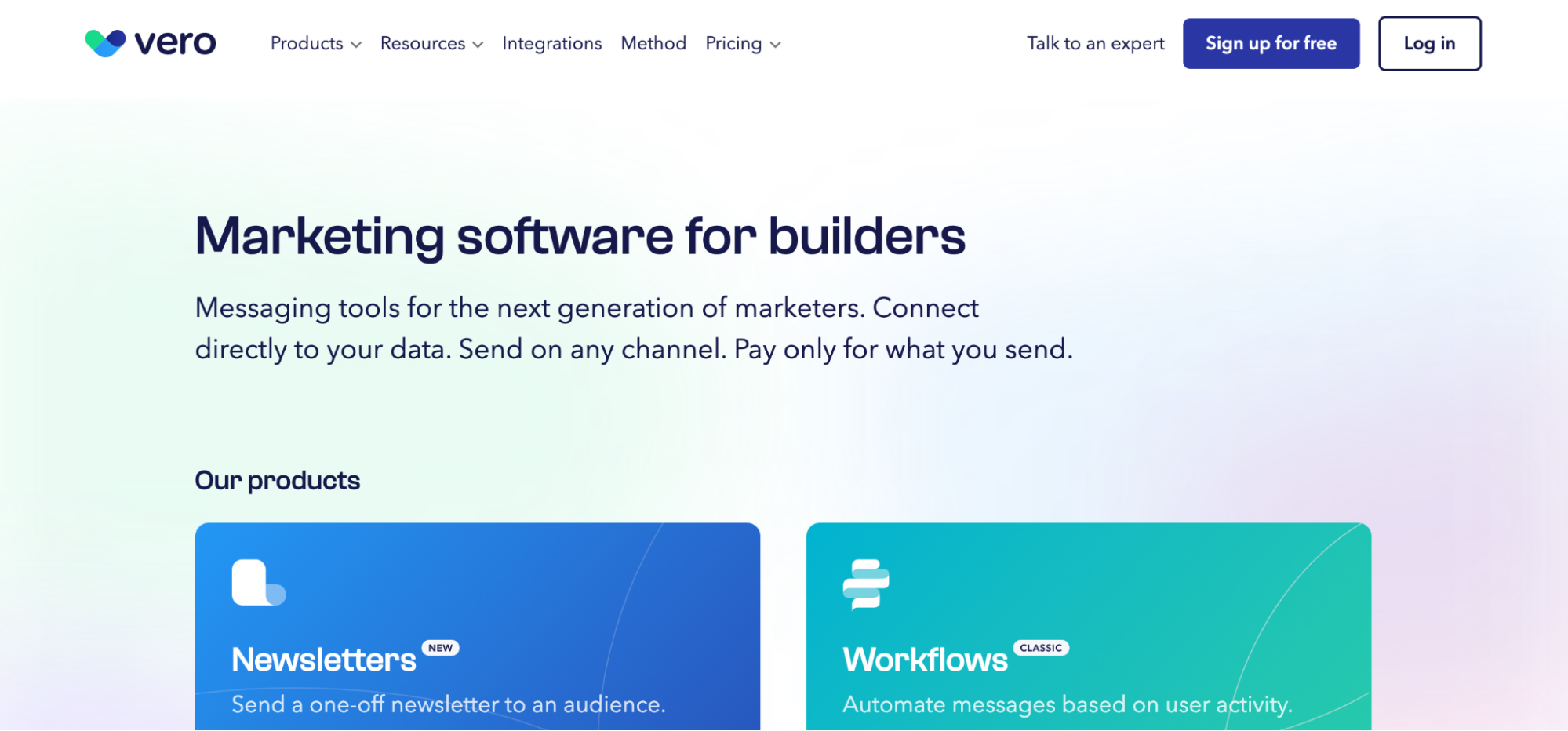 Vero offers two distinct email marketing tools. The first one is Newsletters. This simple tool allows you to send one-time broadcasts to your audience. The other, Workflows, is a more sophisticated tool allowing you to communicate with users based on their activity.
And it's the latter tool that offers powerful features for SaaS. For example, Workflows integrates with tools like Segment, Freshpaint, and others to collect your users' activity and deliver emails based on various automations you set up — welcome sequences, onboarding emails, behavior-based emails, and more.
Vero's packages are a combination of various elements like user records, email quota, the number of tracked events, and so on. The basic package starts at $49 per month.
#11. Moosend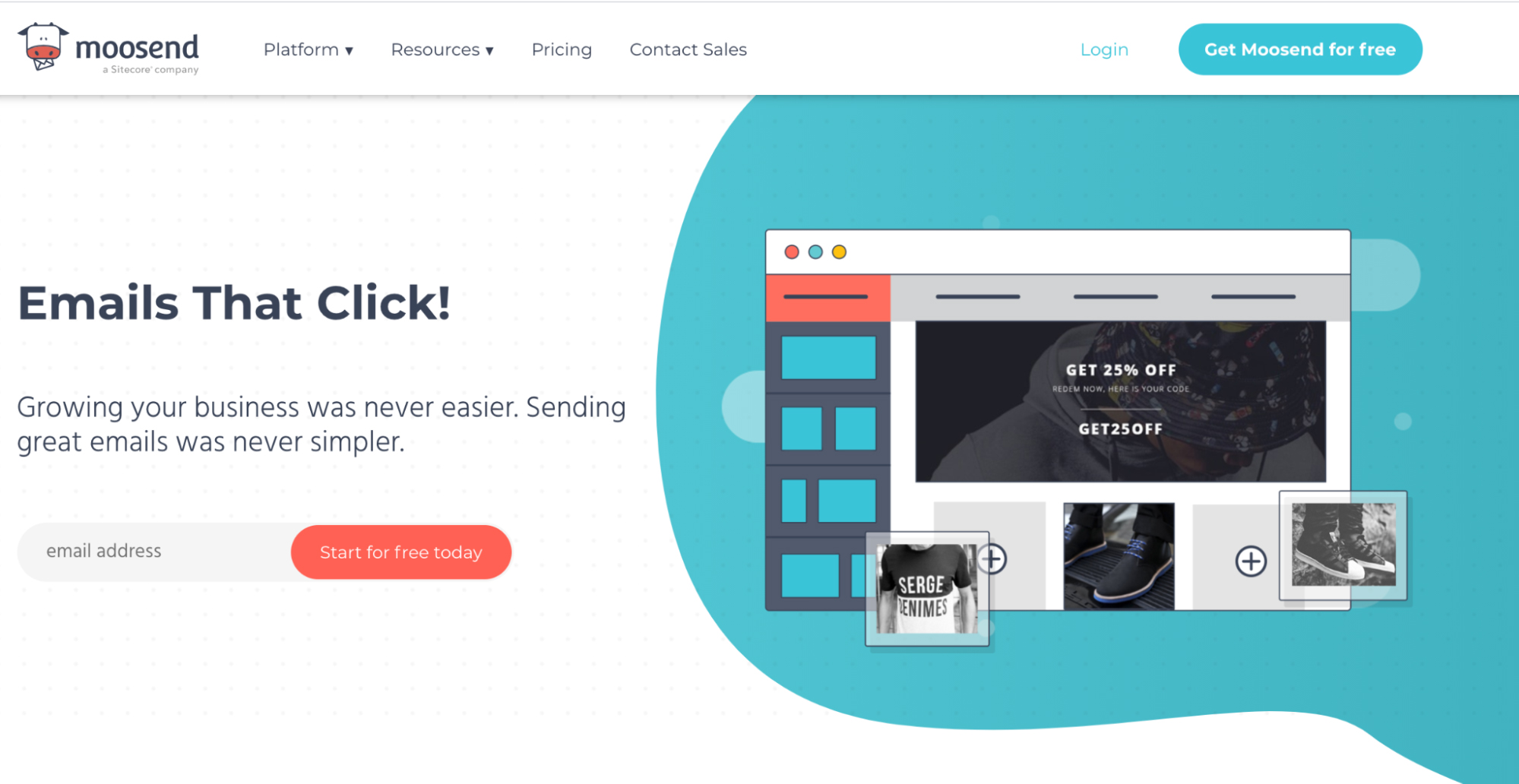 Moosend offers everything you'd expect from a solid Mailchimp competitor — a powerful drag-and-drop editor, sign-up forms, list segmentation, automations, even landing pages to help you attract and convert new subscribers.
Moosend also tops it up with audience insights, personalization, and more.
The tool's free forever plan allows you to manage 1,000 subscribers, not the usual 500 that similar tools offer. Paid plans start at $10 a month.
#12. MailerLite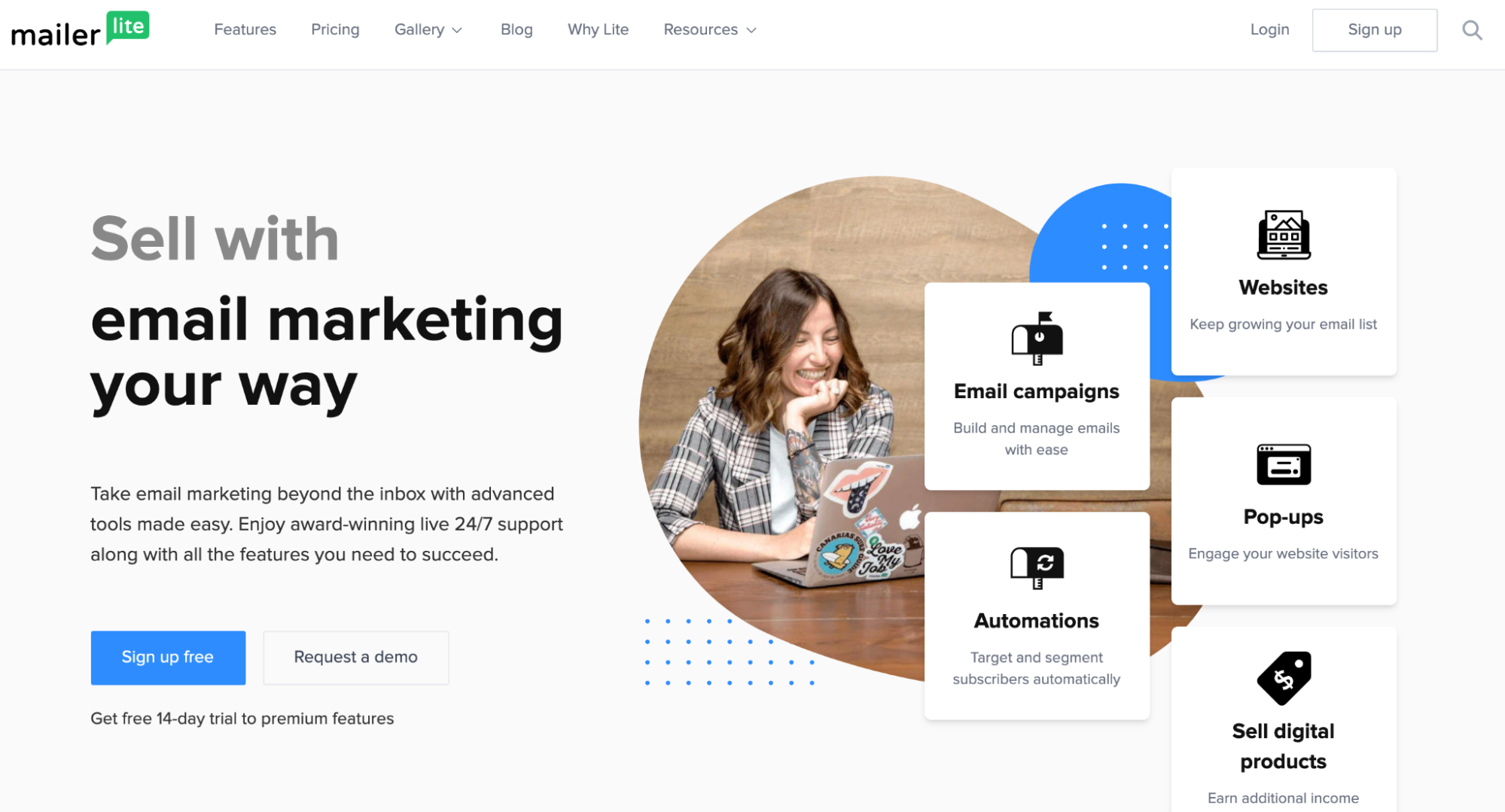 In spite of its name, MailerLite isn't a small tool. It packs a number of features to help you send effective email marketing campaigns.
From converting traffic with popups and other lead generation strategies, to setting up email campaigns and automation workflows, to a full website builder, landing pages, and more, Mailerlite covers a lot.
Similar to Moosend, Mailerlite's free plan includes 1,000 subscribers, capping the number of emails you can send at 12,000 per month. Paid plans remove that limitation, and differ only by the list size, with a basic package starting at $10 per month.
#13. GetResponse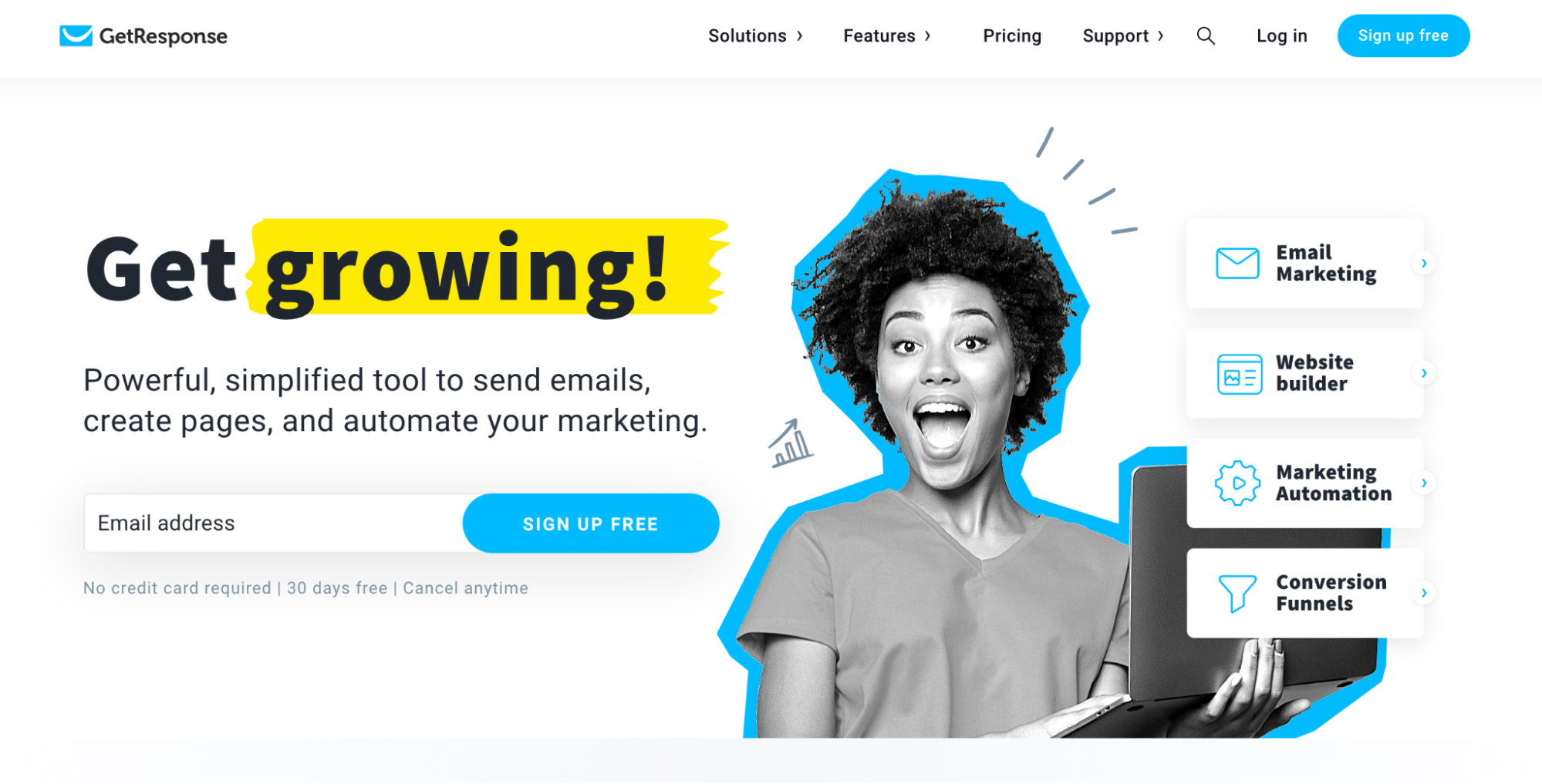 GetResponse offers everything you'd expect from an email marketing tool and more. They also focus on conversion funnels and landing pages, helping you get the growth results you're after.
Whether you're looking to build your list and engage new leads, drive traffic that converts, sell online, or communicate with customers, GetResponse has the tools you need.
You can use pre-designed templates to speed up setting up your campaign, all the email marketing tools you would expect from a tool similar to Mailchimp, autoresponders, automations, and more.
GetResponse's basic plan costs $13 and allows you to manage up to 1,000 subscribers. Higher plans unlock additional functionality and let you communicate with more subscribers.
#14. Sendinblue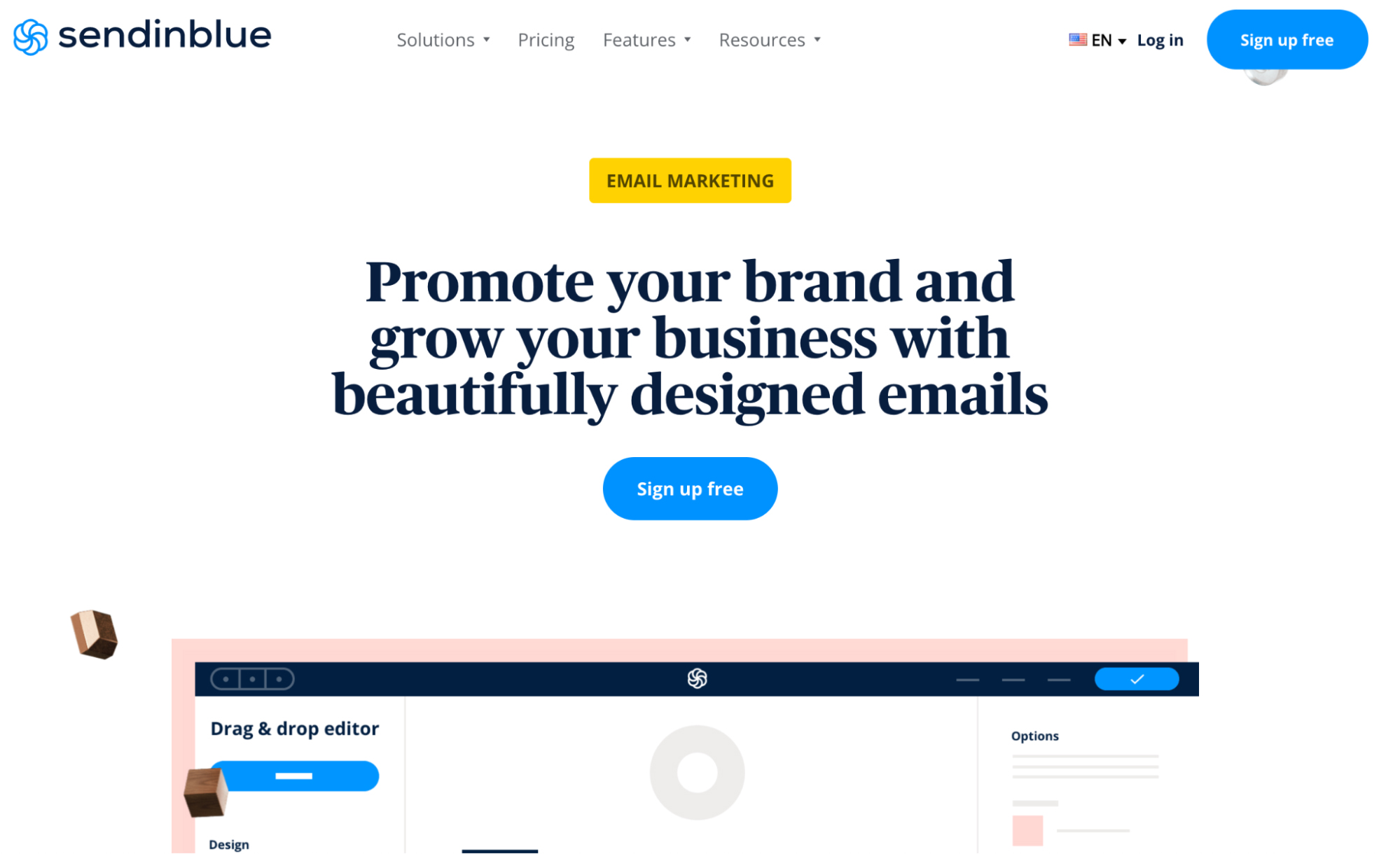 Sendinblue is another multi-channel marketing platform, allowing you to communicate and convert customers with email, chat, SMS, and also a shared inbox for your customer support team.
When it comes to email, though, Sendinblue's big focus is on creating beautifully looking messages that will leave your users in awe, and content personalization.
Granted, the tool lacks some advanced features a SaaS company could require to communicate with users. However, if you're looking for a solution to help you communicate with users across many channels, Sendinblue is worth investigating.
Sendinblue offers a different approach to pricing. Its plans offer unlimited contacts and differ by the monthly email volume and functionality. Sendinblue offers a basic, free plan. It's premium plans start at $25 per month.
#15. Mailjet
Mailjet is an email delivery service offering solutions to marketers but also developers. Beyond typical email marketing functionality — like a drag-and-drop builder, templates, and personalization — you can also avail of its email API, use it to send transactional emails, SMTP relay, and more.
For that reason, the solution is perfect for SaaS brands that want more control over their email and seek the ability to integrate email with their app or website.
Mailjet offers various pricing packages depending on the number of emails you want to send per month. The free package includes 6,000 emails, while the basic plan allows you to send 15,000 emails at $15 per month.
And there you have it…
Thanks for taking a look at these fifteen amazing Mailchimp alternatives offering tools and functionality suitable for SaaS needs.
Good luck selecting an email marketing tool that's perfect for your business! After all, it's all about finding the right fit.