No matter what team you're on — if you work for a SaaS startup that's scaling fast, you likely feel as if you're flying the plane while still building it.
New hires are arriving all the time, you have product updates every other day, and you're probably still finessing your business strategy. How can you ensure that everyone, including newbies, stay up to date with all these changes so that they can be on their best game?
Investing in a learning management system (LMS) for your central source of truth for employee training is a good place to start. Instead of relying on scattered docs, slide decks, wikis, mind maps, and meetings to keep everyone on the same page, having an LMS will enable you to centralize all of this crucial institutional knowledge. And, even better — if you take a collaborative learning approach, you'll be able to train employees quickly, efficiently, and in an engaging way.
There are two areas in which this kind of training is especially crucial: onboarding and customer education. We'll dive into how to successfully launch this kind of training — and help scale your business.
What's an LMS?
A learning management system is a platform for creating, distributing, and managing company learning programs. Organizations use an LMS to manage employee training like onboarding, compliance training, professional development programs, DEI training, and much more. They can use the platform to check analytics like course completion rates and engagement to improve their training.
Not all LMSs are created equal, however. Features will vary according to offer, with some LMSs able to offer a built-in authoring tool, enabling anyone to create courses directly within the platform, to those that require expensive, time-consuming integrations called sharable content object reference model (SCORM).
The best type of LMS will allow for distributed course creation (i.e. anybody can create content, not just learning and development professionals), built-in authoring, asynchronous learning, and social interaction within the platform.
In other words, one that's based on collaborative learning.
What is collaborative learning?
Collaborative learning is a training technique where learners share knowledge and train each other for engaging, impactful, and fast learning. It's opposed to traditional, top-down corporate training, in which the learning and development (L&D) team manages the entire learning process based mainly on the desires of upper management.
The problem with this setup is that those at the top don't usually have enough field experience to know what the true skills gaps are.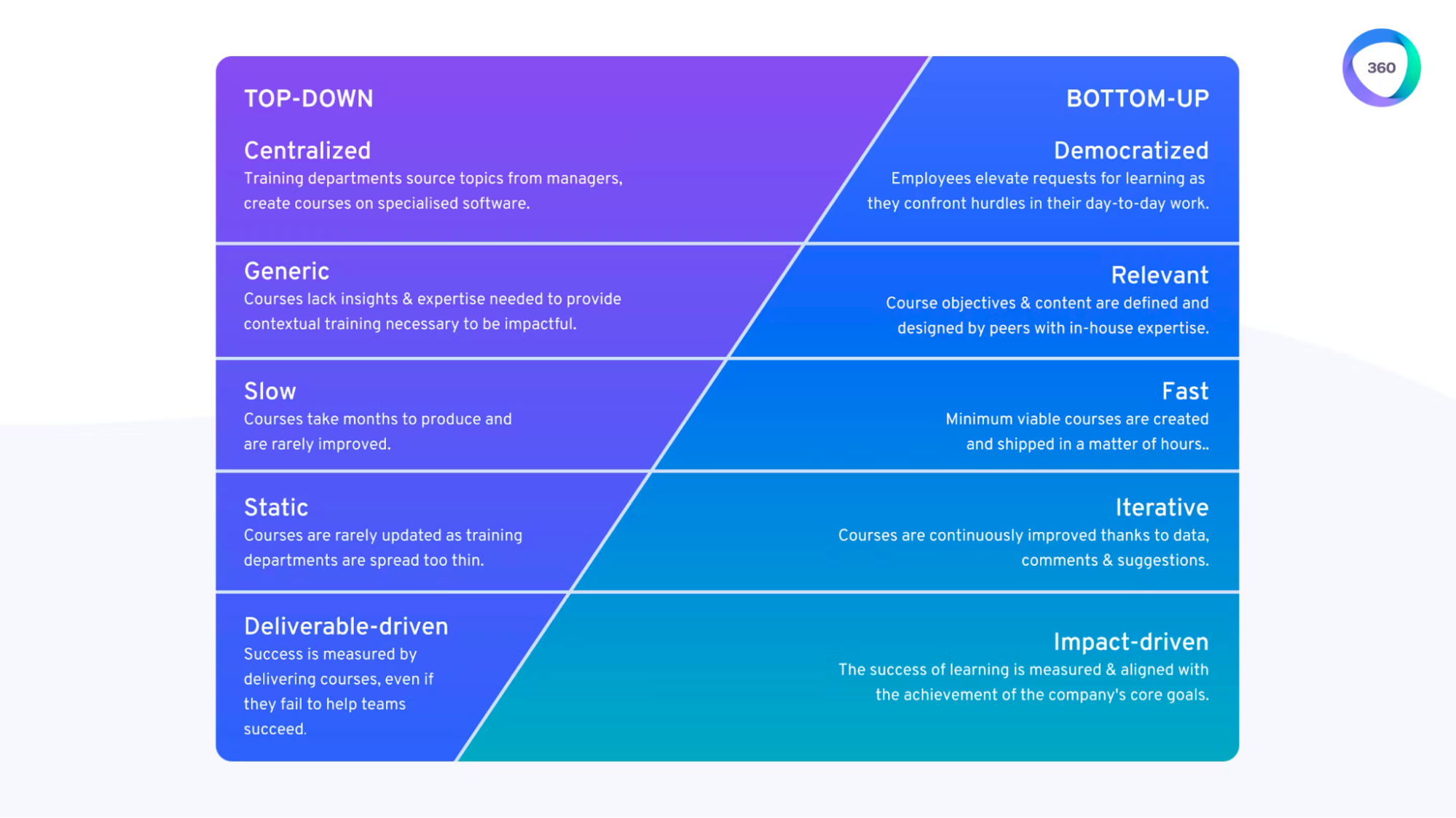 Even worse, traditional top-down training is usually based on in-person sessions, which is hard to maintain in a remote-first or distributed team environment. Courses are often long, boring, and static, and can't keep learners' attention. It's also easy for these courses to become obsolete or to be based on generic content that isn't specific to your company.
For instance, offering a generic training course on how to use Excel but not getting into the weeds of how your particular accounting team formats documents.
In the collaborative learning approach, learners create coursesthemselves, and dialogue with each other for better understanding.
So instead of the L&D manager creating that Excel course, your accounting manager would — and learners and instructors would continue discussions to refine everyone's understanding of the topic.
In other words, L&D managers curate content and provide relevant training tools and systems, while relying on subject-matter experts for course creation. Most learning is done asynchronously, although with a blended learning approach, synchronous or even live lessons can also be built-in.
Collaborative learning is particularly effective for scaling teams in a SaaS company because it's:
Democratized: Collaborative learning encourages team-based learning and community participation by dissipating L&D decisions down to the employees.
Impact-driven: Learners retain knowledge because it's 100% relevant to their situations and because they're directly involved in the course creation and iteration feedback loop.
Fast: Collaborative learning connects experts across the organization and helps them share learning needs and consolidate information without moving outside the company. It eliminates sluggish responses to training needs and information gaps common in traditional top-down L&D training.
Iterative: Courses frequently become outdated and generic. Collaborative learning encourages fast, inexpensive, and frequent updates to knowledge. L&D leaders can share information and courses quickly and update them based on employee feedback.
When products, business strategies, and staff are changing all the time, an agile approach to employee training is the only kind that can keep up.
Use case #1. Using an LMS for customer education
Customer education helps your SaaS customers understand your product and use it to derive value: it helps them optimize their investment and effective customer education generates sales while reducing customer churn.
An LMS based on collaborative learning can help SaaS leaders:
Establish a digital credentialing program. Lots of SaaS companies offer a digital credentialing program, or 'academy', to help clients assess and standardize proficiency in their tools. An LMS is a great solution for delivering these types of certifications.
Offer diverse customer education content. Chances are, your product will be changing all the time, as you release new features, react to user feedback, and even (yikes!) fix bugs. A collaborative LMS can ensure your clients are always up-to-date with the latest modifications to your product, and prevent nasty surprises.
If you're new to setting up a customer education program, here are three tips to get you started.
Share your existing subject matter expertise with customers
You don't need to start from scratch or bring in external resources to set up courses for your clients. As Heidi Kirby, Manager of Learning Solutions at Datatrack International, explains,
"Our subject-matter experts (SMEs) are a hugely important part of what we're doing in customer education as part of the Learning Solutions team. Some of these experts have been with us for years, and they have a great knowledge of what we do. I rely on them a lot to help produce our online customer training."
Partner with other teams to develop great content
Are there some teams that are more appropriate than others when it comes to creating customer education content? For Sebastian Skarbek, Learning Experience Designer at Greenhouse Software, the Customer Marketing team is a natural fit.
"In the Customer Education team, we found a natural partner in our Customer Marketing team," he says. "Their mandate is to establish best practice guidance and solutions for our customers through webinars and case studies. Then, we can develop tactical applications of best practices for using our platform. Our natural content vehicles are eLearning courses and videos."
Structure and brand your customer education resources
This will help you stay top of mind with customers, and ensure you don't look messy or disorganized.
"We want to create a greater focus on consistent branding and structure within our customer training," says Heidi. "I'd like to bring a distinctive feel to our training, and a greater element of standardization. This will also help us to create content faster, because people don't have to start from scratch when they're building a new course."
Use case #2. Using an LMS for employee onboarding
Onboarding is a crucial part of the employee lifecycle. Not only do a majority of employees quit during this tenuous period, but it's the moment when new hires are absorbing important information about company life and objectives. You also want to get them up and running quickly so they can start making an impact on your bottom line.
For all of these reasons, it's best to offer new staff a coherent, engaging onboarding experience. More often than not, however, SaaS companies onboard newbies with:
Too many meetings. New hires get thrown into back-to-back Zoom calls all day long. While 'discovery calls' can be useful, it shouldn't be the backbone of an onboarding program, since it isn't scalable.
Long, written documents. Onboarding that's just 100 pages of PDFs is dry and hard to navigate.
Scattered, outdated information. One of the toughest challenges about designing onboarding training is keeping the material up-to-date: you're off to a bad start if you've trained 10 new sales reps on last year's pitch.
Isolating experiences. New hires want to start building rapport with their colleagues. But onboarding experiences — especially in a remote context — that don't intentionally make room for social interactions will probably feel lonely to newbies.
However, using an LMS to collaboratively build onboarding programs gets you out of these traps. Let's take the example of the fast-growing spend management platform, Spendesk. Their L&D team found themselves facing "workshop creep":
"Okay, we have workshops, and workshops, and workshops. Onboarding means workshops. There was both this format problem of having just workshops, and the fact that we just added other workshops without thinking about the coherence of the whole experience." explained their Knowledge Manager, Tom. It wasn't an ideal situation for new hires or boarders. So, they decided to overhaul their entire approach.
They started a brand new program — Spendesk Academy — and based its foundations on peer feedback. They asked colleagues what they thought needed to be in an onboarding program, and then recruited SMEs to actually build that content. Their L&D team was there to set quality standards, and to guide SMEs in their production.
By overhauling their old onboarding approach, they were able to launch a system that was agile, remote-friendly, and equally prioritized sharing information and fostering emotional connection. Their collaborative learning LMS enabled this smooth transition. In a nutshell, this collaborative approach to onboarding facilitated by an LMS enables:
Asynchronous learning. An LMS encourages employees to learn at their own time and pace. The information is available to the learner "perpetually", helping them access knowledge when needed.
Engaging content. Collaborative learning creates engaging content thanks to its conversational tone that solves new hire problems. It also yields higher engagement and completion rates.
Warm welcome. Isolation in e-learning increases the cognitive load for your employee, which prevents effective learning. An LMS based on collaborative learning helps new hires put an employee's face to knowledge, promoting trust and retention.
Decentralized content creation. An LMS based on collaborative learning enables employees across the organization to pitch ideas and share contextual SaaS knowledge.
100% contextual knowledge. Collaborative learning creates contextual dynamic, high-quality, and practical content.
Relevant content. Collaborative learning encourages the creation of up-to-date information based on employee feedback.
Internal expertise. Collaborative learning encourages internal employees to share their knowledge and solutions with others through courses and discussion forums.
Micro-learning. An LMS breaks down courses into small chunks that are easier to digest and retain.
At 360Learning, we use this approach internally, and with encouraging results: our new hires' satisfaction rates with their onboarding program from day three to month two is constantly between 8.7 and 8.9 out of 10.
Future-proof your company with a scalable solution
A collaborative LMS is the future of SaaS employee and customer scaling. It combines the benefits of asynchronous e-learning and crowdsourced content creation.
Employees pitch training needs and share knowledge across departments. The LMS then stores all the information and helps instructors create relevant, scalable content for all learners.
Ultimately, a collaborative LMS creates a scalable system for onboarding new employees, training existing employees, and supporting customers throughout their journey with your product.