Sharing our product journey has been essential for us as a team, and this public launch is no exception. As we're planning to go out of beta in early August, we decided to share the entire launch strategy with you. Maybe these ideas will help you prepare for your own product launch.
In this article you'll learn about the following steps:
Making a decision
Setting a launch goal
Choosing channels & platforms
Setting up a lead magnet
Deciding on a launch date
Preparing your to-do lists
Writing an announcement blog post
Planning your email sequence
Managing expectations
Let's dive in!
Making a decision
Deciding on a public launch is a big step. "Finally," some of our friends said. "I thought you were already live," said others. We've been working towards this moment for nearly two years, and could have probably launched sooner.
But here were the clear signs that gave us confidence we're ready:
The product has been fully self-serve for a while; a well-tested beta with paying customers.
We've done a lot of demos. Further customer calls started bringing less insights and clearly confirmed our product vision.
We felt confident about our new positioning and a freshly redesigned website.
Beta status has been clearly affecting our signup rates. One is less likely to trust customer messaging (client-facing side of your SaaS!) with some company that's still in beta.
Setting a launch goal
Like any marketing activity, a launch should have a clear "call to action" for people that you attract. What do we want to convey to the world? What do we want people to do?
First, we split the audience in two camps — existing fans from our mailing list, and fresh new visitors driven from ProductHunt and social media. So goals would be different for each group:
Update existing fans that we're officially out of beta (communicating "officially reliable"), so that they:

Keep Userlist in mind as a reliable tool until their use case occurs
Help us promote the launch
Sign up for a free trial of Userlist
Can safely recommend us to others

Get new fans, so that they:

Become aware of our tool and keep it in mind until their use case occurs
Join our mailing list
Sign up for a free trial of Userlist
We also brainstormed a few options of what we can offer:
Simply launch the product itself
Provide a launch discount (honestly, we didn't even discuss this one, because all three of us agree that SaaS discounts decrease the perceived value of the product)
Get creative with a free lead magnet to celebrate the launch (more on that below)
Launch a "done for you" setup service and provide a mindblowing discount for that
We ultimately settled on "simply launching" the product, and decided to keep the "done for you" service as a standalone marketing opportunity (maybe do a separate launch for that service later). With this simple strategy, our message to the world will be as straightforward as possible ("We're live on Product Hunt"). This means maximum clarity for both the audience and ourselves.
Choosing channels & platforms
Claire brought in a launch template that she uses with her clients, listing all potential promotion channels. (Note from Claire: this template is continually evolving, since new promotion channels open up & shut down all the time!)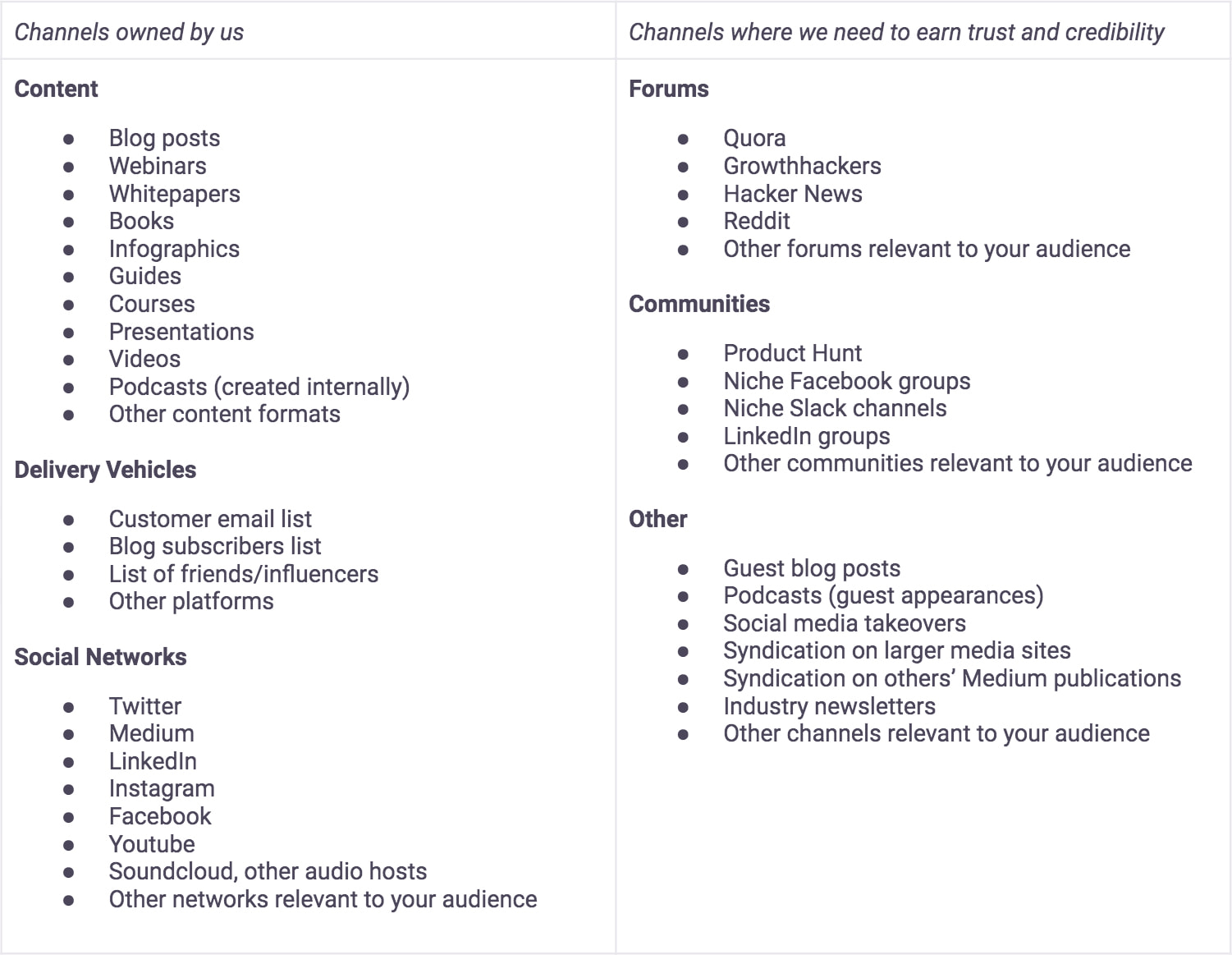 This list was incredibly intimidating — it included all possible options. We discussed them and shortened the list to fit our reality. Here's the customized list we ended up with: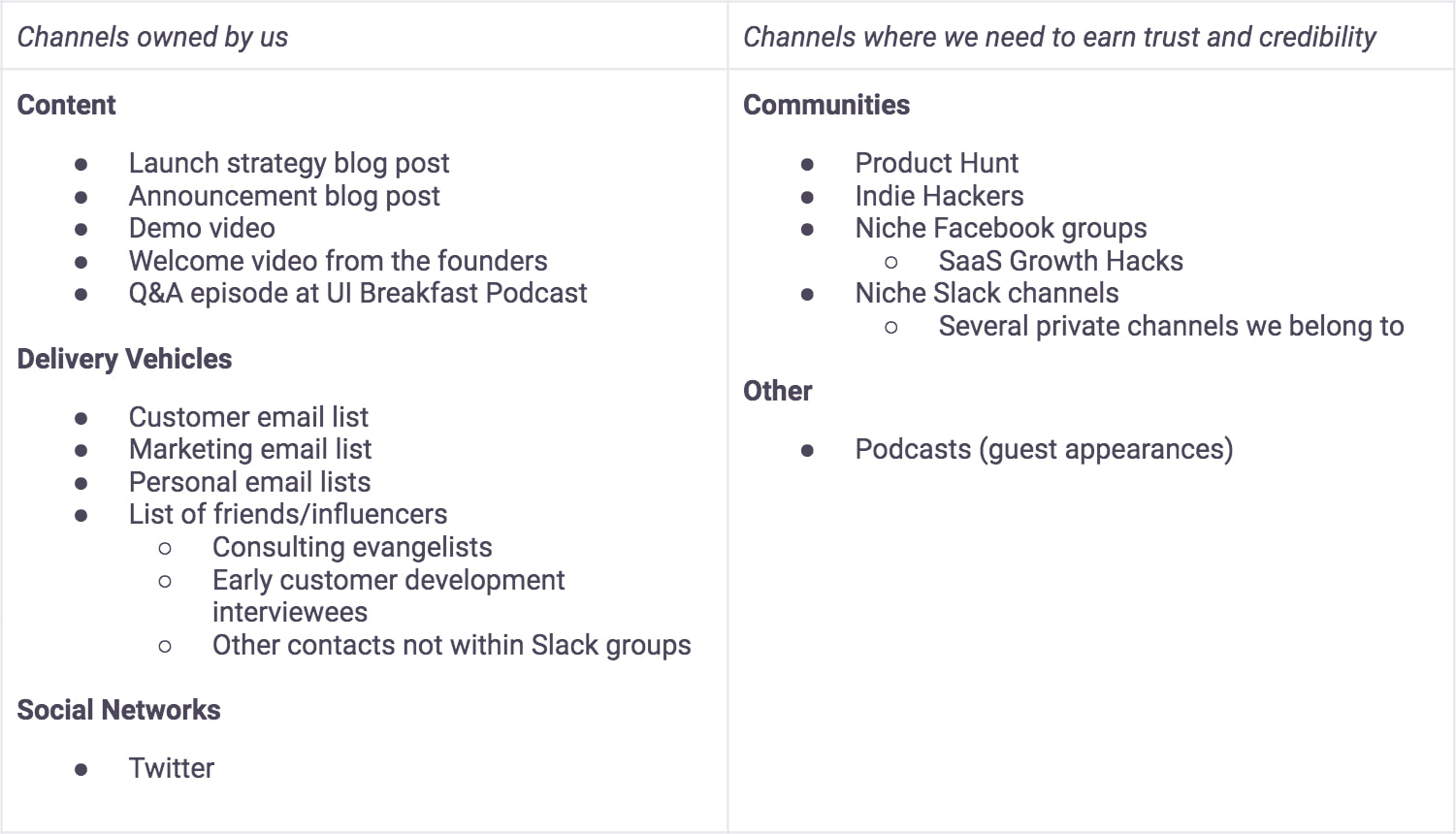 The core platform for our launch would be Product Hunt, so we'd use all of the resources above to increase our traction there.
Setting up a lead magnet
One of the hardest things with SaaS launches (as opposed to book launches, for example) is that impulse purchases are highly unlikely. It's especially true for our product: adopting Userlist is a major business decision. It's closely tied to product milestones, such as their own launches.
We had already observed — and embraced — this pattern with early customers, so there were no pink glasses on that side of things.
To prevent crowds from leaving and forgetting about you, it's great to have a freebie on your website to capture their interest. We had planned for that upfront. A few months ago we added a free lead magnet (email planning worksheets) as an integral part of our redesigned website.
Here are the principles we followed for an ideal lead magnet:
It should be easy to consume. Free books are not great, for example, because you would typically download a book and forget to actually read it.
It should probably not be a free email course. They're so common in our niche, many people are tired of them.
It should be highly relevant to your product.
It should be extremely helpful, but also raise awareness for your product. Self-diagnose tests or checklists work great for that.
Ideally, it should encourage the visitor to do something practical, because that would mean investing emotions and time. We think worksheets are great for that.
In our case, worksheets are also solving one of the onboarding problems that new Userlist customers face — it's much easier to get started with the app if you have already planned your tracking and sending upfront.
Deciding on a launch date
We advocate for flexible planning. But then how do you settle on a specific launch date? Claire introduced "go/no-go dates" to us last year, and we've been charmed with the idea. You can use it for any events that require preparation.
Here's how it works:
You set a launch date and put together a list of things to do.
You set a "go/no-go date" two or three weeks upfront.
When that date arrives, you review the state of things and either confirm the date, or set a new one (if your plans aren't working out).
In our case, we had August 6 in mind for the launch, and our go/no-go date was July 23.
Day of the week. We decided on a Tuesday which is a traditional day for big launches — no Monday rush, and plenty of weekdays remaining to handle the repercussions.
Time of the day. It's helpful to set a dedicated time for the launch, so that all teammates are present. We settled on 1pm CET — middle of the day for Europe, smoothly flowing into early morning in the US.
Preparing your to-do lists
We created two to-do lists: one for the launch preparations, and another for things to actually do on the launch day. We did that in Asana, but you can use any project management tool of choice. Each item had a person assigned.
Launch preparation to-dos
Create a demo video for the product
Embed the video on our website
Share the video with our mailing list
Review pricing
Implement annual plans
Create a personal welcome video from the founders
Write and publish the launch strategy blog post
Write the announcement blog post
Confirm the format for affiliate links
Reach out to one of our friends that they will submit us to ProductHunt on the agreed date
Review the pricing page
Review customer messaging automation in our own Userlist account (onboarding emails, etc)
Test the entire signup flow
Review help documentation
Review company contact information everywhere (website, email footers, invoices, etc)
Set up a Hotjar survey on the website, asking visitors about their website experience (and bury it deep enough on the secondary pages so that it doesn't irritate them too much)
Review the onboarding sequence for our marketing email list
Review the website
Make sure the website is ready for a quick switch of call-to-action buttons (right now they all lead to a beta signup page)
Confirm that the product is technically complete
Prepare assets for Product Hunt (screenshots, headline, description, icon, first comment)
Compile a list of people for reaching out
Write personal outreach emails
Write announcement tweets
Write an announcement email to our mailing list
Write an email for our existing customers
Write announcement emails to our personal email lists
Record a Q&A podcast episode (we decided to do this shortly after the launch)
Of course, this list will be different for your product. The general idea is to make sure your systems are running smooth, and prepare all assets for the launch.
Launch day to-dos
Update the website with new calls to action
Go live on Product Hunt
Publish the announcement blog post
Send the launch announcement to our email list
Send the launch tweets
Reach out to some people personally (according to the list that we prepare)
Send a broadcast to our existing customers
Send announcements to our personal email lists
Get ready to handle incoming support requests
Get ready to type away on Twitter and Product Hunt 🙂
Writing an announcement blog post
An announcement blog post doesn't have to be an epic piece of content, but it serves a few important goals:
Create emotional context and a bit of a story for your launch
Give you a specific URL to mention in social media (even though most likely you'll be sending people directly to Product Hunt)
Planning your email sequence
Running a big launch campaign for a SaaS waiting list doesn't make much sense, because most of the audience is already well aware of your product. Nor do you have good teaser content, like you would with a book. However, this podcast episode with Keith Perhac can give you more food for thought if you're up for a more elaborate email campaign.
We had planned only a few essential emails:
Two weeks before the launch — sharing the launch strategy blog post
One week before the launch — sharing the demo video
One day before the launch — announcing that we'll be launching tomorrow, recapping some facts about Userlist
On the launch day — super-short launch announcement ("We're live!") with a few clear calls to action
That ultimate announcement email is a special thing. You're communicating with people who have been following your journey, so it doesn't have to be long. Your goal is to ask for help with the launch. Our favorite way of doing that is by providing "layered" options.
For example, here's an email we sent out on the day of our BetaList launch in May. You can see how it has two options for the reader. On our public launch day we'll use a similar approach: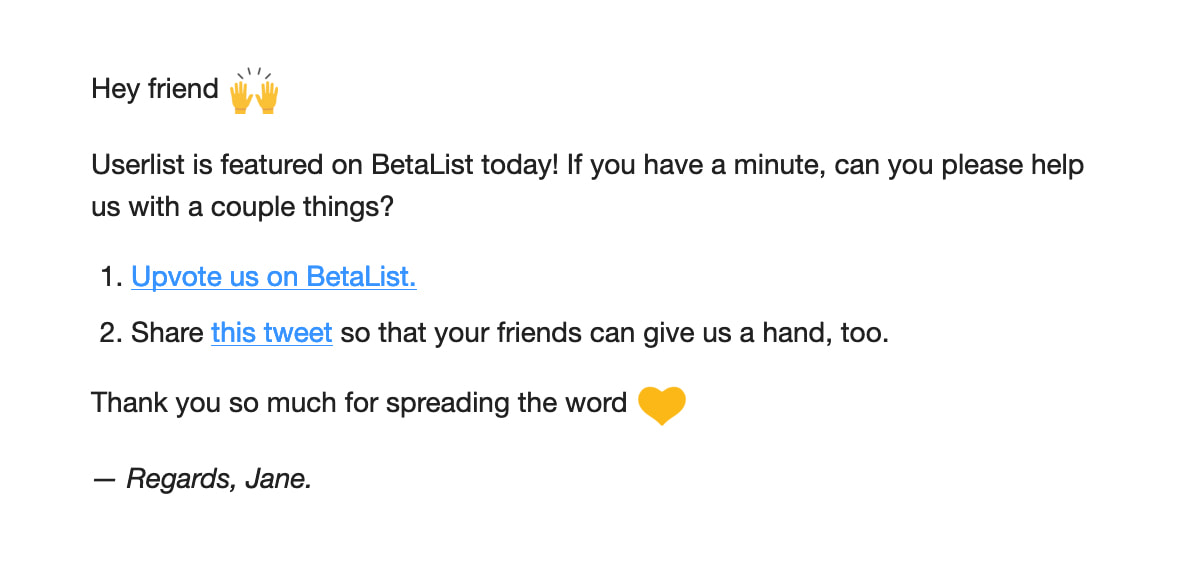 Managing expectations
Launches are tricky.
One one hand, you get an enormous emotional uplift and community support. On the other hand, actual numbers can get disappointing. It's true with any product, but it can be especially painful with a B2B SaaS. Such products have generally lower engagement rates than, for example, books or other impulse-purchase products.
We say, don't let the numbers ruin your spirits! After all, it's only the first day of your journey, and there's many more to come. There's rarely a SaaS success overnight. Quite the opposite, a large influx of customers can sometimes hurt your business — ask any founder who has run a deal on one of the popular websites.
So we're crossing our fingers for August 6. It's very exciting to lift off the beta status for Userlist and officially become a reliable customer messaging tool 🎉
We're hoping for your support, and also hoping that this article was helpful. Thanks for sharing this ride!
— Regards, Jane.