Studying for an English major in college, Geoff originally imagined himself ending up working for a newspaper or magazine. When he graduated during the global financial crisis of 2008, he decided that he didn't want to become a professional blogger:
"I ended up going back to school and got a business degree. The combination of the business degree with the writing background naturally led me to marketing."
After graduating with his second degree, he took a job for a software startup in Boston named Buildium. And while it was unappealing to him at first, Geoff slowly embraced this new path into SaaS:
"It sounded really boring if I'm being perfectly honest. But I just happened to unknowingly stumble into a great scenario.

I was employee seven at a startup that went on to do pretty well. I got to lead the marketing team there for five years and just fell in love with SaaS and even more so with startups in the process."
The birth of Outseta
During his time at Buildium, Geoff kept asking the CTO to implement a lot of integrations to their platform:
"And then at one point, my now co-founder Dimitris, threw his hands up and said, 'You know what: I'm an engineer and I'm spending a huge percentage of my time building these systems that we need to support our business rather than writing the actual code for our product.'"
Geoff and Dimitris realized this problem was a great opportunity:
"We looked at the ecommerce industry and saw what Shopify did. We then thought, 'You know what, no one has really built a starter kit that makes it fast and easy to launch a SaaS or membership business. Let's go do that.'

And in the context of that previous company, we built an early version of Outseta and used it to scale the company to about $7 million in revenue."
With their success in scaling the startup, Geoff and Dimitris decided to bring this idea to market more broadly — which then eventually became the Outseta we know today.
A different approach to SEO
The usual SEO strategy involves focusing on specific keywords and creating content about them. But instead of heavily relying on keywords, Outseta invests in their content marketing:
"I think of content marketing as an investment in our brands. What we found very quickly is, I can just write a lot about my experience as a founder. And because we sell to other founders, the content resonates with them."
While most consultants and mentors would advise against writing about yourself and your journey, this has been working out for Outseta because of two things: authenticity and prioritizing resonance over reach.
Authenticity
"I've been accused of many things with our content, but the number one thing is being too negative about our own experience. While we certainly celebrate our wins, the majority of our posts talk about our difficult experiences and the things we're struggling with.

I think the reality in the world of SaaS startups is, there's just a lot of founders out there that need someone to commiserate with because they're going through a hard time themselves. It's comforting for them to know that others are going through the same things."
Because of this, Outseta has been able to build a deep relationship with a good number of their readers.
Resonance over reach
While most businesses would go for a TikTok video or Twitter thread to cater to the shrinking attention spans, Outseta continues to produce long form written content.
"I'm sure there are people that won't sit down and spend 15-20 minutes reading our post. But those that do read them, I think they get to know us as a company in a much greater depth.

And that's the theme that is most important to me when it comes to marketing and in general: resonance over reach. It's about building a deep relationship with a smaller number of people rather than having this massive following of people that really don't care that much."
Content distribution
With so much competition out there, how do you make sure that your content ends up in front of your target audience?
Knowing your target audience
"While we have a lot of cards stacked against us, one that was easy was we are the persona that we're marketing to. I'm a SaaS founder and I know where other founders hang out."
And even if Outseta doesn't have a massive YouTube channel following or huge email list, their content resonates with other founders.
"We don't have a formalized written content strategy at the moment. I try to write when I feel like I actually have something to say that might be useful to others. We only publish when I feel like I have something to say that's worth publishing."
They then distribute these blog posts to relevant SaaS communities and their email lists.
Technical partnerships
Another distribution channel for Outseta is their integrations with complementary technologies.
"The two really big ones at this point are Stripe and Webflow. We have listings on their sites that drive very relevant traffic to us."
Affiliates
Because they don't have an internal sales team at the moment, Outseta is aggressive with their affiliate offer:
"Anyone can create content about Outseta and publish it online so they can make recurring commissions for the business that they bring us."
And while there's always a risk for affiliates compromising your brand, Geoff says that this strategy is self-policing:
"We're aware that we can't chase after and work with our affiliates super closely. But I think it hasn't been a huge problem for us because affiliates that pump out low quality content typically don't make any sales anyway, so it's a little bit self-policing in that sense.

Meanwhile, the affiliates that are really successful are the ones that are putting the time, energy and effort into creating really nice content about Outseta and they're the ones that stick around and are ultimately visible."
For certain instances that an affiliate will do something sketchy (i.e. run a cold outreach email), Outseta will simply disable their affiliate links.
Outseta's marketing challenge
It's normal for SaaS founders to stack together the best-in-class platforms for their use cases. Because of this, Outseta's technical customers fall into two buckets:
Customers understand the importance of speed and efficiency so they can focus on building their product; and
Customers who are resistant to change because they've already experienced building the tech stack of an early stage company
Especially with the second type of customer, Geoff says it's challenging to convince them to change their behavior and buck the status quo:
"We tell them about a different approach to building a SaaS company that they probably haven't considered. We tell them about the importance of having all tools in the same platform, the efficiencies around speed to market, running their day-to-day business, and how to quantify the benefit of those efficiencies.

It's almost an educational play in some ways, and it's not for everybody."
Marketing to technical vs. non-technical customers
Most customers come to Outseta for their authentication and payments feature, which is the core of their product.
After addressing this initial job-to-be-done, Outseta sells the benefit of speed to market to early stage companies:
"As opposed to what I think you do at Userlist, I would say we're not selling, 'Here's how to do the absolute best email marketing possible.' We are selling, 'You're an early stage company and here are the things that really matter. And here's how you can get them done fast and efficiently and know that that's not impeding your growth, even if you haven't sort of optimized each particular job to 101%.'"
Geoff shares that because experienced SaaS founders understand the importance of speed to market, they don't need much education about the benefits.
But for their less technical customers, they take a more educational approach:
"They don't know that they should be thinking about things like extending customer lifetime value, reducing churn, and what sort of programs and processes you can put in place to do those things."
Narrowing down on your target audience
How does Outseta compete against a giant like HubSpot?
Geoff shares that it's all about focusing on the segment that HubSpot doesn't serve:
"We are intentionally targeting the lower end of the market that HubSpot doesn't serve. Of course they won't tell you this, but being a publicly traded billion plus dollar company, their real business is in taking a $10 million/year business to $100 million/year. At Outseta, we want to take a $0 business to $10 million/year, so we're serving the lower end of the market that they're not interested in."
And narrowing down on a specific niche:
"HubSpot serves a much broader range of industries. We are very focused on subscription-based businesses."
Outseta's monetization strategy
Their strategy moves in two dimensions with their monthly subscription fee and 1% payment processing fee. Outseta's plans start at $39/month and grows based on the number of your CRM contacts:
"If you compare Outseta to other software tools that have the same functionality, the price is an absolute steal. We'll charge you this token fee and we make our money on that 1% payment processing fee. The sell here is we're giving them these tools at this artificially low rate because they're probably an early stage and bootstrapped startup. And they'll pay us more money as they start to grow.

The truth is, our interests are aligned with our customers'. We really need to help them grow because if they don't, Outseta also doesn't grow."
While some customers will initially resist paying the 1% payment processing fee forever, Geoff says they explain that customers actually end up paying a lesser fee compared to Stripe:
"One of the things we've done and are really trying to push on and demonstrate is we send you a bill at the end of the month that shows you all of the fees that we're charging you. And it's a big number in some cases for successful businesses.

It probably doesn't help us that we show that big number. But what you're probably paying on other platforms is actually a much bigger number. They just distribute it in different places so you don't see what it is."
Final advice
Do use illustrations to convey what your product does.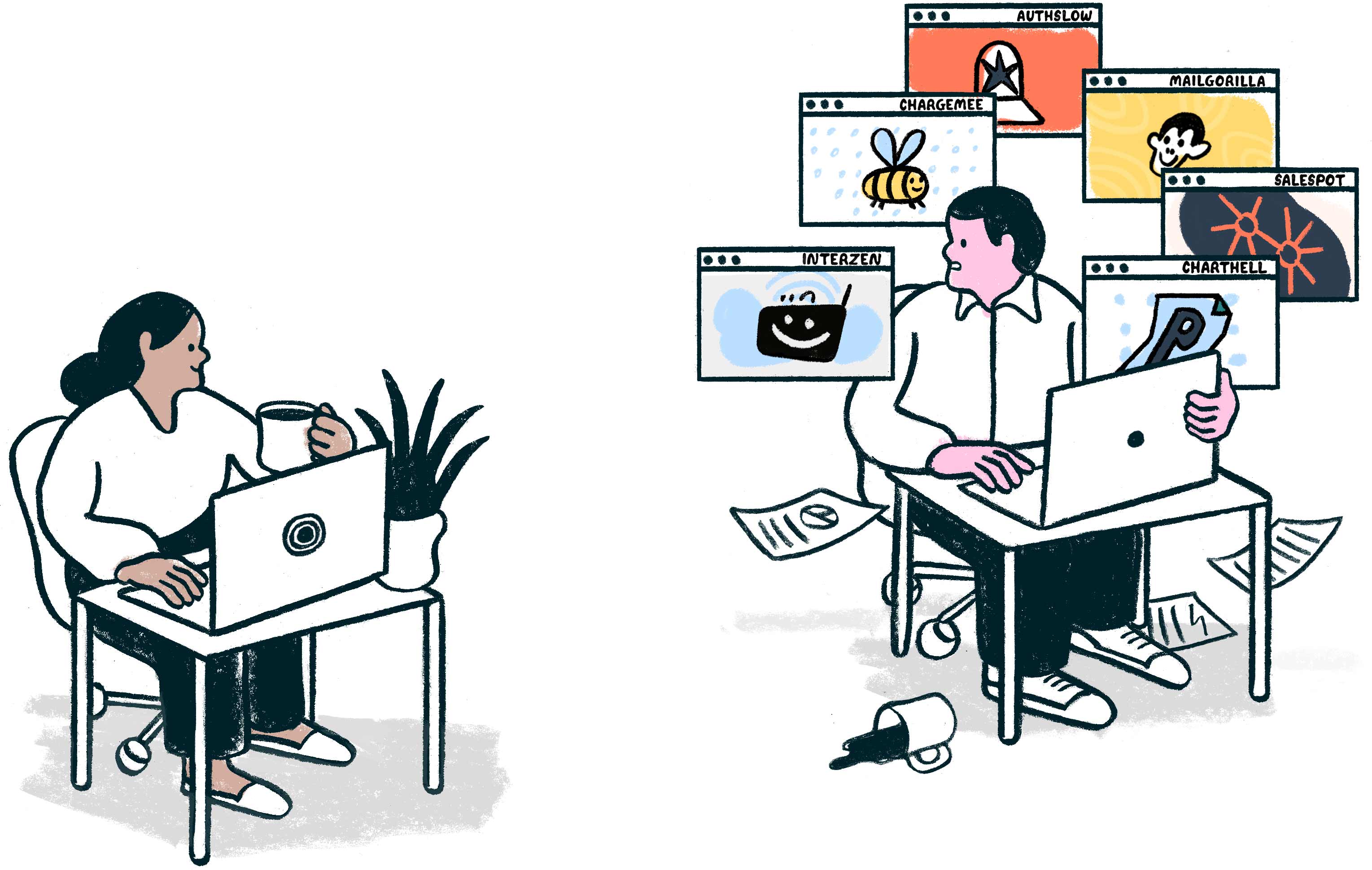 "Ever since we started, we've hired an illustrator to show the difference between a very stressed out SaaS founder using multiple tools versus a calm and collected founder that's using Outseta. These visuals helped bring the complex ideas to life."
Don't sell your product too early, wait until it's in better shape.
"Start selling later and aim for something beyond your minimum viable product."
Thanks for listening! If you found the episode useful, please spread the word on Twitter mentioning @userlist, or leave us a review on iTunes.